It is estimated that North America has over 75 million mobile workers and about 7.5 million construction employees. Business owners and construction supervisors are facing challenges trying to track time and monitor the attendance of workers. As a result, mobile time clocks for contractors are rising in popularity. Nevertheless, there are many construction businesses still using the traditional paper based method which is full of errors and tends to overpay workers.
Using modern mobile time clocks for contractors (software based) is one of the easiest and efficient ways to save time and money.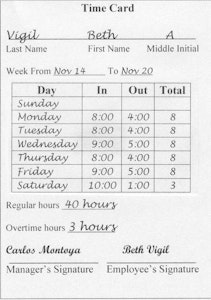 Since compensation for laborers is shooting up at a fast rate, it is also very important that labor cost codes are reported correctly, so that the expensive ones aren't over reported by mistake. According to Nucleus Research, businesses are capable of saving about 2% of gross payroll costs by using mobile time clocks.
Saving Money with Mobile Time Clocks for Contractors
The median household income in the United States was $51, 017 in 2012, according to the information published by the US Census Bureau. Supposing your business makes a 2% savings, you can save more than $1,000 every year per payroll.
Of course businesses with highly paid staff will save alot of money using modern mobile time clocks. Businesses with low-paid construction staff e.g. companies with an average hourly rate of $10 per worker are still able to save a good deal — over $570 per every full-time employee – per year. Due to the reason that many mobile time clocks for contractors are based on subscription, there isn't any upfront payment you will be required to make. Instead, you'll enjoy an immediate Return on Investment (ROI).
If you charge clients according to the times recorded for service calls, then that can also be another way of saving money. Consequently, you can earn more cash by making an accurate record of hours that need to be paid for. In the past, finding hours that need to be billed was not an easy assignment as the process involved inefficient swipe clocks and punch cards. Payroll personnel, for instance, were forced to manually calculate employee absence, punctuality, and overtime work.
Mobile Time Clock Apps for Contractor's Smartphones
Modern mobile time clocks for contractors run on employee's smartphones as apps. The apps can be easily downloaded by the user/employee. Previously, construction staff wanting to use field based time clocks were forced to invest in costly hardware based devices or portable computers which required frequent replacements due to breakage or malfuncitoning. Another downside is that these hardware-based clock systems had to be downloaded manually as they were not linked to the cell phone network provider.
Today, a good percentage of construction workers have smartphones. Thus, having them clocked in via their smartphones is really a piece of cake. This method costs very little, in point of fact, it doesn't need any upfront investment whatsoever. Smartphones are typically connected to the cell phone network provider and they do not need manual download to get the punches into the main system for viewing and editing. The employer can view the punch information next to the real-time in his dashboard. The availability of real-time data offers separate benefits like the ability to notify the manager of overtime or unscheduled work in progress.
GPS Tracking Features
By using mobile time clocks for contractors with native GPS capabilities, the employer is able to track down employees with the tendency of sneaking out before their shift is over. Every time an employee leaves the place of work, the employer will be alerted via the cloud dashboard.  In other words, when a worker leaves the construction site while still clocked-in, the shift in the cloud dashboard will be flagged for employer to take the necessary action.
If you want more detailed information about mobile time clocks for contractors, and the updates about the upcoming launch of ClockShark, please sign up at http://get.clockshark.com .