Wells Innovations created the Tool Tracker app.
The purpose of this application is to simplify the task and tool tracking management, aided by the app's unique form. Once the tool tracker application is loaded on a smartphone, it is easily used to scan and monitor all of your tools and equipment.
Tool Tracker App Overview
The form also helps manage your various job sites, locations and where your tools and crew need to be. The Tool Tracker app stores crew member's telephone numbers, which can be quickly accessed through the app and called directly without ever having to leave the application.
The tool maintenance and the maintenance history can be tracked through the program. Rental equipment can be followed so that you are never late with returns and avoid any unnecessary fees.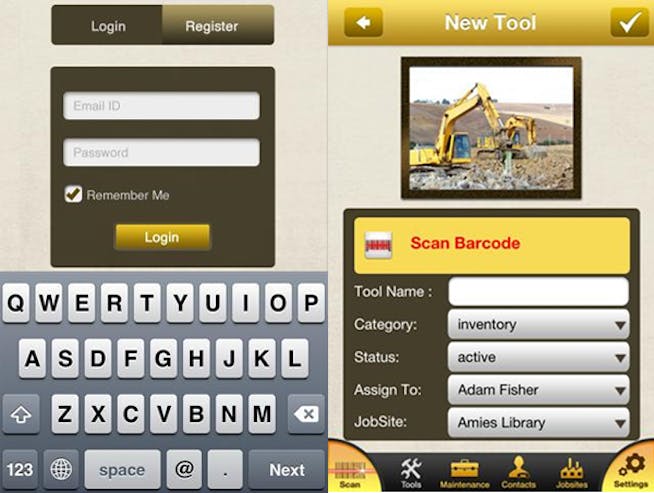 The app
The application is easy to access.
Download it from the App Store, and once the application is loaded, you will want to open up the application on your smartphone. You will need to register for an account by plugging in your email, company name and password and click register. You will then be prompted to verify your email address and enter the verification code it sends to you. Once you access the verification code, this should get you into the application itself.
This application only works with smartphones, posing an unfortunate limitation. While most people have one, not everyone has a smartphone. It would have been helpful for the creators of this app to have a web option for customers to access. This would allow users of the tool tracker app with a tablet or laptop to log in to the application through a web browser and access the information. Perhaps this will be made possible in a future version.
While a website login is available, it does not allow for managing maintenance through that portal.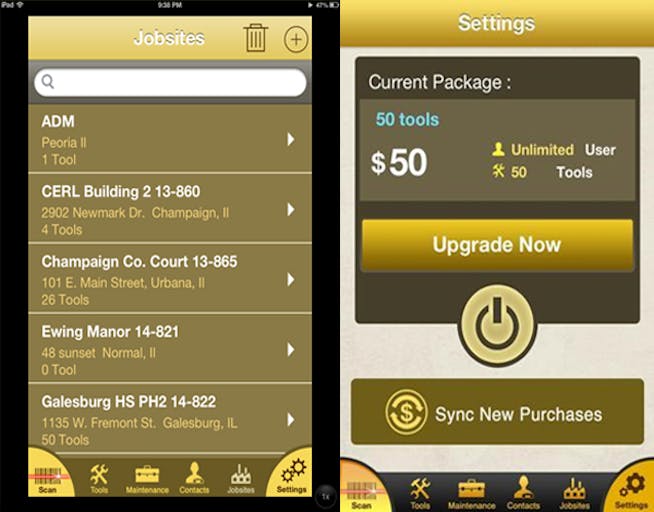 Tracking
The tool tracker application itself can be beneficial for contractors or a subcontractor who has a lot of utilities to keep track of from job site to job site. The app conveniently tracks all of your devices easily from a smartphone. You can scan a single tool or multiple tools and access the list of all scanned equipment at any time.
The application allows an unlimited number of employees to be able to track the tools within your business. Having the ability for utilities to be scanned and monitored by everyone lets you know where all of your devices are all the time.
Maintenance
Keeping up with their maintenance is simpler as well since you can quickly tag the tools maintenance schedule and keep track of when you need to pull that equipment for upkeep.
The app shows you your tool, and its service history to help keep a record of the device and its repairs and maintenance. Keeping your equipment up to date in their support will help extend the life of your tools and save your company money.
Tool Tracker App Cost
The Tool Tracker App is a subscription service, charging you once a month through iTunes or Google play directly to your account. There are different prices available depending on the tool packs that you pick.
The app has product lists with different rates and is found within the app to choose the plan that fits your company's needs. Each of the subscriptions gives access to an unlimited amount of users. The subscriptions will renew automatically for your account unless you have turned the auto-renew feature off more than twenty-four hours before the end of your subscription period.
Renewals are charged twenty-four hours before the end of each subscription period, so there are no lapses in the service. The Tool Tracker app does not allow cancellation during an active subscription month. So if cancellation is requested, it must be done before the next month's subscription renews.
Keeping track of all your job site equipment can be difficult, but with the ease of the Tool Tracker app, you can manage them all from the palm of your hand.
Save Time and Money with ClockShark
Get started in under a minute with no credit card
Thank you! Your submission has been received!
Oops! Something went wrong while submitting the form.