BrickControl is a web-based project management software built for developers, architects, remodelers, builders, engineers, and planners. It was designed to be an end-to-end solution, going from estimates through invoicing and project analysis. BrickControl provides an incredibly detailed cost analysis of projects in addition to other benefits like being accessible from any device.
BrickControl Features
Teamwork
Teamwork is encouraged with BrickControl because many people can use it all at the same time. The data can integrate with accounting software which can save time because double data entry is eliminated. Let me outline a few of the sections to give you an idea of what BrickControl can do.
Study Section
The Study section enables you, your team members and your company to create projects which are accessible from any device. Prices are generated automatically from the costs provided which create budgets and imports your databases in a few easy steps. Within the Study section, you will find three different points – Projects, Estimates, and Price Database.
Projects
After you create a Project, whether it is building, remodeling, infrastructure, restoration or similar, you are connected to all of its corresponding data. Budgets, progress, certifications, receipts, documents – these are all available to you and your colleagues anywhere, anytime.
Estimate
Projects can be created automatically, by importing data manually or from a file with the help of the basic copy & paste, price database and automatic estimation of sales price tools which gives you all the flexibility you may be after in a work environment. Also, you can create different versions of each project´s budget easily and efficiently, and the print format can be chosen according to your needs.
Price Database
To present to you straightforward details of Studies and to create separate Estimates, BrickCrontrol allows you to import or create unlimited databases and costs.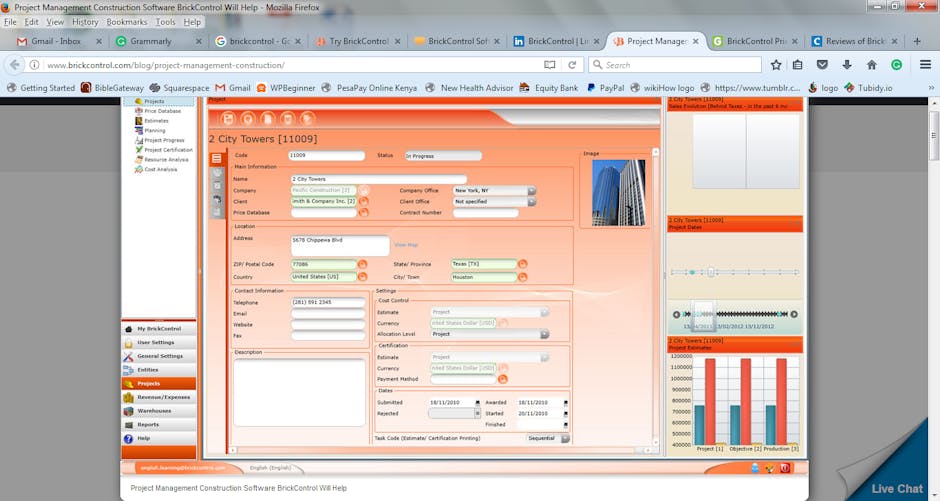 Management
The Management section is, as the word clearly describes it, the management and schedules of your projects, their progress, and issue certifications. Apart from this, you can take photos with your mobile devices and upload them to BrickControl so that it is easier to share them with anyone you want. Included in this section are Planning, Project Progress, Pictures, Project Certification, and Sales Invoices.
Planning
BrickControl lets you visualize the critical paths of your project and resources of each task, and it calculates the overall duration of each project. Another great benefit is that it automatically creates Gantt charts based on the budget´s structure and it also updates the schedule automatically.
Project Progress
Project Progress uses progress monitors to measure change; it also verifies the status of the project, displaying units, measurement lines or percentages in an easy to use way.
Pictures
For information to flow more quickly and for the projects to progress in a quicker way, BrickControl has thought about the use of mobile devices to upload images that are immediately available to your colleagues and clients.
Project Certification
Using the above progress monitors as a basis for the task, you can produce Interim payment certificates to bill customers for the execution of any project efficiently.
Sales Invoices
Project revenues are assigned to projects by the issuing of the outstanding sales invoices or quotations in any currency.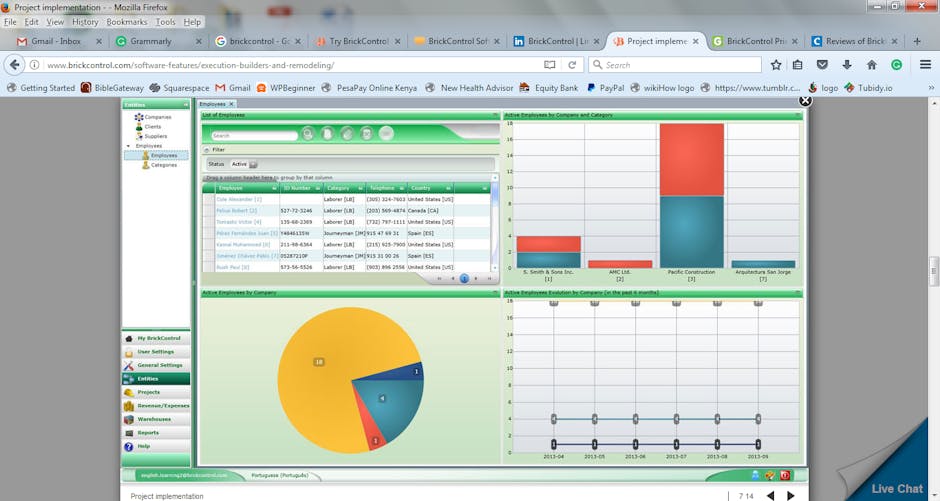 The execution of your tasks and the calculations of any resources that your project needs consists of resource calculation, payment certificates, reception of materials, purchase invoices, material transfer, timesheet, accounting, items, project progress, sales invoices and finally personnel, supplier, warehouse and customer management.
Control
And the more important section Control lets you be hands-on with your projects and its costs so that if any problems do occur, you may be able to take the measures to solve it in an efficient and less time-consuming way.
Cost Deviation Analysis
Cost Deviation Analysis is one of BrickControl's most powerful management tools as it continuously monitors all costs and it compares it to those in your budget.
Control Panel
Making the fastest and most efficient decisions is made easy with the control panel from any device wherever you are in the world.
Reports
The module 'Reports' allows you to have all the data information at your fingertips.
Charts
Gantt charts are created automatically based on the structure of the budget providing start and end dates or the duration of the tasks involved in the project.
Accessibility is available to users from all internet devices as it is a web-based system with a native iOS application available for iPhones and iPads. Based on the depth of features and number of users, BrickControl is priced on a monthly basis at three distinctive tiers. The system also features multi-language support for English, Spanish, German, French, Portuguese and Polish.
In addition to making a very complete and easy to use product, I would like to highlight the efficiency and professionalism of the entire team of BrickControl. They have been able to solve any questions or problems that arise in an easy, simple, and efficient way – just as promised.