COVID-19 has brought many companies to their knees. When the supply chain is broken - and with many countries/municipalities in quarantine - activity grinds to a slow crawl. It becomes challenging to receive materials on time, accurately keep records, and keep people working.
It cuts jobs, stops progress, makes your employees nervous, and takes a huge chunk out of your hard work and bottom line.
Depending on where you are located, your local laws and regulations may require you to stay isolated at home and this can devastate contracting companies since most of their work is in the field.
Things that stop your operations can't be predicted but having a plan in place - like a Continuity of Operations Plan - to help you wade through the mess, will help keep you focused and prepared for when the Coronavirus has passed.
What Is A COOP?
The concept of a COOP was developed after President Dwight D. Eisenhower ordered various measures to be put in place to protect government operations in the event of a catastrophe such as nuclear war.
The goal was to have a plan in place so the government could continue to operate and provide important services through a crisis.
Why Should You Have One?
Even if you don't already have a COOP, you should have this basic framework to help guide each department in your company on what to do in the event of a disaster or catastrophe like Coronavirus.
It helps by having important information available such as:
Risk Analysis

Financial Analysis

Important contact information

Essential functions

How to control key operations during a shut-down
Ultimately, you are able to identify key personnel and essential services/departments vs. non-essential, to lessen your financial strain and keep things going.
What Should Be In It?
There are a lot of details that can go into a good COOP. For construction and field services industries, it doesn't have to be as complicated and complex as, say, one for the executive branch of the government.
But some basic inclusions should be:
1. The Purpose of the Plan
This is to serve as a reminder of the reason why you're creating a COOP. It helps you and other team members stay solution-focused.
2. Scope of the Plan
This includes key personnel you will have implementing the plan, as well as their specific roles in doing so.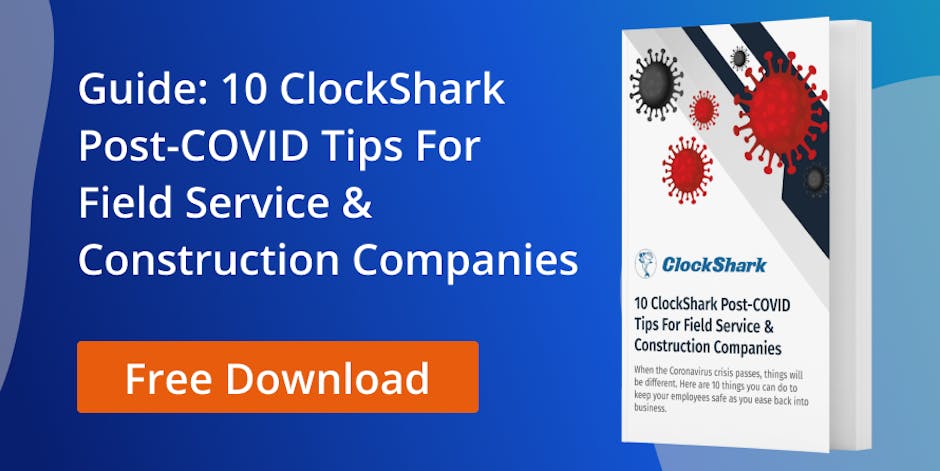 3. Updated Work Procedures
With the Coronavirus pandemic, your previous working conditions are likely disrupted because of social distancing suggestions. Updated work procedures will help protect your field workers and contractors from contracting the virus.
OSHA has provided updated recommendations for companies who are continuing to provide services.
4. Communication Procedures
Nothing can happen efficiently without proper and consistent communication. But when you have people working from home and new procedures happening, communication can be severely impacted.
Depending on the size of your company and location, you may want to add more items to your COOP but this is a simple way to get started. Let's take a look at some specifics for each of these components.
5. The Purpose of Your COOP
Make sure your workers understand how important your continuity of operations plan is to your company and why you are developing one.
You might also discuss the recent events that have led to the importance of a COOP for the organization.
This will help build confidence in your leadership and calm any fears your people are experiencing.
6. The Scope of Your COOP
This section identifies specific personnel groups in the company such as field workers, administrative workers, supervisors, etc. It should list potential threats, crises, and emergencies, and identify the different responsibilities of each type of worker.
7. Updated Work Procedures
The disruption to our clients' companies is indisputable but for many, work must go on.
For the construction and field service industries, it's crucial to include as many of OSHA's updated recommendations to keep your people safe and have your operations continue.
Some of their suggestions include:
Prepare to implement basic infection prevention measures
Develop policies and procedures for prompt identification and isolation of sick people
Develop, implement, and communicate about workplace flexibilities and protections
Implement engineering and administrative controls
Your updated work procedures are intended to control the exposure of your workers to Coronavirus.
For construction and field workers, make sure they are clear on the kinds of things they should have while in the field or on the site.
A sample drive away kit might include:
Important contact numbers
Medical information such as medical history and insurance cards
Extra chargers or batteries for mobile devices
Proper hygiene necessities like hand sanitizer
When your workers are clear on what is expected of them and have the right tools to follow your plan, it will decrease their risk of contracting COVID-19.
8. Communication Procedures
Many of today's companies have had to test out remote work policies because of social distancing policies during the Coronavirus.
They have adopted a new technology that allows them to communicate with their teams remotely. It removes the need for in-person meetings, sharing physical materials, and risking the unintended spread of the virus.
When you have workers in the field or at job sites, a modern communication system that allows them to share documents, report updates, and request information from one place reduce the need to risk exposure to the Coronavirus.
It will also decrease travel time to and from the office and allow your administrative staff to have accurate records in real-time without the need for person-to-person contact.
A great communication, scheduling, and time tracking app will save you time and money as well as help you keep your workers safer from COVID-19.
ClockShark's easy-to-use, cloud-based system is especially useful for today's construction and field service industries. It's quick and easy to set up and you can get started enjoying the benefits almost immediately.
Save Time and Money with ClockShark
Thank you! Your submission has been received!
Oops! Something went wrong while submitting the form.
Conclusion
The coronavirus has made many companies rethink the ways they are operating in order to stay profitable through this pandemic. The ClockShark team understands, and we want to help you shift in a way that you can continue to use, even after the current crisis.
With ClockShark, you, your workers, supervisors, and administrators can stay connected and you save time, money, and resources.
Start your free two-week trial today to see how easy it is to set up and start using ClockShark's time tracking technology.