The COVID-19 pandemic has caused disruption in every aspect of life, all across the globe. From multi-million-dollar corporations to macro businesses and independent contractors, everyone is having to adapt to a new normal.
With such an unprecedented crisis, companies have had to adapt to continue operations and ClockShark is working to help our customers navigate through this pandemic.
How Are We Working?
Interestingly, ClockShark has adapted, too. While we continue to provide five-star customer support, we have had to shift our own team to work remotely where possible.
This has enriched our team's experience of remote working. It reinforces for us, how technology helps companies stay busy and productive.
Although our work environment has changed, our commitment to you has not.
What Our Customers Are Saying
We've heard a lot from our customers, and we are listening. In response to the COVID-19 crisis, many of our customers have reached out. They are sharing the challenges they have faced and how they have met these challenges with ClockShark's technology.
Here are some of the ways our customers are using ClockShark to stay productive and profitable while also protecting their employees.
Cutting Office Hours
Heading to the office from home increases employees' risks of contracting (or spreading) the Coronavirus.
With ClockShark, their workers are able to go straight from home to job sites without the need to head to the office. Mobile time-tracking allows them to clock in with their mobile devices.
GPS tracking improves employee accountability and ensures they are where they're supposed to be. This also allows companies to accurately track their hours without paper timesheets or phone calls.
Administrators are able to work from home with features like Web Punch Clock so they can continue to do important administrative tasks without leaving home.
Removing the need for unnecessary person-to-person contact decreases the risk of spreading the virus without sacrificing productivity.
Reduced Travel Time
One of ClockShark's most frequently used features is the Who's Working Now feature. Just because governments are enforcing social distancing rules, doesn't mean your customers won't need your help.
During the Coronavirus, our customers are successfully managing jobs with the Who's Working Now feature that allows them to know which worker is closest to a service call. This not only cuts commute time but also improves customer satisfaction with rapid response times.
Clock-Out Questions
When you have people in the field or on the worksite, they are naturally at an increased risk of exposure. And sometimes social distancing is difficult to manage.
Our customers are using ClockShark's clock-out questions to ask their workers questions to keep them safe. They can be prompted to answer important questions like, "Did you come in contact with someone who was showing symptoms?" or "Did you enter a high-risk area/situation during this job?"
Keeping track of these critical answers can mean sparing your workers from spreading the virus to their colleagues and help in getting them isolated when needed.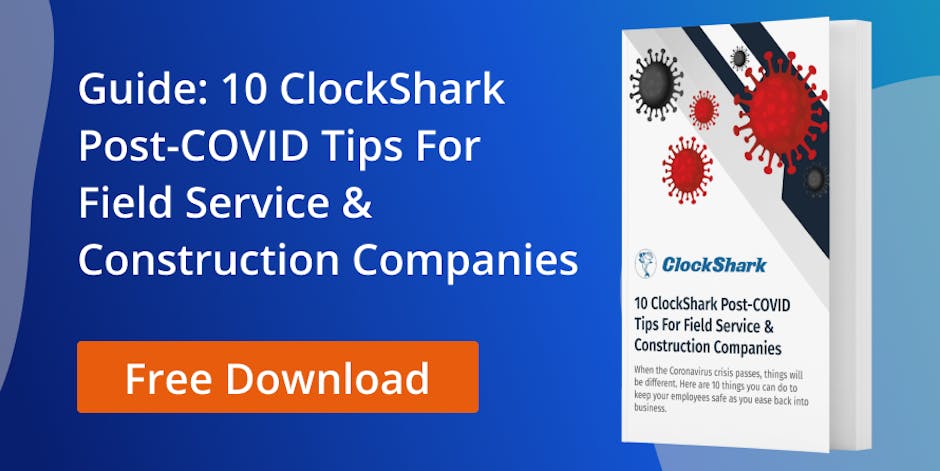 What Has ClockShark Been Doing?
While we have adjusted to our own shifts in the workplace to stay productive, we have been super busy. We are working to make sure you have as much information as possible as we navigate through this time, together.
We have stayed on top of the frequently-changing trends, initiatives, challenges, and answers that our customers need, to stay successful.
We have a list of resources that we have developed and curated to help you through this challenging time.
Here you can view helpful resources including:
Help for ClockShark customers

Information about government assistance programs and initiatives

Help on working from home

Tips on keeping productive through COVID-19

Advice on staying positive through the crisis

Ways you can be prepared for post-COVID-19
We work hard to update these resources frequently so make sure you check each day for new information, tips, and tricks.
We're Here When You Need Us
It may sound cliche' but your success truly is ours. Our goal is to help you be the best you can be and continue to thrive. We are committed to helping our customers make the best of this challenging time.
Many of our customers are essential workers providing important services their clients cannot do without. We are hearing about all of the ways our customers are using ClockShark to continue to provide services to their customers, and we are honored to be a part of this journey with them.
While our team has also gone remotely, we continue to be available to help you in any way we can.
Our final thoughts...
The COVID-19 pandemic has created a lot of uncertainty for companies across the world. We can't yet predict when things will start getting back on track, but we can continue to monitor the situation and work hard to move through it.
While we had not been prepared for such an upheaval, we are optimistic that our customers will come through this crisis with confidence.
ClockShark offers you the tools you need to continue to provide the valuable services you do, with less risk to your employees and, thus, your bottom line.
If you haven't tried ClockShark yet, now is a great time to sign up for a free two-week trial so you can see all of the ways our customers are using it to navigate through the coronavirus pandemic.
If you want to find out more information about how ClockShark can help you, reach out to our amazing customer support team today.