Technology is transforming some industries faster than others. And it's no secret the green industry has been one of the slow adopters.
"I made the switch [from golf course maintenance] to landscaping in 2008," says Michael Mayberry, Chief Technical Officer at Level Green Landscaping. "And I realized how far behind the landscaping industry was at using technology compared to other industries."
"So I have been working for the last couple of years to integrate as much technology into our daily lives as possible, in order to increase efficiency and decrease friction between us and clients."
And Mayberry's technical gusto is paying off big for Level Green.
"We have seen ROI [Return on Investment] on every tech investment that we have made," says Mayberry. "It's not immediate. It takes a couple of months, to maybe a year or so to build up.

"But there hasn't been anything we have invested in, technology-wise, where we say, 'You know what, this wasn't worth it. This was a waste of money.'"
So, leveraging technology in landscaping is a smart move.
Here are some examples of how you can invest in technology, so you can get a great return, too.
Recruit Robotics to Ease the Labor Shortage
"The biggest challenge for any landscaping company is labor: keeping labor, finding labor. It's a huge challenge and it's a huge expenditure for all businesses," says Mayberry.
And Matt Thompson, landscape manager at Avesta Housing, says that in 20 years as a landscaping professional, he's never experienced anything like it.
"I've never seen a challenge quite like this before -- not being able to find people that want to work," he says.

"We have tried to maintain a team of 10. And since 2019, I think we've had 10 people for two weeks total. It is just a revolving door of people coming and going. And it's been an incredible challenge. It hinders every aspect of our operation, most importantly, our ability to grow."
So the big question is this:
How can you be efficient enough to do the work you have, plus scale your business, when your biggest challenge is finding and keeping workers?
One answer is to do more with the small workforce you have. But you have to do it in a way that doesn't overwork your crews.
And technology is stepping in to make that possible.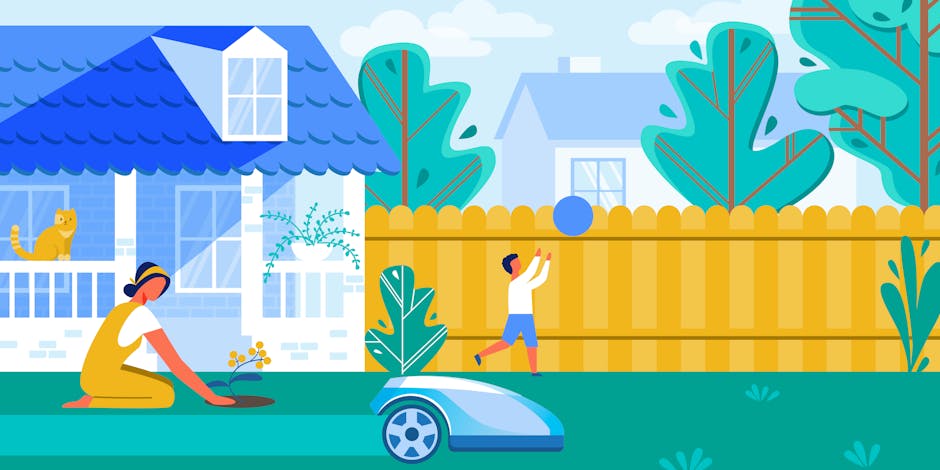 Mayberry is especially excited about how robotics can help.
"This year, we are demoing a bunch of different robotic mowers," he says.
"Right now we're at the point where there are lots of options [for robotic mowers]. There are lots of sizes, there are lots of companies [who make them]. So there's not one perfect solution at this point.

"But we have identified that [robotics] will, in fact, help our labor issue."
But he doesn't want robotics to replace the human element in landscaping, just supplement it.
"We're not going to use robotics to replace people. We are looking at ways to do more with the resources that we currently have," says Mayberry.
The idea is to service more clients with fewer people by using robots for the more mindless tasks like mowing.
"Mowing is pretty mindless. It's just [driving] back and forth, avoiding obstacles here and there.

"Whereas other operations that we do -- like pruning, pulling weeds, spraying weeds -- take some thought. [You have to think], Where should I cut this plant? When should I cut it? Is this a weed? Is this a perennial? Should I spray it?

"Those things are what we want to shift our human workforce to doing more frequently."
Use Tech to Make Short Work of Time-Intensive Tasks
Technology also reduces the need for manpower by shortening the hours it takes to do time-intensive tasks.
Chad Diller, Director of Client Success for the marketing company, Landscape Leadership, gives a great example of how this is working in the landscaping industry.
"[Landscape companies] are using technology to replace boots-on-the-ground surveying," he says.
"If you go out to measure a property, measure all the turf areas, all the mulch, all the curb lines, all the paved areas, you [know] how long that would take."
But now software and online tools like Go iLawn, Falcon, or Google Earth allow you to type in addresses and get measurements back in less time than it would take to drive to the property.
"I have one client that uses [property-management software] for their account managers and saves them a ton of time," says Diller. "It gives them images, measurements, mapped areas, all back in a short period."
And not only can this technology save time on non-billable work, but you can also use it as a sales tool.
"A lot of companies use software where they can pull [an address] out, plot pins, and measure in short little bursts. Then use it to sell on the phone," says Diller.
Go Digital to Get More Customers
The way you win customers today is much different than it was twenty years ago.
Thompson, who has owned three landscaping companies within that time frame, elaborates.
"When I started my first company, and I started advertising, I'd buy little blocks in the local newspaper and in the big newspaper," he says. "And I'd buy some advertising space in there."

"Then, I get into my second company, and I'm thinking about all the ways to advertise. So I started doing some of the things I did when I started my first company. And those methods didn't generate the leads that I was used to.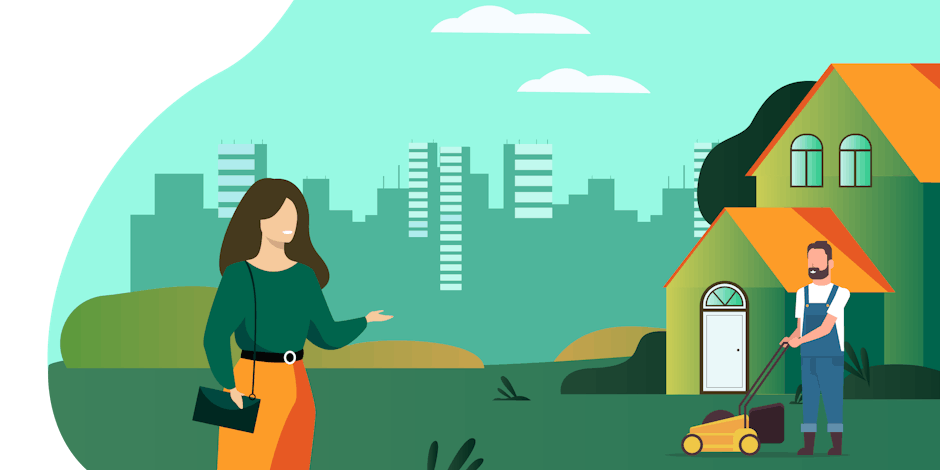 "So I had to change my thought process on that completely. And I went to more internet-based advertising.

"I got work off of Craigslist. I used Home Advisor. I built a website, did some search optimization so that it would generate some clicks and things of that nature."
And digital marketing worked. The first year of his second business, he brought in over $700,000 in sales, a record for him at that time.
Why Shifting to Digital Works
Diller has been doing digital marketing for landscape companies for the past five years. And he explains that the reason online marketing works so well is because customer behaviors have shifted.
"Consumers want to have less interaction with humans, especially early on in the marketing and sales process," he says. "The landscape companies that are excelling are ones that are embracing the fact."
He explains that the innovators in the industry use their websites to keep the beginning of their buyer's journey as sales-free as possible. And they treat their sites less like an online brochure and more as a way to communicate with a buyer digitally.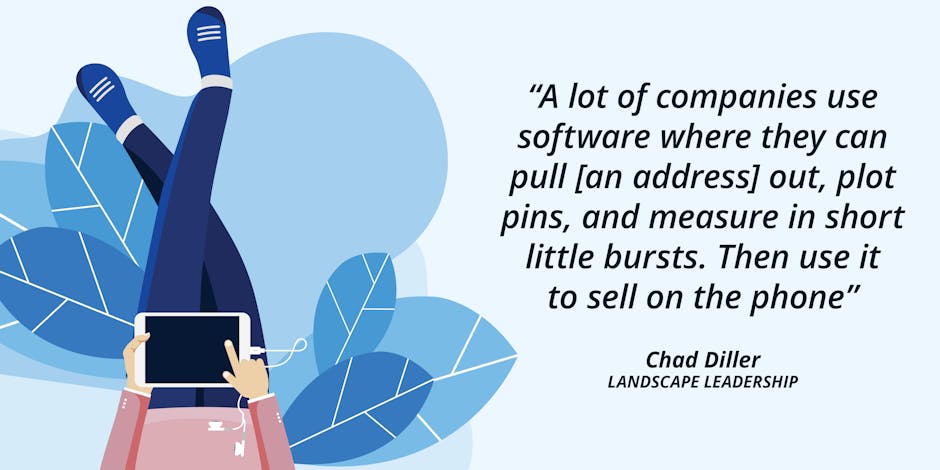 "That means writing all kinds of content, videos, providing really easily-navigated websites that allow people to find exactly what they want in the beginning of the process," says Diller.
He also stresses the importance of using multi-channel communication online to keep the end of the buying cycle as seller-free as possible.
"In the old days [we] used to be like, 'Call us, and we'll come out to your property," says Diller. "[Now] there's [contact] forms on websites. [Prospects] are able to chat on the website.

"Some websites are allowing people to text a rep. And some are even tying in social platforms."
The bottom line is that customers these days prefer to guide their own buying journey, and if you aren't providing a way for them to do that online, you're losing sales.
Use Smarter Equipment to Conserve the Environment (and Your Money)
Some landscaping materials, especially those involved in snow removal, are hard on the environment and the wallet. So it makes sense to use "smart" equipment that measures, calibrates, and conserves them.
"Salt is very expensive, it's not good for the environment, and our tendency to over-apply our deicing agents is relatively unchecked," says Thompson.

"We need to play a more active role in making sure that we're using those materials in an appropriate way and not not doing more damage than we need to."
Thompson gives an example of a technology that can help you do just that.
"There are sanders these days that will calibrate to your truck. So if your trucks are doing five miles an hour, the sander or spreader will drop the right amount of salt on the pavement based on your vehicle speed."
These spreaders also come equipped with controllers that collect and store data so you can print spreading reports.
And it's easy to see the ROI on this type of landscaping technology.
"If you're putting down half a yard of salt before [adopting] the technology, then after the technology you're putting down half as much, that can translate into money savings, labor savings, equipment savings, and, obviously, material savings as well," explains Thompson.
Use Software to Streamline Scheduling and Payroll
"We went to a web-based timecard system and payroll system, and it made my job a heck of a lot easier," says Thompson.

"It made the crew's job a heck of a lot easier because they didn't have to worry, 'Oh, I forgot to put my Friday hours in. And now it's Saturday, and payroll is done.'

"And, on an administrative side, [it helps] keep better track of where our labor hours are going and the money that's being spent on that."
Mayberry is also a proponent of scheduling and payroll apps for landscapers.
"When I joined Level Green, they were doing everything on paper, pen, and whiteboards with stickies for scheduling. So I was like, alright, there is a better way. We can do some things to make this better.

"So I started creating web apps that we use on our phones.

"[Using software] allows us to track our hours better, track our visits better," says Mayberry. "We have a lot more visibility about what we're doing."
Use Digital Tools to Improve Safety and Training Initiatives
"Our mantra is 'Safety. Quality. Efficiency,'" says Mayberry. "So safety is number one for us, and one of the first apps that I built [for Level Green Landscaping] was a safety app.

"Anytime that there is an incident in our company, it is recorded through the safety app. And every single time that there is a safety incident, an email goes out to all production people in the entire company.

"It allows us to see if we have a string of incidents that are the same. Like, in springtime when we're doing bed-edging, we might throw rocks more often than other times of the year.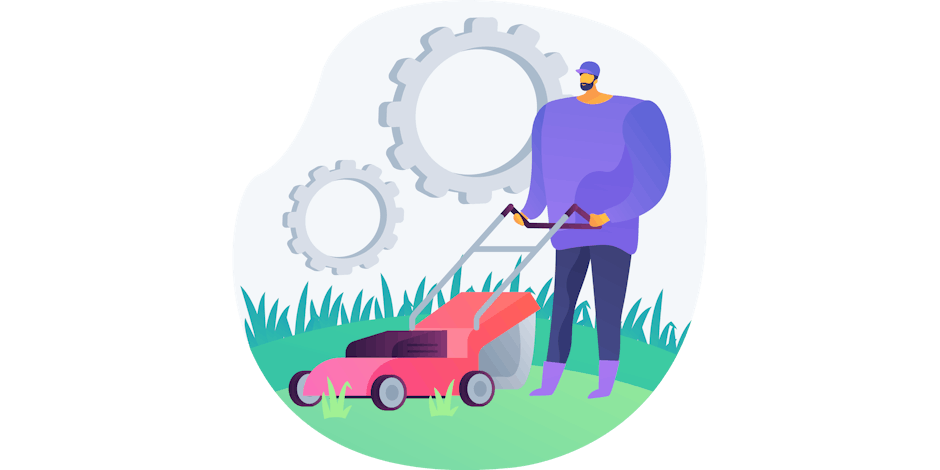 "If we see patterns like that, our safety manager can say, 'All right, stop. We're doing a stop and train.' And then, within the app, everyone has to record that they did the stop and train that day."
Technology is also making it possible to streamline your training efforts by using online training platforms.
Thompson plans to incorporate online landscaper training later this year.
"My hope is to streamline our processes," says Tompson. "When we have a new person come in, we want them to have the same training as the last person that came through the door. That's hard to do when you don't have standardized field training programs.

"It's going to be a real good addition for our team."
Conclusion
Adopting landscaping technology is a smart move for any landscaping contractor who wants to beat the labor shortage, improve operations, and increase their bottom line.
"Anywhere that we're more efficient, we're becoming more profitable," says Mayberrry.
But you don't have to incorporate all these technologies at once.
Mayberry gives this advice for moving forward with technology:
"Businesses need to think about what is most important in their business right now.

"Is it smoothing out communication with clients? Is it safety?

"There are tech options that satisfy both of those needs, but not one that necessarily does both at the same time. So everyone should think about what their biggest issue is at this point, and find a piece of technology that fixes that immediate need."
Save Time and Money with ClockShark
Thank you! Your submission has been received!
Oops! Something went wrong while submitting the form.