Hey All! We've got some great new ClockShark features to announce for September. This just in!
New ClockShark Features
Who's Working Now
You can now clock an employee outright from the Who's Working Now Screen. Yep, no more waiting for the employee to clock out when they forget to do so on time. Just force the shift to end immediately with the new Clock Out button and then edit the shift right away to correct it.
But that's not all. Actually we've got a ton of new features this month so read on!
GPS Maps
You can now expand all of the GPS maps to a full-screen view. No more squinting at maps that should be bigger. Expand those bad boys to full screen and rock on! You asked and we delivered.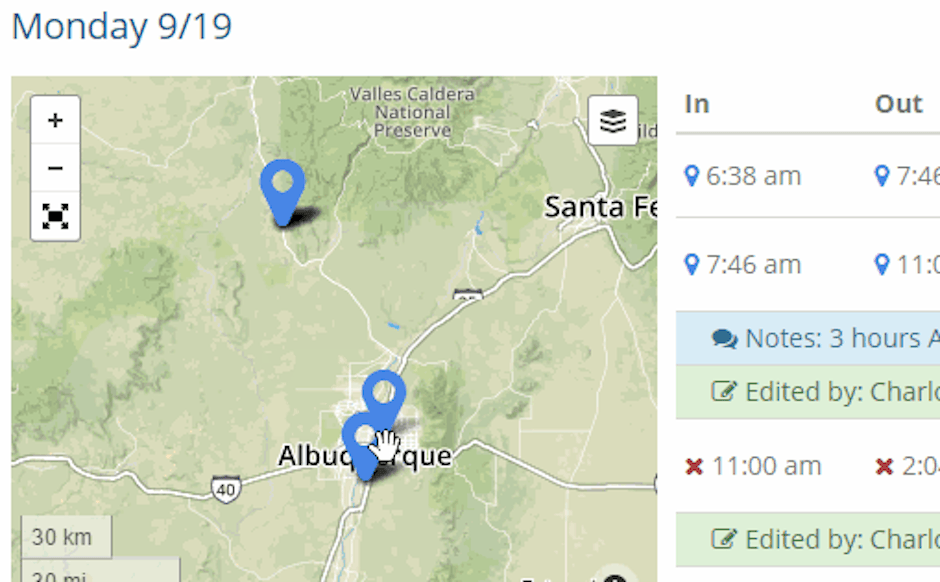 The Jobs/Tasks/Employees screens now support bulk actions for Activating, Deactivating, and Deleting. These bulk actions become visible when one or more checkboxes are selected. These bulk actions make working on large groups of employees much easier!
QuickBooks Integration
If you are using the QuickBooks integration, your QuickBooks mappings screen now has searching and paging added along with a filter for active/inactive status. These additions make the QuickBooks mappings screen so much easier to work with.
QuickBooks Sync Logs are now available to you via your QuickBooks settings pages. There is a link in the top-left for both QBD/QBO. These should help you better understand problems with exporting time or diagnosing any errors with a QuickBooks connection. This information was previously available only to ClockShark support people, but now it's visible in your QuickBooks screen.
Save Time and Money with ClockShark
Thank you! Your submission has been received!
Oops! Something went wrong while submitting the form.
Automatic Lunch Deduction
The Automatic Lunch Deduction feature now has options for 7 and 8 hours as the threshold of 'hours worked' for breaks to be applied. You asked, we delivered!
Reports
Finally, reports now have a progress bar that will display for long-running reports. Previously, certain reports took a while to generate and it was a bit confusing when that happened. The new progress bar helps make the experience of running reports better.
We hope you enjoy the new features! Now, it's time for us to go back to work on the next batch of cool features and improvements. It's our goal to make ClockShark the best time tracking and scheduling app on the planet for field service and construction companies. Yeah! 🙂