Businesses in all industries face the same puzzle - efficient and cost-effective employee scheduling.
In the field service industry, business owners have to work with a lot of moving pieces.
Managing a mobile workforce with many teams at remote job sites is already a lot of work. Implementing employee scheduling app eases your workload and streamlines business operations. Inaccurate scheduling increases labor costs and lowers productivity. Worst of all, it can be a drain on your most important resources: time and money.
Stop Solving Problems...
Paper schedules are inaccurate and time-consuming. If you're still building employee schedules by hand you're leaving a lot of room for error. Those errors become a problem when they hurt productivity and eat into profits. Here's why ditching outdated scheduling methods should be your next move:
You Keep Running into Scheduling Errors
Handmade paper schedules are always inaccurate. Inaccuracies can lead to missed shifts, overtime, and chaos when you need to make a change. Schedules posted at the last minute and schedule changes are easy to miss. You might forget to include approved sick or vacation time or a shift change request.
Uneven Shift Assignments
If you're making schedules by hand you might be giving the 'good' shifts to the same employees without realizing it. That leaves other employees disgruntled and grumbling about favoritism. Employees who feel overlooked are more likely to be less engaged and less motivated to do their job.
Chaotic Shift Swapping
Shift swapping with manual schedules is a hassle. Employees either find their own coverage or turn to you to find their replacement. This can lead to short-staffed shifts or having to pay employees overtime to make sure a shift The chances of miscommunication are high and so are frustration levels. Plus, you risk missed shifts when you aren't using online scheduling software.
...Find a Permanent Solution
Employee scheduling software streamlines your business processes and reduces room for error. It eliminates the day-to-day problems you face with old-school scheduling and does the work for you.
Cloud-based software programs like ClockShark offer features designed specifically for field service. Customizable features and mobile functionality reduce the problems found with manual employee scheduling. These features reduce your workload by minimizing the time you spend making schedules and free up time to grow your business.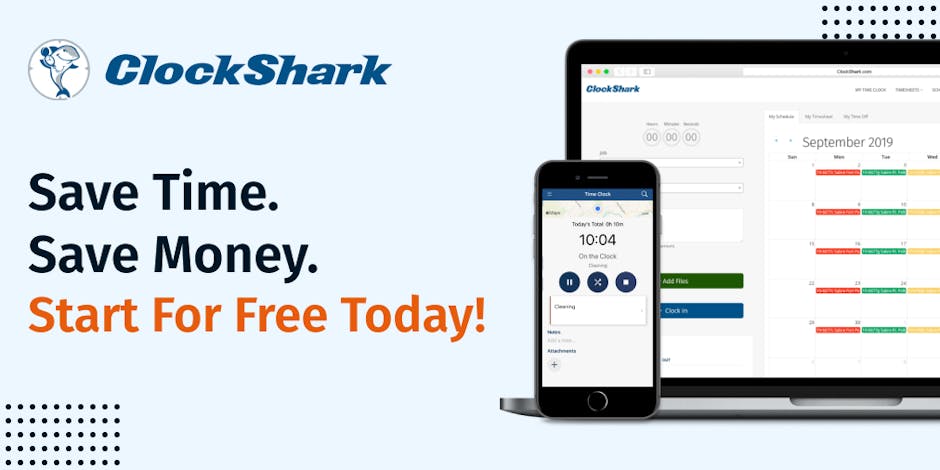 1. Reduce Labor Expenses
Employee scheduling software means no more unnecessary labor costs. You'll get an alert when a shift needs coverage and time tracking features make sure employees aren't working overtime.
2. Reduce Employee Scheduling Time
Even the best spreadsheet imaginable requires manual changes and upkeep. Automatic employee scheduling features do the work for you. You can set customize scheduling guidelines and then let drag and drop scheduling and PTO management features do the rest.
Cloud-based scheduling apps also allow employees to trade shifts among themselves. Employees who need coverage can find someone to fill their shift without going through management. This makes shift swapping easy for everyone and makes sure shifts are always covered.
3. Improve Employee Satisfaction
Getting a schedule at the last minute is frustrating. Cloud-based employee scheduling software solves that problem, giving employees access to schedules anywhere. Did the schedule change? No worries– software with mobile app features notify employees of schedule changes so they're always in the know.
PTO management features make sure time off requests are no longer forgotten. Employees can view the amount of time off available and make requests online, and management can then approve or deny the request online. Making time off requests easy and automatic curbs employee frustration and saves you time.
4. Avoid Employee Absenteeism
Paper schedules can get lost and forgetful employees can miss shifts if they misplace their schedule or don't see that it's a schedule change. Cloud-based scheduling software gives employees 24/7 access to the schedule, so they can always check it and avoid missing a shift.
5. Improve Compliance
Building a schedule that fits business and employee needs is only half the battle. You also have to make sure you're following labor laws, and doing it all by hand is a chore. Employee scheduling software keeps track of labor laws and alerts you to violations. It keeps track of employee time, ensuring employees aren't working too many hours and take mandated breaks.
6. Improve Productivity
As a business owner, you have a lot on your plate. Scheduling software eases your workload and allows you to focus on projects that grow business.
Save Time and Money with ClockShark
Thank you! Your submission has been received!
Oops! Something went wrong while submitting the form.
It's Time for Change
Employee scheduling is a stumbling block all businesses face. Software is the solution to scheduling problems. Cloud-based software like ClockShark operates with field service and construction businesses in mind. It's loaded with features that make scheduling easy and boost productivity and profits by saving you time and money.
Don't let scheduling hurt your productivity and profits. Find an employee scheduling software solution that does the heavy lifting for you.