"Accurately tracking hours was so complicated and such a headache that we were constantly losing records and under-recording our actual work, resulting in many hours of unbilled work."
-Joel P., Director of Marketing at Santa Barbara Forge
---
10 Percent recovered on billable hours | 30 Minutes saved daily by employees | $250-$1000 saved each month on payroll
10 Percent
recovered on billable hours
| 30 Minutes
saved daily by employees
| $250-$1000
saved each month on payroll
INDUSTRY: Metal Fabricator
LOCATION: Santa Barbara, CA
COMPANY SIZE: 7 Employees
WEBSITE: www.sbforge.com
A Company Focused on Quality
Founded in 2005, Santa Barbara Forge has been providing top-tier metalwork for homes and businesses all across the U.S. They specialize in projects of any size, from small residential projects to large-scale architectural elements. A 4,500 square foot shop located on the central coast of California houses an impressive array of tools and machines, allowing them to meet the diverse needs of a broad client base.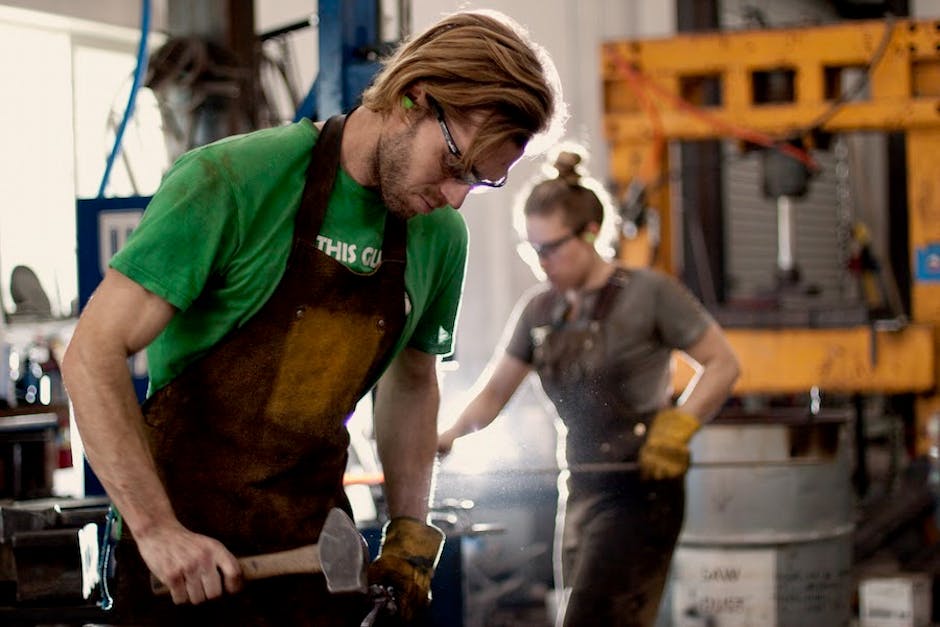 Life Before ClockShark
Prior to ClockShark, Santa Barbara Forge used paper timesheets, and sometimes even Post-it notes to keep track of their employees' time. When the timesheets were unclear, they would settle for a 'safe guess' to pay their employees.
Joel states, "Our paper system-generated lots of waste and created unnecessary busywork that wasn't all that accurate, to begin with. Accurately tracking hours was so complicated and such a headache that we were constantly losing records and under-recording our actual work, resulting in many hours of unbilled work." Lots of time and money went down the drain as they continued to use paper timesheets.
Moving Away From Paper Timesheets
Santa Barbara Forge started using ClockShark in April 2019. Since then, ClockShark has revolutionized their ability to keep accurate records and clear their lives (and desks) of unnecessary piles of paper. They said "goodbye" to the old method of timekeeping, "which involved endless piles of sticky notes and hand-scribbled sheets of paper," Joel explains.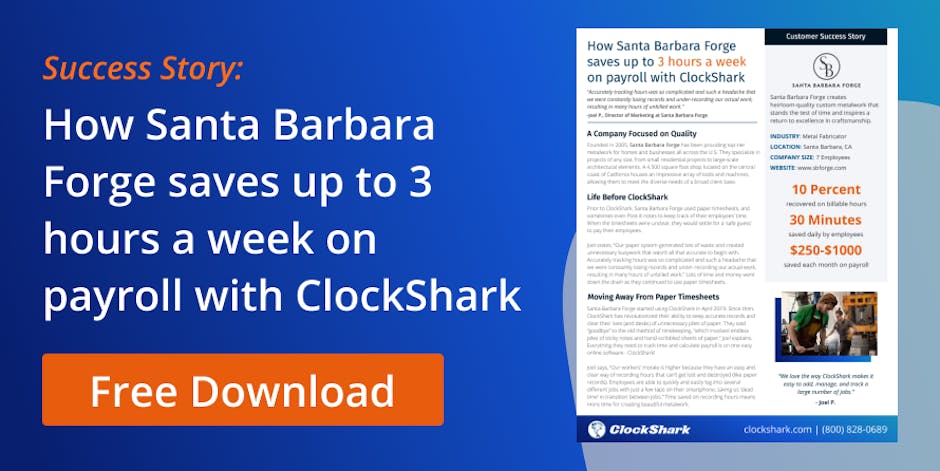 Everything they need to track time and calculate payroll is on one easy online software - ClockShark!
"We love the way ClockShark makes it easy to add, manage, and track a large number of jobs." - Joel P.
Joel says, "Our workers' morale is higher because they have an easy and clear way of recording hours that can't get lost and destroyed (like paper records). Employees are able to quickly and easily log into several different jobs with just a few taps on their smartphone, saving us 'dead time' in transition between jobs." Time saved on recording hours means more time for creating beautiful metalwork.
Start Saving With ClockShark Today!
Santa Barbara Forge is one of over 5,000 companies that use our software to help them with GPS time tracking and scheduling. Are you ready to give ClockShark a try? Click the button below to begin for free today!
Save Time and Money with ClockShark
Thank you! Your submission has been received!
Oops! Something went wrong while submitting the form.