Know the Exact Location of Each Employee With GPS Time Clock
Know where your employees are and what they're doing throughout the workday with GPS Time Clock
Get a breadcrumb trail of crew's workday

See the location of every employee on the clock

Insanely simple to use
Get Started Free

ClockShark is trusted by more than 9,500 companies and over 100,000 field service and construction professionals worldwide.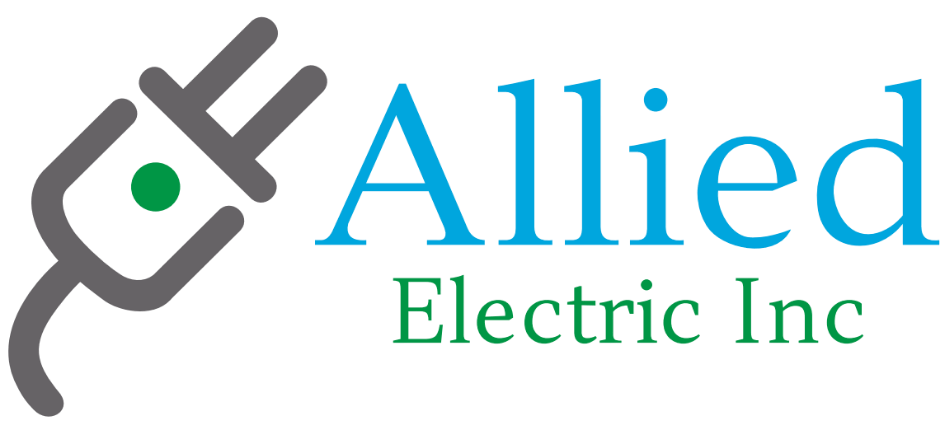 To guarantee your payroll accounting is as accurate as possible, you need to verify employees were at the job site when they recorded their work times.
ClockShark's GPS time clock attaches a marker to every single clock in and out event, displaying your employees' specific locations on a simple map so you can confidently approve their timesheets.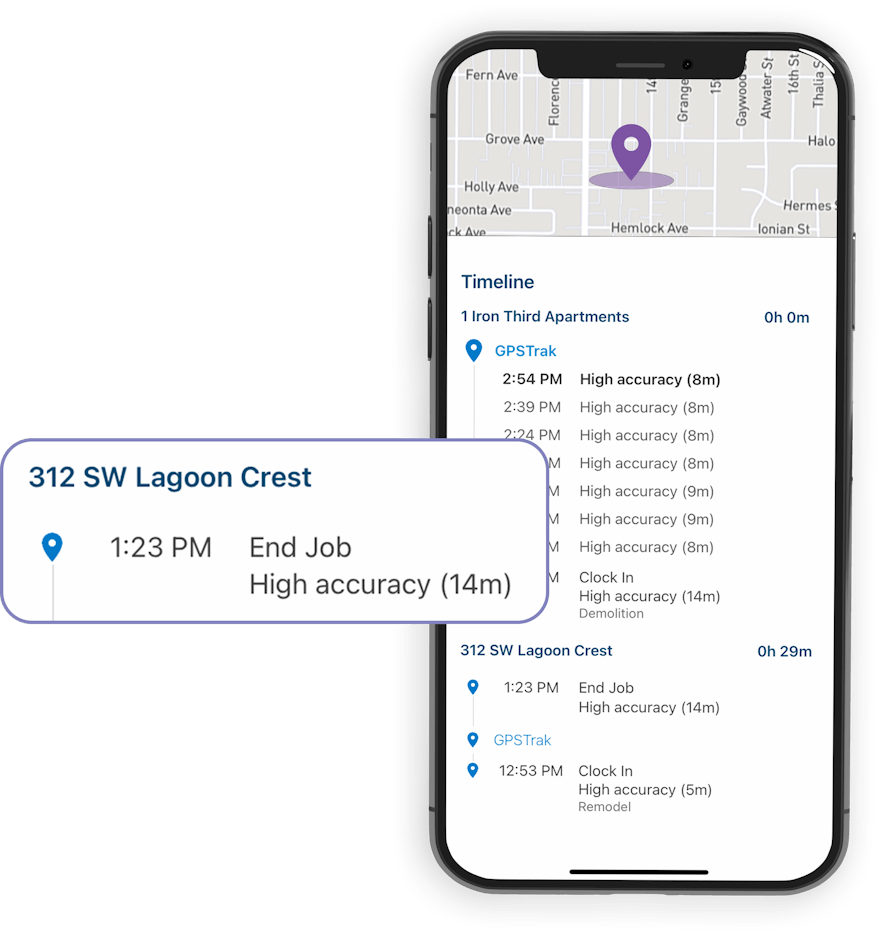 Your employees will frequently remain clocked in for many hours while traveling, depending on your business and the job they're scheduled to do. You can make sure employees are traveling to the right location and remain at the job site where they're supposed to be working using GPS tracking. This unique aspect of the GPS Time Clock marks an employee's location every 10-15 minutes, automatically leaving behind a constantly updating breadcrumb trail of sites they've visited. Plus, it animates the path employees took along each pinned location on the map. You can play the route they took forward or backward to see how they traveled from one spot to the next.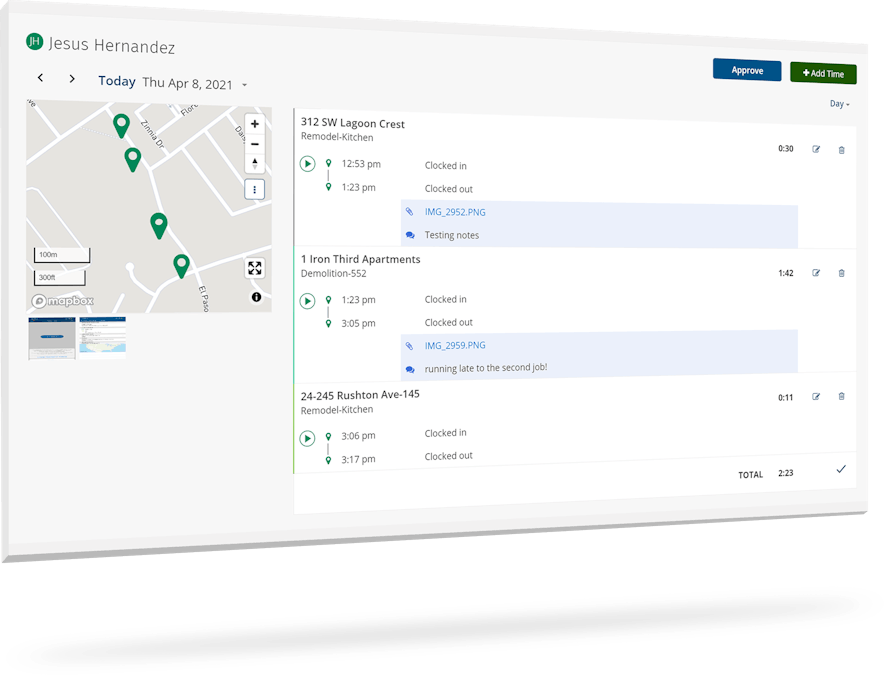 Managing employees in the field can be difficult if you don't have an accurate or up-to-date picture of who's actually working and who isn't. The Who's Working Now option (inside the ClockShark website and mobile app) shows you the latest location of every employee on the clock, updating automatically throughout the day. This list of employees is updated in real-time throughout the workday, telling you when they clocked in, out, or took a break and where they were when they did.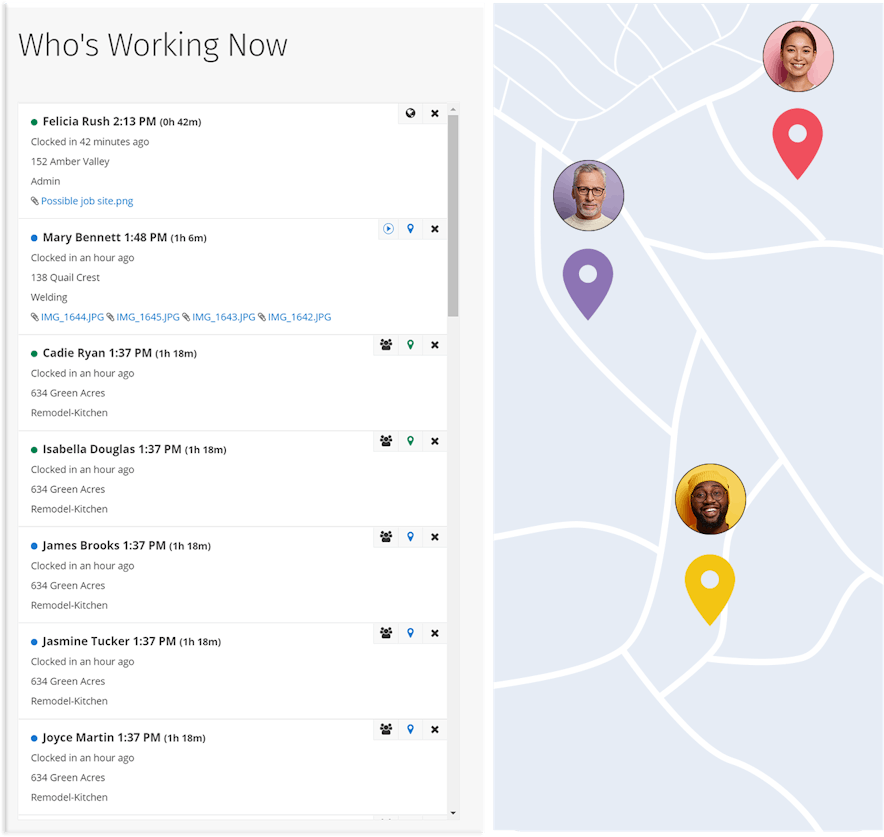 ClockShark's GPS time clock lets employees clock in and out with a few taps on their mobile devices, but they can easily forget to do it if they're eager to start working or get home.

The GPS clocking system lets you create a geofence around any job site or service location.

The geofence will automatically alert employees when they've reached their boundaries and notify them to clock in when entering and clock out or switch tasks when leaving.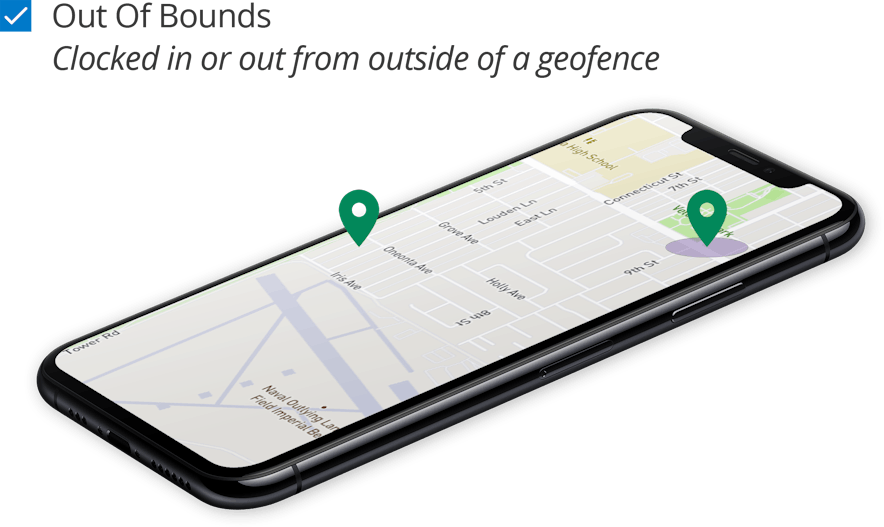 There are plenty of instances when you need to show proof of the work you've completed. A customer may ask for it, especially if you're sending invoices based on hours and they want to double-check the reported times against recorded locations for each employee assigned to the job.

Insurance companies will ask for it when conducting an audit on your payroll records and timesheets, and will be looking for tracking and reporting that seems trustworthy.

GPS time clock maintains a verifiable record of who worked which job, at what time and location, and for how many hours.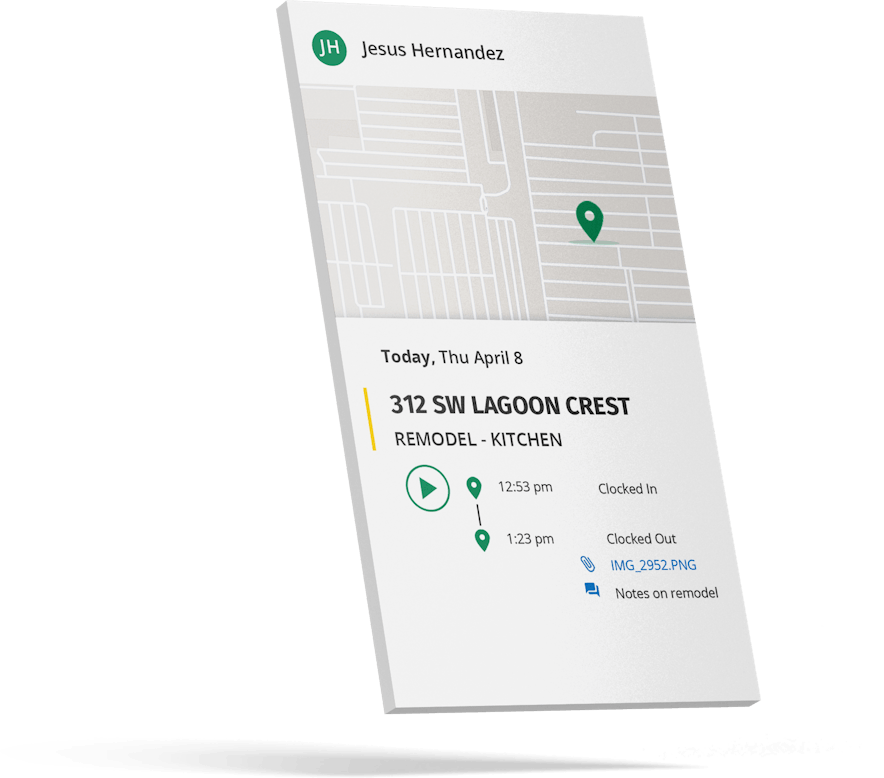 ClockShark has greatly simplified our payroll process, saving hours of work each week
I like the fact that I can see a GPS breadcrumb on the map when an employee clocks in our out. Given that we have employees deployed all over the US, it makes it easy to see if everyone is where they should be when they should be.
Success Story
How one pool building company saved $3,000 and 16 hours on payroll every month
Aloha Pools & Spas was busy expanding their operations, adding additional crews, employees, and dozens more customers.

But their drawn-out manual processes weren't able to handle the extra workload. It took too much time and effort to manually create jobs, move them to a timekeeping system, then transfer that data to payroll processing, and do it all over again the next day.

But once they made the switch to ClockShark they were able to solve several pressing problems - remaining profitable during the COVID-19 pandemic and beyond.
"I would estimate ClockShark is saving us approximately $750 per week and 4 hours per week on payroll." Matthew F., HR Manager of Aloha Pools and Spas
Frequently Asked Questions about the GPS Time Clock
Does GPS work offline?
Yes, ClockShark's GPS time tracking app will work when employees travel outside of cellular coverage.
They can even clock in and out without cell service and the recorded times will be synced up with your account when an internet connection is restored.
The GPSTrak™ function will also continue working even without cell coverage since it relies on GPS satellites and not the cellular network.
Can the GPS Time Clock app track the location of employees when they're off the clock?
No.
The GPS time tracking ONLY tracks locations when employees are clocked in. It cannot and will NEVER track employees after they're off the clock. Respect for employee privacy is literally built into the ClockShark mobile app.
How accurate is the GPS?
ClockShark's GPS is as accurate as the user's mobile device.
Whenever a user clocks in or out, and when GPSTrak™ is enabled, a pin is created on a map showing the detected location with a circle around it. That circle displays the accuracy level of that particular location as reported by the GPS sensor on the mobile device. The actual location of the device could have been anywhere inside of that circle. The smaller the circle, the more accurate the GPS reading was.
Will ClockShark's GPS drain the batteries of employees' mobile devices?
No, ClockShark is designed to use minimal battery life, so the app should take no more than 15-25% of battery life throughout an 8-hour shift, even with all GPS features enabled.
9,500+ companies use ClockShark to track employees and save time every month.