It's no secret that hiring new talent is expensive and time-consuming. Studies have shown that the price tag on a single new hire costs thousands of dollars. The cost can go up further if a company chooses to outsource the hiring process. Small business owners reportedly spend up to 40% of their time on tasks such as hiring that don't bring in revenue.
Add in the cost of training, salary, and benefits, and the cost of hiring a single person can reach tens of thousands of dollars.
This price tag means frustrations run high when businesses invest in a new hire, only to have them leave too soon. The best solution to increase employee retention is giving them a strong foundation to build their future within the company.
Developing an effective employee onboarding process helps end the cycle of hiring and turnover helps boost their bottom line.
What is Employee Onboarding?
No, it's not what you do when you get on a cruise ship (Although an onboarding cruise would be awesome).
Onboarding is the process of helping a new hire get settled into an organization. It socializes a new employee, making them comfortable with the organization's culture. It also gives them the training needed to meet your expectations for their performance.
Simply put, onboarding is a process designed to turn "outsiders" into "insiders." It is a series of steps developed and refined over time based on a company's best practices.
Why is Employee Onboarding so Important?
A new hire who feels comfortable as the "new kid in school" is more likely to meet performance expectations feel satisfied with their environment.
Onboarding decreases errors and stress while boosting confidence and job performance.
Research shows that employees who have gone through onboarding feel more engaged and highly motivated. Engaged, motivated employees that show up to work. High attendance positively impacts company profits and functioning as a whole.
In fact, the Aberdeen Group reports that effective employee onboarding increases engagement by more than 20%. Engaged employees are 87% less likely to leave the company within the first 12 months.
A structured onboarding program creates employees that at 60% more likely to remain with the company for longer than three years.
An effective onboarding process also results in employees reaching peak performance and benefit the company sooner.
Despite all that, the Aberdeen Group also reports that only 32% of companies have a formalized onboarding process!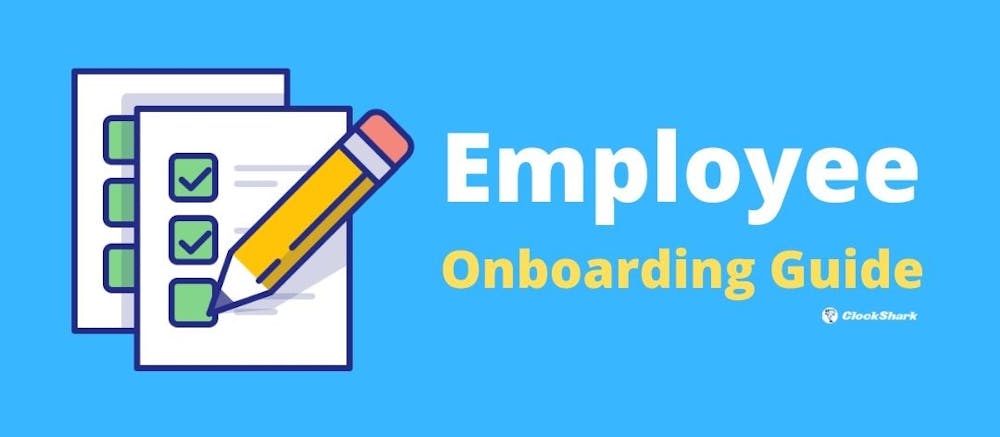 How do You Develop an Employee Onboarding Process?
For small businesses, a comprehensive onboarding process can be a challenge when time and resources are limited. A good onboarding process doesn't need to be expensive or time-consuming. At its core, onboarding new employees require preparation and thoughtfulness.
Each company's onboarding process develops around the specific needs of its employees and business plan. It's up to business owners to target specific goals and milestones. What works best for your business? Figure out what type of employees you want to hire and keep, and create a timeline for each step in onboarding.
How Long Should an Onboarding Take?
Again, there isn't one end-all answer. Each business is unique, and the length of time devoted to onboarding will vary by field and by job title.
With that said, experts say that it takes the average new hire more than twelve months to be proficient and integrated. For every business, there will be new skills to pick up, systems to learn, and processes to absorb.
A good employee onboarding process starts before a new hire's first day and will last their entire first year. This allows them to learn the inner workings of the company and reach peak efficiency.
There are a LOT of items to cover in a year. One of the most popular tools in new employee onboarding is an employee onboarding checklist. Business owners can use this checklist to maintain onboarding consistency and make sure that the process is thorough.
What is an Onboarding Checklist?
A new hire onboarding checklist helps HR and management follow a structured process and make sure they are covering all the bases needed to integrate a new employee. A checklist lays out the steps in a company's onboarding process, the details involved with each step, and makes sure that crucial items are not being overlooked.
What is the Process of Onboarding?
Pre-boarding
First impressions are important. Why not put your best foot forward before a new hire has even stepped through the door on their first day?
Pre-boarding new employees show that you're just as excited as they are about receiving an offer. It eliminates the purgatory between when they accept an offer and the time they start.
Think of pre-boarding as a jump-start on their immersion into the company.
On your onboarding checklist, preboarding is a step during which HR can prepare for a new hire's arrival. Prepping new hire paperwork such as W-4s, I-9s, and benefits information before a new employee's first day means less time spent on paperwork on day one.
This window of time is also when HR meets with the new hire's supervisor to discuss job specifics and expectations. With HR and management on the same page, day one will be more organized and efficient for new employees.
Pre-boarding is a team effort. Several key areas need addressing before a new employee arrives.
IT should make sure that the new hire's workstation is ready for their arrival. Set up their phone and computer, create necessary accounts, and make sure all the tools needed for training and daily job function are ready to use.
Management handles setting a realistic training timeline, establishing goals, and laying out the specifics of a new employee's job expectations.
The company as a whole is responsible for welcoming a new employee into the company culture. Nothing scares off a new hire faster than an unfriendly work environment. Make sure the team is ready to greet their new coworker with a warm welcome.
Establishing good communication during the pre-boarding stage encourages a new hire to ask any questions they may have before their start date. Provide answers to common first-day questions in advance to squash first-day jitters. Knowing what to wear and what to expect on the first day can make a new hire's first impression of your company positive before they begin.
Day One
Aim to make a new hire's first day at your company the best EVER. Ease anxiety on the first day by greeting them as they enter the building so they don't have the added pressure of trying to figure out where to go.
Take some time to walk them around the office to help them get their bearings. Show them where the break room, restrooms, and other common areas are to make them feel more at home.
Introduce them to their team and schedule time for small talk. Getting to know their new coworkers will help them learn the company culture.
Make sure to go over all expectations, from office dress code to job performance. Help them navigate forms and break down the information in a way that is easy to understand.
It is a good idea for business owners and managers to take a new hire out to lunch on the first day. This gives both you and the new hire the chance to get to know one another and helps the new hire feel valued from the start.
Week One
Once a new employee has settled in, assign them their first project during week one. Getting hands-on will help them learn how to do their job while making them feel useful during their onboarding period.
Meet one-on-one with new hires to lay out what expectations for them during the first month. Set up goals and checkpoints to track their progress during training.
Be sure to encourage new employees to ask questions without hesitation. Maintain clear, open communication to make new employees feel more comfortable.
One Month
After the first week on the job, set up a "checkpoint" with new hires after they've been there for a month. Review your onboarding checklist to make sure you've covered everything needed so far.
This is a good time to discuss a new hire's long term personal goals and the goals they are expected to meet with their job. Review how the company can help them with personal growth, whether it be through company-provided specialized training, certifications, or education.
Encourage social interaction as a team to make sure that your new employee is integrating into the company culture.
Some companies, such as travel insurance company Squaremouth, hold company-wide social events to promote a fun, energetic atmosphere. Examples include team happy hours and boat days, where employees can kick back, relax, and have fun together.
Give feedback where it's needed, but make sure to ask for feedback from the new hire as well. It is crucial to understand how they are feeling to onboard them efficiently.
Three Months
Three months into employment is a good time to have another checkpoint. Check your employee's performance in the past three months. Be sure to highlight their achievements and provide guidance in areas that need improvement.
Evaluate the goals that were set. Were they met, or do they still need some work? Give feedback and, again, ask for feedback in return. Make sure you are checking all the necessary boxes on your onboarding checklist.
Six Months
Meet with your new hire again for a six-month performance review. Continue to encourage open dialog and ensure they are receiving adequate training. Set goals for the rest of their first year, and give them more freedom to work on their own.
Avoid micromanaging if your new hire is adapting well. Giving them the freedom to work independently keeps ambitious employees motivated to excel.
One Year
At the end of a new hire's first year be sure to review their performance. Recognize their achievements since they first arrived. Did they meet the goals and expectations that you explained on day one? How well have they integrated into the company culture?
If applicable, cover career advancement, compensation and raise policies. Discuss how your employees can grow within the organization and further their career. Ask them their long and short-term goals going forward and how they can achieve them.
Be sure to follow any feedback you give with a request for feedback from your employee. How do they feel about their onboarding experience over the past year? How do they think it could improve?
Business owners and management should never settle into a routine when it comes to onboarding. Actively gather feedback to help refine the process for future new hires.
How can the Employee Onboarding Process be Improved?
As a business owner, the one thing you should never do is allow your onboarding process to stagnate. Without finding ways to improve and keep new hires engaged, you run the risk of turnover.
According to Forbes, employees who have a negative onboarding experience are twice as likely to start looking for a new job within the first year. It's important to not only develop an efficient onboarding process but to also track its effectiveness and refine it over time.
Here are some common mistakes made during onboarding, and potential solutions for improvement.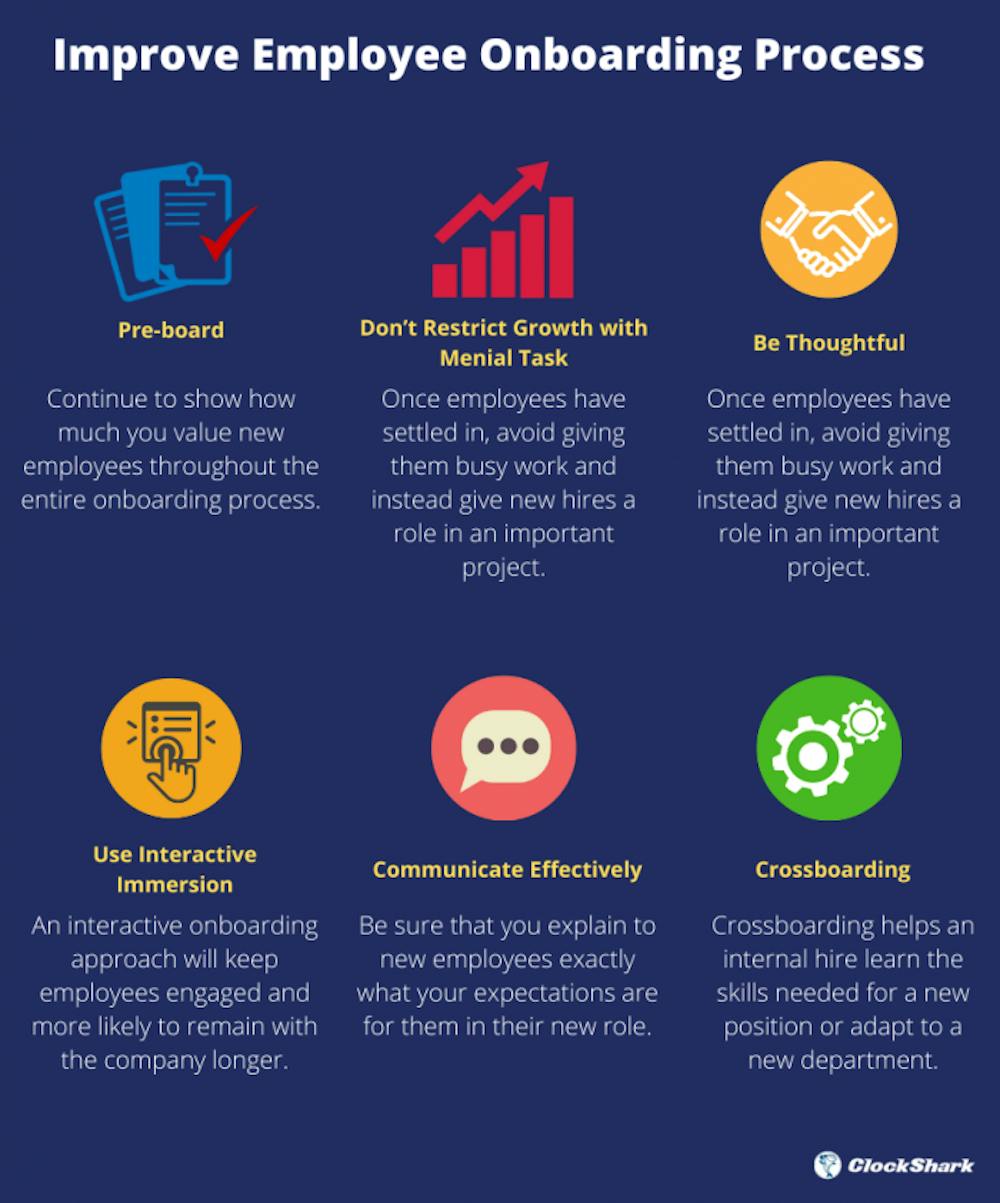 Don't forget to pre-board
One common mistake is failing to include pre-boarding in your onboarding process. Once you make a formal job offer, there is usually a gap period before a new hire's start date.
Currently, the pool of talented applicants is huge. Demand is high, and silent periods between when you make an offer and a starting date provide an opportunity for new hires to receive other offers. Preboarding maintains contact and keeps new hires focused on how great your company is.
Improve existing pre-boarding procedures by using it to complete the less exciting parts of bringing in a new employee. Automate tax forms and benefits information and send them electronically before a new employee starts.
Checking off dull items on your checklist in advance leaves more time and energy for social integration and job training.
Don't Restrict Growth with Menial Tasks
A surefire way to stifle a new employee's engagement is giving them menial tasks early on.
Ambitious employees accept positions that they believe will grow and develop their skills. Once they have settled in, avoid giving them busy work and instead give new hires a role in an important project. Working with a team and feeling valuable will give a new hire hands-on experience. Responsibility keeps talent engaged and motivated to succeed in their new role.
Take Google for example. Their onboarding process involves an employee to employee peer buddy system. The goal is to keep new hires engaged and develop their skills during their transition period.
Be Thoughtful
Show your new hire how much you value them from the start. Whether you show it with company swag bags, company-wide announcements of new employee arrivals, or lunch on the first day.
Twitter welcomes new hires with a goodie bag stuffed with company-branded wine, among other items. Online clothing retailer Chubbies Shorts lets new employees raid the warehouse. Make your new hires excited to come to work every day by showing them how great the working environment is.
Continue to show how much you value new employees throughout the entire onboarding process. Ask them how they feel during evaluations, and give them recognition for their accomplishments.
Acknowledge their one year anniversary, and remind them that you are as excited to have them as you were the day they started. Employees that feel valuable to the company they work for are more likely to stay and more motivated to help the company succeed.
Use Interactive Immersion
Many companies are moving away from a clinical onboarding approach, instead opting to use an interactive process to submerse new employees in company culture and a new role.
New hires at Dyson learn how to take apart and reassemble Dyson products in a class taught by one of the company's engineers. Airbnb holds a training boot camp for new engineers, complete with a miniature graduation ceremony.
When designing an onboarding process for your company, don't be afraid to think outside the box. An interactive approach will keep employees engaged and more likely to remain with the company longer.
Communicate Effectively
Ineffective communication between new hires and management leads to confusion and frustration. This increases the likelihood that your new hire will search for other opportunities.
The solution is complete clarity when it comes to communicating. Be sure that you explain to new employees exactly what your expectations are for them in their new role.
Don't Forget about Cross Boarding
There's a lot of emphasis on onboarding, but it's important to also remember the importance of cross boarding.
Crossboarding helps an internal hire learn the skills needed for a new position or adapt to a new department. It also requires clear communication of expectations and time to adjust.
Take One Step at a Time
Creating an employee onboarding process can seem challenging, but it's easier than you think! Start with a checklist of what employees need to succeed in your business. From there develop a process that provides your employees with the tools to succeed.