According to the Bureau of Labor Statistics, construction managers "plan, coordinate, budget, and supervise construction projects from start to finish." Of course, this is a rather simple explanation for a complex and often unpredictable career but it captures the responsibilities of a CM in general.
Careers in construction management are expected to grow at a faster rate between now and 2028 than the average for all occupations, and while most CMs enter the field with a Bachelor's degree, there are still those who have been doing the job long enough to know the industry inside and out, without the degree.
Many CMs work from a field office but for those who run multiple projects, they'll need to balance their hectic schedule in an organized way. CMs are responsible for multiple aspects of a project including:
Quality control

Cost management

Safety and compliance management

Contract administration
Regular construction site visits will help ensure you are performing these duties best.
For those choosing to advance their construction career as a CM without the formal training, or who want to improve their management skills, here are seven reasons why you will need to visit your projects as you grow your company and your career.
1. Ensure Quality
Whether you have superintendents, foremen, or subs on the job, no matter how much you trust them to oversee and supervise the project, ultimately it falls to you to ensure quality projects. It does not have to be a microscopic, micromanaging visit that could discourage your workers.
Rather, spend some quality time walking the site, inspecting random aspects, and asking questions. Verify daily inspections are being done and determine what, if anything, needs to be addressed.
Spend time with any new or unfamiliar subs or workers to see that their level of commitment and craftsmanship matches your company's and check that everything is being done to spec. It's less costly to catch a discrepancy early than it is to discover it later and have to redo something.
Pro Tip: Be sure to have clear processes in place for discrepancies to ensure consistency for each member of the team.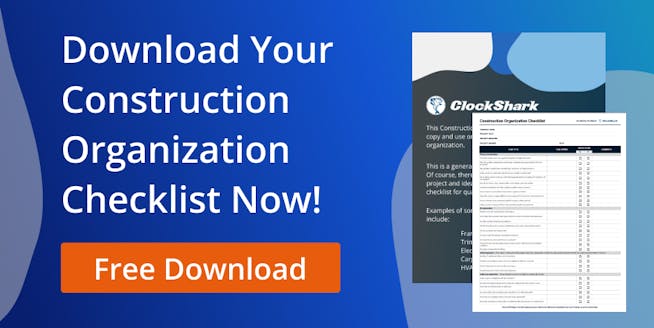 2. Stay Ahead of Material/Supply Needs
For smaller projects, materials and supplies may not be as much of an issue as for larger projects.
For larger projects like commercial or industrial jobs, material and supply shortages or quality can completely disrupt a project and cause delays and budget issues. While your crews may discover flaws in the materials, it is ultimately your responsibility to double (or triple) check the material and supply inventory to ensure it is up to snuff.
Pro Tip: Make sure the right supplies are ordered for different subs. You don't want your HVAC sub showing up with the tools to do it one way, when you have purchased the materials to do it another way. Keep communications open.
3. Improve Morale
Tradesmen and laborers are proud of their work but doing a job for someone who doesn't care or appreciate it can make them feel undervalued. When you walk a site and see the work being done, the folks doing the job will appreciate your interest in their craftsmanship and skills.
A walkthrough of the project should include commentary and praise for jobs well done, and reminders that enhance their commitment to a quality job well done. Praise goes a long way towards creating engaged workers that make your company look good.
Conversely, recognize if you have someone on the job who is not a team player and is causing disruption on the project. It's never comfortable to have to let someone go but your crews need to know you have their backs.
Pro Tip: When terminating a worker, keep it private, professional, and tactful.
4. Advise Workers
Along the same lines of improving morale, a job site visit gives you the opportunity to advise the workers on the site about things they can do to make their jobs easier or better.
As a construction manager, you decide salary increases, the value of an employee's bonus, who gets promoted, and who needs training. You literally decide the future of the people working for you. Visiting projects and interacting with your team lets you understand their strengths and weaknesses so you can better utilize the strengths and support the weaknesses.
Knowing each individual's abilities and skills allows you to better reward those who have put the effort in, promote those who have the required abilities, and properly train those with potential.
You can also use these visits to ensure the safety of your site is up to code to avoid costly code violations. Ask questions to find out what - if any - concerns the workers have and address them quickly. This helps further improve your employee morale and ensures you are getting the kind of quality work done that you want your company to be known for.
Pro Tip: Make an extra effort to notice workers who are going the extra mile. They could be your supers in the future and a long-term investment for your company.
5. Nurture Relationships With Customers
As a construction manager, you are the voice of the company and the face the customer will equate the work with. This is a powerful and important role. Being a successful construction company is about more than just landing the bid; it's about nurturing that relationship with the customer.
This gives you more than one advantage. You are not only being personable and making the customer know you care about their thoughts and what they want; It also makes things like change orders easier to handle and creates a cooperative relationship that will help make the job go smoother.
Pro Tip: Your customers hired your company because you're the expert. They may feel foolish asking questions so share your knowledge openly so they understand the process.
6. Find New Leads
Today's consumers are increasingly connected and since they are bombarded with advertisements when browsing their social media, are less likely to pay attention to ads. Rather, they are more likely to ignore or even block ads in favor of peer reviews and word of mouth.
Word of mouth is the best way to find new, qualified leads for future projects. When you have a presence on the job site and a potential lead shows up, it helps that you are there to provide information on the spot and collect their information to set up a time to go over their needs.
Pro Tip: Invest in signs to post around your site and make company vehicles clearly visible, so people see your contact information along with the work you are doing.
7. Protect Professional Reputation
Construction management is not a set-it-and-forget it kind of job. It's an important career that often starts well before the sun comes up and lasts throughout the day.
Your crews are hard at work, doing their trades and are the physical representation of your company when you're not there. With frequent job site visits, you can ensure they are properly representing you, your company, and your reputation with the quality of work they do as well as their attitudes and passions about getting the job done.
Pro Tip: Carry a hand full of ear plugs and extra safety glass, so when walking around the job site, you can easily hand them out instead of barking orders at the crew to get them on.
Conclusion
Job site visits are an integral, critical part of completing any project - large or small - on time, and within budget. Of course, not everything goes as planned but regular visits to the project will help you stay on top of those unpredictable situations that often arise on construction projects.