Track Your Entire Crew From a Single Kiosk Time Clock
Allow your team to clock in and out from a single device with facial recognition from a kiosk time clock
Easy set up
No more buddy punching
Accurate payroll every time
Get Started Free

ClockShark is trusted by more than 9,500 companies and over 100,000 field service and construction professionals worldwide.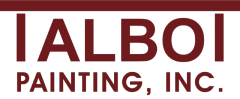 Old-fashioned, wall-mounted time clocks require your workers to travel to that location and clock in before going to their jobsite, in order to track their hours. With KioskClock™, your time clock goes where they are. Simply set up a single device - smartphone or tablet - to be your new, improved time clock kiosk.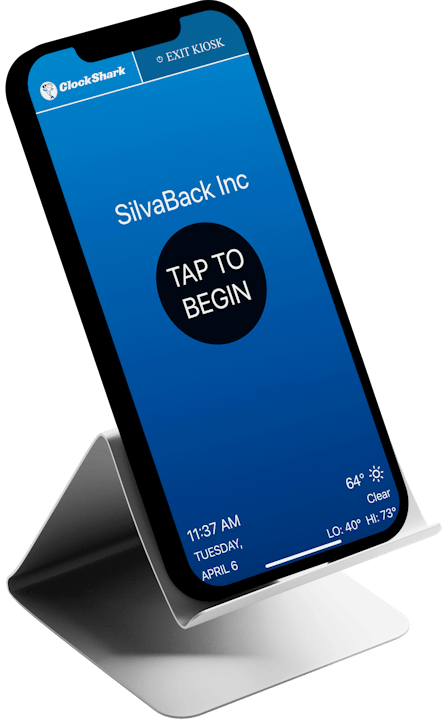 Every job is unique and ClockShark helps you keep your customers, jobs, and tasks organized with job management. Your employees' conversations are stored, too, so everyone knows what's happening with each job, in real-time.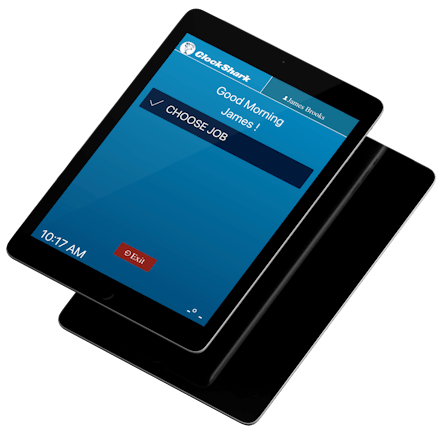 1. Give employees access to the kiosk time clock from the Employees screen by checking "Allow clocking in using KioskClock™ via mobile"
2. Provide a four-digit PIN for each employee
3. Select "Require photo capture with facial recognition" if desired
4. Install the ClockShark mobile time clock app on your Android or iOS smartphone or tablet
5. Select KioskClock™ from the menu and enter your PIN to launch the Kiosk

That's it! Mount your kiosk on a wall, pass it around to everyone on the jobsite, or carry it in a truck. Track employee hours from any Kiosk time clock.
KioskClock™ was designed to be so easy, anyone can do it. It's a powerful, convenient time clock app for businesses that want to track employee hours in a single location - such as a warehouse, construction site, or office - or for employers who don't want their crews to use their own personal devices as an employee time clock.

Your employees can choose a job, choose or switch tasks, take a break, or clock in and out with a simple tap. Multiple users can clock in, on a single, shared device, so even those without smartphones can track their time.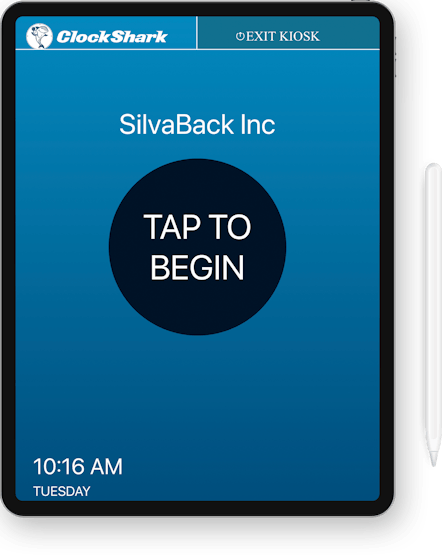 Buddy punching costs companies thousands of dollars a year. Each employee has their own four-digit PIN to clock in.

Enable facial recognition with KioskClock™ to eliminate the possibility of buddy punching. A snapshot is taken of the person clocking in and matched with biotechnology for verification. If something isn't right, you'll know.
Relying on guesswork or rough estimates can quickly inflate job costs far beyond your budget. No more guessing or estimating how much a job costs. When employees use KioskClock™, you'll know which jobs and tasks they worked on for how long, in real time.

This means you'll be able to create much more realistic estimates and have a clear understanding of when a project is in jeopardy of going over budget. Your job costing just got a lot more accurate.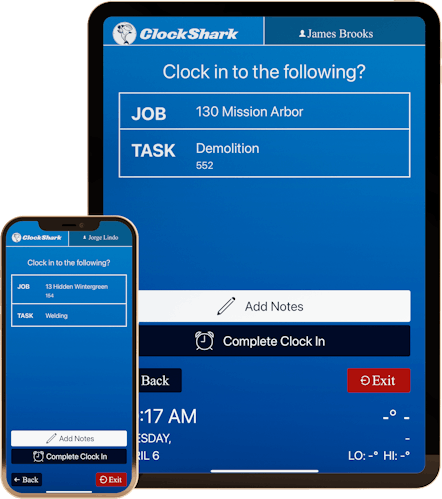 Great Product Solves Multiple Needs
Very intuitive and easy to use. We looked at it for timekeeping for payroll, but the best benefit is to manage our service jobs and communicate with our service team. It's streamlined our processes and saved us a considerable amount of time each day, plus we have real-time updates in order to close jobs and invoice much quicker! The team at ClockShark is great - with named individuals assigned to our account so we aren't working with a call center. They know us and our business.
9,500+ companies use ClockShark to track employees and save time every month.
Get started today.