Being a field worker doesn't mean you have to work in hazardous conditions. You have the right to work in a safe environment, and that right is protected by federal law.
In fact, the Occupational Safety and Health Administration (OSHA), lists the rights you have for health and safety at work.
Here is what the website says:
"Know Your Rights

Federal law entitles you to a safe workplace.

Your employer must keep your workplace free of known health and safety hazards. You have the right to speak up about hazards without fear of retaliation.

You also have the right to:

Receive workplace safety and health training in a language you understand

Work on machines that are safe

Receive required safety equipment, such as gloves or a harness and lifeline for falls

Be protected from toxic chemicals

Request an OSHA inspection, and speak to the inspector

Report an injury or illness, and get copies of your medical records

Review records of work-related injuries and illnesses

See results of tests taken to find workplace hazards"
So if you see hazards, or feel that your rights to health and safety have been violated in any way, you should immediately report the problem to your supervisors. Most are more than happy to correct any safety issues as quickly as possible.
But what if you report a hazard, only to see your supervisor shrug it off and do nothing about it?
Or what if you feel you can't bring up a safety concern without getting reprimanded?
In either of these cases, you should go straight to OSHA and file a Safety and Health Complaint.
How to File a Safety and Health Complaint with OSHA
OSHA makes filing a safety complaint easy. They accept complaints in any language. And they will accept a safety violation report even if you haven't addressed the concerns with your employer beforehand.
But it's important that you don't wait too long to file the report. It will take time for OSHA to review it and take actions to correct the problem. So the sooner you can get the report to them, the sooner they can step in.
Here's what you should include in your complaint:
State the hazard or safety violations, and be very specific. For example, rather than writing "the equipment is in poor condition," list which equipment is affected and explain what's wrong with it. An example would be this: "The scaffold on the east side of the building has planks that are old and weak. They aren't safe to walk on. They feel like they're ready to break."

Include photographs if you can.

Note the number of employees that have been exposed to the hazard.

Include any instances of employees who have had an accident or a near-miss because of the hazard.

Give the date(s) of any accident or near-miss.

Request an on-site inspection if you feel it's needed.

Be sure to sign the complaint. Signed complaints are more likely to result in an on-site inspection.
You can file a safety violation complaint online, via mail, via fax, or by phone. But if you feel there's imminent danger, and you'd like a speedier process, filing in person or by phone could get problems corrected more quickly.
To file online: Click this link, https://www.osha.gov/pls/osha7/eComplaintForm.html.
To file by phone: Call 1-800-321-OSHA (6742). Ask to speak to a compliance officer. Be sure to get the officer's full name.
To file by mail or fax: Download the complaint form in English or Spanish. Then send the completed form to your local OSHA office. You can find your local OSHA office's contact information by clicking this link: https://www.osha.gov/contactus/bystate.
You can also visit your local OSHA office and file in-person.
Can Complaints Be Kept Anonymous?
If you don't want anyone at work to know that you've filed a complaint, don't worry. No matter how you choose to submit the complaint, and even if you include your signature, OSHA will keep the complaint anonymous when speaking to your employers.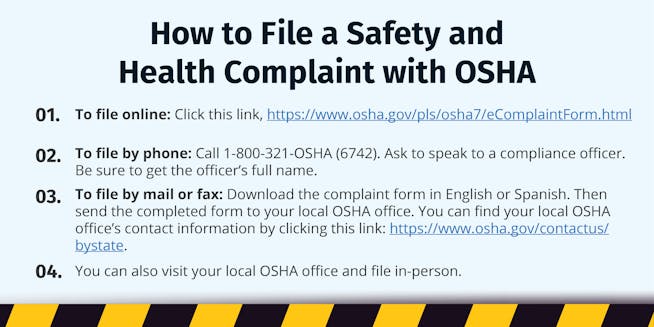 Of course, if you've already talked to your supervisors about the safety violation, you may be worried that they'll know it was you who filed the complaint despite it being anonymous. And you may worry that you could be demoted, get your pay docked, or worse, be fired.
Can You Be Fired for Filing an OSHA Complaint?
Even if your supervisor or employer realizes it was you who filed an OSHA violation, it's against the law for them to retaliate against you.
The Occupational Safety and Health act of 1970 includes Whistleblower Protection Provisions for most private-sector employees.
Under these provisions your boss cannot take any of these actions against you for filing an OSHA Safety and Health Complaint:
You cannot be intimidated, harassed, or ostracized

You cannot be demoted

You cannot be transferred

Your pay cannot be docked

You cannot be denied a promotion

You cannot be laid off

You cannot be fired
If you experience any of these grievances, you can file a Whistleblower Complaint with OSHA. Once they investigate the claim and find it to be true, OSHA will take action to make sure your employer restores your job and benefits.
What Happens Once You Report a Safety Violation?
Once you report an OSHA violation, it will be reviewed and prioritised. Then OSHA will decide whether it's best to conduct an off-site investigation or an on-site inspection.
Low priority complaints usually result in an off-site investigation. OSHA will call your employer and describe the alleged safety hazards. Then they will follow up with your employer via a letter or fax.
Your employer will have five days to inspect their workplace, identify any problems they find, and outline in writing how they plan to fix them. As long as the plan is satisfactory, OSHA won't do an on-site inspection.
OSHA will then send a copy of the response from the employer to you or whomever filed the report on your behalf. If you aren't satisfied with your employer's response, you can request an on-site inspection.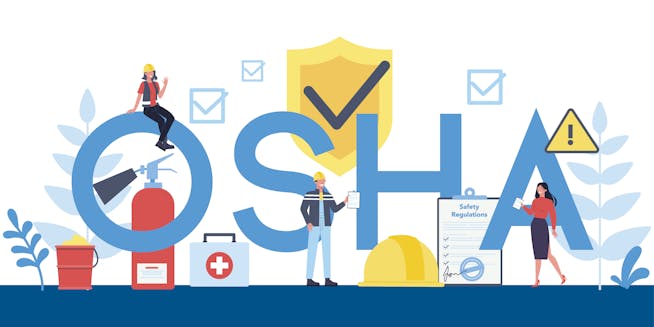 However, worker complaints are considered one of the top three priorities for performing inspections. And as long as they meet at least one of these criteria, they will qualify for an on-site inspection:
The complaint is signed by an employee or their representative, and includes enough details to determine that an imminent danger exists. An example of an imminent danger would be if pipes were stacked on an incline near heavy foot traffic, because workers face an immediate risk of injury or death if the pipes slide.

It alleges that physical harm has already happened due to a safety violation and shows that the hazard still exists.

The complaint shows that the employer has failed to remedy a hazard that was brought to their attention via a phone or fax investigation.

The complaint is against an employer with a history of willful violations committed in the past three years.

It is a complaint against a company that is currently scheduled for an under investigation by OSHA.
Once OSHA decides to do an on-site inspection, the inspector, known as the compliance officer, will research the worksite's inspection history. Then they will gather any materials needed to perform the site inspection.
Once on-site, the compliance officer will start the inspection process with a conference. During the conference the inspector will describe the reasons for the inspection, give the scope of the inspection, and explain any procedures that will happen during the inspection.
The officer will then perform a walkaround of the premises and point out any hazards that need to be remedied. Your employer, and/or their representative, along with a representative for the employees can accompany the inspector.
After the walkaround, a closing conference will be held. The representatives and the inspector will discuss any issues and make a plan to resolve them in a timely manner. The inspector will also inform the employer of how to contest any allegations or citations they disagree with.
According to OSHA, these are your rights during an inspection:
"Employees retain these rights during an OSHA investigation:

A representative of employees should be allowed to accompany the tour

Employees may speak with the inspector privately

Employees may attend meetings with the inspector before and after inspection"
If the inspector finds OSHA violations at your workplace, they can issue your employer citations of up to $7,000 each. If the violations are for willful or repeated offences, they can be as high as $70,000.
After the citations are given, your employer must post copies of the citations near the sites where they happened, along with a schedule for when the issues will be remedied. This ensures that any workers who were exposed to a hazard will be made aware of it.
The Most Common OSHA Violations
Often, employees are unaware of safety hazards in the workplace because of a lack of safety training, which is an oft-cited offence in itself.
But if you are aware of these top offenses, you can recognize and report them before accidents happen.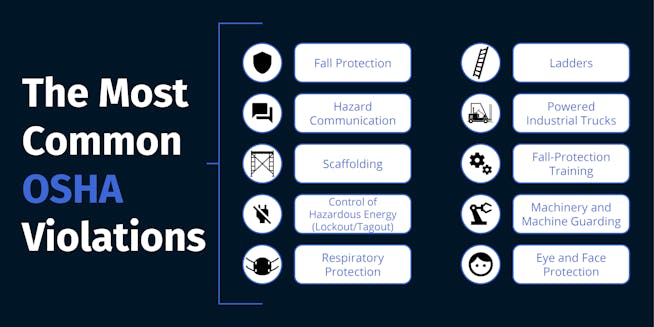 Here is a list of the most cited OSHA violations across industries:
Fall protection: employers must provide adequate fall protection for employees. For example, there should be guardrails, safety nets, or fall arrest systems for work surfaces six feet high and higher. And work surfaces should be strong enough to properly support the people working on them.


Hazard communication

: all hazardous chemicals should be properly labeled. Appropriate safety and handling of the chemicals should be communicated to employees.
Scaffolding:

each scaffolding should be able to support its own weight and at least four times the amount of its intended load.
Control of hazardous energy (lockout/tagout):

Machines that cause injury during maintenance should have lockout/tagout procedures in place to ensure the safety of workers.
Respiratory protection:

workers should be provided protection against in-air contaminants such as dust, smoke, gasses, vapors, and sprays.
Ladders:

every portable metal ladder used should support four times its intended load.
Powered industrial trucks:

fork lifts, platform lifts, tractors, and hand trucks should be properly maintained and follow fire safety regulations. They may only be used in areas designated as having a safe, non-combustible atmosphere.
Fall-protection training:

every employee who could be exposed to fall hazards must have fall-protection training.
Machinery and machine guarding:

machines must have guards to protect workers and operators from injury during use. Some examples are barrier guards, two-hand tripping devices, and point of operation guards.
Eye and face protection:

any employee who is exposed to any debri that could harm their face or eyes must use face and eye protection while working.
Some of these standards may seem small or insignificant. But reporting even the smallest violation is important.
The Importance of Reporting Safety Violations to OSHA
The thoughts of losing your job or even just the fear of being labeled a "tattletale" can give anyone reservations about filing an OSHA complaint.
But think about this:
At the end of 2019, OSHA cited a contractor in Florida for exposing workers to struck-by hazards, failing to provide adequate training, and allowing workers to walk under a crane while it was moving.
Sadly, the citation wasn't issued until after a concrete beam had crashed into an aerial lift with two workers on it. One worker died, and the other was hospitalized.
Now imagine if you had been on that site, recognized the safety violations, and chose to speak up or to file a complaint. You could have saved one life, prevented a serious injury, and even saved the reputation of your employer.
Subscribe to our blog
Stay up to date with the latest on construction, business, and productivity tips and news.
Thank you! Your submission has been received!
Oops! Something went wrong while submitting the form.
Conclusion
You have the right to a safe workplace, even if you work out in the field.
Take the time to understand what constitutes a safe environment on your jobsites, and if you see a violation, report it to your supervisor.
If you are ignored, or fear repercussions, file a report directly to OSHA as soon as possible. Reporting a safety violation directly to OSHA could save your life or the lives of your coworkers.