Searching for an alternative to MJobtime construction time clock software? ClockShark's a software alternative to MJobtime that was launched in July 2014.
What are the major differences between Mjobtime and ClockShark?
Both apps solve the same basic problem, but they have some differences. Let's briefly go over some similarities and differences so you can get a better idea of which one you should choose for your construction or field service company.
First off, for full disclosure purposes, I am the Co-Founder of ClockShark so I am biased but will try to present an objective overview of both products.
Mobile time tracking app
Because ClockShark was designed as an easier alternative to MJobtime it has many of the same features MJobtime does in terms of time tracking and administrative reporting. ClockShark and MJobtime both have mobile apps that give construction companies the ability to place a time clock in every worker's pocket.
These mobile apps give workers the flexibility to clock in and out, switch job names while working, switch task names, and send notes to the payroll admin about their shift (for example "Sorry I was late – missed the bus today", or "I missed punching out yesterday, please enter it for 5 pm").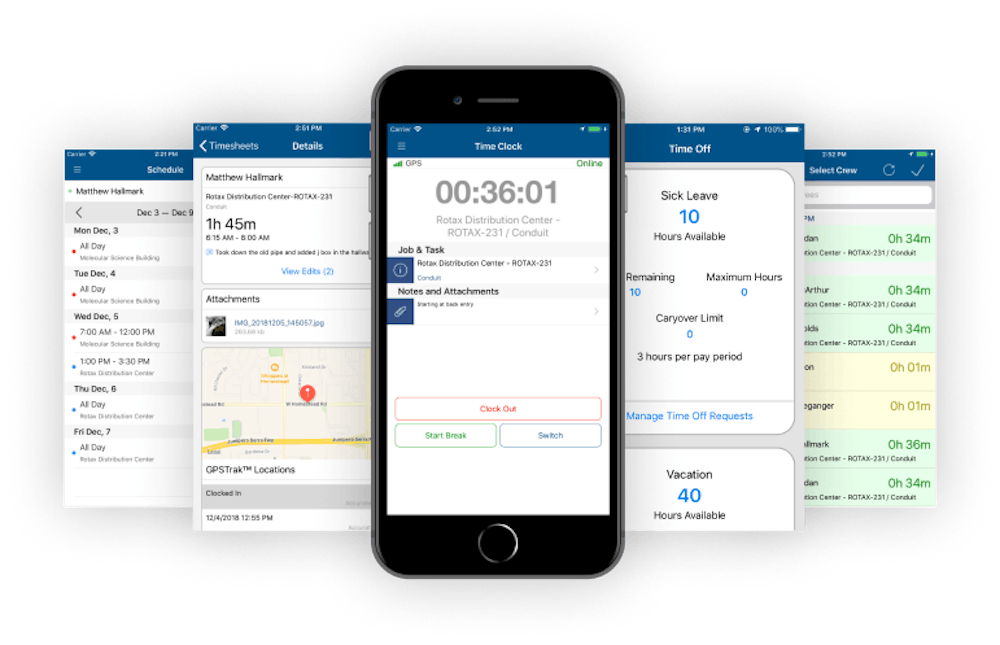 Both ClockShark and MJobtime provide an easy to use, intuitive editing view for administrators that give the payroll person (or supervisor) the ability to view all of the work times clocked by the mobile apps on workers' phones.
The payroll administrator can quickly and easily view the times clocked by each employee or on any job site for any date range (such as the current pay period). Since we all know workers often make errors, like forgetting to clock in or clock out, the payroll admin can quickly edit clocked time, or add clocked time.
Reporting
ClockShark and MJobTime offer a nice set of reporting features so you can run reports on job sites or employees to run payroll and/or for research purposes. The reports are pretty flexible and can be used to run payroll and for job costing. For example, you can easily run a report for a specific job, displaying the hours worked on a specific date range.
Both software systems provide GPS tracking of the punches from the mobile apps. Each clock in/clock out is stamped with GPS location data, so the punch location can be reviewed by the admin. This GPS ability helps you make sure your workers are where they should be when clocking in and out.
As an alternative to MJobtime, ClockShark was designed to solve the same problems
Now here a few of the differences.
As an alternative to MJobtime, ClockShark was designed to solve the same business problem MJobtime does, but the two products are far from identical. MJobTime has a few more features and modules than ClockShark and is more customizable since it has been around for many years. But, we don't think most construction businesses need all the features and customization options that MJobTime offers.
In fact, we believe that all these features and customization abilities create problems for many customers by making the software hard to use, hard to set up, and hard to purchase.
ClockShark currently offers fewer features, fewer reports, and fewer modules, while offering the main time tracking features and reporting that most construction businesses need. Furthermore, ClockShark offers a streamlined user interface and setup process. ClockShark can be purchased, setup and running in a matter of hours. We don't really know how long it would take to purchase and setup MJobTime, but figure it would involve contacting them for a quote, then getting them to set up a customized installation for you.
ClockShark comes with easy published monthly pricing as low as $3/user per month for basic time tracking. ClockShark uses a web-based interface for administration. The only software that needs to be installed with ClockShark is the mobile apps on worker phones.
With MJobTime, although they offer some web-based administration, the main administration software is desktop based. While that's not necessarily bad, we don't really care for the whole desktop deal.
We're cloud guys, and prefer the ease of cloud software. We think it just works better, requires no updates or installation, etc.
So there's a quick comparison of ClockShark as an alternative to MJobTime. I hope it provided some helpful info for you. Sign up now and get a ClockShark FREE trial.