The way we work is changing. Gone are the days of paper timecards and headaches from entering all that time for hours or days after receiving it. With so many options for time tracking app, it can be dizzying when looking for the perfect fit. We've curated a list of the best employee time tracking apps out there and who they work best for.
Every business is unique, your needs for time tracking will vary from another business. That's why we've broken this list in seven different categories and solutions. We analyzed each employee time tracking app on ease of use, features, customer feedback, and price to find out which solution will fit your needs. If you're looking for the perfect tools for tracking time then look no further, here are our top contenders:
Contents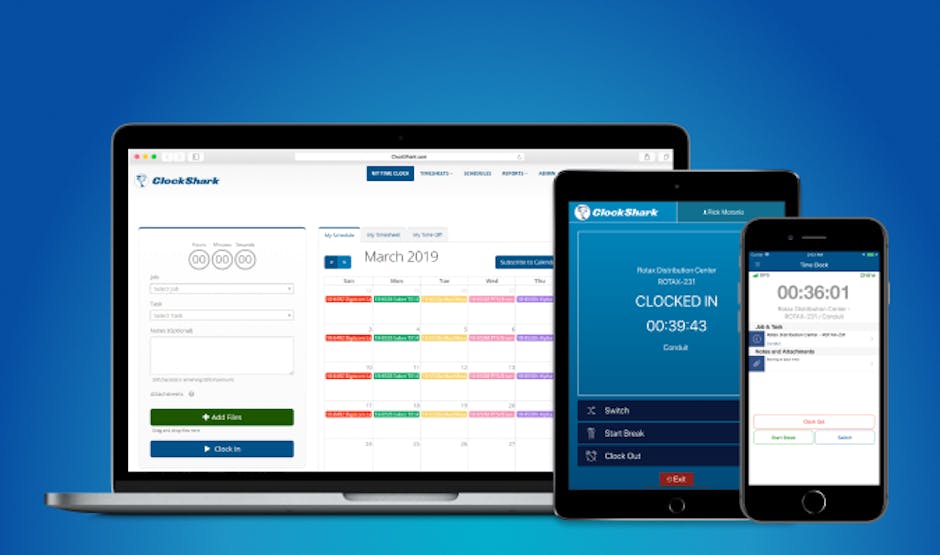 Best for Construction and Field Service: ClockShark
ClockShark offers an easy-to-use time tracking solution while offering a variety of other great features. Accessible on both mobile devices and desktop, this app makes time tracking doable wherever employees are.
The Good: ClockShark has a wide range of features that make it a great solution for any business. But it is built for construction and field service. Job costing has never been easier with ClockShark either. Employees can clock in with a specific task and job or even switch tasks during their shifts. And when you need a job costing report or any report, ClockShark makes pulling it simple.
The GPSFence™ makes keeping track of employees at many job sites a breeze. Plus the GPS tracking itself helps to ensure employees are getting to their jobs on time. With KioskClock™, multiple employees can clock in from a single smartphone or tablet. Everyone gets a 4-digit PIN and, in a few taps on the kiosk, they're on the clock. If you're needing a few more features, the Pro plan offers PTO tracking and more.
The Not As Good: ClockShark offers a variety of great features but as far as integrations go, it can fall short. This can cause problems if you're monitoring productivity. Or if you're wanting to integrate tasks with apps like Asana and Airtable, this might not be the right fit.
Save Time and Money with ClockShark
Thank you! Your submission has been received!
Oops! Something went wrong while submitting the form.
Price: 14 Day Free Trial
Basic: $3/month per user plus a $15 base fee
Standard: $5/month per user plus a $25 base fee
Pro: $8/month per user plus a $45 base fee
Conclusion: ClockShark is an award-winning solution that is a great fit for any sized business. It is perfect for companies within the construction, field service, and franchise industries. If you're looking to track productivity only then this is not the right fit. But, if you're looking for great all-around solutions for mobile workers and job costing, this is the perfect fit!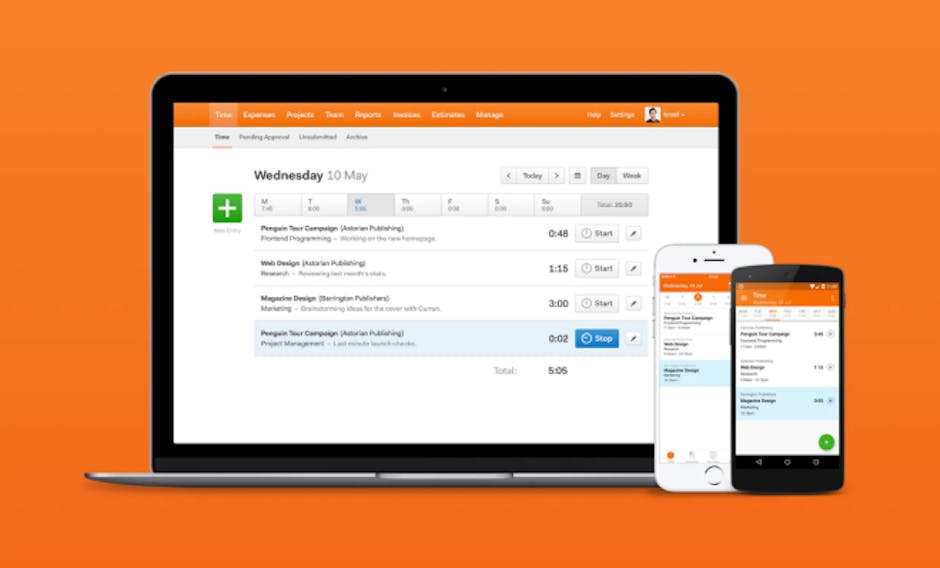 Best for Freelance: Harvest
Harvest is all about insight and tracking projects, which makes it a good fit for freelancers. The app is available for mobile devices and desktop computers. Plus they offer both a Safari and Chrome browser extension. Many of the features are ideal for tackling projects and checking your productivity.
The Good: Time tracking for specific projects, clients, and tasks is easy to do using Harvest. You can also choose to track time while working or enter it after. Integrations with Harvest make tracking your time within specific programs easy. Asana, Basecamp, and GitHub are just the start of integrations with Harvest. You can also integrate with programs like Paypal, Bidsketch, and Fundbox. This will make it easier to submit proposals and get paid on time. Harvest also helps you create professional invoices to submit with clients.
The Not As Good: Some users have reported that Harvest is too detailed with projects and reporting. They find it inconvenient to input every detail or turn everything into a project when it doesn't have to be. This is why Harvest is a better fit for freelancers or collaborative freelancers.
Price: 30 Day Trial
$0 monthly for 1 person and 2 projects
$12 monthly per person, with unlimited projects
Conclusion: If you're a freelancer trying to get a grasp on your projects and productivity then Harvest is for you. With a steady stream of work, it can be confusing to try and track things yourself. Harvest lets you do it while looking professional with their helpful features.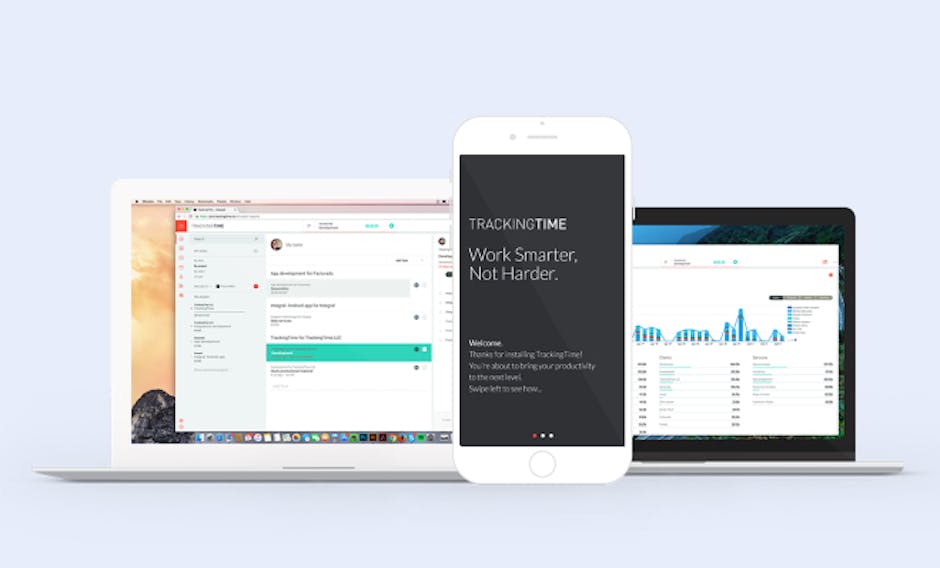 Best for Small Teams: TrackingTime
TrackingTime is another solution with a big focus on productivity. The time tracker app is available on mobile and desktop. Deadlines, Time Audits, and other integrations make TrackingTime a good solution for smaller teams.
The Good: This app is for teams concerned with to-do lists and how they spend their time. Perfecting productivity is one of the central themes across this app. The free option integrates with apps like Basecamp and Github while allowing teams up to 3. It's a great solution if you're budget-minded and working within a smaller team. Reports are easy to customize and pull for whatever you're looking to track.
The Not As Good: Unfortunately, big teams might have trouble tracking things other apps can offer. You'll need an extra or completely different app for tracking benefits and payroll. Which for some teams makes TrackingTime an incomplete solution.
Price: 14 Day Free Pro Trial
Free for teams up to 3 (3 active projects and 100 tasks)
Pro: $4.99 per user/ month
Conclusion: If you want to keep your small team successful and productive, TrackingTime is for you. It's a great fit for teams that live and breathe productivity apps and work with a variety of software. But if you're looking for a time tracking solution that integrates for payroll or benefits you may need to look elsewhere.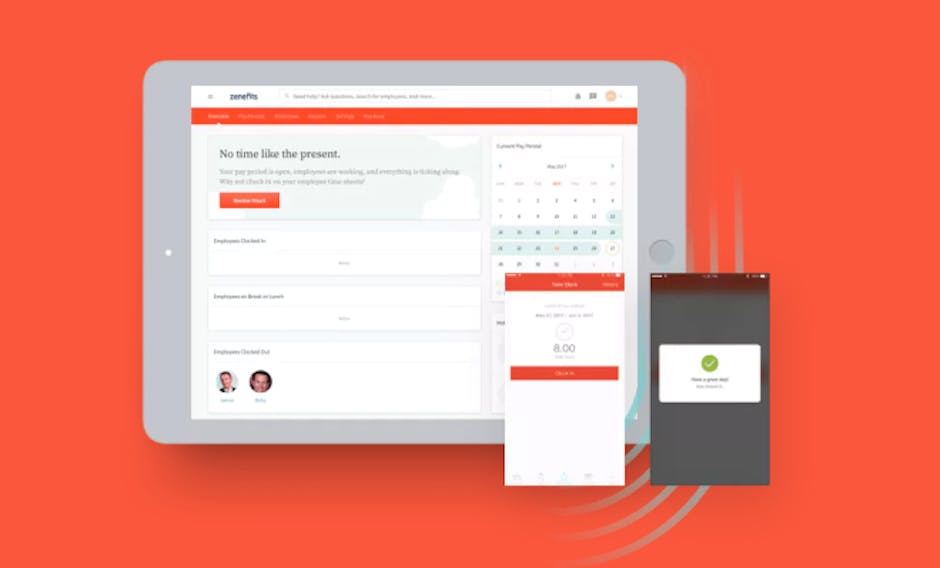 Best for Tracking Policies: Zenefits
When you're looking for a time tracking and expansive benefits monitoring, Zenefits is your solution. This time tracking app is available on both desktop and mobile. Their base program also offers many optional additions to customize for your needs.
The Good: At a baseline, the time tracking aspect of Zenefits works well. But what sets this particular app apart is the number of benefits tracking that it includes. It offers payroll tracking and completion as well as benefits management. There are also many human resources tasks available through using the application. They even offer well-being based features and integrate with different benefits systems.
The Not As Good: Overall Zenefits is perfect for what the name implies: benefits. As a result, the main focus of the app is making HR-related tasks easier and more streamlined. But some time tracking and other features aren't on the same level as other time tracker apps.
Price:
Essentials: $10 per employee/month
Growth: $18 per employee/month
Zen: $27 per employee/month
Additional Features:
Payroll $6 per employee/month
Benefits (with existing broker) $5 per employee/month
Advisory Services $10 per employee/month
Conclusion: Zenefits offers a comprehensive package for benefits management. If you've got a team with many different benefits needs then this is a great choice. But if you've got a pretty large team or if your HR department has its benefits and payroll covered, then it might not be the best fit.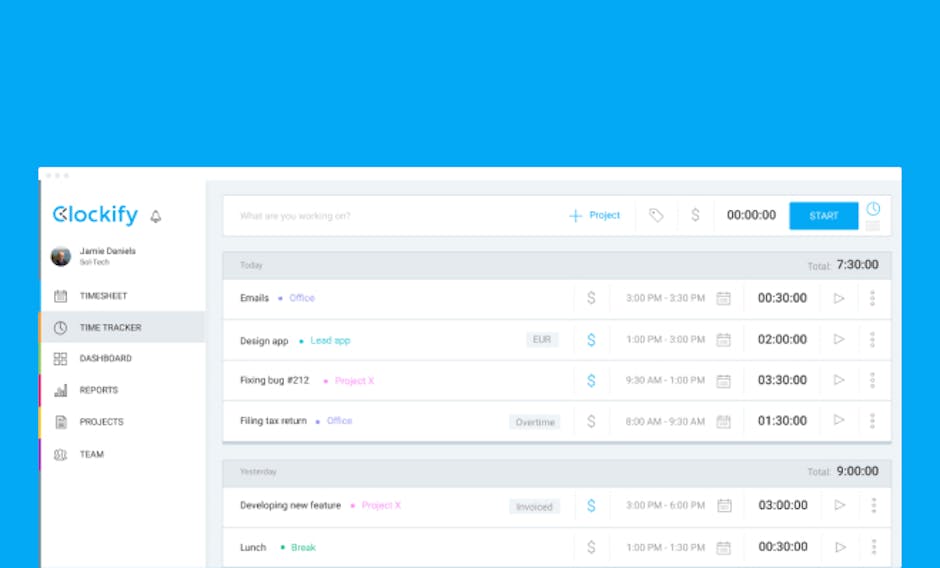 Best for Working Across Many Devices: Clockify
Clockify is the closest to a freemium style service that you'll find in the time tracking world. Their baseline product is entirely free for unlimited tracking, users, and projects. They even have app integrations and API all for $0 a month. This makes the service the best timesheet app for companies that need bare-bones features.
The Good: The base product for Clockify is great considering it is absolutely free. What makes it better, and perfect for many devices, is their mobile, desktop, and web browser additions. This makes using the program easy across any device. When upgrading to paid features, the hosting and audits are nice additions.
The Not As Good: Because this is a primarily a free application the service is pretty bare bones. Time tracking, basic reports, and scheduling are the main draws at the base level. Customers have reported issues with support on the app and ease of use with the entire experience.
Price: Free Plan
Plus: $10/month
Premium: $30/month
Server: $450/month
Conclusion: If you're looking for a time tracking solution that works across many devices then this would be your best bet. It's affordable and versatile enough to get the job done for basic timekeeping. If you're looking for something with more features then you may want to look for a different solution.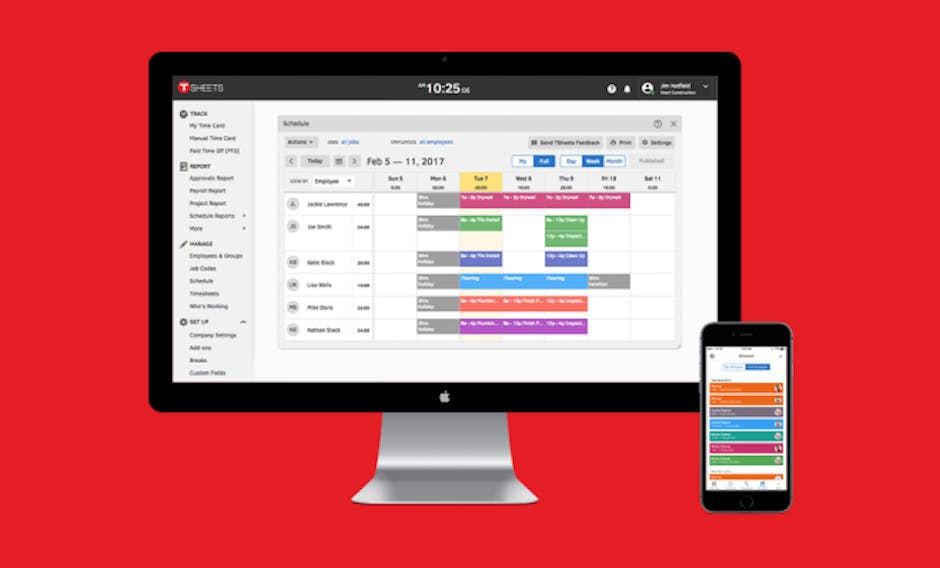 Best for Large Business: TSheets
If you're running a large business with lots of moving pieces and workers, you might want to look toward TSheets. This time tracking app is available on desktop and mobile devices. There are a variety of features that they offer so let's take a look at how they can fit in with larger businesses.
The Good: TSheets offers a pretty thorough solution and bases its plans on employee numbers. Features for this app include time tracking and scheduling, overtime tracking, and more. It seems to be a good solution if you're looking to keep track of a lot of employees.
The Not As Good: While TSheets does offer a pretty thorough solution, it comes at a higher price. Some customers have issues with the pricing due to more affordable price points with other companies. Also, this app does not offer features other apps have such as productivity monitoring or project analytics.
Price: Free for 1 user
2-99 Users: $5/mo for user with $20 base fee
100+ Users: $5/mo for user with $100 base fee
Conclusion: If you're managing a large amount of mainly mobile employees then TSheets might be a good fit. But you might find that some of the features are more easily accessible for a lower price point with other apps.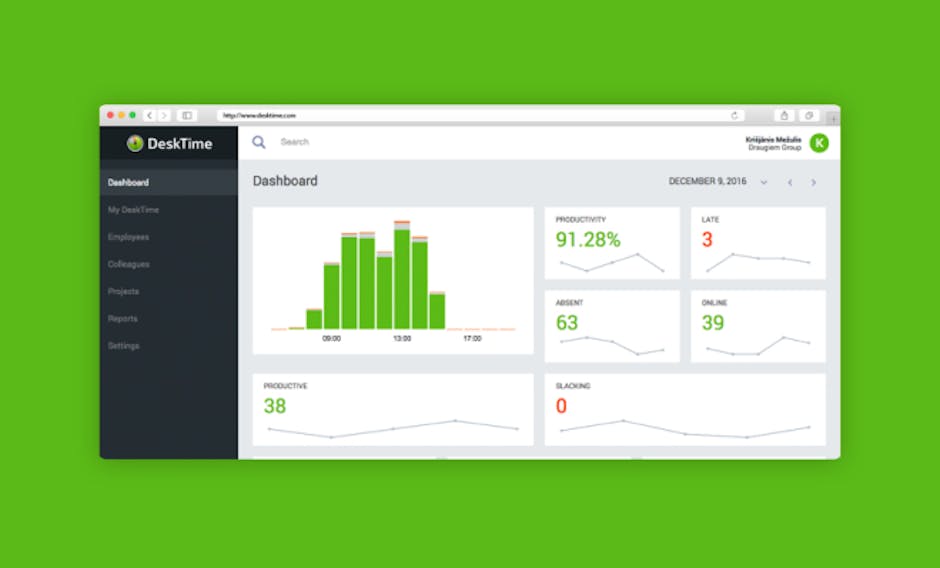 Best for Remote Teams: Desktime
Desktime offers a variety of features supporting remote work as well as productivity. There is an app available for both mobile and desktop for time tracking needs. But, Desktime has a few specific features that set it apart and make it a good fit for remote workers.
The Good: URL and App tracking are two of the biggest features that Desktime offers. These options show you websites, programs, and applications your employees are using. From there, Desktime has the ability to categorize the apps into categories. Depending on the program they are either 'productive' or 'unproductive.' Additionally, there are auto screenshots available for every 5, 10, 15, or 30 minutes. The app will then highlight shots from unproductive activities for later reports. With the trend in remote work, this time tracking app offers a solution that can give peace of mind to employers.
The Not As Good: Two of the big complaints customers have about Desktime time are that it doesn't do enough or it goes too far. On one side are those who feel that the app is too overbearing and oversteps privacy boundaries. Some customers have found their employees are uncomfortable with using the program. On the other side are people who feel that if the app is going to track something, it should go all the way. Customers have complained that the app doesn't track things in-depth enough for productivity notes to matter.
Price: Free 1 User
Pro starts at $6 per user monthly
Conclusion: If you're managing a large number of remote workers or if you're working with a team that wants in-depth productivity manager: Desktime is for you. But you may run into a few roadblocks when it comes to implementation with this time tracking app and some of its features.
Overall
When it comes to time tracking it can be tricky to find the perfect fit. Regardless of your business size or where your employees work, it is important to have an app that's easy-to-use and contains the features you'll need. Your best bet with any of these apps to start a free trial to get an understanding of them.
What are your must-haves for a time tracking software? Tell us in the comments below!