The BidGenius software streamlines the application process for general contractors. BidGenius helps create thorough bids more accurately and quickly. The software is designed to ensure that estimates are set up with profit margins in mind.
Making sure that your assessment is accurate. The BidGenius system assists with keeping track of the progress on projects to alert you if anything is off track.
The Bid Genius Software is compatible with Windows 2000/XP/VISTA/Windows Server 2003/Windows Server 2008, Windows 7 and 8. The cloud version can be accessed from any PC, Mac or Ipad.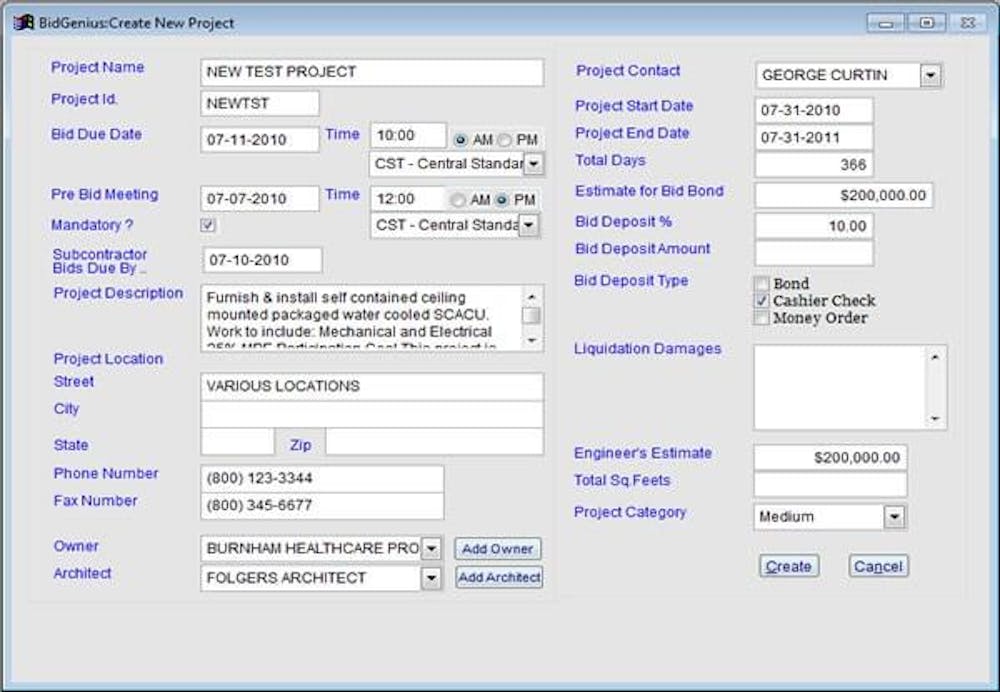 BidGenius Features
System integration
The BidGenius system has a central location that all members of the team use, making it easier to work on estimates together. All team members are working on one document, so there is no duplication of work or confusion.
The BidRoom is a central location that allows plans and specs to be uploaded to your project. All specifications and drawings can be uploaded here to be shared with suppliers and subcontractors. These are immediately available to everyone you allow access as soon as they are loaded. Subcontractors can also respond to invitations in the Bidroom.
Contacts
The BidGenius software manages contact information for subcontractors so that you can quickly retrieve information when you need it. Using the Fax Email Invitation to Bid options, you can quickly send a message to selected contractors via electronic mail or fax with a couple of clicks of a button. You can also easily email out Addenda, Reminders, Memos, Follow-ups, and transmittals. Email Broadcasts can be set up to assist with updating or following up with your subcontractors. After you have set up the bidders list, you can quickly click on the project and send a mass email.
Access documents
After you have sent out your Invitation to Bid to subcontractors, they can submit their responses through the online feature, email, fax or phone. When subcontractors utilize the online response there is no need to enter anything; it automatically is entered. When they respond via email/fax or phone, it must be logged in manually. Subcontractor related documents can be stored electronically and linked to their account in your system on BidGenius. Some examples of records are pre-qualification forms, insurance certificates, proposals, project references, etc. You can access these documents quickly through BidGenius.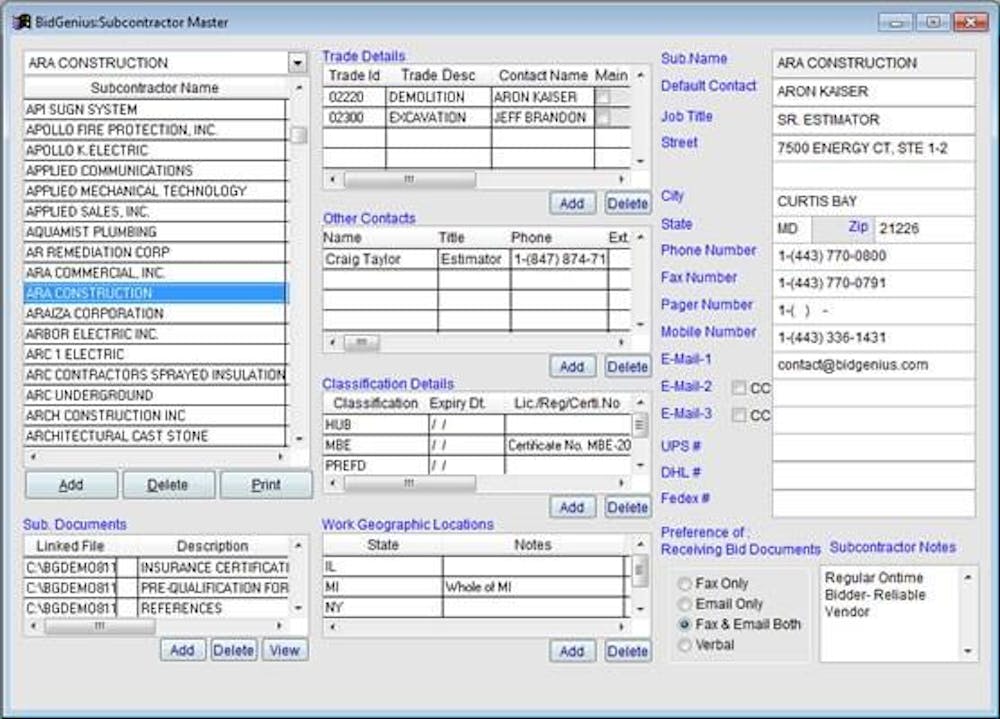 Bidding
The Current Bid opportunities are automatically updated on the BidRoom. The bid opportunities are shown as a page that displays all of your projects with your Bid Calendar and contact information. You can control the current bid opening page. The BidRoom can be connected to your website so that subcontractors can easily see your projects available. The list is created based on the proposal due date.
The Bid Calendar helps with keeping track of submission due dates, as well as pre-bid, dates through a monthly calendar.
Project proposal
Subcontractor proposals can be stored and reviewed right within BidGenius. There can be a base bid, and unlimited alternates, as well as various unit prices, stored to be reviewed. There is a follow-up feature to check that all trades have proposals in and complete. Any missing projects will alert you so that you are sure you have a final bid. The software combines the plan amount, the unit prices, and the alternates to create a final bid estimate.
Estimates
The BidGenius software manages general conditions, overheads, alternates and unit prices. You can quickly calculate the general requirements, unit costs, expenses and replacements using the BidGenius formulas. It can be customized for your company to ensure you are getting accurate estimates.
Creating your Final Bid Estimate Report is simpler using the Final Bid Estimate feature in the BidGenius software. It includes the general conditions, overheads, selected proposals and profit. You can export the Final Bid Estimate into Excel. You can attach multiple files to your bid documents.
Reporting
The BidGenius software has essential reports available to help streamline the bidding process. They have Log Reports, Analysis Reports, Master Reports, Tracking Reports, and Bid estimating reports.
To learn more about BidGenius go to their website. You can click on the request a demo which will prompt an email for you to send your application. The website has a Frequently Asked Questions area as well as a phone number to contact them for additional information.