What is Buildium software?
Buildium is a cloud-based property management software designed to help property managers control the day to day details of leasing and managing a property. Buildium is created by property managers who understand the needs of the industry. Our Buildium review will cover the main features of the product.
Buildium Main Features
1. Accounting
There are many features offered in the Buildium software that streamlines the business of managing a property. Buildium offers accounting features that can assist with tracking budgets, rent and vendor payments. Through the Buildium software, you can securely accept rent and manage your bank accounts securely. You can easily track payments, fees, deposits, and refunds.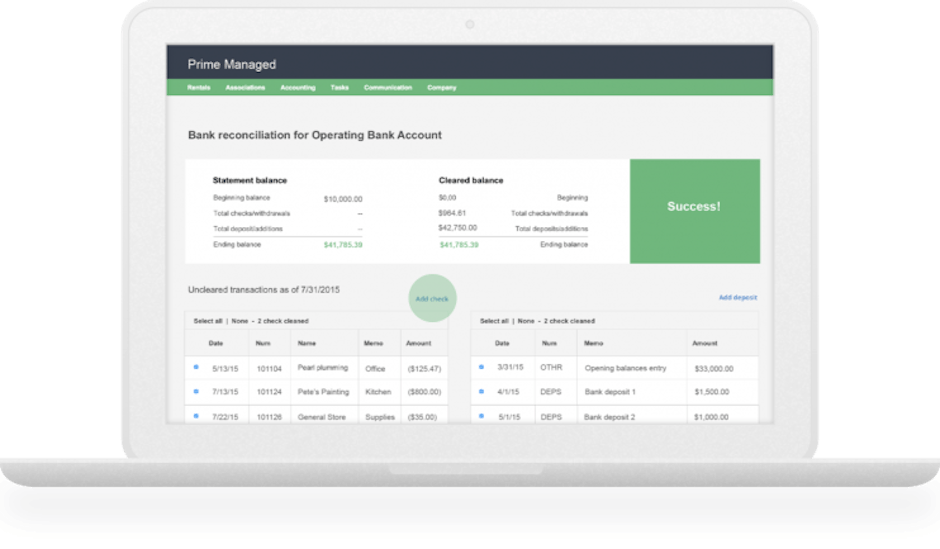 You can make notes regarding individual transactions to keep a record. For example, if a tenant is consistently paying the rent late, you can make a note of this to take some future action.
Buildium has built-in calculators to assist in calculating what you owe to vendors and companies. You can easily create automatic payments for recurring items. Easily reconcile your bank statement and record checks and deposits to help keep your accounting in order. Many reports are available within Buildium that can be very useful. Balance sheets, cash flow statements, and income statements can be helpful for tracking your finances as well as to share with investors and property owners. These reports are also useful for audits. The Buildium software also creates the documents to e-file 1099s saving valuable time.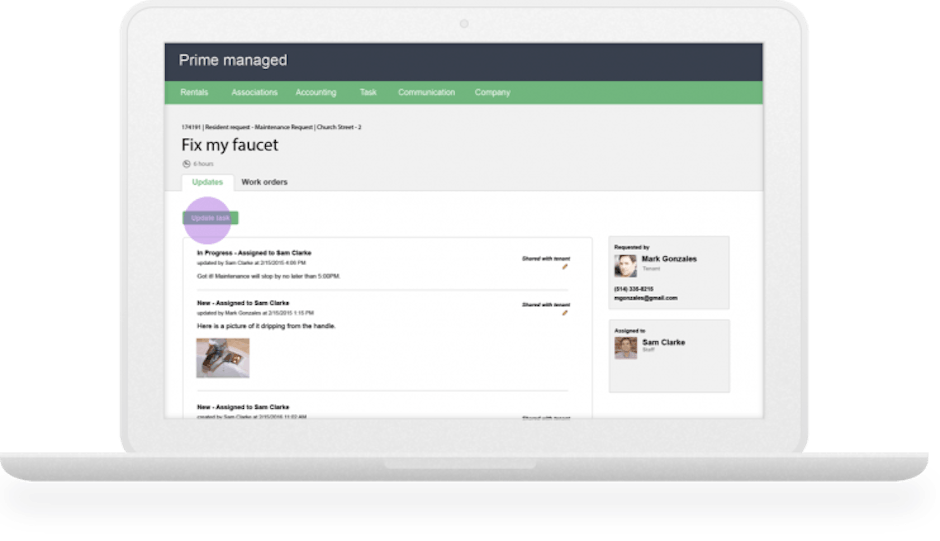 2. Business Daily-Operations
Buildium software has many features for business operations. It offers a portal to allow you to talk to your vendors, owners, and tenants all from one place.
The residential portal is mobile-friendly and allows communication with residents to be simplified. It helps streamline maintenance requests as well as reducing the incidents of tenant delinquencies. Residents can quickly pay their rent or fees through their phone or computer. They can set it up as a recurring payment which is a convenient feature.
Maintenance requests are easily submitted via the portal by tenants when they see something that needs to be repaired. They can even upload pictures to show the detail of the issue. Once submitted the resident will know when a repair person has been tasked with the job and the status of the repair. Since the tenant can see the state of the maintenance request, it saves unwanted calls and time for property managers.
It also allows residents to know their concerns are being addressed. Within the portal, there is an announcement board that has the capability to text or email critical updates to owners or tenants. Another communication tool that is within Buildium is the ability to create a community message board. This tool can allow residents to share and discuss updates and news.
Relevant documents can be stored and downloaded by residents, such as their lease or addendum, so they are always accessible when they are needed.
3. Leasing tools built-in
During our Buildium review, we were surprised to see that it has many useful features to help with the process of leasing, finding and screening tenants. Rental listings are easily managed through Buildium partner's pages. They have partnered with many large apartment listing services that you can easily share your listing on with a click of a button.
You can customize your listing descriptions and include videos and photos. Each time a unit becomes available you just click and post it versus recreating that listing each time you need to list the apartment. You can easily track all of your units both listed and unlisted so that you can keep track of those that will soon be vacant.
Buildium Review Summary: Solid full-featured system!
Buildium offers a free 15-day trial. To try it out, head over to Buildiu's website and click "start your free trial." You will need to fill out your name, email, phone number and the number of units you oversee. It takes only a minute, and you will be brought to your free trial to try out this software. When you are on your dashboard, you will be taken through a tutorial with dialogue boxes that leads you through what each part of the panel will do.
The trial is only useful to practice with and see if it might fit your needs. The data you enter does not get saved once the trial ends. The trial is helpful to understand the capabilities of the software and if it will meet the needs of your business. We hope you found this Buildium review helpful. This is definitely one of the best property management tools we've seen so far!