There is no shortage of construction safety topics in construction, but sometimes construction workers simply aren't interested in covering safety issues beyond what they have always known. If you want to keep your workers and job sites safe, you have to undertake the job of regular safety meetings.
In fact, according to research, members of the Associated Builders and Contractors who underwent the Safety Training and Evaluation Process (STEP), found their companies were 680% safer than the industry standard and saw an 85% reduction in total recordable incident rates (TRIR) over billions of hours worked.
But how can you keep these meetings interesting and your construction workers receptive to regular safety meetings? Coming up with relevant topics for your toolbox talks - and keeping your meetings regular and required - will help prevent accidents and injuries, and keep your workers safe.
Toolbox Talks Overview
A safety meeting in the construction industry is a short meeting to discuss safety topics for construction at a jobsite. These should ideally take no longer than 10 to 15 minutes. Meetings that last longer than 15 minutes might tend to bore your workers, causing them to lose interest.
Some toolbox talks will conclude with a review or quiz, but that's not always necessary. Safety meetings are key to helping your crews identify safety hazards, prevent injuries and deaths, and improve communication about the importance of construction safety.
Other terms used to describe these meetings that are exclusive to the construction industry include:
Safety brief

Toolbox Talk

Safety moment

Safety talk

Health and safety brief

Tailgate meeting
However you and your crews choose to term it, these short meetings are useful to remind your workers of the importance of safety on the job and to teach newcomers to the site about unique safety issues on a particular jobsite.
How Are Construction Toolbox Safety Talks Managed?
If you are a designated toolbox safety meeting leader, don't bore your crew members with minute details. Instead, offer value without being redundant. Your safety meetings should serve these purposes:
Provide new safety-centered information

Refresh current safety-centered information

Teach compliance with specific legal requirements for the project.
Usually, the general contractor or any other authorized leader will initiate the discussion, which should relate to the project and jobsite being worked on. The more safety talks you do, the more regular they will become so the process will be more consistent and your crews will know what to expect.
You can provide an attendance form to verify everyone's attendance at the meeting. Your safety meetings should focus solely on safety issues rather than general project information. Each project and jobsite is different, so they should focus on safety issues concerning the unique safety issues of that project.
Try to focus on safety topics that revolve around the specific tasks being worked on that day, and encourage feedback and discussion from those in attendance.
12 Construction Safety Topics for Your Next Meeting
Bear in mind, construction safety meeting topics can vary if you're working in an unusual or unique area or on a different type of project. While these 12 safety topics apply to most jobsites, there are others you may want to consider addressing if you're doing unusual or specialized work.
1. Personal Protective Equipment (PPE)
In the construction industry, Personal Protective Equipment (PPE) comes in many different forms and depends on the jobs being performed. If you do not have adequate and functional PPE for your workers, you risk injuries as well as the increased risk of receiving safety violations.
Construction PPE includes:
Skin protection

Respiratory protective equipment

Eye protection

Head protection

Ear protection

Foot protection

Hand and arm protection

Body protection

Fall protection
PPE must meet certain requirements to be safe to use, and all PPE should be regularly inspected to determine if it needs to be replaced or repaired.
During your safety meeting toolbox talks, have your crews focus on PPE that is due to be inspected. For example, you could have everyone report with their goggles or hard hats, to ensure they are still safe and secure.
Everyone on your crew should know what PPE is and what each piece of PPE is for (as well as what it is not for).
If you have women on your crew, bear in mind they generally will run in smaller sizes. Ensure the smaller members of your teams have the right PPE for their jobs and their safety. The same applies if you have larger-than-usual crew members who might need larger sizes for their PPE to fit properly.
2. Falling Objects
Falling objects are among OSHA's fatal four, which are collectively responsible for thousands of construction-related deaths and injuries a year. And it doesn't have to be a large object or piece of equipment.
Something as small as a bolt could cause physical harm when dropped from a high place, or could cause damage to equipment below.
During your toolbox talks on falling objects, make sure your workers understand the importance of recognizing and removing potential fall hazards or discuss options to prevent objects from falling, such as nets, safety barriers, or tethers/lanyards to prevent dropped tools.
Safety compliance ensures everyone is clear on the importance of putting things back where they belong and not leaving small pieces lying around.
3. Fall Protection
Another of the fatal four, thousands of construction professionals fall every day on the worksite. Falls are usually the result of a combination of poor work conditions and poor decisions, but can also result from PPE failure.
Discuss how the worksite might have fall hazards with your crews, and which particular jobs are at a higher risk. Cover different methods that can be used to prevent falls such as safety harnesses, anchor systems, netting, or guardrails/barriers. See what your crew thinks are the best ideas. Go over the condition of your existing fall protection equipment with your workers because they know best if any needs to be repaired or replaced.
When allowed to be a part of the decision-making process, most workers feel they have a stake in the safety results.
4. Lifting, Carrying, and Handling Objects/Materials
It may not seem like lifting, carrying, and handling objects is as important in construction safety meeting topics, but there is a lot of potential for harm, injury, and death when it comes to these things.
Discuss the proper way to lift things using the legs, rather than the back, and explain the long-term issues associated with lifting or carrying things incorrectly. Ensure your crews have the necessary PPE when handling and discarding hazardous materials, as well as necessary tools/equipment for heavy lifting.
5. How to Prevent Slips, Trips, and Falls
Construction sites are full of hazards that can cause slips, trips, or falls. Although it's usually due to someone not paying attention to their surroundings, your crews should be aware of what to look for.
Make sure to go over the importance of putting things where they belong and staying aware of the environment. Discuss the best footwear to help prevent slips and falls and go over the proper places to put tools, equipment, and other items away.
6. Electrical Hazards
Live wires can not only cause death but can also cause fires and electrocution, among other things. Go over safety protocols when it comes to dealing with electrical issues, most of which should be handled by a qualified, licensed electrical technician.
Electrical injuries are among OSHA's fatal four because, while they're not as frequent as falls, they do often happen and are frequently deadly. Most construction workers are aware they should watch for exposed wires or electrical damage, but it's a construction safety meeting topic you should go over to refresh everyone's memory and teach new workers.
7. Hazard Identification and Communication
While all job sites have safety hazards, each job site is different, with different surroundings, tools, people, and environments.
During your safety meetings, make sure your crews know the different safety hazards that exist, and discuss things they should watch for and report, should they discover new ones.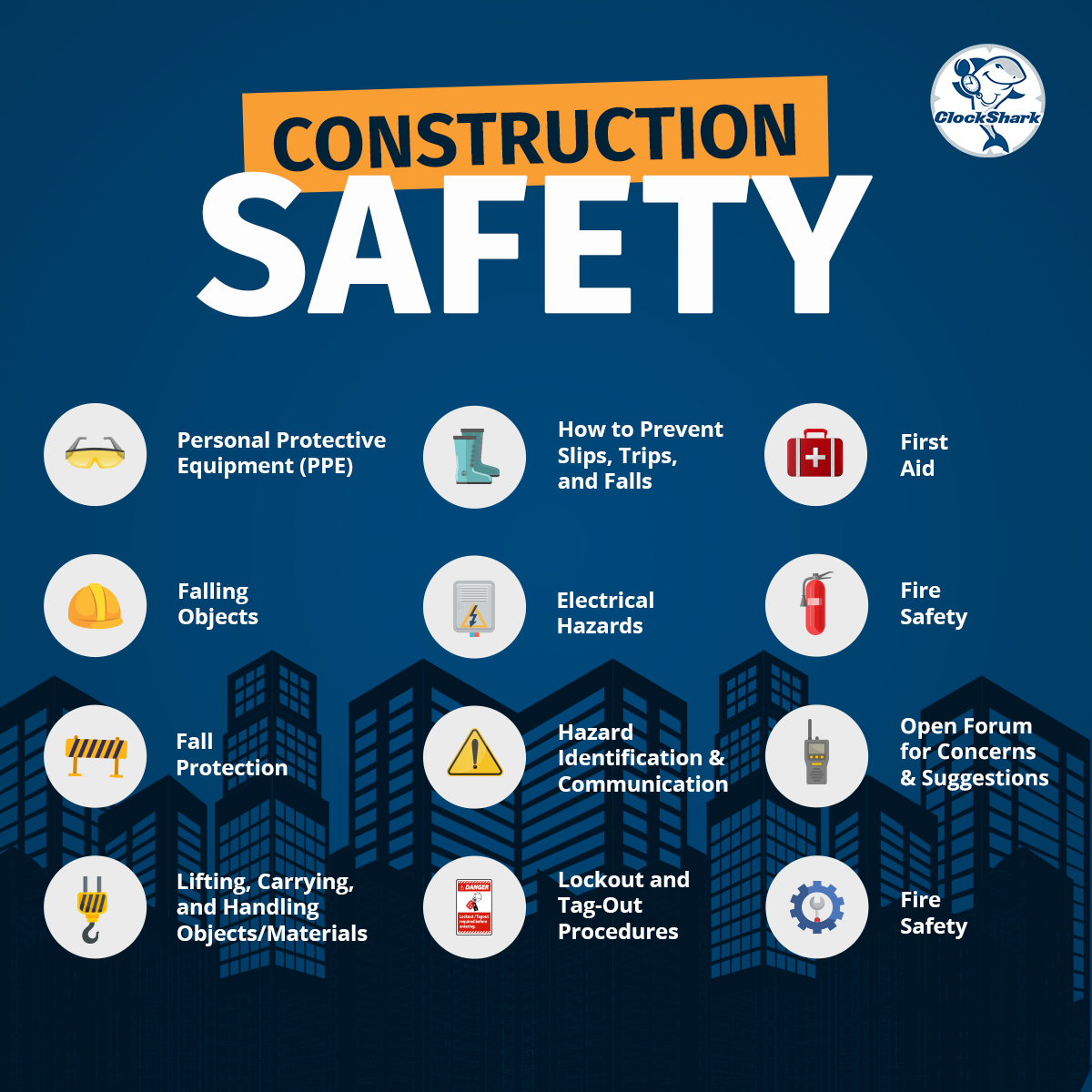 8. Lockout and Tag-Out Procedures
Every work site has equipment that occasionally needs to be serviced or is operated by only those qualified to do so. Take time to go over the lockout procedures with your teams, so they know how to protect anyone who services the equipment.
Tag-outs help identify who last worked on the item or equipment and any important details regarding it. Your construction safety meetings are an ideal place to go over the policies and procedures around these important practices.
9. First Aid
Construction safety talks are the best place to go over basic first aid with your workers. In some cases, specialized training might be required by OSHA such as logging operations, electric power, shipyard employment, or other types of specific fields/sites.
Go over specific first aid applications such as dressing wounds, tending to burns, and flushing eyes. Have your crews go over first aid needs on the job site that might be unique to that job, and designate a particular person to ensure the first aid kits required by OSHA are up-to-date and complete.
10. Fire Safety
Fire safety should be discussed frequently during construction safety meetings. Fires at construction sites cause countless deaths and injuries and result in hundreds of millions of dollars in property loss and damage each year.
The seven most commonly cited causes of construction site fires are:
Electrical failure/malfunction

Abandoned, discarded materials/products

Heat sources too close to combustibles

Cutting/welding too close to combustibles

Unclassified misuse of materials/products

Unattended equipment

Failure to clean
To help reduce the risk of fire, go over these common hazards in your toolbox talks and share the importance of vigilance at the worksite. Go over how to use fire extinguishers, and iterate the importance of their accessibility so workers know not to block their access to them.
The National Fire Protection Agency offers free construction fire safety training, which would be useful for your workers to have a basic understanding of fire safety.
11. Open Forum for Concerns and Suggestions
It's hard to report safety issues if workers don't have a clear and easy way to do it. Part of your toolbox talks should include making workers comfortable in reporting safety concerns.
Research has also found that "poor safety communication is a common problem in construction workplaces" and a good safety climate in the workplace translates into good safety communication.
Reinforce the importance of your crews working together to ensure safety for everyone - including workers and visitors - so everyone understands the importance of reporting safety issues and accidents or injuries.
12. Construction Safety Training
There are multiple safety training courses available through OSHA to help reinforce and/or increase the knowledge your workers have about construction safety.
Consider providing the opportunity for your crews to take one or more of these courses, so they become more knowledgeable about safety on the job site, and more committed to ensuring they and their colleagues stay safe at work.
Keep Everyone Safe on Your Jobsites
Safety meetings are a crucial part of having a strong, safe, and productive worksite and workforce. When starting a new project at a new job site, always cover new or unfamiliar hazards before anyone starts work. Start each workday with a brief toolbox talk, and use your construction safety topics in meetings to address these important topics.
ClockShark understands the necessity of construction safety. That's one way Clock Out Questions helps our clients stay safe. Custom questions geared towards each employee allow you to make sure everyone is safe when they clock out.