Now you can get even more out of MYOB AccountRight with a brand new ClockShark integration. ClockShark is growing and we are reaching out to our customers in Australia and New Zealand with this exciting new development!
ClockShark is committed to helping today's construction and field service industries use technology to simplify and streamline many essential processes like payroll, job costing, scheduling, and more. That's why we've developed our latest integration so those who use MYOB AcountRight for their payroll and accounting processes, can enhance their experience with the use of ClockShark.
MYOB is an Australian-based software that has a powerful entourage of features including:
Payroll

Invoicing

Tax and GST

Reports/Budgets

Expenses

Inventory

And more!
With MYOB you can run a business of any size with confidence. MYOB makes accounting, payroll, and compliance super easy to do.
Enter ClockShark
When you have a construction or field service company, keeping track of who's where, doing what, and when can be a nightmare when done with traditional sticky notes, spreadsheets, or phone calls.
ClockShark's powerful mobile timesheet app tackles these issues, so you can manage things like your payroll, job costing, scheduling, and more with just a click.
Combined with MYOB's dynamic platform, ClockShark helps save you even more time and resources.
What Is It?
The MYOB AccountRight is a Desktop application that you can use to have a file of your company's information stored online. Once you have placed your company file online with MYOB, you can integrate with ClockShark.
This allows you to import the time tracking data from ClockShark into MYOB timesheets for faster processing of payroll and invoicing.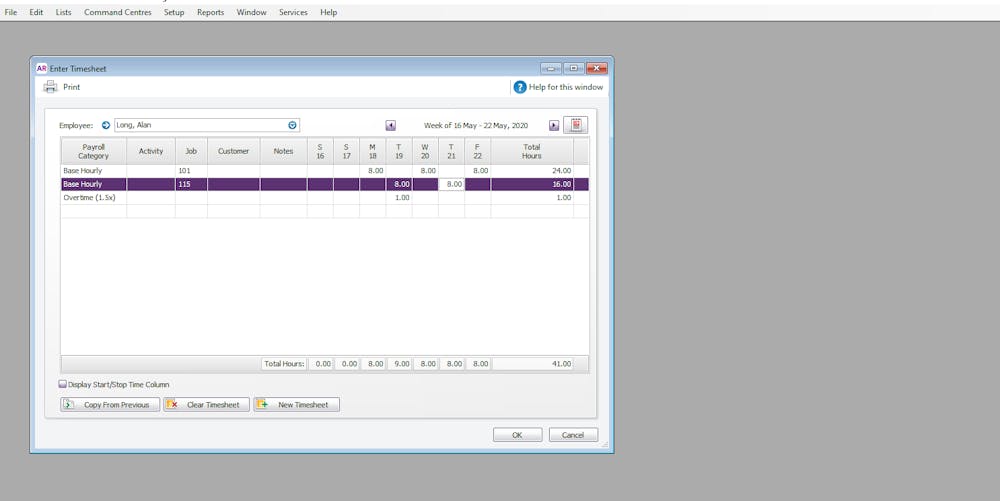 How's It Work?
Once you import your time data from ClockShark into MYOB Timesheets, ClockShark Employees, Jobs, and Paid Time Off are connected to MYOB Employees, Jobs and Holiday/Sick Pay for payroll and invoicing.

With ClockShark you can track time to the Employee/Job/Day/Overtime rules and easily import the data into your MYOB AccountRight for payroll or invoicing.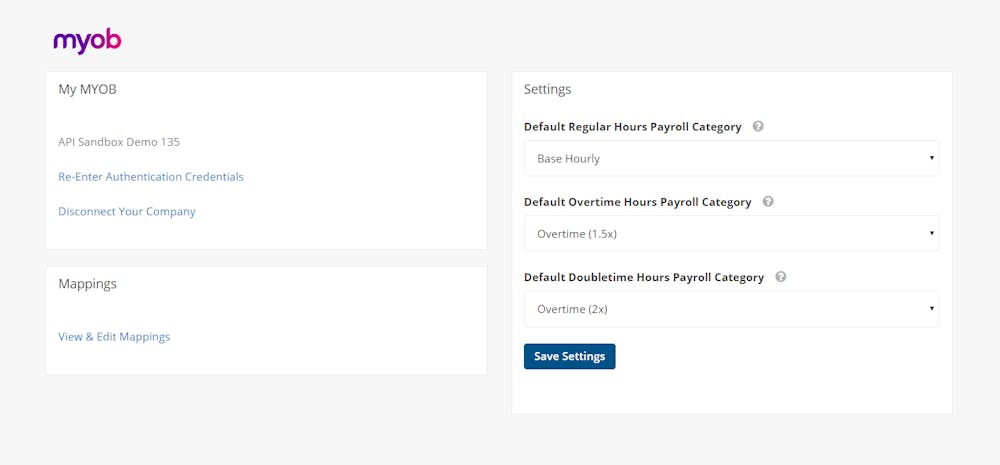 Main Functions of This Integration
MYOB is powerful on its own. Combined with ClockShark, it gets even more powerful. With ClockShark, you can manage the integration by mapping new Employees/Jobs/Time Off and export your employees' time data from ClockShark to MYOB in minutes.

MYOB can be used as a benchmark for what's possible. Some of the workflows supported by MYOB and ClockShark integration include:
Payroll

Invoicing

Time off

Job cost reporting

And more!
Why Did We Develop It?
Like ClockShark, MYOB AccountRight is built for businesses just like yours. Since we have customers that use MYOB who were looking to streamline their time data entry into MYOB, for payroll and/or invoicing, developing this new integration was a no-brainer.
ClockShark continually strives to expand our integrations to meet the needs of anyone who seeks to simplify their time tracking, payroll, scheduling, and job costing processes.
Save Time and Money with ClockShark
Thank you! Your submission has been received!
Oops! Something went wrong while submitting the form.
Ready to Give It a Go?
ClockShark's dedicated, five-star customer support team is on standby waiting to help you when you're ready. If you want to try the ClockShark/MYOB integration, reach out today to get started!