No series of software reviews for project management software would be complete without include GenieBelt. GenieBelt is project management software for the construction industry. The application is designed for Project managers, workers, subcontractors, and decision-makers in the construction field.
GenieBelt Features
When using GenieBelt all members of a team can store, view and edit documents in one central place making sure that everyone is on the same page. Also, team members can invite others such as clients to see particular documents. When an individual is asked the recipient will receive a file attached to the documents that have been shared. An audit trail is created for each document, so it is easy to monitor when a document is edited and by whom. The edits can be rejected or accepted by the owner.
Having the ability to have the team see the text and its edits makes having documents worked on by a group very efficient. Also, the audit trail keeps a full activity log allowing the ability to monitor what happened when and reduce your task scheduling conflicts. The software also includes a drawing database, and task list to help keep track of all of the "to do" lists.
The GenieBelt application can be used on a desktop, iPad or smartphone. The application can be downloaded to IOS and Android devices. The live schedule management system shares an interactive project Gantt chart. This shares real-time project information which helps ensure that your teams are prepared to have what they need to get things done.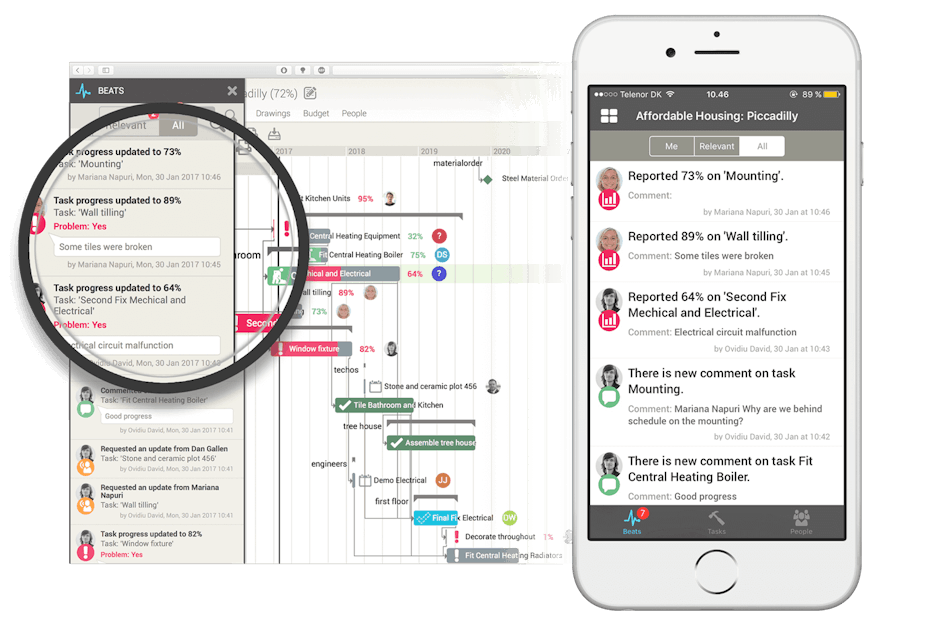 Geniebelt Gantt Chart
The Gantt Chart helps coordinate collaboration and efficient completion of your construction projects. The application allows tasks to be assigned to specific individuals and then monitored and managed as they progress through the work. The app has live project overviews that allow decision-makers and project managers to see how workers are progressing on tasks. The overview shows you all of the projects you have as well as their status and any notifications. You can invite and add unlimited users to any of your projects. The project overview helps you by alerting you to any problems that might occur before they happen.
Geniebelt Integrations
You can also import schedules from Asia, Primavera, and MS Project and run it live in GenieBelt. Since the application can be used on your phone, it is easy to update the entire team. Using notifications, you can report issues and progress quickly right from the job site on your phone.
Geniebelt Reports & Workflow
The GenieBelt application provides tools to create detailed reports. The whole team can access the daily reports on progress quickly and easily. The reports make it easy to see the workflow and where things need to be adjusted.
The application allows for easy and efficient communication. Since the whole team including subcontractors and workers can access the application, it is easy to communicate about tasks and progress on projects. Issues are caught easily and able to be addressed thanks to the streamlined communication quickly. All team members are using the same updated information from the same place, so there is no confusion about the next steps on projects.
Geniebelt for FREE
To try out the GenieBelt go to the website and put in your first, last name and email and click sign up for free. You will then put in your phone number, company name, and password and click sign up. Once you submit your email look for a verification email confirming your account. Once you sign up and confirm your email, you will get up and be running and you will be taken to the web app where you can log in.
If you prefer to use the application on your IPad or smartphone, you can go to the App Store or Google play store and download the app. Once the application is downloaded, you will be prompted to fill out your name and other information to sign up and create a login. You will get an email confirmation for your account which you will need to verify. You will then be on your dashboard. Once you are in the application, there is a plus button on the top right to add a project. You simply click the plus and name your project and you are on your way. Try out the GenieBelt app for free today.