Goformz is an application that can replace all the paper clutter in your office. That's a bold claim, so we did this GoFormz review to see if it was true. Turns out, it is true. Goformz takes all the paper forms that your company has been using and converts them into electronic forms that can collect data from the field. You can then easily input information into the forms and share or print it as well as produce reports with the data you collect on all of your electronic forms. Goformz can be utilized through their website or their mobile app which can be downloaded from the app store for IOS for free. The app is also available on Android through Google Play.
GoFormz Review: Get Up and Running
Goformz offers a 14-day free trial to check it out risk-free and see if it will work for your company. To get started, you simply go to the app store and download the app. Then set up your free account, which takes about 30 seconds. Once you have completed the sign up you are taken to a short tutorial.
The app gives you the option to allow notifications so that you are notified any time a form is transferred to you or completed. This is a very nice feature. Once you are all signed up you can log on through your computer at goformz.com and upload your forms. This is easily done by selecting the template editor and then clicking the create template button. This will prompt you to upload your form. Within forms, you can add locations, images, and sketches. Once you upload a form you can set it up to pre-populate with quick fill lookup fields.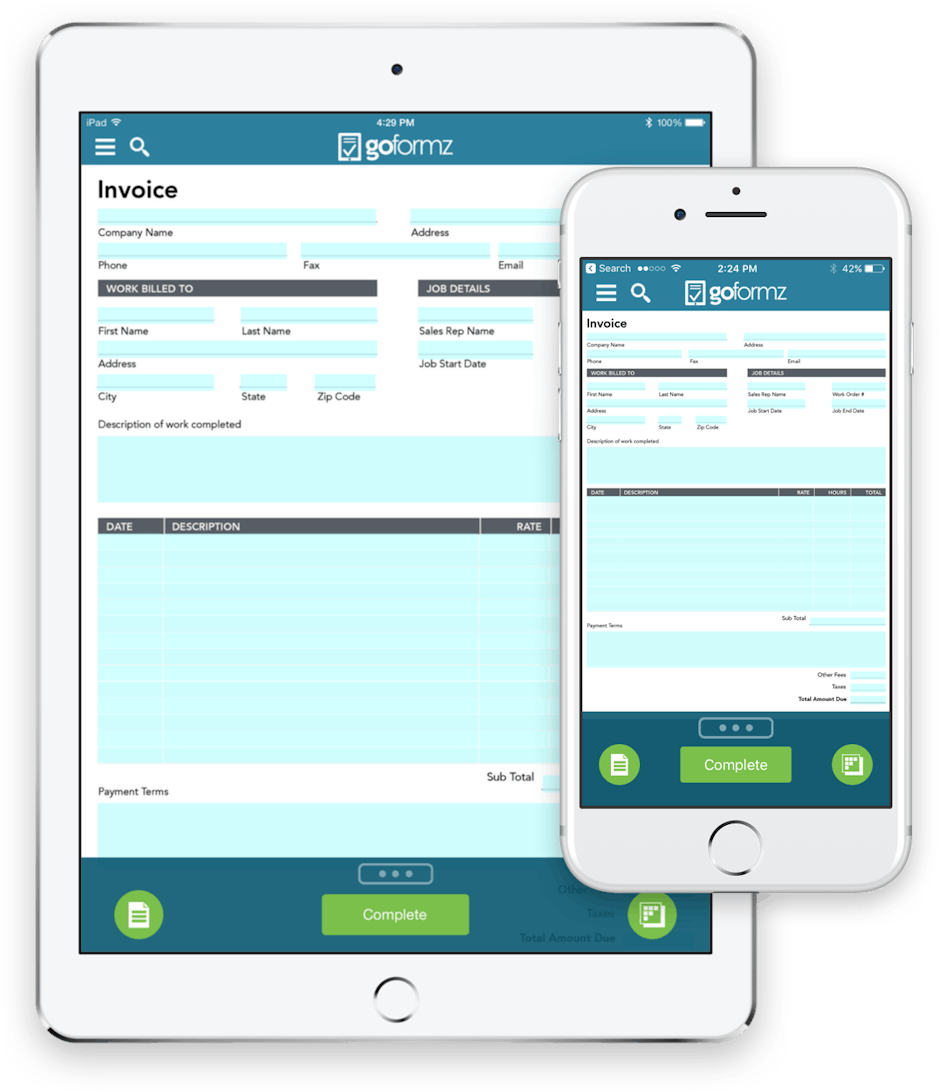 You can use data in MS Excel or Google Sheets to create quick fill fields. Within the fields on a form Goformz can auto calculate multiple fields to give you totals of time, the amount of money and other things easily. You can create certain rules for field values so that if you change one field value another can change automatically, helping prevent errors.
When your form is complete and ready to use, it is all set in the cloud so you can access it anywhere. When a form gets filled out the data gets stored in the cloud and a team member can grab the information right away. This really can help streamline your workflow and make your company more efficient. The data you can pull from the electronic forms can make record keeping much easier.
Goformz pricing
There are 4 levels of pricing for Goformz. There is a Basic level that is free but is only for a single user and only allows a one form template. There is a team level that costs $12 a month per user. This allows unlimited forms, plus the quick fill lookups, automated emails, and calculations. The advanced level is $25 a month and has all the team features plus Dynamic field properties, automated workflow, Ad-hoc and recurring reports along with direct integrations with different software such as Salesforce, Servicemax, and Box. The final level is Premier, which is $50 a month and has all the advanced features plus full API access including system-generated forms, custom integrations, and email/phone support.
Goformz is very simple to use application that really can make many parts of running a company much easier. If you are interested in taking a look at it, head over to www.goformz.com.