Facilities managers have many things to keep track of, and Hippo CMMS (Computerized Maintenance Management Software) is designed to help with that. Our Hippo CMMS review will cover some of the features available so you can see if it's a good fit for you.
What is Hippo CMMS?
Hippo CMMS is a cloud-based management solution that helps manage and organize facilitates operations. Hippo CMMS is a software system that allows you to submit work orders, track your maintenance requests and assign assets.
Using Hippo CMMS you can manage your daily workflow operations as well as your long-term service operations. There is a mobile app that can be used so that work orders can be given real-time updates throughout the day. This can be a lifesaver! Hippo has an amazing ability to store a great deal of information to help with tracking important assets and processes.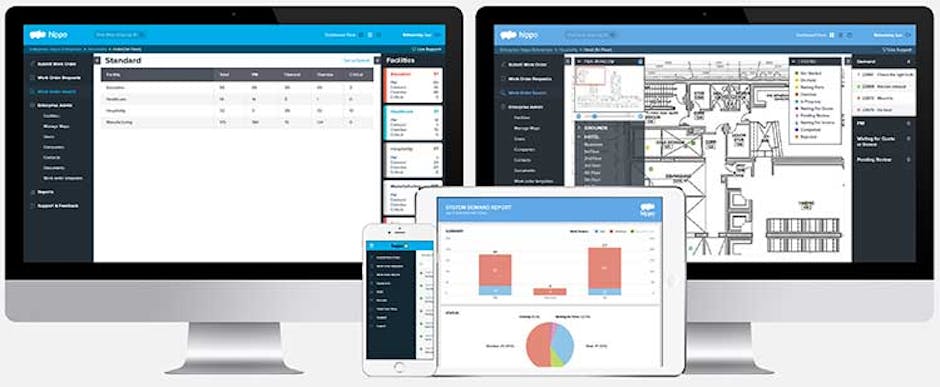 Hippo CMMS Features
After I decided to give Hippo CMMS a try, I signed up for the 30-day trial. I was helped by a software specialist to get familiar with the software. I found their video and pdf library very helpful as well to help me get started and learn about the system. If needed, Hippo CMMS also offers professional training services for implementation. I really loved the Hippo Advanced Dashboard and how I could see a graphical view of my maintenance operations right from my web browser.
Technicians are able to create work orders right in their mobile app and be able to submit them while on the job. They can not only create the order but can update it and close it out once they complete it. The work order system has made it so much easier to track tasks and orders and to run reports.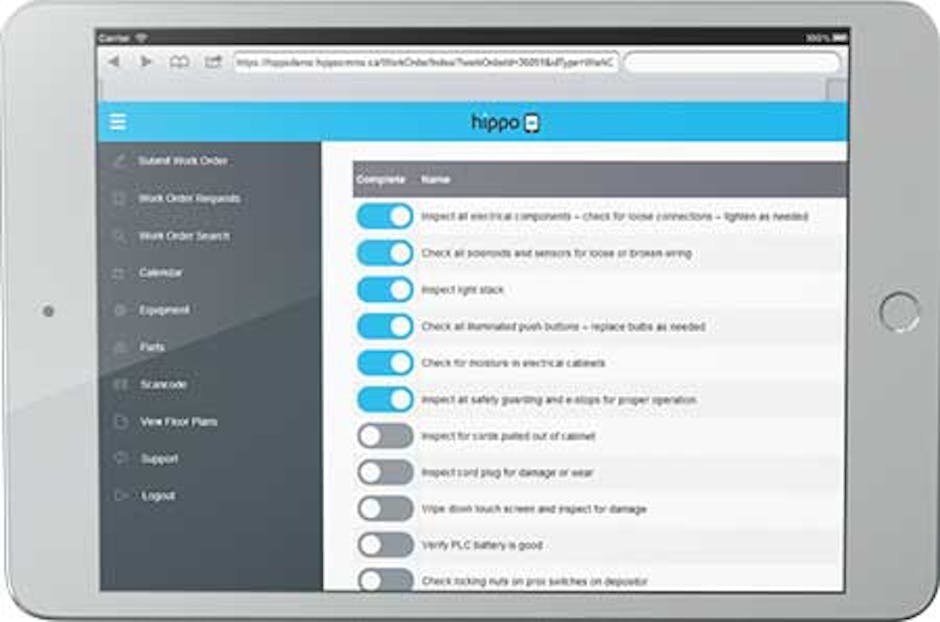 Using the system, you can manage preventative maintenance tasks in a much more efficient way. I found that using the database was easy and it was well organized. The Calendar helped me with optimizing the workflow of my facility and planning for my resources. Being able to see floor plans right from the dashboard is really helpful. The floor plan has interactive icons that show equipment and other assets. Work orders can be generated right from these icons.
I love that by just clicking on the icon on a floor plan I get a pop up of the work order for that tool, the tools schematics, a picture of the tool and the manual. This is a great feature. This is helpful whether you're on-site or off. You can also lookup equipment and get a detailed overview showing when it was put to use, it's mileage, any pending work orders, the VIN, the make, model and it's status (in service or not in service). This makes tracking equipment and needed repairs and replacement much easier. Another feature I love is that I can visually organize and manage everything right from the floor plan.
Review Hippo CMMS Yourself
If you are interested in trying out Hippo you can get a free trial. Simply head over to the Hippo CMMS website and click on the free trial button. You will be prompted to put in your information and sign up.
Once you have signed up a Hippo Software Specialist will contact you and give you your login details so you can access your Hippo account. You will then have 30 days to try out the software for free. You can also take advantage of getting a 10-minute tour of the software to help you get started. After your free trial, if you are ready to sign up there are a couple of pricing options. For $40 a month there is Hippo Lite, which is a single license agreement. For $120 a month you can get Hippo Pro which gives you an unlimited number of licenses.