Despite some obvious disadvantages, many construction companies and other field service crews are still relying on paper timesheets to track their hours. While paper systems may seem easier than relying on technology, it has its downfalls.
If you are still using paper systems to track time and you have staff manually calculating hours, it's likely costing your business money.
How is paper timesheets costing your construction business money?
Employee time theft
This comes in many forms and is a real problem for construction and field service companies. Without having the ability to verify someone's location or time of arrival, it leaves your company open to the threat of time theft. If someone is late, they may ask a friend to clock them in or ask them to clock them out if they have to leave early (this is known as buddy punching). Employees may log the time they did not work, and it's not always easy to catch these things without a system in place for accountability.
Time rounding
If you are using paper timesheets, this is almost certainly happening. What may seem like small adjustments to an employee can impact your business in a huge way. Even adding 5-10 minutes for each job location or day of work will add up. It's costly, especially when it's a widespread issue. Not to mention is it time you likely did not budget for.
Illegible timesheets
It's not just an annoyance to have to back-track to ask for a translation of someone's sloppy handwriting. It's also an added cost. It takes time. It can also lead to errors if instead of taking the time to check, bookkeeping attempts to read it, and they read it wrong. This can mean paying money for the time that wasn't worked. Additionally, it could mean issuing an incorrect paycheck and having to go back and rectify it.
Lost or damaged timesheets
This is a real possibility when you are relying on paper forms. Employees will not always keep track of their timesheets. Also, when they are doing physical labor and timesheets are being kept on a job site, you run the risk of them getting damaged.
Forgetful employees
It's an ongoing problem with employees, especially if they are relying on paper timesheets to track their time. Employees often forget their start and end times, which can mean incomplete timesheets or having to guess. This leads to more time errors, which cost your business money. They also sometimes forget to turn in their timesheets, resulting in you having to track them down.
Calculation errors
When employees are working at multiple locations and job sites, that can leave a lot of room for error when calculating time. These errors are costly for you when they are inaccurate. They are also time-consuming to try to fix.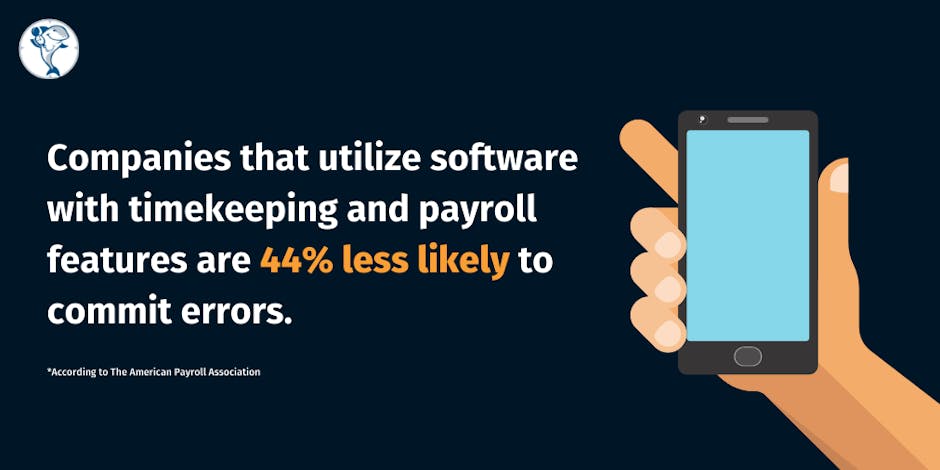 Overtime
Working overtime hours is inevitable in the world of construction and field service. However, it helps to be efficient. It can be hard to cut down on overtime when no one has real-time access to hours that are being spent each day.
The solution
Rather than relying on paper timesheets to track time and hours, you can utilize mobile time-tracking app for your construction and field service employees. These systems are easy to use, provide accurate reports, and track hours in real-time.
1. Increase profitability
It's a common issue in the construction and field service industry for employees to log hours they were not working. According to the American Payroll Association, the average employee logs 10 minutes per day in stolen time. When you look at that number across all of your workforces and multiply it each day, it adds up to thousands of dollars lost.
Time tracking helps avoid time theft. Additionally, it can help you cut down on unnecessary overtime. While some jobs require extra time to meet deadlines, not all do. Having quick access to hours will help project managers spot overtime when it happens and can make sure it stops if it's not necessary for a project timeline.
2. Bill and pay accurately
Clear hours and costs ensure that your clients are being billed for labor hours that are truly being used. You no longer have to worry about overpaying employees because of inaccurate timesheets, unchecked time logs, or for hours not worked. You can be highly efficient with your bookkeeping and can build better relationships with your clients by having accurate reports and hours.
3. Increase productivity
Having a system of accountability in place can help boost employee productivity. With quick and easy access to hours worked, it's easy to see if time is being spent efficiently. Knowing that hours are being reported daily and accurately can help keep employees on track.
4. Better project management
With all of the information at the fingertips of your project managers, it's easy to be as efficient as possible. They have the ability to see in real-time how hours are being spent, and if things are on schedule. If you are not on track for a quoted timeframe, you can make adjustments, even on a daily basis.
5. Better communication
There will be no confusion when it comes to where employees are and how they are spending their time. You will have the ability to be proactive rather than reactive.
6. Improve quotes and estimations
Having accurate numbers and hours that you can trust means you have data you can use to your advantage. If you get a proposal for a project that is similar to the one you have done in the past, looking back on those hours can help you determine how long a new job will take. Better records that are accurate result in better estimations. That means less overtime, more accurate quotes, and more reliable timelines for your clients.
7. Improve employee accountability
It's tough to keep track of employees when you have multiple teams out on multiple projects, all at the same time. Using time tracking and having access to real-time reports means employees will be accountable for arriving time, sticking to scheduled work hours, and not abusing overtime.
8. Provide added value to clients
When it comes to estimates and projected costs, the more accurate information you have, the better. As we already discussed, using time tracking will help you create better quotes and estimates because you will have more exact numbers and figures. However, this is also beneficial to show to clients. Having an exact breakdown of hours and labor spent on a project can help justify costs and build a long-lasting, trusting partnership.
Save Time and Money with ClockShark
Thank you! Your submission has been received!
Oops! Something went wrong while submitting the form.
What features to look for in a construction and field service time tracking solution?
Cloud-based Time Tracking
While it is convenient for time tracking to be available as an app on your employee's mobile phone, you don't want their ability to use it to be limited based on cell service. Also, you want to make sure that if something happens to an employee's phone, the data is not lost. Be sure to look for time tracking that is cloud-based to protect your data and allow your employees to track their time anywhere.
Mobile-Friendly Time Tracking
You want a system that is cost-effective, and needing additional software can be pricey. Look for time tracking that can be used as an app on an employee's phone, so you don't have to invest in pricey technology to get it off the ground and running. As an added bonus, if you have a handful of employees that don't use a smartphone, it's best to look for time tracking that allows site supervisors to manually clock employees in, so everyone is covered.
GPS Tracking with geofencing
It's a huge benefit to be able to see where your employees are at all times. This builds trust and is an added layer of accountability. This should be a necessary feature. For even more added security, you can use a system that uses geofencing. This means that you can set up a perimeter around a job site. Employees will not be able to clock in unless they are within the perimeter, and they will be clocked out if they leave. This prevents workers from ever punching in or being punched in before they physically arrive on the job site.
Employee scheduling
Scheduling is an important part of your business, and it can be difficult to manage the schedules of workers when everyone is out in the field. Be sure to look for a time tracking system that also allows you to communicate changes in employee scheduling app, especially in real-time. It's even better if you find a system that notifies workers of changes, so they aren't missed. Having the ability to do this throughout the day gives you flexibility and control without having to try to send texts, make calls while employees are working, and wait for confirmation.
Job costing
You want to be able to easily keep track of time for accurate job costing. Having access to legible electronic reports that are available in real-time eliminates guessing. You should look for a time tracking system that allows you to easily input job codes for employees to use/choose when clocking in. As an added bonus, you can look for one that doesn't require someone to clock out to switch codes.
Integrations
Having electronic reports is great, but inputting those figures into your bookkeeping system would still be a timely endeavor. Some time tracking systems are able to be integrated into commonly used payroll systems such as QuickBooks, Sage, or Xero. This could save valuable time for your administrative staff and allow for easy integration.
Easy to use
No one wants to deal with complicated systems. The point of implementing time tracking is not only to have accurate data but to save you time and money. It should be easy to use for you and your employees. The more user-friendly, the more likely that employees will use it.
DCAA compliance
When trying to meet DCAA requirements, it's critical to have documentation of nearly everything. That includes timekeeping logs. In the case of an audit, you want to have a detailed and accurate time tracking reports that can be pulled easily.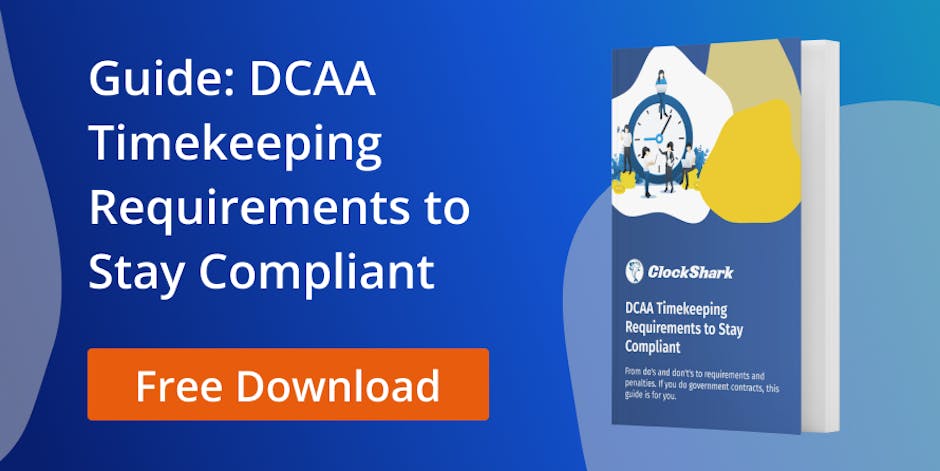 How to implement time tracking into your construction and field service business
Be onboard yourself
Time tracking will be most effective when it's being used properly, and it's being enforced. Make sure that you fully understand the system and that you implement clear rules and guidelines for employees to follow. Be able to answer questions. It may help to designate one person to be in charge of rolling out the new system, making sure all current employees are trained, and to set up procedures for new employees to be trained as well.
Communicate your goals
Be clear with employees and project managers about what you are hoping to accomplish by using time tracking.
Explain the benefits for the employees and the company
Change can be difficult for some. Sharing the benefits of time tracking will help get employees on board and understand why the change is needed.
Make training easy
Make sure someone fully understands how to use the system. Get project managers and supervisors fully trained so they can help their teams as they are learning. Be open to questions and make the learning process as easy as possible.
Incentivize adoption
Making a positive change is easier when using positive reinforcement. Acknowledge those that are quick to try to learn the new system and use it. Come up with a reward system for the people who are using it correctly and consistently.
Demonstrate improved visibility
It doesn't hurt to show that the new systems are being enforced. Demonstrating the new and improved visibility will add an element of accountability.
Add it to your handbook
Don't forget to include any future new hires in the training process. Once you finalize your process and procedures, be sure to add these things to your handbook. Have a plan in place to make sure that new staff learns how to use time tracking from day one and know where to go if they have questions.
Conclusion
You can save your business money and valuable time by ditching paper timesheets. Implementing time tracking can be a simple process, and when you use the right system, the benefits are worth making the switch.
Not all time tracking systems are made the same. When it comes to construction and field service crews, ClockShark offers the number 1 time tracking in the industry. We understand the needs of a construction company and offer features to cover every aspect of your time tracking needs.
Get access to GPS time tracking, job costing and reporting, drag and drop scheduling, and more. Sign up today to see how ClockShark can benefit your construction or field service business.