There is never enough time in a day. As a business owner, every minute counts. Investing in activities that will save you time allows you to get more work done. One of the most time-consuming duties business owners or managers have to do is employee scheduling.
Employers lose lots of valuable time each week building employee schedules. A survey found that some employers spend 12 hours weekly on employee scheduling! Where else could those hours have been spent?
When done inefficiently, employee scheduling can cost companies thousands of dollars annually. This blog is to help you cut down on ruthless hours spent constructing an employee schedule.
How Important Is Employee Scheduling?
Without the presence of an employee schedule, the workplace would be chaotic. There would be confusion about who is supposed to work on what day and what time. An employee schedule creates order and dismisses the confusion about when an employee should go in for work.
Having a constant employee schedule is a great way for employers to allocate their workforce. It's irrational to have one person do one job when you have a whole team. People need breaks and others need to work. An employee schedule assures that employees are working reasonable hours.
How Do You Manage Staff Scheduling?
There are hundreds of employee scheduling app available to use. We compiled a list of the top 4 employee scheduling software.
1. ClockShark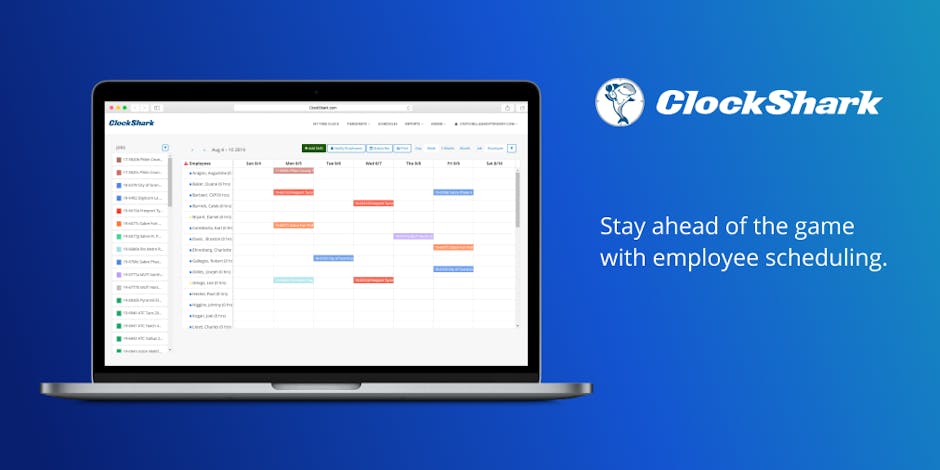 ClockShark is a GPS time tracking and scheduling software great for construction and field service companies. With a 4.6 out of a 5-star review on G2Crowd, it is a leader in its industry.
This SaaS company has many features to help you save both time and money. The employee scheduling feature is among ClockShark's most popular features. Here are some of the abilities you can do with the employee scheduling feature:
Easily communicate the schedule to employees- With the click of a button, you can notify all employees of the schedule. No more calling, texting, and printing employee schedules!
Edit schedule with the drag-and-drop feature- It's as easy as 1, 2, 3. You can take an employee and assign them to work another day and/or time slot.
Employees can access their schedule through their smartphone- Workers can pick up their phone, view their schedule, and go to work using the

ClockShark scheduling app.
Time tracking- Employee scheduling and time tracking are compliments to one another. With ClockShark, employees are able to clock in and out.
With so many great features, it's no surprise that companies are beginning to implement the software into their business. ClockShark is an easy and convenient way for you to save time with employee scheduling.
2. HotSchedules
HotSchedules is an employee scheduling software that controls costs and increases productivity. Employers can construct a schedule fit for all employees and send it out. Their scheduling app allows workers to view their schedules right from their phones.
With this application, employers and workers can access the contact information of other workers for easy communication. It also allows workers to swap shifts with one another if approved by the manager.
3. Jobber
Jobber was voted #1 for 2019's service scheduling software and app. Jobber is designed specifically for field service businesses where the teams work out in the field and have different appointments or job sites to go to.
It lets you create a personalized employee schedule depending on what best fits your company. The color-coded system filters tasks among your employees. Employers are able to check the progress of their employees through the app as well. It's an easy and quick way to set up employee schedules.
4. When I Work
When I work is a free employee scheduling software best for small companies. It comes with both an employee scheduler and a time clock. Like ClockShark, they also have their own employee scheduling app on mobile.
This program saves employers time and increases employee accountability. Changes can be made easily and executed in real-time. The program is cost-free for up to 70 users.
So, Why Use Employee Scheduling Software? 
Implementing an employee scheduling software at your company comes with many benefits. Why wouldn't you use one? It saves you time, money, and the difficulties that come with using paper timesheets. There are many software to choose from when deciding which will best fit your company.
Tell us below in the comments, what is your process for employee scheduling?