The ClockShark team has been busy with developing our latest new feature - available for free to our Pro, Standard, and Basic users - and we are sure it will improve many aspects of your experience with ClockShark.
We know because we had a lot of customers trying to accomplish exactly what it provides. Based on their feedback and requests, ClockShark's new Customer Management option - called Customers - was developed and is now available.
This new option will enhance how you can track where you are spending time, money, and resources so you can make valuable adjustments to improve your bottom line.
Here is everything you need to know about the ClockShark's Customers option.
Why Did We Develop It?
ClockShark clients were looking for a way to track name, address, and contact information, as well as notes and file attachments for their customers. This customer could then be associated with one or more jobs, allowing users to easily view and manage the work done for a specific customer.
They also wanted an easier way to have customer information available not just for administrators, but for workers, too. This way, they can contact the customer if necessary, and see any notes or file attachments that may relate to the work being done, even from out in the field.
Since we have a lot of different types of companies as clients, not everyone will want to take advantage of Customers. That's why it is designed as an opt-in option, meaning new and existing clients will need to choose to use it if they want.
Specific Functions
If you are one of those not-so-tech-savvy people, that's okay. Here is a simple breakdown of the functionality that comes with Customers. There are four key functions the Customers feature will provide.
Another Level of Tracking
The level of tracking that helps you estimate job costs just got a boost. With the new ClockShark Customers, you can assign jobs to an individual or business, and track contact information - similar to jobs and tasks, but with a couple of differences.
For example, if you are a service company with a customer that has multiple sites, you can create a "customer" (or project) under the company's name and assign each different location as a job to them. This allows you to quickly find and see the jobs.
Customers adds another level of tracking that helps you estimate job costs. With more detailed information, you can track the total time spread across multiple jobs.
Benefits include:
Easier reporting

Less manual entry

Ability to build a client database

Clearer organization
All of this can not only save your time but improve your job costing, customer service, and your bottom line.
Customer Contacts
Instead of searching through notes and spreadsheets for the contact information for your customers, now you can conveniently keep track of all the necessary information about that customer in one place.
For example, if you have a customer with multiple departments, you can store each contact for each department in one place, under that customer's name.
This will help keep your records organized, save your administrators time from searching, and make your workflow more efficient.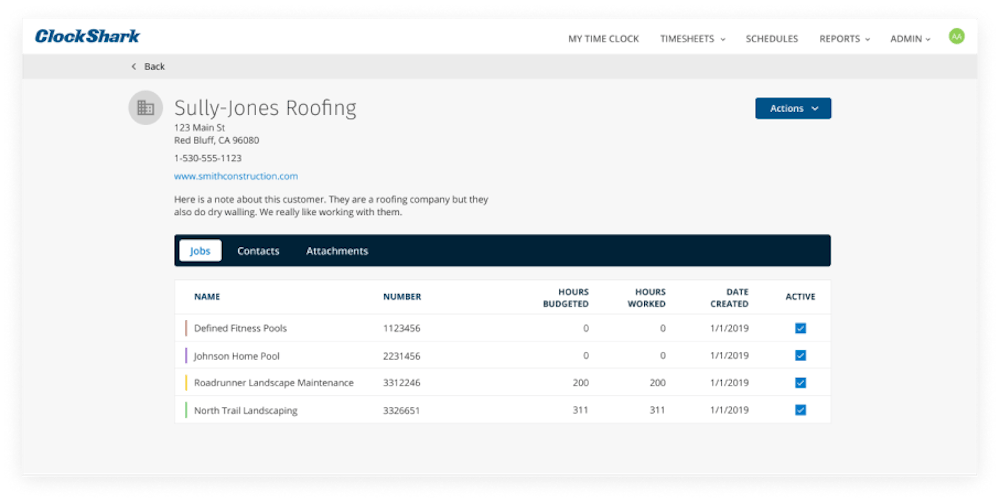 Job Contacts
When your workers are in the field, they may have questions about a particular job or customer. Instead of calling you - or the office - to get answers, they can pull up the information in the ClockShark app on their mobile devices, so they know who to contact for answers.
You can assign as many job contacts as you want so this meets a lot of different needs. Great communication is needed for great customer satisfaction. This helps with that by improving communication and direction between management and field workers and also by putting your workers in touch with customers if they need to reschedule or confirm they are home before heading to their next job.
QuickBooks Integration
If you use Quickbooks Desktop or Quickbooks Online with ClockShark, it will also work with Customers feature! You can enable customers in ClockShark and set up how you want the integration to work.
Likewise, users that are happy with the way ClockShark and QuickBooks interact as it is, don't have to change a single thing!
This will give you greater flexibility in the QuickBooks integration and make the entire change optional. It's entirely up to you.
Save Time and Money with ClockShark
Thank you! Your submission has been received!
Oops! Something went wrong while submitting the form.
Conclusion
We are working hard here at ClockShark to bring our customers the tools they need to be successful.
If you want more information or guidance on using ClockShark's Customers option, don't hesitate to reach out to the ClockShark support team!