If you are considering GPS time clock technology, you probably have a lot of questions. One of the first ones is probably whether or not your company will even benefit from it.
It's a fair question. Here is a list of things to consider when deciding if GPS time tracking is right for your company.
11 Questions To Ask About GPS Time Tracking
1. Do You Have Field Workers?
If you have employees who work out in the field, GPS time tracking is almost a necessary part of staying successful and competitive.
Not only will GPS time tracking help you collect accurate time and job information, but you'll be more prepared to answer emergency service calls.
With GPS tracking, you can pull up a map and see who is working, where. This means you can send the right technicians to these calls and significantly cut down on your response times. This greatly improves your customer service plus cuts down on travel time for your workers.
Common examples of these kinds of companies that often benefit from GPS time tracking include:
Janitorial/Custodial

Landscaping/hardscaping

Utility technicians

Trucking companies

Public transportation

Law enforcement

Pools

HVAC

Painters

Electricians

Security teams

Roofing contractors

Property managers
There are many companies that have field service technicians and field crews and workers. Before adopting GPS time tracking, it was hard to know who was where. This technology helps cut down on headaches and travel time which improves your bottom line.
2. Do You Have Multiple Worksites/Locations?
Whether your job sites are all over the city or all over the country, GPS time tracking helps you keep track of each worker in each location with ease. No more driving around to each jobsite or playing phone tag with your managers and supervisors.
Simply pull up a map and see who is where, anytime.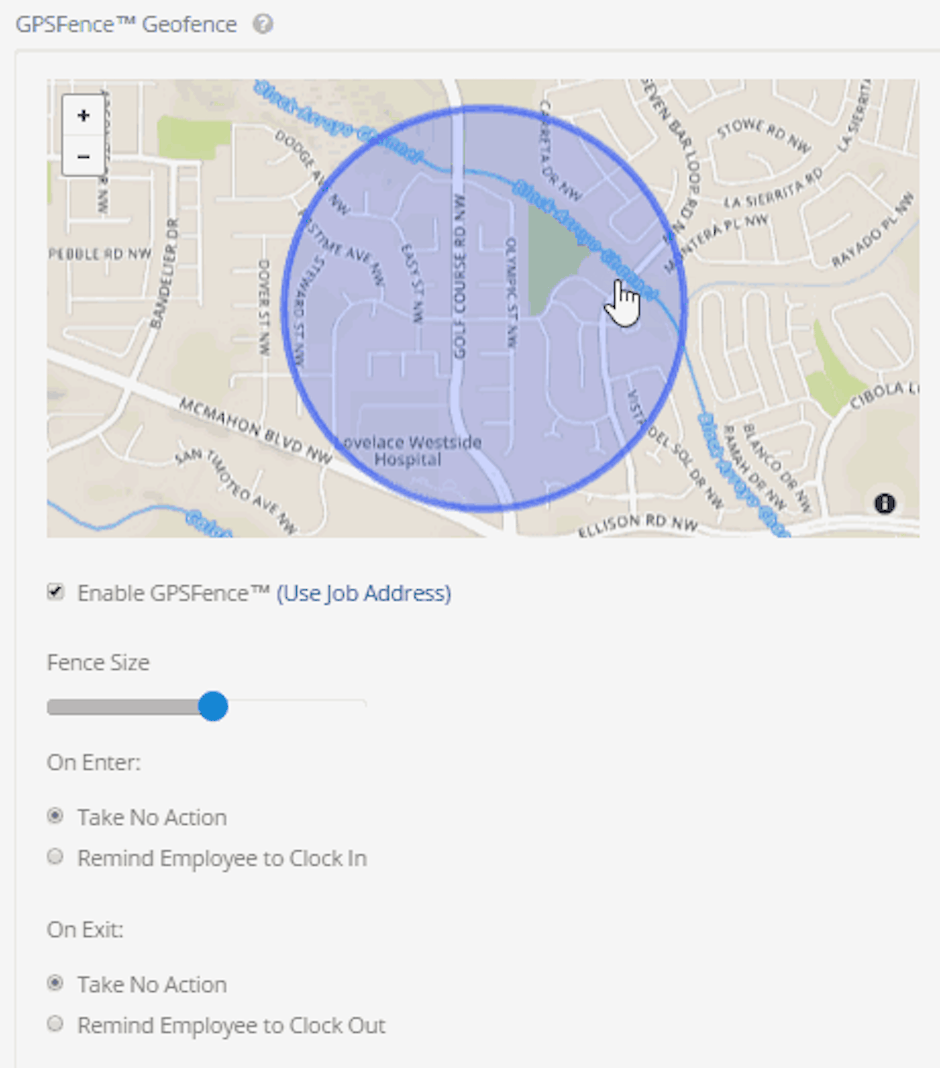 3. Do You Have Multiple Pay Rates/Worker Classifications?
Many employers have different classifications of employees. Construction and remodeling experts frequently have different pay rates and classifications, especially if they are doing publicly-funded jobs and need to file certified payroll reports.
A good GPS time tracking solution allows your workers to clock in easily from their devices and switch tasks to another job type or category, making it much easier to have the right information for each job.
Examples of these types of classifications include experts like:
Electricians

Plumbers

Framers

Roofers

Masons

Carpenters

Drywallers
4. Do You Need Better Job Costing?
Naturally, when you are able to check how many hours were spent doing a particular job, it makes the job costing much more accurate and simple. Never under- or over-bid a project again. You'll have exact data to draw on when you use GPS time tracking technology.
5. Is Your Payroll Accurate, Every Time?
If you aren't sure, you probably could use GPS time tracking. After all, you never know, what you never know. Often, companies discover they have lost a lot of time and money with paper timesheets once they convert to using a mobile time tracking solution. It not only helps the employer to run payroll more easily and quickly, but also more accurately.
Plus, employees appreciate getting the correct pay, on time, every time.
6. Could You Improve Your Employee Accountability and Productivity?
While GPS time tracking is not intended to "spy" on workers, it does help increase productivity and accountability. When a worker shows up to do a job, you can see exactly how long it took them to do that specific job.
And since they know their time is being tracked, they will be more likely to put in their best work.
In the rare case that an employee isn't carrying their weight, GPS time tracking helps you to identify these weaknesses and take appropriate action. Conversely, it helps you identify the true rock stars on your teams so you can reward them accordingly.
7. Do Your Employees Understand GPS Time Tracking Benefits?
Generally speaking, most employees don't mind using GPS time tracking. The few that do mind it, often don't understand the benefits.
Once they understand how it will help the business overall, they are much more likely to be onboard. The three most common employee concerns include:
Invasion of privacy

Fear of exposing personal data/information

Battery life/data usage

There are many myths around GPS tracking that are easy to clear up to make your workers more comfortable with the technology. We have a list of the 20 most common myths and misconceptions.
8. Do You Have Subcontractors?
While subcontractors are not exactly on your payroll, many contractors benefit from having subs use ClockShark when working on construction projects. It helps a lot with job costing and makes payment easier.
No more confusion or miscommunication about the work that was done or how long it took. This will also help with keeping your job costing accurate, no matter how many subs you have.
9. Do You Outsource Your Payroll or Have Multiple Construction or Field Service Clients You Do Payroll For?
Accountants and company administrators do all the heavy lifting for collecting timesheet information and turning it into accurate paydays. It is particularly challenging when you have multiple teams, multiple clients, multiple employee classifications, and a lot of data to collect in a timely manner.
GPS time tracking eliminates inaccurate or unavailable timesheet information and makes running payroll quicker and easier.
10. Is Employee Safety Important For Your Workers?
From hazardous chemicals on jobsites to natural disasters and ensuring driving compliance, GPS tracking is an added tool that helps you make sure your employees are safer while on the job.
Save Time and Money with ClockShark
Thank you! Your submission has been received!
Oops! Something went wrong while submitting the form.
11. Are You Getting Blindsided by Overtime Costs?
With GPS time tracking, you can be informed - up to the minute - of who is reaching their overtime pay and change schedules accordingly, often without leaving your desk.
Conclusion
GPS time tracking may not be the right choice for some companies, but if you answered yes to half of these questions, it may be time for you to look into investing in GPS technology to stay profitable and competitive and to help your company continue to grow.