Businesses with a mobile workforce that require job costing as a part of their payroll process should be in the market for a mobile time clock solution. Why? Many mobile time clock solutions offer real-time tracking of employee start and stop times and allow employees to switch between labor categories as well as job codes/numbers.
Accurate time for job costing
This accurate and easy time tracking capability will in most cases, reduce payroll costs and improve payroll processing efficiency, which will reduce administrative costs as well. Billing accuracy may also be a concern for some businesses since billing is sometimes driven by hours worked.
Today's workforce is used to the idea of using time clocks, and the mobile workforce is no exception. Mobile workforces present a unique challenge for timekeeping since the traditional clocks used in buildings are not very mobile-friendly. There are many options for mobile time clocks, such as phone-based (dial-in) systems, hardware-based rugged clocks. and software-based clocks.
ClockShark's Job Costing Made Easy!
Track time to jobs and tasks for job costing
Each type of clock offers some unique advantages and disadvantages, but we believe that in terms of ease of use, ease of implementation, ease of maintenance, and cost of ownership, that software-based mobile clocks are the best option for most businesses.
Software-based apps
Software-based mobile timeclocks typically feature an app that can be installed on a smartphone or tablet, plus a cloud service (accessible via the web) that collects and reports the times captured via the app. Today, most employees have smartphones and giving them access to the mobile time clock app is easy since they can simply download it to their phone and then start clocking in immediately.
Software-based clocks on smartphones or tablets can also provide biometric verification features such as photo verification with each punch, which discourages workers from clocking in or out for one another (a common yet costly practice).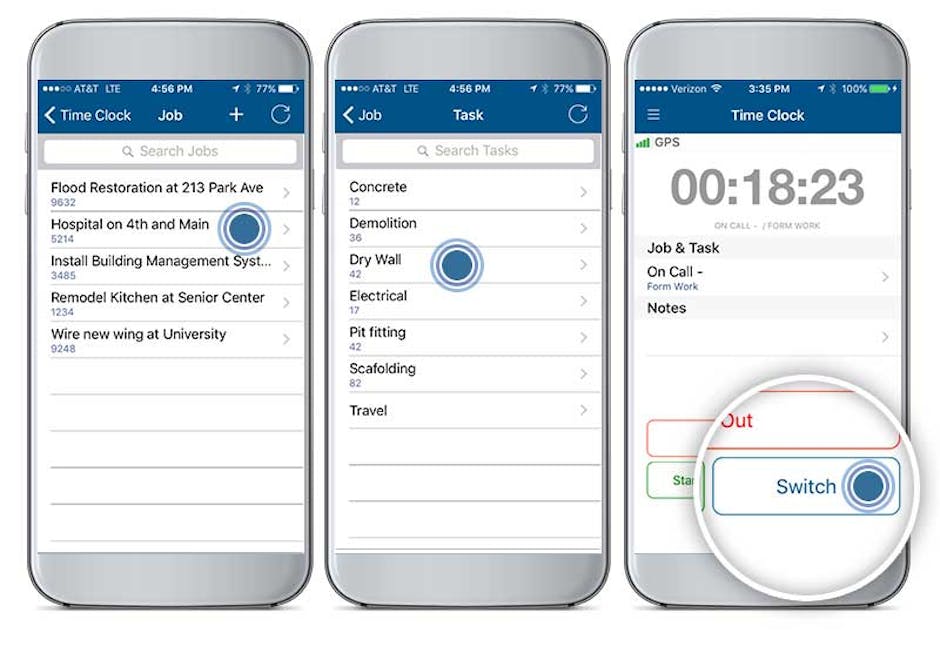 Job costing can be easily facilitated on these software-based mobile timeclocks. Employees simply punch-in from their phone or tablet, select a job then select a labor category. If they need to change labor categories or jobs in the middle of a workday, they simply access the device and switch codes.
It is very well known and supported that time clock systems save employers money on payroll. Employees have a natural tendency to over-report time and round time in their favor, when using paper timecards. It is also a common practice to write paper timecards at the end of the week, when an employee may have a hard time remembering the times she actually worked. Again, in this case it is natural for the employee to err in her own favor, intentional or not.
Increase time accuracy
With a time clock, there is no question when the work started or stopped, it is recorded in real-time. This increased accuracy also helps improve billing, since hours worked are more likely to be billed correctly. Most often an employees recollection or paper-based reporting will not be as accurate to bill from as a timeclock.
In summary, businesses with a mobile workforce should strongly consider a mobile time clock solution. Moreover, businesses who have a mobile workforce and a business model that requires job costing may be particularly well-suited for a mobile time clock solution. These solutions can reduce payroll costs, improve billing accuracy and alleviate administrative burdens and costs as well.
Are you looking for a mobile time clock solution for your job costing? Try ClockShark for FREE!