It's that time again! We've got some exciting new features to announce.
You can now see Who's Working Now via the mobile app, along with their GPS locations, notes and any file attachments they've added. But that's not all!
The new Manager Permissions feature allows you to set up specific Employees with permission to access features previously reserved for Administrators, like:
viewing and editing timesheets
viewing reports
viewing Who's Working Now (on the web and now on mobile too)
creating and viewing schedules
and more!!!
Determine Employee's Access
You can also use Manager Permissions to specify which employees can be accessed. So let's say you have a crew leader and you'd like to give them access to view timesheets and create schedules for their crew as well as clock in and out for them via CrewClock, but you don't want them to have access to employees not in their crew.
Or let's say you have managers in your San Francisco and Sacramento offices and you want to give them full access to view and edit timesheets and schedules for employees in their own office, but prevent them from accessing employees in other offices. Not a problem! Manager permissions have you covered.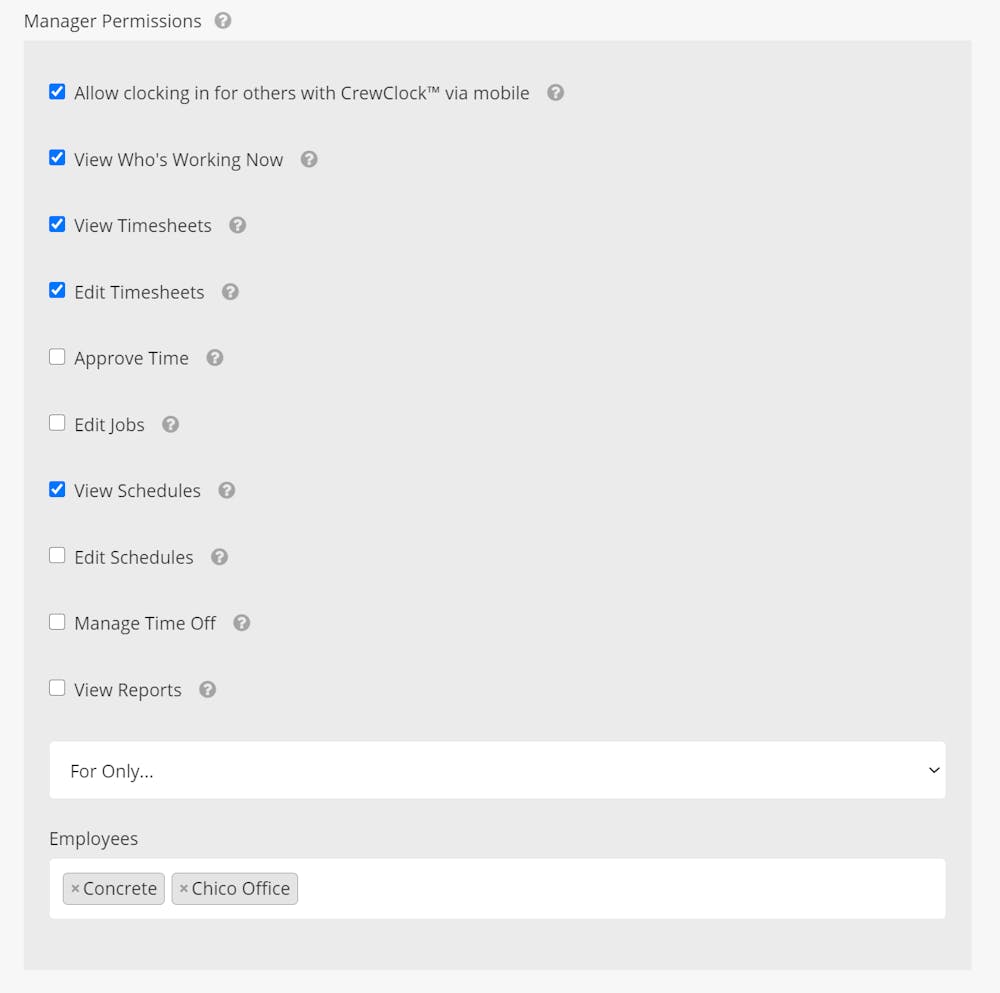 Setting Up Manager Permission
Setting up Manager Permissions for an Employee is as simple as editing the Employee from the Employees screen and adding the new permissions from a list. Then choose which Employees to give them access to! Of course, you can also choose to give them access to specific Departments or Locations instead of choosing individual employees. With Manager Permissions, you can now give the right type of access to the right Employees.
Save Time and Money with ClockShark
Thank you! Your submission has been received!
Oops! Something went wrong while submitting the form.
You can read more about Manager Permissions in the help documentation here! We'd love for you to try out Manager Permissions and the new Who's Working Now on mobile and let us know what you think! Why not head over to your Employees screen now and start testing out the new permissions? We're always working to make ClockShark more awesome for you, so you can run your business like a champ.