Pipeline Suite is designed for the general contractors and subcontractors. It is a SaaS (Software as a Service) bid invitation system. This Pipeline Suite review will cover the three products which are part of the suite – pipelineOPR which allows the specs for subs and uploading plans, pipelineRFQ is the bid information software that we found to be very useful, and finally, the pipelinePreQual allows contractors to send pre-qualification requests to bidders.
Pipeline Suite Features
When I log in each morning, I am brought to a page that shows a big calendar of my projects which I can click, view and edit quickly. Within each project, I have my online plan room and all the contacts available in my project. There is a section called project option that shows me the functions I will need to finish this project in the correct order.
On the top, next to the heading we have project options, contacts, projects, prequel, admin, and help. Under project options we have project summary, preferred bidders, view/send an invite, view/send add, bidder lists, logs, add an addendum, archive and delete the project and many other sub-categories in each of the above to choose from. To the right of this, we have contacts where we can manage subcontractors with the sections "add a contact, list, and reports."
Followed by this, on the top menu, we have the projects section which allows us to view the dashboard, add a project, view pending projects, sent projects, bid projects, archived projects, and all projects.
The Pre-qual section lets us create and send pre-qualification or other custom forms with subcategories such as inbox, create a new form and saved forms. To the side of this section we have the admin section for all the administrative settings including my record, logout, system preferences, manage groups, export contacts, import contact, master fax log, delete logo, add a user, list users and divisions, and trades. And finally, on the top right-hand side, we have the typical website help section.
To set up a new project I went on the projects section followed by clicking on add project, which took me to a new form where I had to enter project name and number, location, address, pipeline BTS enabled, cover sheet, bid date, playroom password, scope, plans, and other information.
The next step was to select bidders under the plan options heading where I could filter my bidder group, and once this has been done, I applied the filter and selected the bidders I wanted to be involved in this project. I later realized that I could add bidders individually.
Construction Bid Software
To finalize the project, I had to go into project options and view it before I sent it and in this section, there are a couple of choices. First, you can send it to everyone, or you can select a bidder in the drop list and forwarded it to an individual. When you notice on your app that the bidders have responded to your invite you can alter their responses in the Y/N column, write notes and track conversations.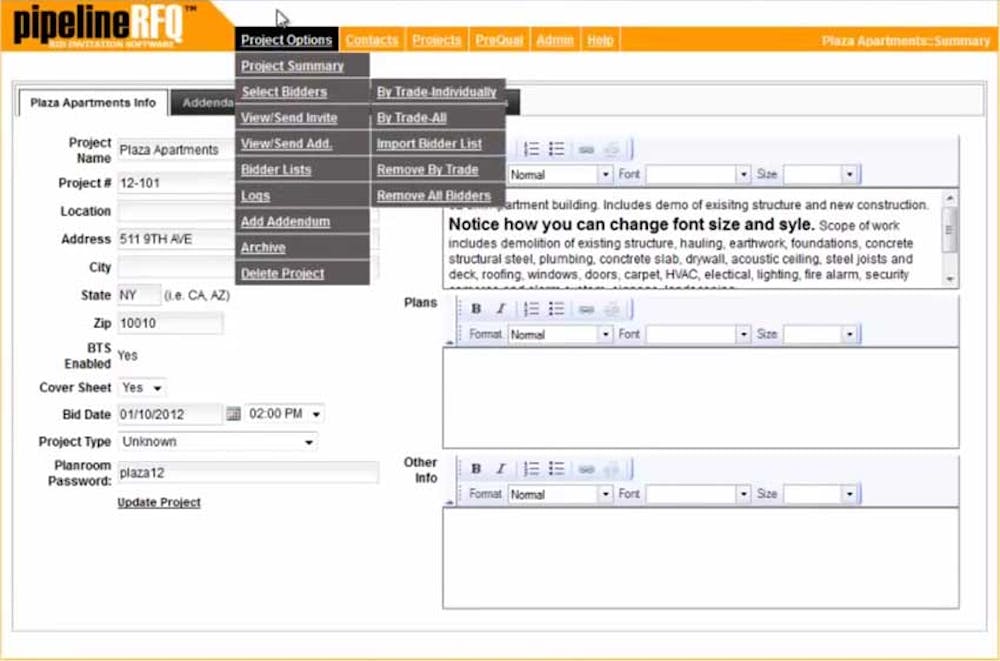 To contact someone, you just click on their name and a pop up comes up without driving you to another page. You can also edit information of the company under the info section, assign the company to multiple trades, groups are customizable, necessary files can be stored, under projects, we are shown the previous projects they have worked on, form responses, etc.
If you need to post an addendum quickly, it is quick and straightforward, all you need to do is go to the projects section and select all projects. Once you have found the project, under the plan options, you choose to add an addendum and input the title and the description. Finally, you view it and click send. It is as simple as that!
Pipeline Suite Review Summary: Someone finally tamed the big process.
Pipeline Suite is very user-friendly, easy to use and support is available to assist you with any issues you may have. This software streamlines the invitation and bidding process which can save you a lot of time.