Writing and submitting proposals is one of those facts of life in business: time-consuming headaches that are essential to the welfare of the company.
I send out proposals every month; each one represents a new job or client for my business. If enough of them are accepted, we keep our doors open, even grow. If too many are rejected, well, it's not good.
Construction Proposal Software
I used to dread writing proposals. It meant hours combing through folders of prior plans and documents, looking for chunks I could re-write and re-use, then trying to pretty it up and make it both appealing and easy to digest.
All that takes time, and meant balancing my strong desire to be doing absolutely anything else, with the need to make each proposal look & sound as pleasant as possible.
In almost every case, I knew that the proposals I sent out the door could have been better. Everyone could have looked better visually, could have showcased our company's capabilities, creativity, and branding better – in short, each one could have been more compelling.
And then a colleague, suggested I look into Proposify, a cloud-based proposal software & management app.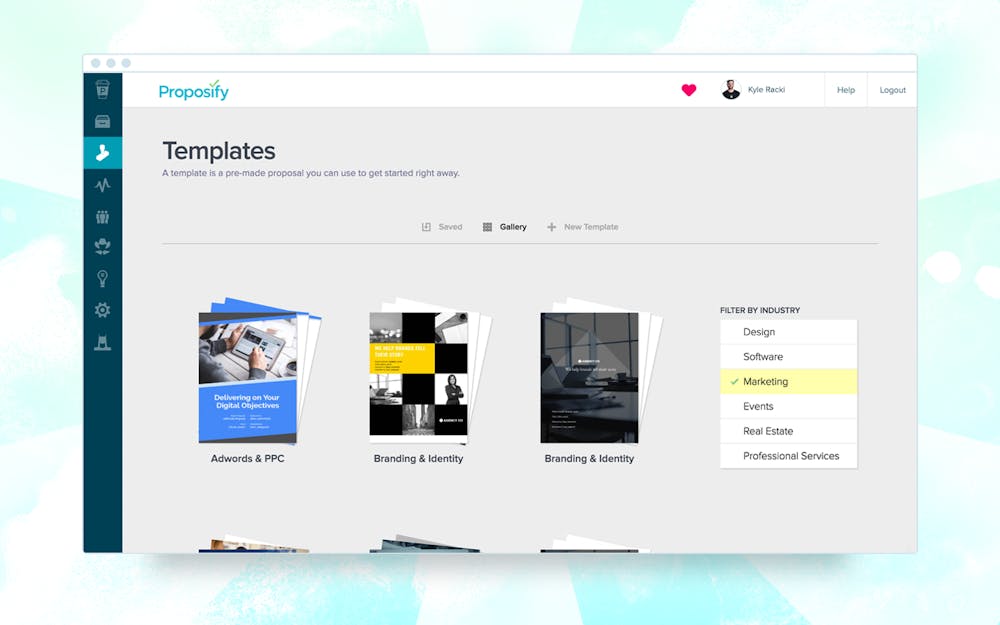 Almost immediately, Proposify reduced the time it took to put together new proposals dramatically, while at the same time making each one more attractive and professional.
Proposify Features
Using Proposify, all of our proposals are now viewable anytime, anywhere, on any device, and importantly, can be signed off on digitally. This ends up giving us a 60% faster approval on our deals.
In short, Proposify has been a game-changer for me.
I can pull in my old proposals, or start with their library of excellent pre-designed proposal templates, to which I can merely add a client name, due date, any other particulars, and attach any necessary files or attachments.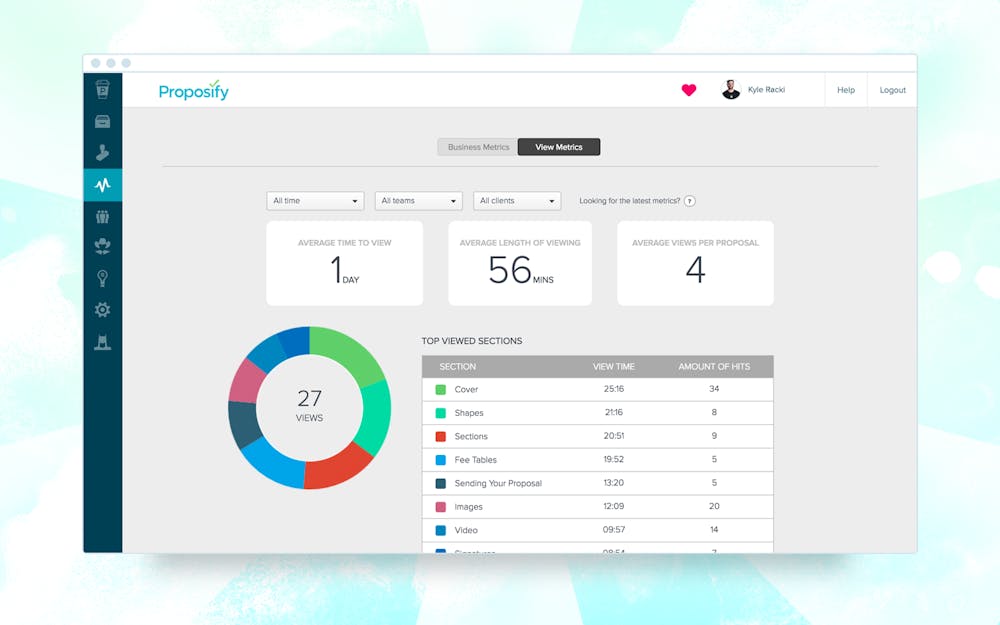 In the online editor, I can use snippets to drop in commonly used text and use variable placeholders for client & company info, which will then automatically populate from my client listings.
I can then choose to further tweak the proposal to get any style I like. It's as easy as creating a slide in Powerpoint: I can create text boxes, pull in images, drag things around for placement, and they snap into place logically. And since the proposal will be viewed online, I can even add video, which is an excellent way for me to stand out above my competitors.
Where I used to struggle with the complexities of Adobe InDesign – or the limitations of my word processor – Proposify makes that entire process as quick and near-painless as I could want.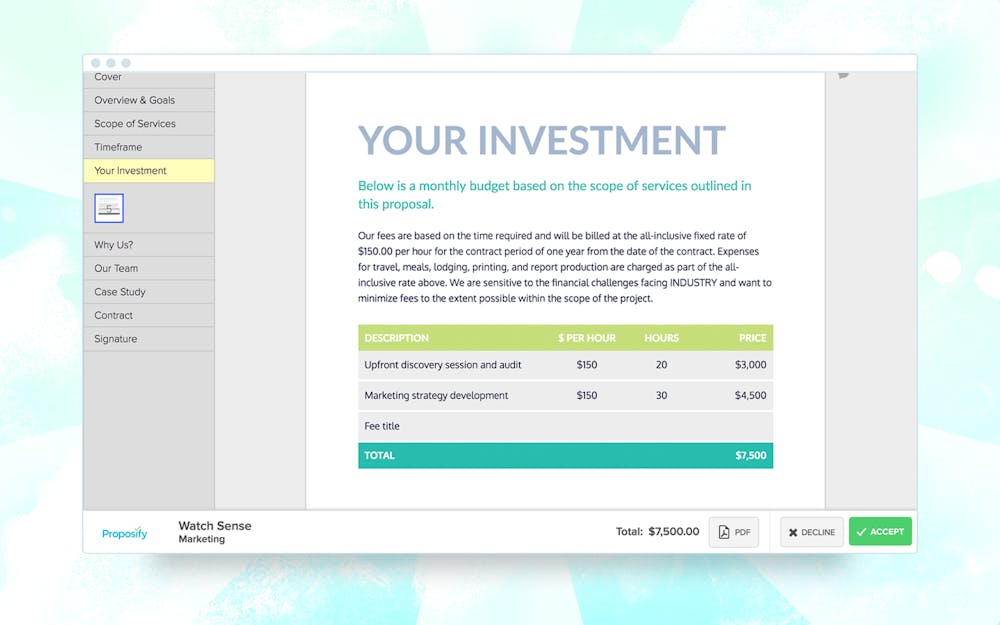 Once the proposal is completed, Proposify will email it to the client, and even remind them automatically a few days later if they signed off yet – something they can do right inside the proposal itself – and I can track all of this online or through their app. I can even see which pages clients viewed most or spent the most time on, information that helps me to improve each subsequent proposal.
There are other proposal-writing software out there, but nothing that gives me all that Proposify does:
A library of pre-written, beautifully designed templates
A full-featured, easy-to-use editor
Easy import & re-use of files and documents, including video
Ability to accept digital or written signatures
Tracking on all proposals including page view data
Automatic client reminder emails
Their website shows comparisons to each of their main competitors: PandaDoc, Bidsketch, Quoteroller, and Better Proposals. They even provide comparisons with Adobe InDesign and Google Docs.
Proposify Pricing
Proposify is a monthly subscription service, with three tiers: Individual ("Tall" in their parlance), small business level ("Tall), and enterprise level ("Venti").
The $25/month individual subscription gives you access to their full library of templates, digital signing & tracking, and PDF exports. At $75/month, the small business subscription bumps up the current proposal limit to 50, allows you to use your URL, and includes Stripe payment integration for online payments right inside your proposals.
The enterprise level is custom-priced based on how many actual proposals you need and includes an account manager, training, and phone support.
The bottom line: whether it's to save time, have more proposals accepted, or both, Proposify is a no-brainer. Here's the link to find out more www.proposify.com.