ClockShark's Online Time Clock is compatible with QuickBooks (click here to see if we support your version). Here's how the integration can save you time and money on your payroll and accounting /processes.
QuickBooks and ClockShark Integration
ClockShark's Online Time Clock uses an easy-to-use mobile app to collect time from your employees.
You can track time to employees for payroll in QuickBooks, with the option to break down the Job and type of labor being performed. This is helpful for invoicing and advanced payroll needs, such as employee pay rates based on the type of labor.
In ClockShark, employees can punch in and out for work from their smartphones, the web, a shared device, or by a supervisor.
Their time goes into ClockShark Jobs and Tasks that are mapped to your QuickBooks Customer and Service Item list. Employees can switch between jobs and tasks throughout the day, tracking time to the correct data points and adding optional notes on the work performed. This information will also pass through into QuickBooks and will help make job costing even easier.
Time clock punches sync in real-time to your web-based ClockShark dashboard. Administrators can assign permissions to certain employees to lighten their workload and give particular access to managing employees.
With these permissions, managers can do things like view and edit timesheets, view and edit schedules, approve timesheets, and more.
Once an administrator or manager validates the time data in ClockShark, simply export to QuickBooks for payroll or invoicing.
Integrating ClockShark's time clock for QuickBooks will make your payroll process even better.
Dashboard
On the web-based dashboard, you can view time data by Employee/Job/Task and edit incorrect time punches before exporting them to QuickBooks or QuickBooks Online.
The integration with QuickBooks also allows you to add jobs and service items in QuickBooks, then have them automatically available to clock into. This automation helps eliminate your double-data entry and streamline your process.
Less data entry means less chances for human error, a common mistake when processing payroll manually.
GPS Tracking
ClockShark's Online Time Clock is also GPS-enabled. Throughout the workday, your workers' time clock punches will be recorded with their location. This GPS aspect of ClockShark data does not export to QuickBooks since GPS data is not compatible or needed in QuickBooks like time and job data is.
It's helpful in many ways, however, such as helping reduce fuel costs, and verifying a job was done when employees say it was done.
Time Off
Paid time off is often quite frustrating. Keeping track of who's used their time off hours, who is due, who's over, and keeping it organized is a real pain. With ClockShark's Time Off, we manage the accruals so you don't have to.
Admins can approve or deny paid/unpaid time off requests that employees can submit right from their mobile app. The approved time will reflect in QuickBooks' timesheets for accurate and seamless payroll, with the new Time Off balance updated in ClockShark immediately.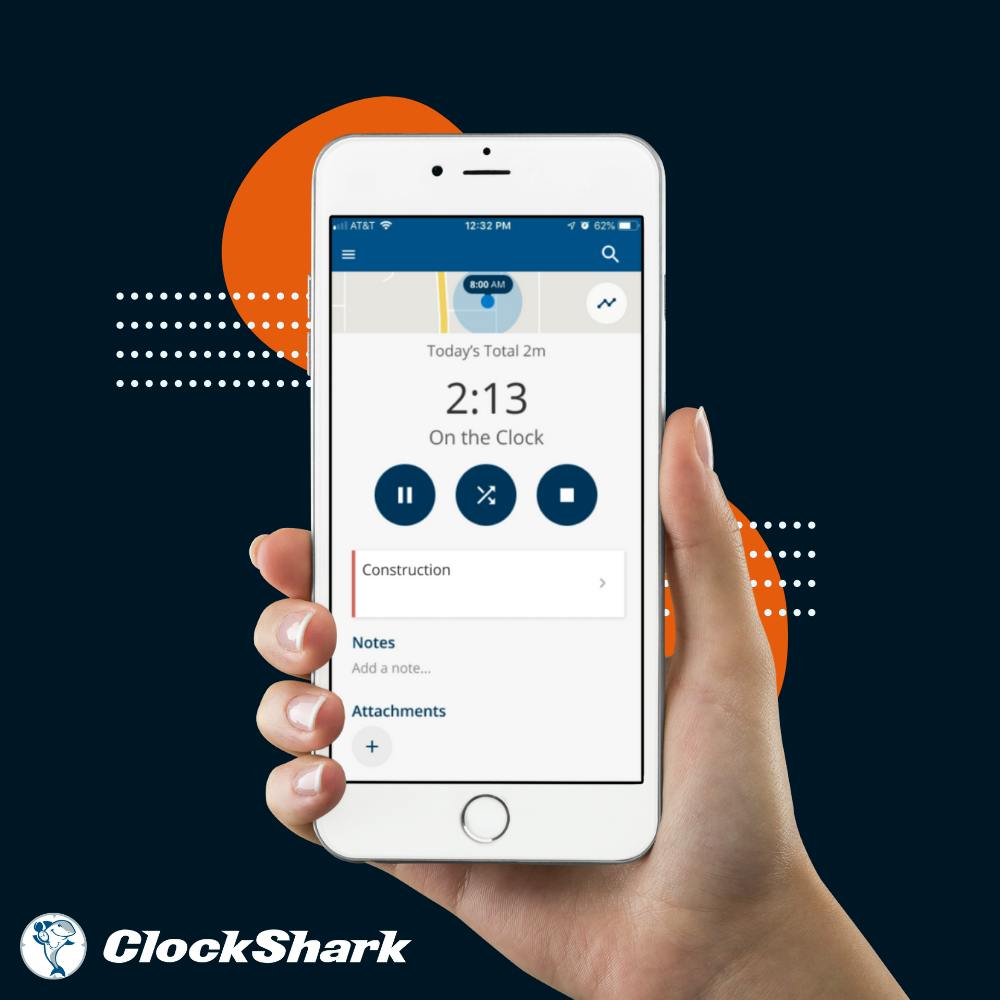 The Set Up
ClockShark tracks time against the Employee/Job/Task/Day/Overtime rules. This payroll information can be imported into the QuickBooks Weekly Timesheets, as the QuickBooks Employee/Job/Service Item/Day/Payroll Item/Class. The time in the QuickBooks Weekly Timesheets can then be used for payroll or invoicing.

ClockShark has an API integration with both QuickBooks and QuickBooks Online, allowing us to securely import the employee timesheets directly into the QuickBooks Weekly Timesheets.
In both integrations, time data is only sent to QuickBooks when you (or someone you authorize) export from ClockShark to QuickBooks. This is generally done each pay period, but it can be done on other schedules, too.

In the QuickBooks Integration, the QuickBooks Web Connector must run to send data into and out of QuickBooks.

In the QuickBooks Online Integration, time exported from ClockShark immediately lands in the QuickBooks Weekly Timesheets.
For our clients who have sub contractors or seasonal workers, we can also help you export employees' times in ClockShark to vendors/subs/1099 workers.
If you're using QuickBooks Online you just need to visit your QuickBooks screen in ClockShark (under the Admin menu) and then press the Connect to QuickBooks Online button. The system will walk you through the connection process, which takes just a few minutes.
Once connected to QuickBooks Online, ClockShark will walk you through a mapping process to connect your jobs, customers and service items in QuickBooks Online. These mappings are how ClockShark knows where in QuickBooks to export your time clock times to.
If you are using a desktop version of QuickBooks, such as Pro or Contractor Edition, then setting up the time clock integration is a bit different.
You'll still start from the QuickBooks screen in ClockShark. Choose the option Connect to QuickBooks. You'll be guided through a process that starts with downloading the QuickBooks Web Connector. Next, you'll download a configuration file for the Web Connector. Next, you'll do a mapping process in ClockShark that is similar to the one we discussed previously for QuickBooks Online.
How We Can Help
ClockShark's five-star support team is a group of gifted individuals who understand the way QuickBooks work. Frequently, new customers come to us with questions about their integration only to learn about more workflows than they knew before the call!
Quickbooks is a complicated and complex program that offers many features that some may not be aware of. When setting up your QuickBooks and ClockShark integration with one of our specialists, you might be surprised to learn some of the things you didn't know, you didn't know!
Save Time and Money with ClockShark
Thank you! Your submission has been received!
Oops! Something went wrong while submitting the form.
Conclusion
QuickBooks is a powerful accounting tool on it's own. Integrated with ClockShark, it's an even better tool to help you run your business efficiently and ensure your employees get paid accurately on time, every time.
Remove the hassle of double manual entry and the risk of human error by integrating your QuickBooks with ClockShark. Try it for 14 days free, today, or reach out to our five-star customer support if you have more questions.