We are excited to announce that ClockShark now integrates with Sage 100 Contractor, a leading accounting and project management software for construction.
Using Sage 100 Contractor with ClockShark, you can easily import your Sage clients, jobs, and cost codes into ClockShark, and quickly export employee timesheets to Sage for invoicing, payroll, and more! 😃
On their own, hammers are great. So are nails. But if you put them together, you can build extraordinary things! This is why we've put two of construction's most powerful tools together. Construction Timesheet App (ClockShark) should go with Construction Management Software (Sage 100 Contractor), because together, they help you run your business better!
How Does Sage 100 Contractor Software Work with ClockShark?
Sage 100 keeps contractors in the driver's seat of their business by helping them track expenses, estimate job costs, process payroll, and more. ClockShark's accurate, mobile GPS time tracking works right alongside Sage 100 Contractor. You can automatically connect employees and cost codes, as well as automatically import clients and jobs, so employees can track their labor on each project.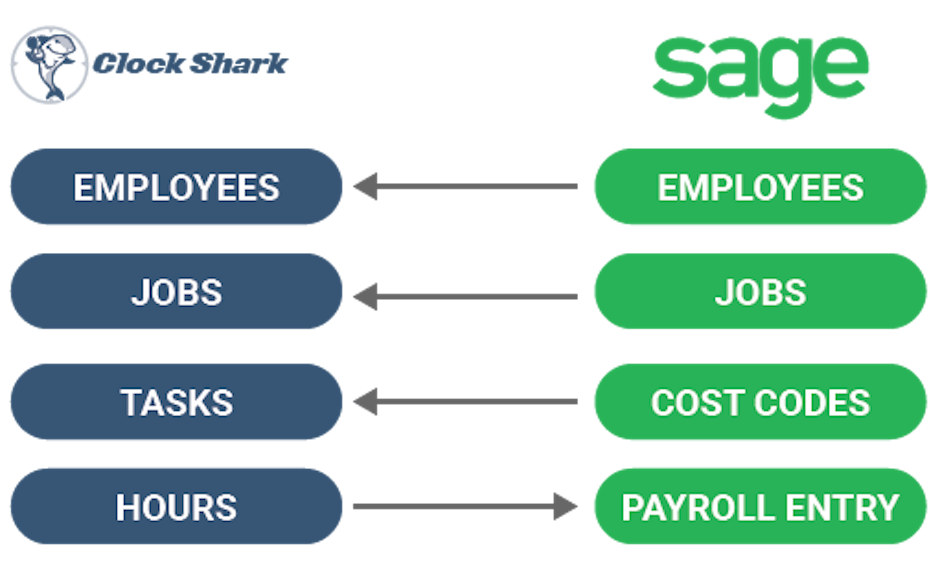 When it's time for payroll or invoicing, quickly export the employee timesheets directly into Sage 100. It's two construction software programs working hand-in-hand. 🤝
How Long Does it Take To Integrate My ClockShark Account with Sage 100 Contractor?
If you guessed one week, you're pretty cold. If you guessed one day, you're getting warmer.
It actually takes only an hour to set up the integration! This seamless integration is smooth and easy to set up. When you have the time, reach out to our 5-Star Customer Success team and we'll get your ClockShark account talking with your Sage 100 account. Exporting your time records to Sage 100 is fast and easy, too!
Save Time and Money with ClockShark
Thank you! Your submission has been received!
Oops! Something went wrong while submitting the form.
I'm Using Sage 100 Contractor, But I'm Not Using ClockShark: How Do I Get Started?
Easy! If you've been waiting for the Sage 100 Contractor integration to arrive before signing up to use ClockShark, your wait is over. You can sign up for your free 14-day ClockShark trial now, and get access to accurate GPS tracking, mobile scheduling, and more. You can even integrate your Sage 100 account with ClockShark while trialing: you don't have to wait.
Enjoy the integration with Sage 100 Contractor Software.
P.S. – If you're using Sage 300 CRE, stay tuned: we're hard at work on your integration and it is on the way!