Smart by GEP is software designed to help the company's procurement processes become more efficient and automate many of the processes within a company. The program is cloud-based so wherever your staff is they can access the software regardless of the device they are using. The system is mobile-optimized, so it works seamlessly on mobile devices.
Each user can create a dashboard that is customized and create reports that can be exported. The software encompasses multiple areas of a company's procurements. It covers the areas of Spend Analysis, Procure to Pay, Manage Suppliers, manage contracts, Source and Track and manage savings pipeline. The Smart by GEP software works with all F&A and Back-end systems like Oracle and SAP.
Smart by GEP Overview
Spend Analysis System
The Spend Analysis system within Smart by GEP collaborates with the data from your company and cleanses it. Once the data is cleansed, it validates the data, classifies it and then reports on the data spent on various parts of your company. The information learned from this can help your company take action across your business. It shows item-level data so that you can make specific changes and help your team come up with a strategic spend plan that can give you real savings.
The Smart by GEP software uses artificial intelligence and algorithms to learn, narrow down and interpret the data. The software provides options to see detailed views or overviews of the data of spending and buying trends and activities.
Savings Pipeline and Tracking System
The Savings Pipeline and Tracking system within the Smart by GEP software helps you see your cost-savings initiatives and their impact. It also helps prevent repetition and mistakes in data collection and monitoring. This system lifts the burden of lots of paper and double-checking and gives insight to help increase the performance of your enterprise. All of the information needed to track cost savings is placed in one area. This makes it easy to follow and interpret.
Reporting
The software helps execute savings projects as well as implementing a cost reduction program. The software gives you many options in its reporting. You can create reports that can be produced automatically or can be manually requested. They can be detailed or broad in requests. The reports can be sorted by category, region, SBU or any other criteria that you choose.
The software gives clear charts that make it easy to interpret the data. The Smart by GEP software assists with collaboration with other team members from across different parts of the country or world on cost savings projects and procurements. The software helps to map your company's savings forecasts to the budget and the actual spending so that you can get a clearer idea of where and how much money is being spent.
Alerts
The software can create alerts and reminders for time or event-based criteria. This alert system can help save time and prevent mistakes. The Smart GEP software has automatic validation and automatic savings approval which can save more valuable time. The program allows staff to add team members to projects and assign various tasks, catch results, follow milestones and see performance as a project progresses.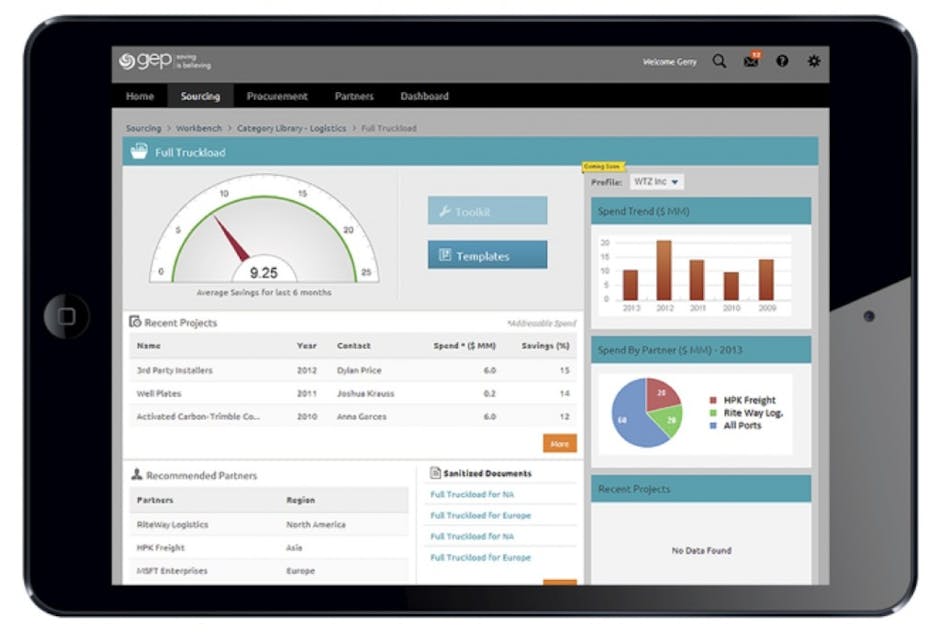 Sourcing
The Sourcing component of the Smart GEP software gives your company an edge when it comes to getting the best value on your agreements for whatever you source. It helps you identify and evaluate your new suppliers quickly. You can create competition for your company's business with auctions.
Auction
The auction tools are easy to use and help your business get additional savings by having suppliers compete for your business. The auction mechanism contributes to pushing supplier negotiations and allows you to see your possible savings. Using the Smart by GEP Software, the award decision can be completed quickly and easily.
Contract Management
The Contract Management component of Smart by GEP syncs nicely with the sourcing and procurement platforms. It helps reduce time and paper for your team because much of the information is in the system already it optimizes the process. The software allows all the information to be brought together in one place. The software has an easy to use contract administration dashboard.
Team Members
Team members can collaborate to look at all of the savings and compliance information as well as other relevant data right in the software. The team can work together on the contract document together to streamline the process.
Smart by GEP – Complete, powerful and easy to use procurement suite – Pacesetting software.
If you are interested in trying out the Smart by GEP software, go to their website and click on the "Get DEMO" link. You will then need to fill out your information and click submit. The Smart by GEP representative will contact you to schedule a live demo.