Are you ready to get back to work but not sure how? That's not surprising. While many business owners and workers are itching to get back to work, others are unsure and yet others, are adamantly opposed.
Wherever you stand, the uncertainty of the COVID-19 pandemic is universal. Nobody knows the outcome because there are so many variables that could result in different scenarios.
Take Back Control of your Business During The COVID-19 Crisis
Regardless, things won't be the same as before this pandemic and that's why you should start now, planning your company's post-quarantine launch back into work.
The Coronavirus pandemic has turned everything upside down all over the world. We can take it as a tough blow, or we can rise up to it and use it as an opportunity to start changing things that we may not have changed before.
Assess Your Situation Now
Don't wait.
If you haven't already, now is a great opportunity to take a look at things that you are paying for that you actually don't use. Industry magazines or memberships that take auto-payments out of your account, for example.
At the same time, evaluate the things you really need to have to stay productive. Are there ways you can use these things more than you have in the past? Take some time to get to know the full functionality of tools you already have that can help you in more ways than you realized.
Evaluate Cash Flow
Research from TSIA found that the majority of field service companies (67.2 percent) have continued to deploy field service techs with restrictions to adapt to the social distancing suggestions for COVID-19, and 20 percent have stopped completely.
The same research also revealed that while the majority of these companies (52.7 percent) are not renegotiating their SLAs, 41.5 percent are considering it and 5.7 percent have.
Where do you stand? How many workers can you keep active under the conditions of your company? Take a look at your existing SLAs and personnel to evaluate not just your next 30 days but 60, 90, and even 120 days of cash flow.
This will help you act with knowledge and prepare for the inevitable reopening of the economy after quarantine
Start Your Digital Transformation
Think of what this pandemic has taught us - not just as individuals but as organizations, families, neighbors, and humans. Most of us were blindsided by the effects of the coronavirus and had to find ways to react quickly.
Remote work took off for many companies who had not yet adopted the practice. Corporate giants like Microsoft and Google can easily mandate work from home orders. But for those in the Field Service Industry, most workers can't work from home.
However, that doesn't mean you can't begin the digital transformation that has been sweeping the world for years and is only going to increase.
You can embrace this shift with new technology designed for field services. Your administrative staff can now work from home and your field crews can easily communicate from the field.

Software like ClockShark automates many processes and helps simplify things like scheduling and job costing. Since ClockShark was specifically designed with the Field Service Industry in mind, now is the time to sign up for a free trial and get familiar with the software and company so you understand the full functionality of it so you can use it after quarantine.
Save Time and Money with ClockShark
Thank you! Your submission has been received!
Oops! Something went wrong while submitting the form.
Keep As Many Employees Now As Possible
You probably already know it's cheaper to keep existing employees than to hire new ones. With the help of various government initiatives like the PPP and the FFCRA, you're better able to stagger shifts and keep employees working, but safe.
The CDC has suggestions for all small businesses that can be applied for your field service workers as well.
Identify a workplace coordinator who will be responsible for COVID-19 issues and their impact at the workplace.

Examine policies for leave, telework, and employee compensation.

Identify essential employees and business functions, and other critical inputs
Establish an emergency communications plan.
Implement practices to minimize face-to-face contact between employees if social distancing is recommended by your state or local health department.
Develop other flexible policies for scheduling and telework (if feasible) and create leave policies
In addition, stagger shifts and reduce the number of workers who are in close proximity to one another if possible. Be sure they are honest about their day and notify you or their supervisor immediately if they are showing symptoms or have been exposed to someone with COVID-19.
If you have active field crews, be sure to educate them on proper safety measures and precautions. While most recover from the Coronavirus, the virus is extremely contagious and you don't want a company full of sick field workers who have to stay home for 14 days.
Doing these things is a preemptive way to make sure you have all your people ready to go post-quarantine.
Go Slowly
One concern for many is the chance for a second wave of COVID-19 to hit. By some accounts the second wave - should it happen - would be worse than the first. Governments around the world are being advised by health experts to open their economies slowly, in stages.
That's why it's critical to use this time to adjust and adapt. Whether there is a second wave of coronavirus or not, make sure your people are properly prepared to exercise strict cleaning protocols in the field and are able to communicate easily with one another.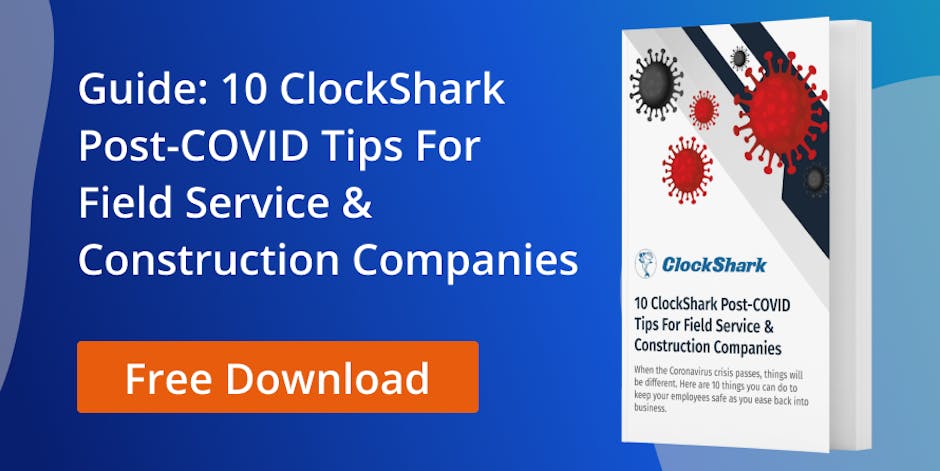 Stay Informed
Most of us have been glued to our smartphones or televisions awaiting updates on the coronavirus. At ClockShark, we have developed a COVID-19 resources page for companies like yours to stay up-to-date on the latest information.
Make sure you check back daily for new updates so you can stay informed about what is happening with the Coronavirus and various ways you can emerge from this pandemic more prepared and maybe even stronger than before.
Conclusion
The COVID-19 pandemic has created a lot of uncertainty across the world for small businesses but the most progressive companies are embracing it as a chance to shift to tools that help create smoother, more efficient operations.
ClockShark is about more than just keeping accurate track of your workers' hours. It is a powerful tool that saves small businesses time, money, and resources with multiple functions and features.
Signup for a free trial now!