Twenty years ago, there was no such thing as an iPhone. There were no mobile apps. And the cloud was so young that Netflix wasn't streaming movies yet. But technology has changed the way we do business—even in the construction industry.
Seven years ago, no one in the construction industry was thinking about drones but by 2018, 18 percent of small and medium-sized construction companies were using them on jobsites.
And it's not just digital technology trends that are reshaping the construction industry. There are also new innovations in building materials and processes. Staying up-to-date on emerging trends will help you:


See and take advantage of disruptive changes before they happen

Know and plan for changing client expectation

Stay ahead of your competition

Learn more about these 5 top construction trends to watch in 2023.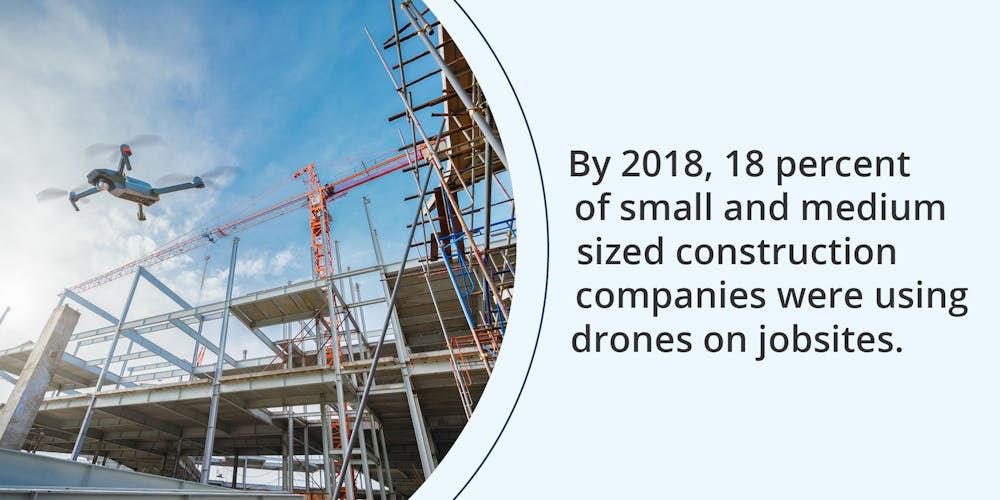 Top 5 Construction Trends to Watch

1. Mobile apps and smart devices on jobsites
Communication between the office and field is a frequent challenge in construction and trades but mobile apps make it much easier.
Change order apps also improve communication between the jobsite and other departments. Once a change order is uploaded, everyone can see it—which means clients don't get calls from people in three different departments to address the change.
There are mobile apps that improve many other aspects of construction as well, such as safety monitoring, job tracking, customer management, and more.
Mobile apps and smart devices are making it possible to do better work on the jobsite from anywhere.
2. Innovative building materials


From less toxic paint, to lighter-weight cement, many innovative building materials are emerging.
Energy saving materials:
Consumer behaviors are trending toward greener construction materials, and so are government regulations. As a result, more materials that save energy and reduce greenhouse gasses are being used in new construction. Light-reflective roofing, solar shingles, plant-based foam insulation, and low-E windows are some examples.
Less toxic materials:
Lower-toxicity building materials are replacing their more toxic counterparts. Low volatile organic compound (VOC) paints and caulks have been gaining popularity for years. And there's an emerging cement alternative called Ferrock that promises to suck up and trap harmful CO2 gasses as it hardens. The Biden Administration plans to replace 100% of the lead pipes in the US with pipes that leach fewer toxins into drinking water.
Stronger, lighter-weight materials:
Innovators in the construction industry are finding stronger, lighter building materials.
Space age concrete, for example, is made with glass rebar instead of steel, which makes it 50% lighter, and up to five times stronger, than regular cement.
Here are a few other examples of lightweight, but heavy-duty, building materials:


Light-gauge steel frames:

Cold-rolled steel frames that are much lighter than structural steel, but still heavy-duty
Cross-laminated timber:

Engineered wood panels that are stronger than steel and much lighter, and are fire-resistant
Ethylene tetrafluoroethylene or ETFE sheeting:

See-through sheeting that's 1/100th the weight of glass and lets just as much (if not more) sunlight in

Living building materials:
Living building materials (LBMs) are unique new construction trends. They use living organisms like fungi and bacteria in the formation of building materials like concrete or bricks.
Self-healing concrete is made by mixing either bacteria or fungi into cement. Once cracks start to form in the concrete, the living organisms inside it are exposed to moisture and air. This triggers them to grow. And as the bacteria or fungi grows, the cement will "grow" as well, healing the cracks.
Scientists are applying this same principle to make bricks that can be split apart and used to grow more bricks.

3. Modular and Prefabricated construction


Modular and prefabricated building components are not a new idea. But they've only recently started to gain popularity.
According to a MarketsandMarkets report, the modular market is predicted to grow to nearly $110 billion by 2025, and the residential sector is spurring the demand. But that doesn't mean the commercial sector isn't investing in prefabrication, too. In 2019, the world's tallest modular hotel debuted in the US.
4. Robotics


The market for construction robots is also growing. It's expected to reach $166.4 million by 2023, with some of the biggest growth coming from the demolition, concrete, and masonry sectors.
Construction Robotics has released two robots that specialize in masonry. The Material Unit Lift Enhancer (MULE) is a lift assist robot designed to help handle and place heavy blocks. The Semi-Automated Mason (SAM) is a collaborative robot that helps brick masons lay five times more bricks than they can alone.
Canvas, a new construction robotics startup, recently created a drywall finishing robot that can take finishing time from seven days down to two, and make drywall finishing virtually dust free.
Exoskeletons are also on the rise. These wearable robotics are designed to be worn by construction workers to provide lift assistance for tasks like heavy lifting and overhead drilling.
Robotics company, Sarcos is soon to release a full-body exoskeleton that enables one person to "lift and manipulate materials up to 200 pounds without fatigue or strain."
5. Internet of Things (IoT)


The internet of things (IoT) describes the way everyday objects can connect to and be controlled by the internet.
As jobsites become more connected, it makes sense that construction managers and business owners would take advantage of IoT. With IoT, they can use the internet to control machines, monitor jobsites, and collect and store data in a central location.
Here are some ways larger construction companies are already using IoT:


To monitor and manage fleets
To remotely control heavy equipment like graders, pavers, earthmovers, and bulldozers
To track the health and safety of workers


These five trends are disrupting and shaping the construction industry. Understanding just how they affect your business will help you plan and maintain profitability in the future.
Save Time and Money with ClockShark
Thank you! Your submission has been received!
Oops! Something went wrong while submitting the form.