GPS tracking apps are an increasingly useful tool for mobile workers and businesses with a mobile workforce. Field service businesses in particular often have multiple teams spread across more than one job site. Choosing the right GPS tracking app helps you keep track of your team and keep your team on track.
There are lots of options out there when it comes to time tracking apps.
We're giving you a breakdown of the top 11 GPS tracking apps that are best suited for monitoring your mobile workforce.
Top GPS Tracking Apps for Mobile Workforce
1. ClockShark
ClockShark is a feature-rich time tracking and scheduling software designed for construction and field service industries. It provides a simple solution to tracking mobile employee time, running payroll, and job costing.
Features
Features that make ClockShark a top contender when it comes to GPS tracking for mobile workers include GPS Tracking and Geofencing capabilities that come with the mobile app.
GPS tracking lets you view the location of mobile workers in real-time with GPS coordinates that show where they are when they clock in or out. Geofencing allows you to set a virtual boundary around job sites that register when your team has arrived and remind them to clock-in. It also prevents employees from clocking in early or clocking out late by only allowing those actions to be taken within the geofence boundaries.
Other features include time tracking with timesheet approval, drag-and-drop scheduling, kiosk time with facial recognition, and integrations with industry staples such as QuickBooks, Zapier and more.
Pros and Cons
ClockShark is cloud-based, meaning all of its features are accessible even on a remote job site. The GPS tracking feature prevents mobile employees from rounding up working hours and keeps their timesheets honest. It's also tamper-resistant, so even your most tech-savvy hires aren't able to cheat the system if they're running late.
Once it's in use ClockShark saves a lot of time, but the process of getting it set up and making sure everyone is on board can take some time. The app is useful and compatible for construction and field service but can be a stumbling block for employees who aren't as tech-savvy
Platform
iOS and Android
Pricing
Basic: $3/month per person, plus $15/month base fee

Standard: $5/month per person plus $25/month base fee

Pro: $8/month per person plus $45/month base fee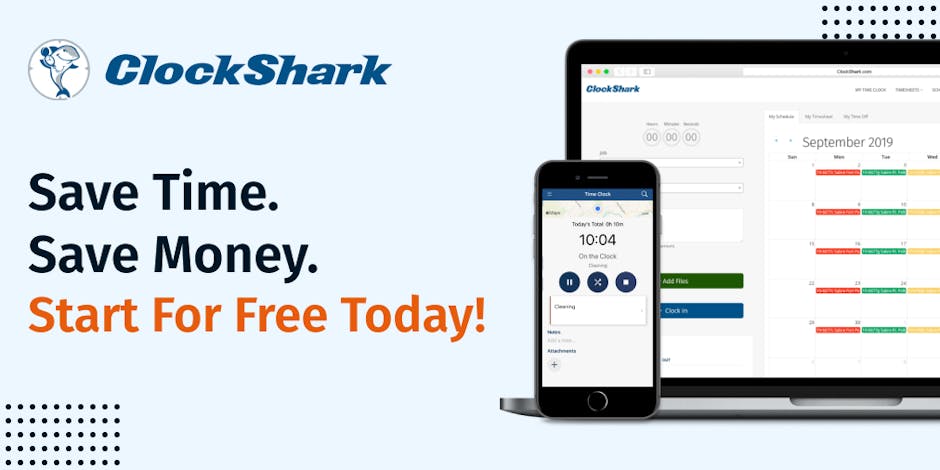 2. Hubstaff
Built to maximize productivity, Hubstaff is a time tracker app with a comprehensive employee monitoring system.
Features
Hubstaff's app keeps tabs on employee location using GPS tracking, location tracking, and geofencing. The GPS tracking feature gives you access to hours and locations for both individual employees and vehicles from your fleet. Hubstaff's geofencing feature starts tracking employee time from the time they arrive on a job site until the time they leave.
Pros and Cons
Hubstaff offers a wide variety of features packaged in a user-friendly UI. It's supported on all major platforms and users can try it for free for 14 days to make sure it's the right fit.
Hubstaff is geared towards businesses, so if you're part of the mobile workforce you'll find that its features are limited for solo freelancers.
Platform
Android, iOS, Desktop app, Chrome
Pricing
Free – 1 User

Basic – 1 User – $5/ month

Premium – 1 User – $10/ month
3. Hellotracks
Hellotracks is an employee GPS tracking platform that caters to the field service industry. Its features make it a useful tool for businesses with a heavy mobile workforce.
Features
Hellotracks' mobile app provides a simple way to track employees. The app allows easy communication between the home office and employees out on a job site and lets you keep track of employee location, hours, job assignments and more.
Pros and Cons
Hellotracks is great for field services with a user-friendly app that provides ample employee GPS tracking and comes with a 30-day free trial. It falls short on some features that are found in similar software, such as geofencing and mobile monitoring.
Platform
Android, iOS
Pricing
4. Vismo
Vismo is an employee GPS tracking app that lets users keep track of teams spread far and wide. It helps secure data while managing a mobile workforce traveling between multiple locations.
Features
Vismo offers GPS tracking with location monitoring with geo-fence features. For businesses with a workforce that is scattered around the globe, the geofence app also features country-change alerts to let you know when an employee has crossed borders. The app also offers workforce management with check-in and check-out functions.
This smartphone tracking app places emphasis on safety in the mobile workforce, with features such as a panic button and crisis management.
Pros and Cons
If safety and security are a top priority, Vismo is a great option for employee tracking. Loaded with security features, GPS tracking, and geofencing, users can track mobile teams from anywhere in the world.
If you aren't managing a rescue team or security firm, Vismo won't be the best solution for your business.
Platform
Android, iOS, and some Windows and BlackBerry Devices
Pricing
Varies on an individual basis
5. Timesheet Mobile
Timesheet Mobile delivers an employee GPS tracking app built for mobile devices. Offering a hefty array of features, Timesheet Mobile makes monitoring your mobile workforce easier.
Features
The Timesheet Mobile app supports GPS tracking and geofencing features for automated time tracking and sends alerts for overtime, geofence violations, missed punches and more to both management and employees. It also prioritizes project management by streamlining communication between employees and project managers.
Pros and Cons
Timesheet Mobile pros include great project management, geofencing features, mobile monitoring, and user-friendly interface. However, It lacks real-time GPS tracking capabilities that field service businesses often find valuable in tracking mobile employees.
Platform
iOS, Android
Pricing
Basic Plan: Monthly Rate after year 1: $3.49 per employee for unlimited punches + $14.99 company subscription

Punch Plan: Monthly Rate after year 1: 15 cents per punch + $29.99 company subscription

Small Business: Monthly Rate after year 1: 15 cents per punch + $29.99 company subscription

Medium Business: Monthly Rate after year 1: $2.49 per employee for unlimited punches + $149 company subscription
Save Time and Money with ClockShark
Thank you! Your submission has been received!
Oops! Something went wrong while submitting the form.
6. TSheets
TSheets is a cloud-based GPS time tracking software. Created by Quickbooks, it streamlines accounting and time tracking features into one easy to use platform.
Features
TSheets features include GPS location tracking, one-click time tracking, and real-time timesheets
Pros and Cons
TSheets offers a mobile app, GPS tracking, and a free trial. It offers GPS tracking, but the options available are fairly basic.
Platform
Android, iOS
Pricing
$6.40 per user, per month, plus a $16 per month base fee
7. MyGeoTracking
MyGeoTracking is a GPS time clock app that caters to field service businesses.
Features
As the name suggests, MyGeoTracking keeps track of mobile workers through real-time GPS tracking and geofencing. Tracking schedules can be customized for each employee, and the mobile app makes it easy for mobile workers on a worksite and administrators to communicate.
Pros and Cons
MyGeoTracking supports mobile monitoring and the app is compatible with all smartphone operating systems as well as feature phones. Users can even take advantage of a free trial to make sure it's the right fit.
This system is ideal for field service, and while it can be used in an office setting, it lacks features that would make it suitable for office-based businesses.
Platform
iOS, Android, and feature phone capability
Pricing
$110 setup fee

$5/user per month
8. Labor Sync
A jack of all trades, Labor Sync is a GPS time tracking software that offers a lot of features. Capable of tracking time, GPS tracking, project management and more, Labor Sync is an easy to use, all-in-one solution for keeping tabs on your mobile workforce.
Features
Labor Sync focuses on tracking time, and its real-time GPS tracking makes it a valuable tool for field service businesses. Employee location and movement is tracked on an interactive map, and the program keeps tabs on when employees leave a worksite without clocking out. To top it off, Labor Sync is cloud-based, so data is always at the tip of your fingers.
Pros and Cons
Cloud-based, mobile monitoring and user-friendly are all major pros when it comes to Labor Sync. The program comes with drawbacks such as lack of payroll integration, and its GPS tracking options are fairly basic compared to other software options on the market.
Platform
iOS, Android, and desktop
Pricing
$10 per active user/month
9. Gleeo
Gleeo combines time tracking and GPS tracking into one app to put all the information you need in one place.
Features
Gleeo offers efficient time tracking paired with employee GPS tracking. It's a useful tool for a mobile workforce because the app makes time tracking and location data and reports easy to access on the go. Gleeo also offers an app called Automagic, which can be used for automatic, location and time-based recording.
Pros and Cons
With Gleeo users can have unlimited projects and unlimited tasks within those projects. It's user-friendly and offers animated timelines of what users are doing. It also offers a mobile app.
Currently, Gleeo isn't available for iOS, making it difficult to use efficiently when your mobile workforce includes iPhone users.
Platform
Android, Web application
Pricing
Gleeo Time Tracker for Android-- Free

Sync & Team service: $2.50/user per month
10. HoursTracker
If you're part of the mobile workforce as a freelancer, consider HoursTracker for keeping tabs on working hours and location.
Features
The HoursTracker app offers time tracking, GPS location, and automatic clock-in and clock-out features. Users can also export timesheets to submit as invoices.
Pros and Cons
This app is a great option for freelancers that need to keep track of hours and location. It's user-friendly and offers a free trial.
HoursTracker is built for mobile workers, not the businesses that hire them-- so it's not the solution for business owners. It offers GPS tracking, but those features are basic and have room for improvement.
Platform
iOS, Android
Pricing
Free version

Personal edition: $5.99

Pro edition: $9.99
11. Sling
Sling is a geofence time clock app built for employees on the move. For industries that rely on a mobile workforce, Sling keeps operations running smoothly and keeps track of team members.
Features
Sling features geofencing and GPS tracking to keep track of employees spread across locations. It offers scheduling, time and attendance tracking, and overtime monitoring in addition to PTO management. Users can notify employees of job locations by providing the address, which will appear on employee schedules.
Pros and Cons
Sling is great for keeping open communication with your team. Users can generate custom reports and create tasks with to-do lists and reminders.
The app can present a bit of a learning curve for some users, and the scheduling features are not as dynamic as those offered by similar time clock apps with GPS.

Platform
iOS, Android
Pricing
Free

Premium: $2/user per month

Business: $4/user per month
Conclusion
With the mobile workforce projected to make up more than 43% of the global workforce by 2023, keeping track of your mobile team is a big job. Fortunately, the right GPS tracking app can take the guesswork out of employee GPS tracking and keep your mobile workforce moving.
If you're looking to start tracking multiple teams spread across more than one job site, then you'll want to check out a few of the apps on this list!
Not a ClockShark customer yet? Signup and get a FREE trial now!