If you're looking for a great time tracking solution for your company, you've probably been doing a lot of research. There's so much to think about as far as features and pricing for the time tracking solution that's right for you. Even if you've done a light amount of looking around, you've probably seen the TSheets name since they're one of the popular choices on the market.
But, what is TSheets and is there a time tracking and scheduling solution that could be a better fit for you? Let's take a look at the pros and cons as well as some great TSheets alternatives!
TSheets
In recent years TSheets has become a popular choice for businesses. Part of this is due to their ownership by Intuit. Many companies have chosen it as a convenient time tracking option. It has become especially popular with larger businesses. Some of the main features that TSheets boasts are QuickBooks integrations, shift monitoring, time-off management, and scheduling.
TSheets Pros
The feature that draws many businesses to TSheets is the integration with QuickBooks. This is made easier because TSheets is also an Intuit product. Additionally, users have reported that they like how thorough of a solution it is, especially for larger businesses.
TSheets Cons
The biggest complaint users have had with TSheets comes with the price. Some users have reported that they feel TSheets competitors offer lower pricing for the same, or better, product type. Coming in second to pricing, are complaints around what the product offers. For some businesses, productivity monitoring and project analytics are important. These users find that TSheets cannot offer the complete solution they are wanting.
TSheets Alternatives
1. ClockShark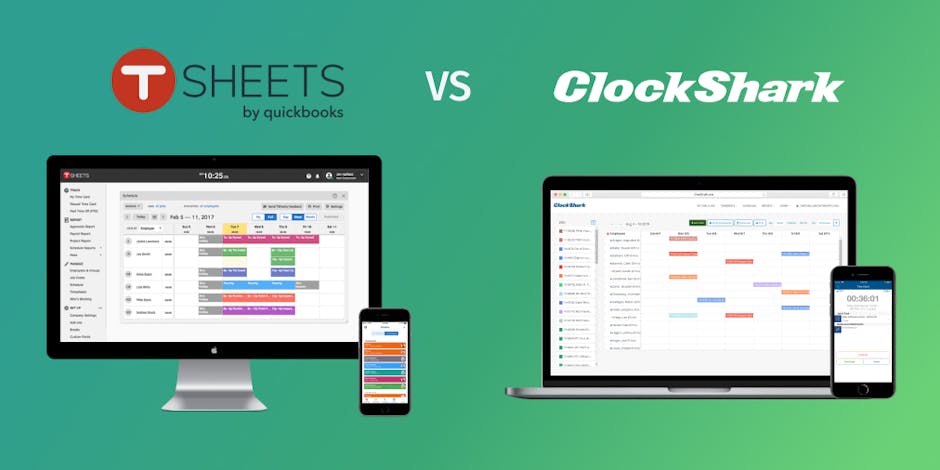 The top TSheets competitor on the market is ClockShark. Created with construction and field service in mind, ClockShark has quickly become a top choice for businesses. Besides time tracking and scheduling, ClockShark offers a kiosk clock, reporting, and geofencing. We just recently included Clock Out Questions to keep your workplace compliant. Many users have agreed that ClockShark is a great TSheets alternative.
ClockShark is an easy-to-use time tracker and scheduler and was built for construction and field service. But ClockShark is also a great solution for a variety of businesses thanks to their shift and task selection options upon clocking in. The GPSFence and KioskClock features also offer great solutions for teams that need to be at multiple locations. Users are also happy with the tiered memberships that fit their needs and budgets.
Save Time and Money with ClockShark
Thank you! Your submission has been received!
Oops! Something went wrong while submitting the form.
2. Desktime
As a TSheets alternative, Desktime offers many of the productivity features that users want out of TSheets. Desktime is a productivity-centered desktop and mobile app catered toward remote teams. URL and App tracking are two of the big productivity features Desktime offers to help you, and your team, stay on track while working. Users can divide websites or apps into "productive" and "unproductive" categories and receive alerts or reports on productivity based on these categories.
The biggest complaint from users is that Desktime seems to monitor too many things or, for some, not enough. But if productivity is your biggest concern with remote teams, this may be your best choice in a TSheets competitor.
3. Harvest
If you're a freelancer or working with a team of freelancers, then this TSheets alternative might be a good option for you. Tracking time spent on specific projects, tasks, or even for specific clients, is all done easily with Harvest. This time tracking solution offers invoicing and integrations with apps like Basecamp, Fundbox, and PayPal. It's not easy being a freelancer, but it can be made easier with this TSheets alternative.
The only major issues users report is that Harvest is too detailed with tracking and reporting. Some find that entering all of the information required for each project and task can be time-consuming. However, if you have a lot of clients and projects to track, this can still be a great solution.
4. Clockify
For users that aren't a fan of the pricing, this TSheets alternative is worth checking out. Clockify operates on a freemium model with a completely free base product that only requires payment for upgrades to the account. The free, baseline product offers unlimited time tracking, users, and projects. This TSheets competitor also operates across different devices and allows integrations on the free level.
As far as complaints, the major one from users has been centered around support and ease of use for the program. But if a bare-bones, free software is what you need this may be a good solution.
5. TrackingTime
Another productivity-focused TSheets alternative, TrackingTime can be good for those looking to keep an eye on productivity for a lower price. Small teams needing integrations will be able to take advantage of the free version. This time tracking solution offers some great reporting features as well.
What TrackingTime doesn't offer as a TSheets alternative, is support for large teams. If you need to integrate things like benefits or payroll, you'll need an entirely separate solution.
---
What time tracking solution are you loving? Planning to try out something new?
Not a ClockShark customer yet? Signup and get a FREE trial now!