No company is a company without its employees; they are what keep the business running. It is a competitive world, and companies strive to do better each and every day. How do you do this? You must invest in ways to increase employee productivity.
What is 'Employee Productivity?
According to Jill Harness, a writer for bizfluent, employee productivity is "an assessment of an employee's or a group of employees' efficiency." This is also referred to as workplace productivity.
So, how do you measure employee productivity? To determine an employee's level of efficiency, work that is output is measured over a set period of time. We then compare this to the average of others doing similar work.
Let me give you a productivity example:
Tom is working for company XYZ and is assigned to create an online advertisement, he is given unlimited time to complete it
It takes Tom 7 hours to create the advertisement
Tom's coworkers, Sally, Joe, and Bob were given the exact same assignment
Sally completed the advertisement in 4 hours, Joe in 5 hours, and Bob in 4 hours
The average between the four workers to complete the advertisement is 5 hours
We can then conclude that Tom's employee productivity is lacking compared to his other coworkers
Why is employee productivity important?
Productivity is an essential factor in the workplace! When your company is performing poorly, it is most likely due to a decrease in employee productivity. No one wants to see their business go underwater. Practicing ways in which you can increase employee productivity will prevent a failing company.
Employee productivity and the success of your business have a very strong relationship.
What Makes an Employee Not as Productive?
There are many factors that lead to a decrease in productivity. We need to discover the problem and squish it:
Lack of motivation- sometimes work can be uninteresting
Poor work environment- employers often fail to provide the tools needed to complete your job
Miscommunication- it is quite easy to be misunderstood and it can be hard to understand a poorly written message
Bad leadership- Some leaders don't lead at all or abuse their power
Let's Get Started!
How do you increase employee productivity?
1. Communication is Key
Communicating with those within your organization is crucial. You should use clear and simple language to get your point across. It gives your employees a clear direction and prevents you from you being misunderstood.
Conversations in the workplace should focus on the future of the company. Dann Albright from blog.hubstaff.com stated that only 5% of workplace conversation is spent on the future of the company. Shockingly, a whopping 80% of office communication is stuck in the past. In order to be more productive as a company, we need to let go of the past and start talking about the future.
2. Happiness Leads to Increased Employee Productivity
Are your employees happy? 70% of U.S. workers don't like their job. If you're not pleased with your job, you aren't as engaged. Unhappy people also tend to impact coworkers who enjoy their job. Unhappiness is a disease, and you want to stop it from spreading.
Make the work environment fun! Go out with coworkers for lunch, have a game area, or simply make friendships with your coworkers. Even decorating the office to make it more lively contributes to an employee's happiness.
Happy individuals are 31% more productive than unhappy or negative people. This is a HUGE difference. Your employee's happiness should be a priority.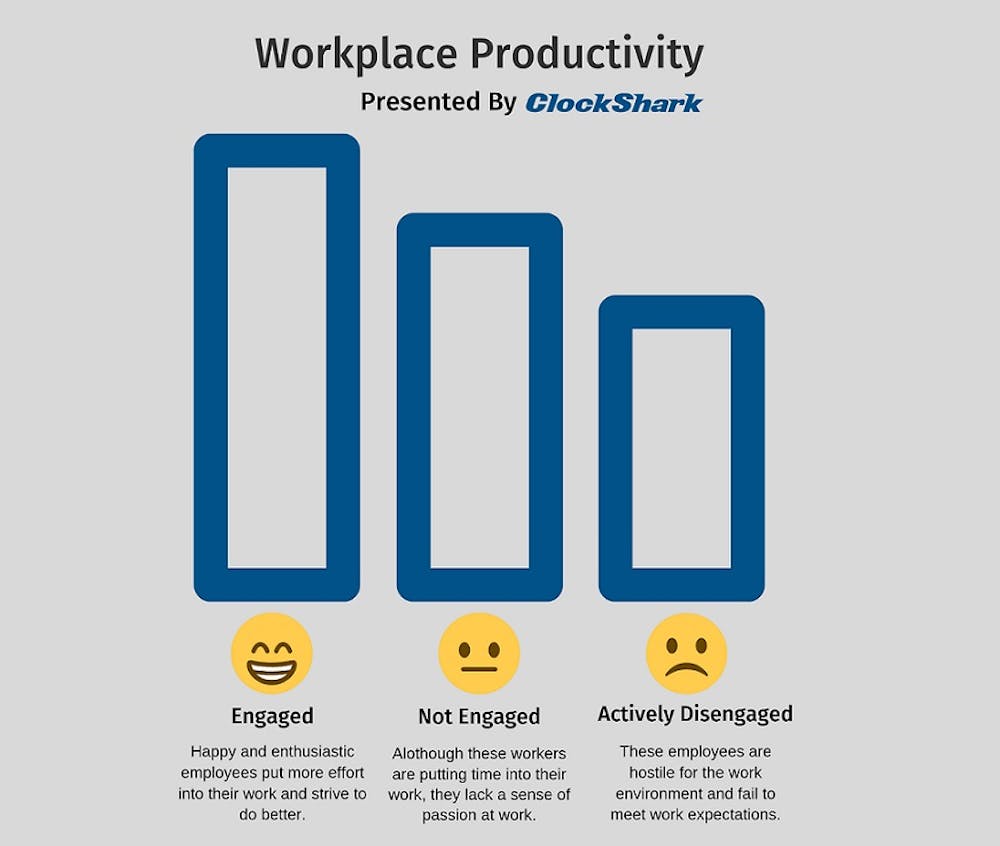 3. Give Incentives
Everyone appreciates being rewarded for their work. In fact, 88% of employees say that it is important employers reward them for their good work. Incentives motivate individuals to do better, work more efficiently. Individuals who are recognized for their contributions usually have positive attitudes. There are many different ways you can provide incentives to your employees. Let me tell you of just a few:
Who says there's no such thing as a free lunch? Providing free lunch to employees when performance was high for the week is a simple and genuine incentive.
Offering employees company stock can also be offered as an incentive. For instance, if your company increased workplace productivity by 20% in the last three months, you could offer company stock at a low price.
Even something as simple as a gift card can motivate people to work harder, produce more. It means more money in your pocket.
Incentives, just like the ones listed above can be a small gesture that produces an incredible outcome– increased employee productivity. So why not do it?
4. Cultivate a Healthy Work Environment
This could be the actual medical part of the workspace or the outlook of its surroundings.
Many workers suffer from an extreme amount of stress due to work. You must encourage self-care at home and in the workplace. If people call in sick, this leads to a decrease in workplace productivity. People do not perform well under stress. Simply having a workshop that focuses on handling stress will teach workers what to do when feeling overwhelmed by stress.
Providing free gym memberships and health care for your employees also creates a healthy work environment. If you offer people the opportunity to be healthy, that means fewer workers out of the office.
It is important to remain positive in the workplace. If you, as a manager operate positively among employees, that positivity spreads. As mentioned in a previous point, a positive attitude increases work productivity. Attitude is a little thing that makes a big difference.
5. Build on Trust
Trust is the foundation of any relationship. It is the hardest thing to achieve and the easiest to lose. Forbes.com wrote that "[p]eople want to do their best for people they trust." They also concluded that there is a "large degree of correlation" between trust and positive employee behavior. Thus, boosting workplace productivity.
Trust is the building block for positive workplace relationships. Let me give you some simple examples in which you can build trust with someone:
Express that you care
Include others in the work environment
Show that you trust other people
Be honest
Take responsibility for your actions
When you have trust with someone, you feel safer. You become more comfortable working around coworkers. It is evident workers perform best when they are comfortable.
6. Equip Your Employees With the Right Tools
It is impossible to write a paper without a pen or pencil! You need the right tools to get work done.
This means providing your employees with the right equipment in order to get work done efficiently. Incorporating communication apps, time-tracking software, and appropriate technology within the company will put rise to employee productivity.
Here are a few tools that will help increase workplace productivity:
Slack

is a social enterprise application that allows employees to communicate internally to one coworker or the organization as a whole. This app can replace email in the workplace. It makes it easier to set up meetings, plan schedules, and update each other about work progress.
ClockShark

is a mobile tracking app eliminating paper timesheets and the troubles that come with it. It uses GPS, making it easy for you to know where your employees are, and if they're on the job site. Workers are also able to send files to prove they're getting the job done.
Have a few employees who work remotely?

Zoom, a website that allows video conferencing connects with people all across the world. Instead of waiting for a response through email, with zoom, you get a response in real-time!
It is also important that employers are updating the technology and software used in the office. We all know technology is the fastest evolving object on the planet. New technology is faster, allowing work to be completed quicker. This leads to an increased output of work.
7. Do Not Ban Social Media in the Workplace
Today, it seems as if the whole world revolves around social media. Especially in the business world. Just this year alone, there are 2.77 billion users of social media. That number will continue to increase.
Studyfinds.org found that 60% of the adult population checks their social media at least 10 times daily. In the office, people go on social media to give their minds a break from the stress of work. Others use it to create or maintain professional relations. Social media is just another form of communication.
However, some people may abuse this freedom. At times, social media serves as a distraction. Allow certain times workers are allowed to check their phones. Do not ban social media, regulate it.
Putting a ban on the use of social media shows that you don't trust your employees. As mentioned previously, trust means everything in a business relationship. When your employees see that you don't trust them, their performance may decrease.
8. Create Personal Development Plans (PDP's)
Like a business, people also strive to do better every day. Everyone has strengths and weaknesses. Obviously, we want to build on our strengths and squish our weaknesses. The way to do better is to understand and manage your weaknesses.
Personal development plans help workers discover what they need to do in order to improve their work style. It sets up goals for you and your employees to meet. PDP's play an important role in increasing employee productivity. When workers take the time to develop themselves, they are able to work better.
7 steps involved in creating your own Personal Development Plan.:
Learn the potential human landscape. This means teaching yourself what human development looks like in terms of your work style, attitude, knowledge, etc.
Dream and create your vision
Select your areas of focus; what is it that you want to improve upon?
Discover your practices. These are the

actions you are committing

to be consistent in developing your area(s) of interest.
Establish personal development goals
Set your schedule
Monitor your progress
Taking the time to plan and execute your Personal Development Plan puts you on the right path towards success.
9. Know-How to Manage Your Employees
The last thing we want is chaos inside our organization. To avoid this, we must understand how to manage our employees properly.
If you hold a high position in your company, don't abuse your power. 75% of employees leave their company because of an unfriendly boss. You can lose three-fourths of your company by failing to manage correctly. In multiple industries, a majority of workers believe they would make a better boss than their actual boss.
Leaders must inspire employees, not overpower them. When people are inspired, they want to experiment. This leads to new ideas that may be beneficial for the company. When managers recognize the accomplishments of their workers, productivity boosts by 60%.
10. Assign Your Employees to the Correct Work
In other words, match tasks to skills. Ask your employees to elaborate on what they know they can do. Then, assign them to work that fits best.
For example, if an employee has an extroverted personality and thinks outside-the-box, you may consider assigning him or her to deliver pitches. It doesn't make sense to have quiet, introverted workers deliver pitches.
Not one employee is good at absolutely everything. It is unrealistic to believe that. To be more efficient in the workplace, be sure to understand what skills make your employees great.
11. Give Your Workers the Appropriate Training
How can you perform well if you were never given proper training? It's hard to bake a cake without the recipe. Without suitable training, as your company grows, productivity will decrease. Employees need to be trained.
Here are some training tips you can incorporate in the workplace:
Research training trends. Find what kinds of training works best for your industry (games, videos, hands-on).
Make sure your training strategy matches up with your company goals. Review the training method.
Have your best employees train other employees.
Split training into modules. Assign separate times they are to be implemented amongst employees
Prepare presentations. Let workers know why training is important.
Provide feedback.
The human mind loves to learn. You can train employees on multiple tasks. Cross-training makes workers more diverse, they are able to do more. Teach your workers not only how to bake a cake, but cookies, brownies, and much more. Employee productivity increases when people understand what they're doing.
12. Time is Everything
Time is only moving forward. So much time is invested in your company. Unfortunately, lots of time gets wasted. Salary.com did a study and found that 89% of workers admit they waste some time every day. More than 10% of that study confessed they waste more than three hours per day at work.
How can employees be productive if they are wasting time? They simply can't. A few things that contribute to wasted time:
A great deal of time spent on small assignments. The bigger assignments are what largely impact the company. This is why it is important to focus on the big picture.
Lengthy and recurring meetings. The average worker spends

12 to 14 hours

a week in a meeting. An hour meeting in never actually an hour meeting.
Gossiping at work. 42% of coworker to coworker conversation is spent on gossip.
Procrastination. We all know this one. Many workers set unwanted assignments to the side with the promise that they will complete it later. However, in many cases, it does not get done until the last minute.
Wasting time puts you behind schedule. When you properly plan out your day, you avoid the risk of misused time.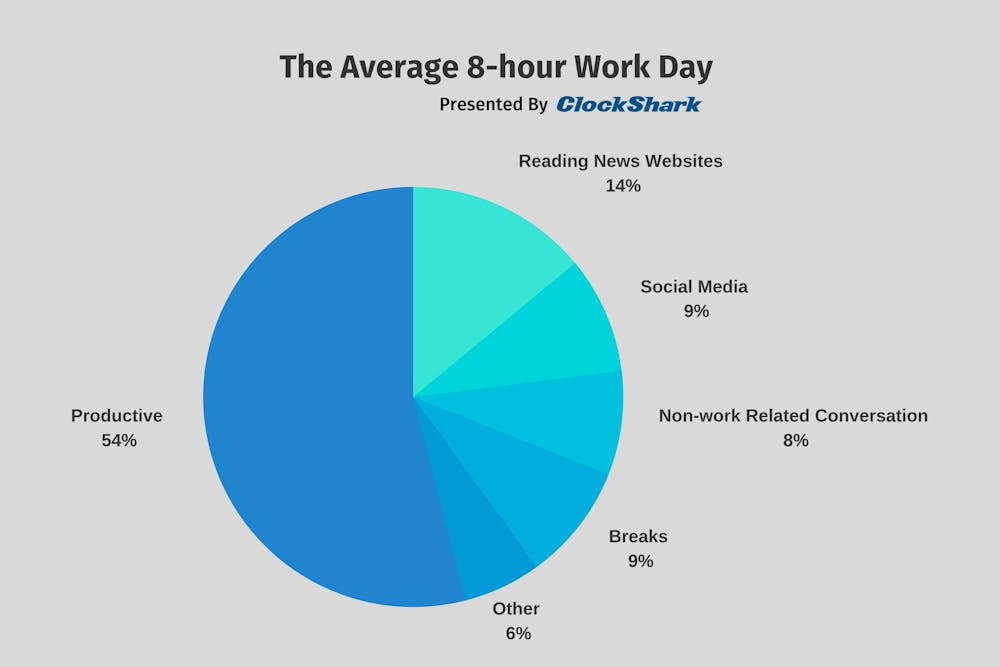 13. Know Who Your Employees Are
Generations. Each one is different. The workplace is a mixture of generations. Today, there are four generations in the workplace. These 4 beings:
Baby Boomers (born 1946-1964)
Generation X (born 1965-1980)
Generation Y or Millennials (born 1981-1994)
Generation Z (born 1995-2015)
Understanding these generations and creating a work environment that fits their needs will also increase employee productivity.
Baby Boomers: Disciplined and have a strong work ethic. They would rather work independently, as they are confident and self-reliant. This generation is also competitive, so they are working to be the best.
Generation X: These are considered the middle child of generations. They value work and life balance. This generation is flexible, they adapt well to change.
Millennials: They are the largest of the workforce population. By next year, this generation will make up 50% of the workplace. They value teamwork and embrace diversity. These individuals are also tech-savvy.
Generation Z: The youngest in the office. These individuals are driven by security and have a desire for independence. They are also more entrepreneurial. 55% of Generation Z'ers are more likely to start a business than Millennials.
Just a little research will inform you about who your employees are and what they want in the workplace. Some generations work well together and others do not. As time passes, generations come and go. It is crucial that companies keep up with the needs of these generations in order for them to work productively.
14. Allow work to get done remotely
More work gets done when employees are working remotely. Let's be clear, the office can get loud and some coworkers aren't very productive. An office at home hinders distractions, allowing you to get work done faster and more efficient. People who work from home complete 13.5% more calls than staff who work in the office.
For instance, you as a CEO can allow your employees two days out of the week to work at home.
Harvard Business Review conducted a study and found that people who worked outside the office are less likely to quit their job. These employees also save you around $1,900 per year because you do not have to provide the office space. They are an important asset and save you money. A remote employee increases workplace productivity by staying out of the office and working from home.
One Final Thought
Begin to implement these 14 Ultimate Ways to Increase Employee Productivity. I can assure you that each point will have a positive impact on workplace productivity.
Workers are vital to the survival of any company. Employees who generate a positive work output are making you money. While those who lack in productivity are costing you.
Each of the 14 points serves its own purpose in leading you down the path of accomplishment! So, now that you understand them, take a risk and watch your company succeed and reach amazing heights.