When managing a field service business, many things can easily go out of control, stalling your operation and spalling your company's profitability.
How do you manage your team's operations? Do you know how many technicians you have available to assign new jobs to? Are you chasing down payments all the time? As a business owner, you have to deal with these and many other questions, and many tedious tasks you must perform all over again. Daunting? The good news is you can rely on field service management (FSM) solutions to streamline the processes.
What is Field Service Management?
Field service management is the process that enables your company to coordinate and optimize your field service operations. The process involves managing your crew and resources, creating an effective work schedule, collecting field data in real-time, and maintaining excellent customer service.
Most Common Challenges of Field Service Management
Running any business is challenging, but when you rely on outdated tools to manage your operations, you'll quickly discover unique obstacles that can impact your overall success. Here are the most common challenges field service companies face:
Scheduling conflicts
Scheduling conflicts can significantly impact your field service operations. Overlapping jobs or unavailable technicians can cause delays, missed appointments, and unhappy customers. By addressing scheduling conflicts effectively, field service businesses can improve customer satisfaction, enhance operational efficiency, reduce costs associated with rescheduling, and ultimately differentiate themselves from competitors in the market.
Late payments
Late payments can disrupt business operations, affecting cash flow and increasing administrative burdens. When payments are delayed, it can disrupt the balance between income and expenses, making it difficult for businesses to meet their financial obligations. It can also lead to an increased administrative workload, resulting in allocated resources to chase down payments and handle collections. Implementing automated billing and invoicing systems can streamline the payment process and send timely reminders to customers.
Poor communication
Field service companies usually rely on phone calls or text messages to communicate with their technicians in the field. Relying on this type of communication can often lead to time-consuming tasks, especially for office staff who need to contact multiple technicians throughout the day. By leveraging digital solutions, companies can get faster and more efficient communication, improving the overall productivity of field operations.
Poor first-time fix rates (FTFR)
Nothing is more frustrating than arriving at a jobsite without the proper job information. The lack of insight can lead to longer fix times, affecting customer satisfaction. Leveraging a CRM solution results in increased customer happiness, increased technician productivity, and cost savings for the business as a whole.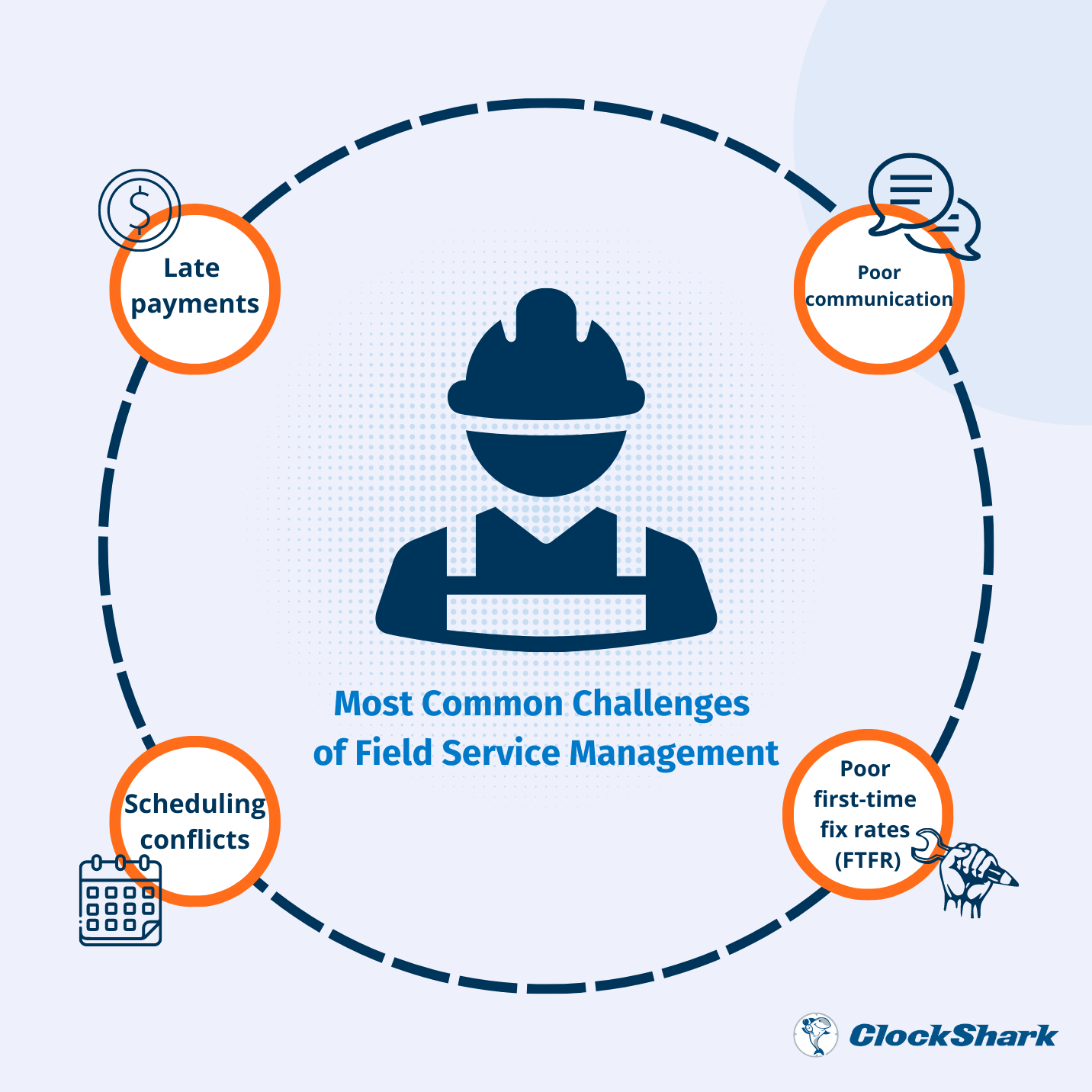 What is Field Service Management Software?
Field service management software is a solution designed to assist businesses in managing and coordinating their field service operations. By automating manual tasks, providing real-time information, and facilitating effective communication, FSM software enables businesses to streamline their processes, reduce costs, and deliver high-quality service to their customers.
5 Key Components of an Effective Field Service Management System
FSM software empowers managers to efficiently oversee all the moving parts of their field service operations. When choosing a field service management solution, there are a few features that can significantly determine how effectively it would serve your business needs. These features include:
1. Mobile app
Your team is mobile, so should be your field service management solution. A mobile app gives your technicians access to all the important information they need while in the field.
ClockShark's mobile app bridges the gap between the office and the field, providing a clear line of communication. Your team can easily access any job information or customer details, and get instant notifications right from their mobile devices, improving the chances of completing jobs on schedule and within the allocated budget. The intuitive app is designed to be user-friendly and is compatible with both iOS and Android platforms, making it accessible to anyone, regardless of their technical proficiency.
2. Crew and job scheduling
An automated scheduling system can help you eliminate scheduling conflicts and double bookings. This will allow you to optimize your scheduling process and manage your jobs better.
ClockShark allows you to easily create work shifts to ensure the right techs are available at the correct times to get the job done. It gives you a complete view of the team's schedule and helps you anticipate their availability in case of an emergency call.
3. CRM
Automated field service management software offers customer management capabilities to help you keep track of all of your customer's information in one convenient location.
With ClockShark, you can keep customers' information organized so you stop losing track of important details and missing out on opportunities to build strong relationships.
4. Quotes, Invoices, and Online Payments
Cash flow issues can lead to a downward spiral, significantly increasing operational challenges and job-related stress levels. FSM software allows you to automate your invoicing and payment collection processes, giving you more time to focus on what really matters.
ClockShark gives you the ability to generate quotes, send invoices, and get paid quickly, all while on the job. Easily update quote statuses and review customer-requested changes. More importantly, collect payment on-site or post-job completion.
Save Time and Money with ClockShark
Thank you! Your submission has been received!
Oops! Something went wrong while submitting the form.
Summary/Conclusion
With most companies adopting technology to manage their workflow, it's crucial to stay competitive. Field service management software allows you to coordinate and oversee your field service operations, enhancing effective communication, and providing the data you need to make informed decisions and scale your profitability.
Ready to start optimizing your field service business? Start a free trial now and see how ClockShark can give you a competitive edge and improve operational efficiency.
Not ready yet? Learn more about how to choose the right field service management software.