In the past, it was challenging to manage your crews when you had a field service business. Imagine having employees out in the field and needing to reach them, without knowing where they are, or having an emergency call, and not knowing which employee was the closest or who was even available. Thankfully, today you can use software to stay on top of your crews and improve your customer service.
Here's how to choose the perfect field service management software.
What Is Field Service Management Software?
Field Service Management (FSM) software is a digital solution to help you manage your field service crews and streamline many business workflows.
With a good FSM software, you have better visibility into how your company is doing, how productive your crews are, and a clearer picture of your cash flow, while also significantly improving customer satisfaction.
What Does a Field Management Service Software Do?
Field Service Management software connects your field crews to the office and makes running your business easier and more efficient. In the service industry, customers' expectations are the measure of their satisfaction and if the service they receive doesn't measure up to their expectations, a poor customer experience is the result.
Conversely, when your frontline workers feel empowered, they are able to meet - if not exceed - customer expectations, and ultimately, this is one invaluable way that field service management software helps your business grow.
When you're using the right field service management software, your employees are empowered and, thus, better equipped to provide exceptional customer service.

Key Features Of An Effective Field Service Management Software
Whether you provide HVAC, landscaping, electrical, or other types of field services, there are certain key features an effective field service management software should have, at minimum.
Admin Dashboard
An admin dashboard allows you to pull up a single screen to review what's happening in minutes. You can see which jobs are being done, who's doing them, and which jobs have already been done. You can also view the locations of your field crews and access reports and documentation regarding each job.
GPS
GPS is particularly crucial to field service management. When you can pull up a map and see exactly where each member of your field service team is, you're able to assign the right jobs to the right workers.
If you get an emergency call, for example, you can pull up a map and send whichever crew member is closest to that location.
Mobile Friendly
Of course, your field technicians need to be able to access certain features of your field service management software on their mobile devices. Ideally, they can access customer information, job information, map, and other important data to help them do their jobs better and faster. However, it should not be so complicated that they are discouraged from using it.
Scheduling
Scheduling is an essential part of any field service management software, and it's also among the top challenges in any field service company. From travel time to the length of a service call, it's difficult to stay on top of when to schedule whom for what. Even with automation, there are still these variables, but your field service management software should definitely include a strong employee scheduling app, in real-time.
Crew Management
Strong employee management helps employees do their best work while also helping you manage your company and grow your business. Employee management starts with the hiring process and helps you interact with, manage, train, direct, and - if necessary - discipline employees in an efficient way.
Data Import/Export
From customer information to individual jobs, importing and exporting data makes keeping records much easier and eliminates double- or triple-data entry. Simply pull up the information you need, and import or export it to where it needs to go.
Third-Party Integrations
Data import and export makes third-party integrations a helpful part of any field service management software. For example, if you can use employee time tracking to keep track of their hours and import it into a third-party integration like Quickbooks, you're able to run payroll in minutes.
Save Time and Money with ClockShark
Thank you! Your submission has been received!
Oops! Something went wrong while submitting the form.
Reporting/Analytics
Any time you're able to pull up reports and analytics for your business, you're able to find opportunities for improvement and/or areas of weakness within your company. When you can review jobs - as well as employees - quickly, you're better equipped to get more accurate job costing, as well.
Clock In / Out
Rather than having employees write down their times or recall from memory, a clock in/out feature makes it easier for them to track their hours more accurately. It will also eliminate the need for them to have to go to the office to clock in and, instead, they can go directly to work and just clock in/out from the field.
Time tracking also gives them the ability to log hours specific to a particular job or task, making it easier for administrators to properly bill customers.
Payments
While there are ways you can collect payments electronically online, it's more ideal for customers to be able to make payments as the work is completed. In fact, most customers prefer to use a mobile payment option and, according to Statistica, more than 1 billion consumers will be using some type of mobile wallet or payments by 2023.
Not only does it make sense, then, from a customer satisfaction standpoint to be able to accept mobile payments, but from a business standpoint, too. Rather than waiting for customers to submit payments, your service employees can simply accept payments at the time of service.
Benefits Of Implementing A Field Service Management Software
As technology has advanced, it's no longer good business to not have a field service management software. Not only will it improve your customer service, but it will improve your employee experience and simplify how you run your business.
Mobile-Based Digital Timesheet Platform
While scheduling is difficult in the field service industry, tracking time is equally challenging. However, a mobile-based digital timesheet platform gives you realistic views into who worked what hours, doing what. It also makes it easier for your employees to keep track of their hours worked.
Eliminates Data Silos
A data silo is what happens when one department is able to access information and others are not which often leads to miscommunication. Field Service Management software eliminates the risk of double-entries and miscommunication by providing all essential information in one place for everyone to access.
Reduces Operating Costs
Field Service Management software cuts down significantly on time spent doing manual tasks. From running payroll to scheduling and communications, the automation that comes with FSM software saves considerable amounts of time, thus, reducing your operating costs.
Allows Remote Operation
Communication is such a critical aspect of field service customer care but it's challenging without the right means to do it. With FSM software, however, you can update information and communicate in real-time, whether you're in the office or out in the field.
Improved Customer Service
Customer service is key to any business but it's difficult to manage when you have field crews. However, with field Service Management software, you make the customer experience easier by providing more customized service. This also empowers your field employees to provide the best service possible, as representatives of your company.
Top Field Service Management Software
There are many field service management software available and the prices will vary from free to thousands a month. The one you choose, will depend on multiple factors including the size of your company, your budget, and your company's unique needs. Here are some top picks for Field Service Management software.
1. ClockShark
ClockShark was developed strictly with the field service industries in mind. It's a powerful solution when you have field workers, without being complicated or difficult to use.
The mobile app is user-friendly so your field crews can easily access jobs and customer information, without needing to call the office for directions or information because everything they need to know is in their pocket. GPS tracking allows you to pull up a map to find out in real-time, where each employee is and the time tracking feature gives you a realistic view into how long each job takes and accurate job costing.
Pricing
Starts at just $8/month per user + $7/month base fee. Free 14-day trial.
2. ServiceTitan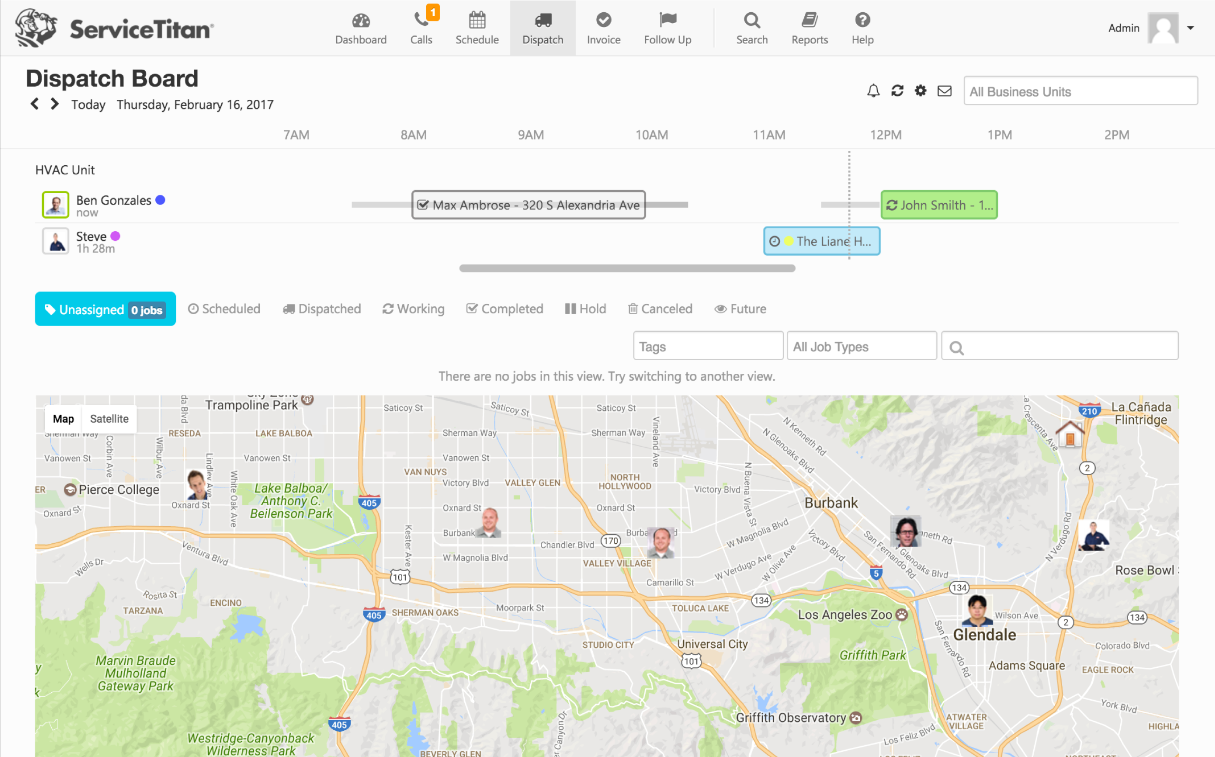 ServiceTitan is a FSM software that offers multiple features for field service companies, specifically. In addition to offering general field service management tools, ServiceTitan's platform also offers the ability to market and provide financing to potential customers
Pricing
Contact for pricing.
3. Housecall Pro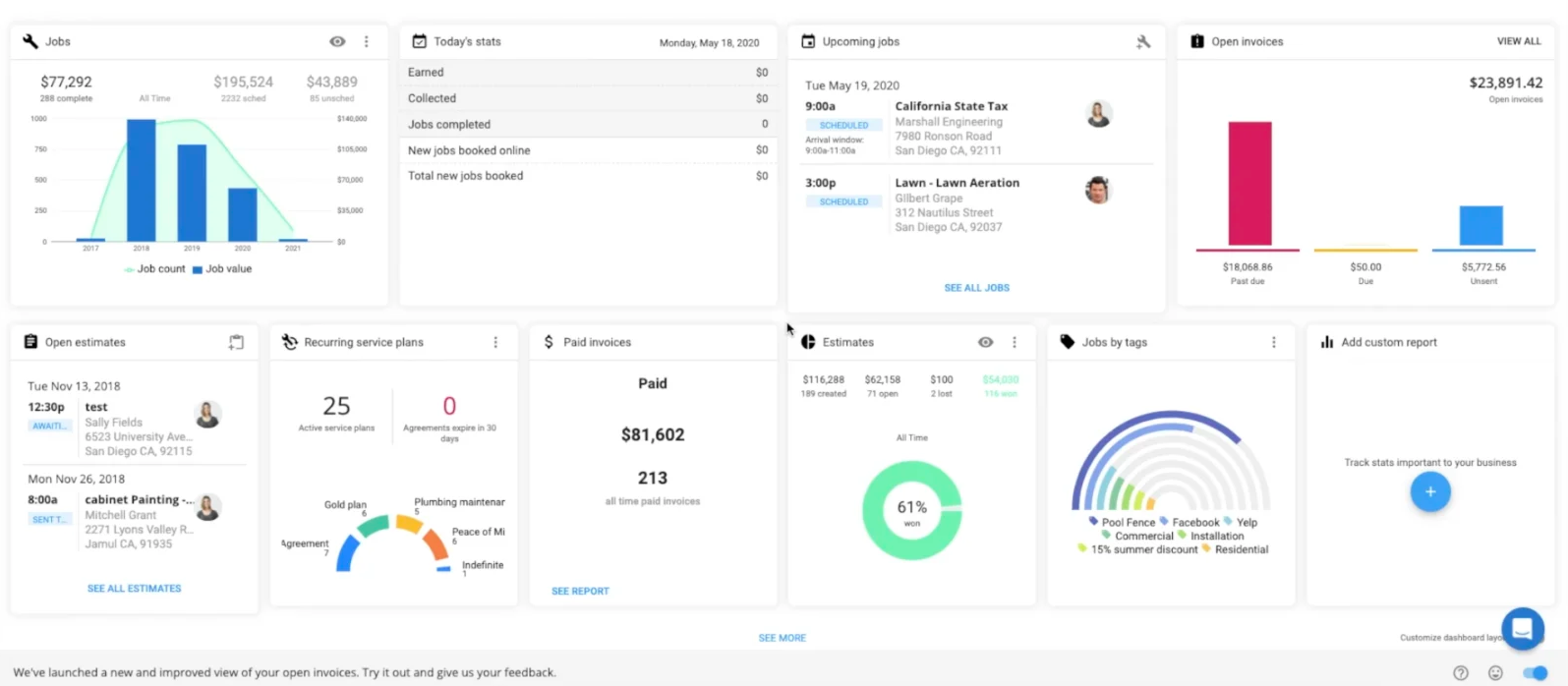 Housecall Pro is a popular field service management software, ideal for companies with field crews. It boasts helpful features like scheduling, dispatching, customer management, invoicing, and more.
Pricing
Plans start at $49 for one user.
4. simPRO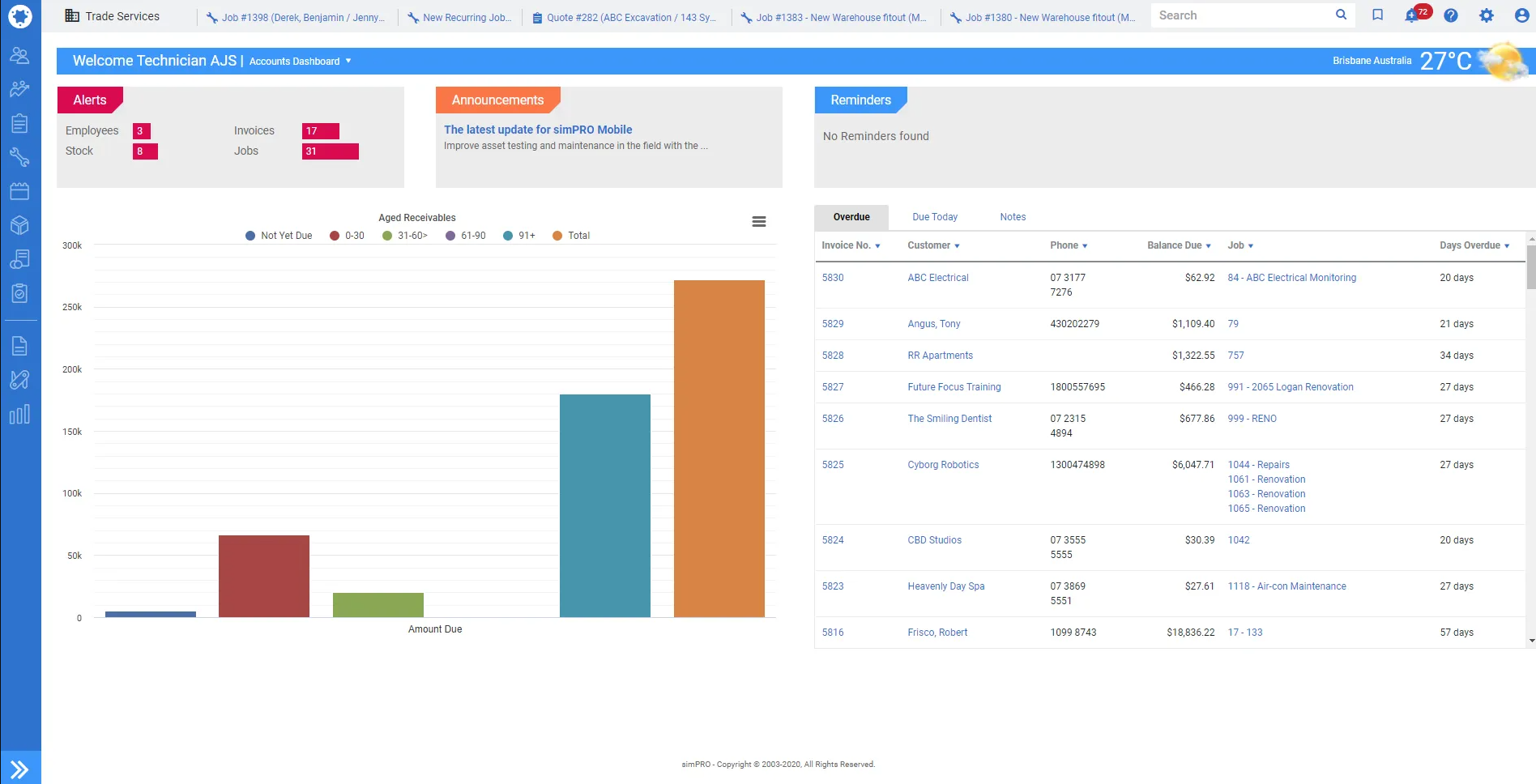 simPRO is a a cloud-based field service management software. The software allows you to successfully run your business from one single solution, including job, project and maintenance management.
Pricing
No pricing available
5. Jobber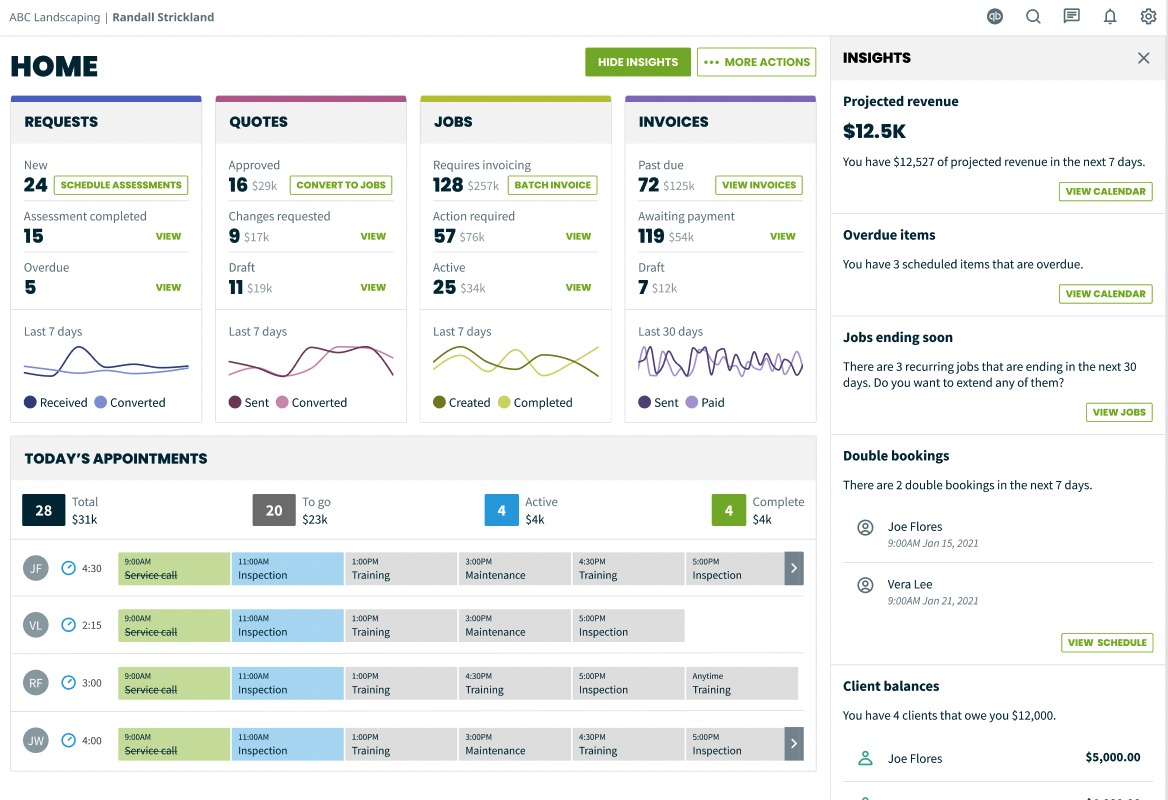 Jobber is a field service management software that allows you to schedule and dispatch as well as manage customers and jobs. You can also create invoices and accept payments.
Pricing
Plans start at $39 for one user.
6. Oracle Field Service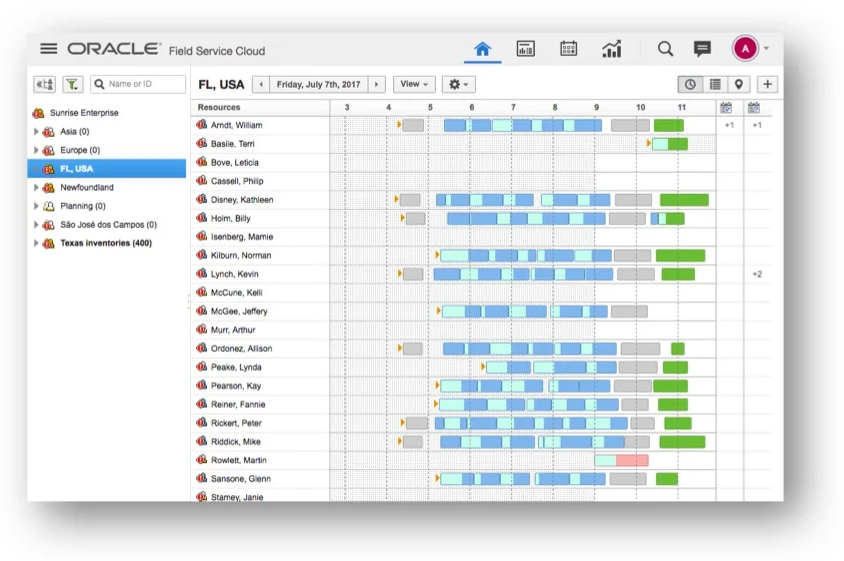 Oracle is a large software developer that has a suite of different software available, including Oracle Field Service. Their FSM includes helpful features to help manage field crews and improve customer experience.
Pricing
Oracle Field Service has three plans starting at $5 per activity for contingent workers.
7. Salesforce Field Service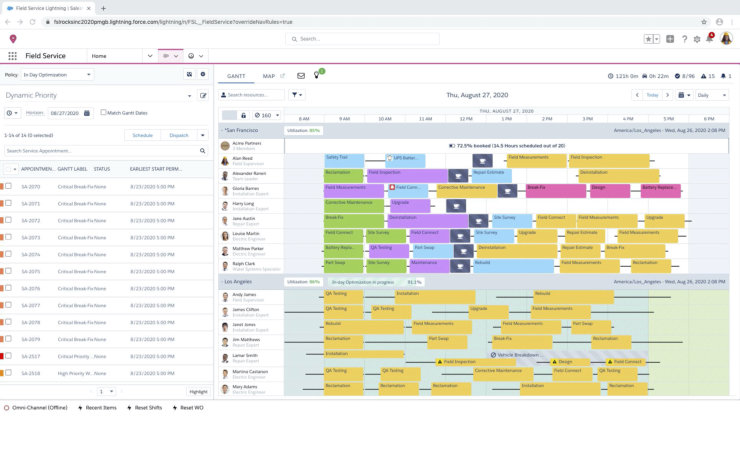 Salesforce Field Service is a FSM software that helps connect field employees with customers and office workers. It enhances customer experience by offering the option to provide remote service to customers via augmented reality, providing fast service from anywhere.
Pricing
Salesforce Field Service offers four pricing plans, starting at $50 per user, per month, billed annually.
8. FieldEdge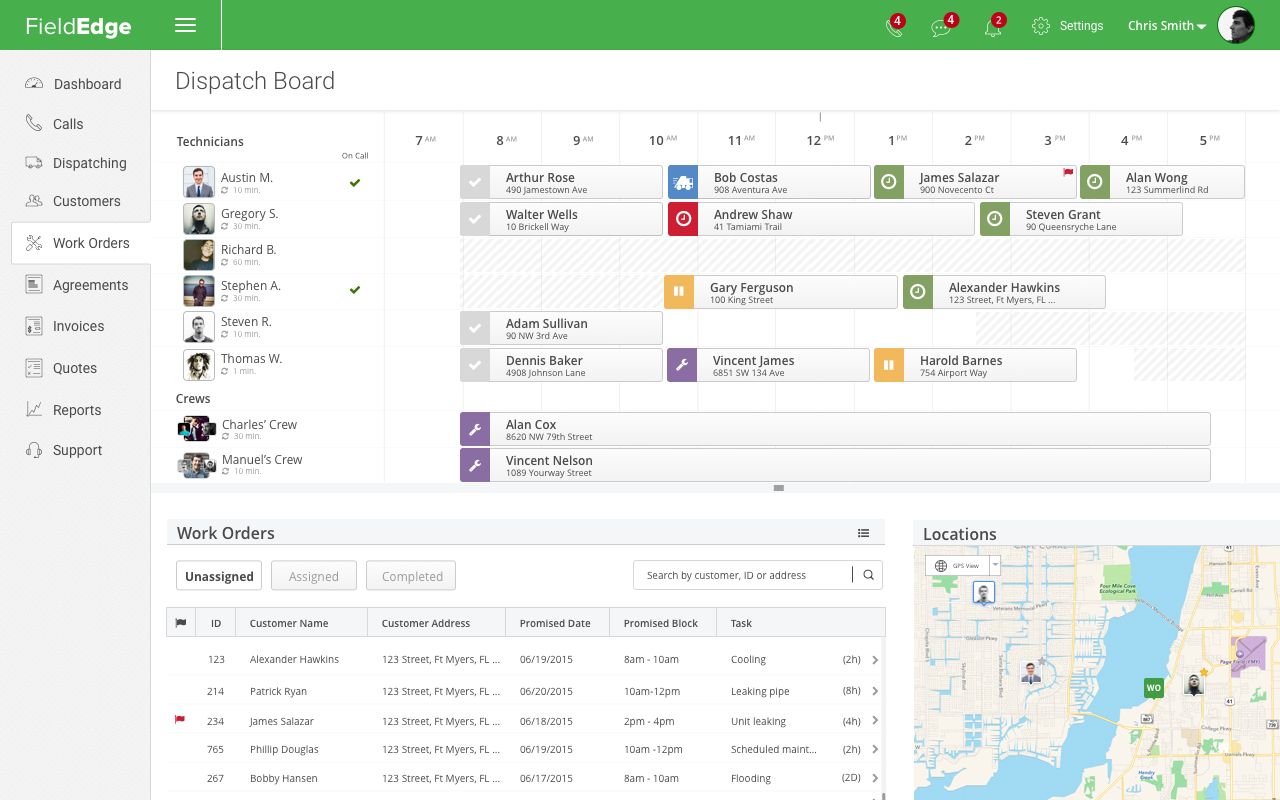 FieldEdge is a field service management software solution that offers tools to help you manage your field crews and customers, send invoices, and improve customer service.
Pricing
Contact for pricing.
9. Procore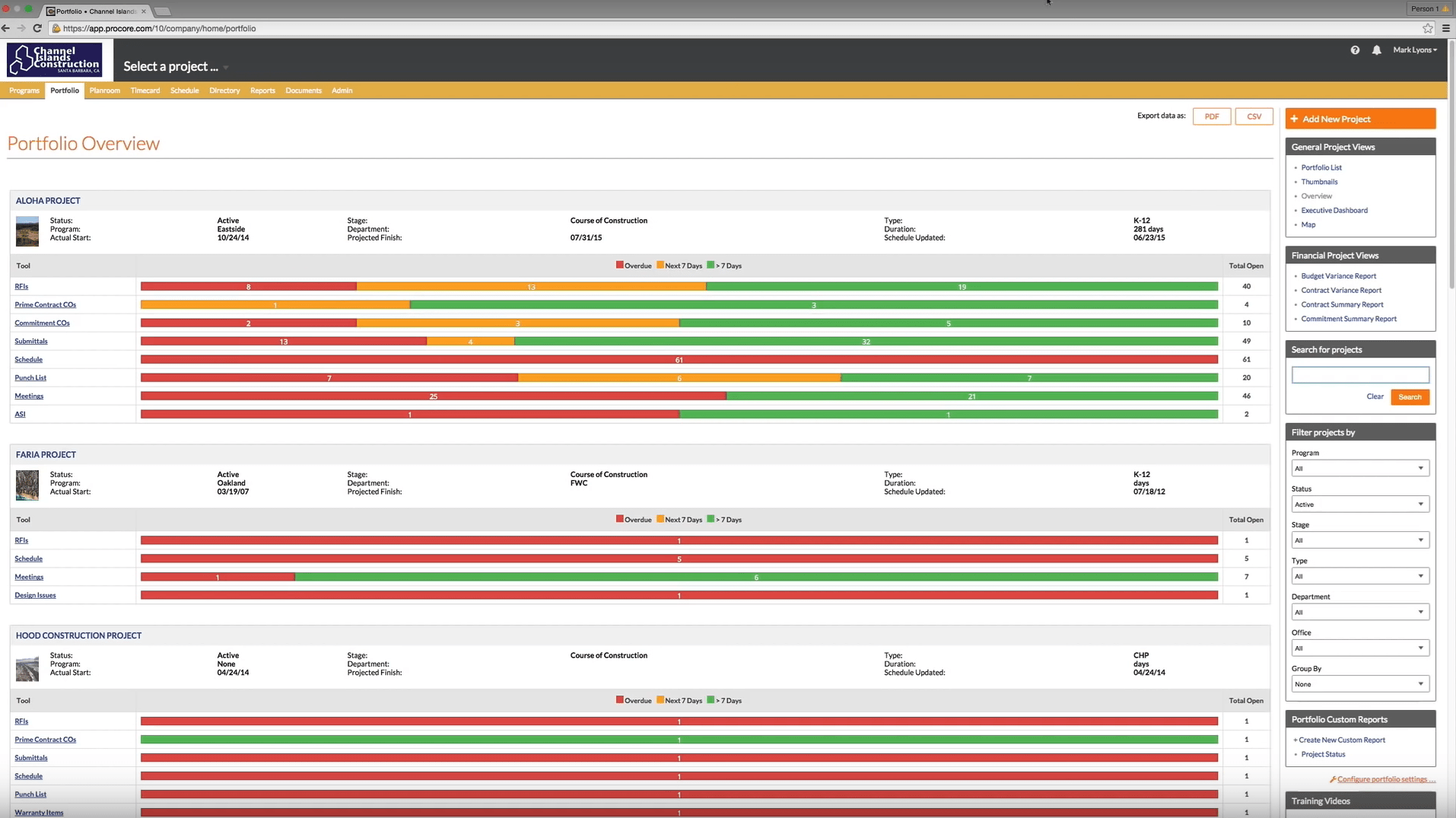 Procore is a project management platform that provides tools to manage field crews. Procore allows you to monitor and manage your projects with tools like bill management and scheduling and offers features that allow you to track finances and manage quality and safety on your jobsites.
Pricing
Procore pricing varies, depending on the features required. No pricing information is available.
Choose the Best Field Service Management Software
Whether you're a small, medium, large, or enterprise field service company, it's important to choose the best field service management software for your business. Before you decide on which one to use, take advantage of free trials to get a feel for what they provide and whether or not they're ideal for your business needs. If the company does not offer a free trial, ask if they would be willing to provide one before you buy and be sure to have your employees try it, too, to make sure it would work for everyone.
---
Compare the Field Service Management Software
| | | |
| --- | --- | --- |
| | Pricing | Free Trial |
| | Starts at just $8/month per user + $7/month base fee. | |
| | Contact for pricing. | |
| | Plans start at $49 for one user. | |
| | Contact for pricing. | |
| | Plans start at $39 for one user. | |
| | Oracle Field Service has three plans starting at $5 per activity for contingent workers. | |
| | Salesforce Field Service offers four pricing plans, starting at $50 per user, per month, billed annually. | |
| | Contact for pricing. | |
| | Contact for pricing information. | |