See All Changes Made to Timesheets With Audit Log
View and search records of all changes to timesheets
See what times are being edited
Know who is using the system
Keep track of all timesheet changes
Get Started Free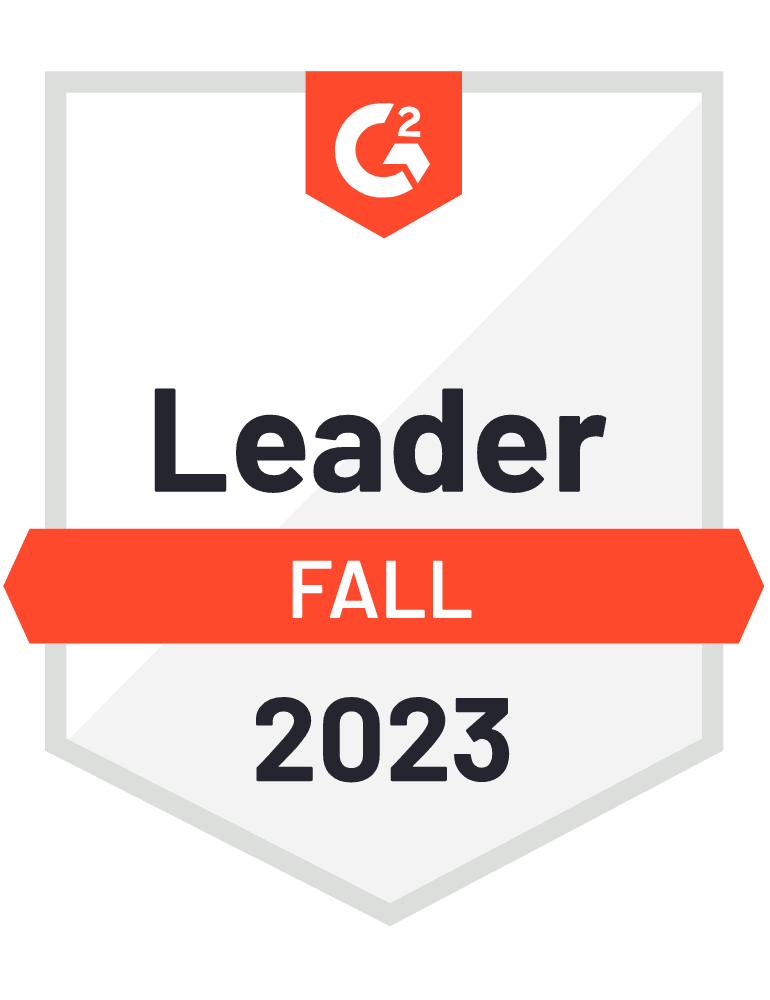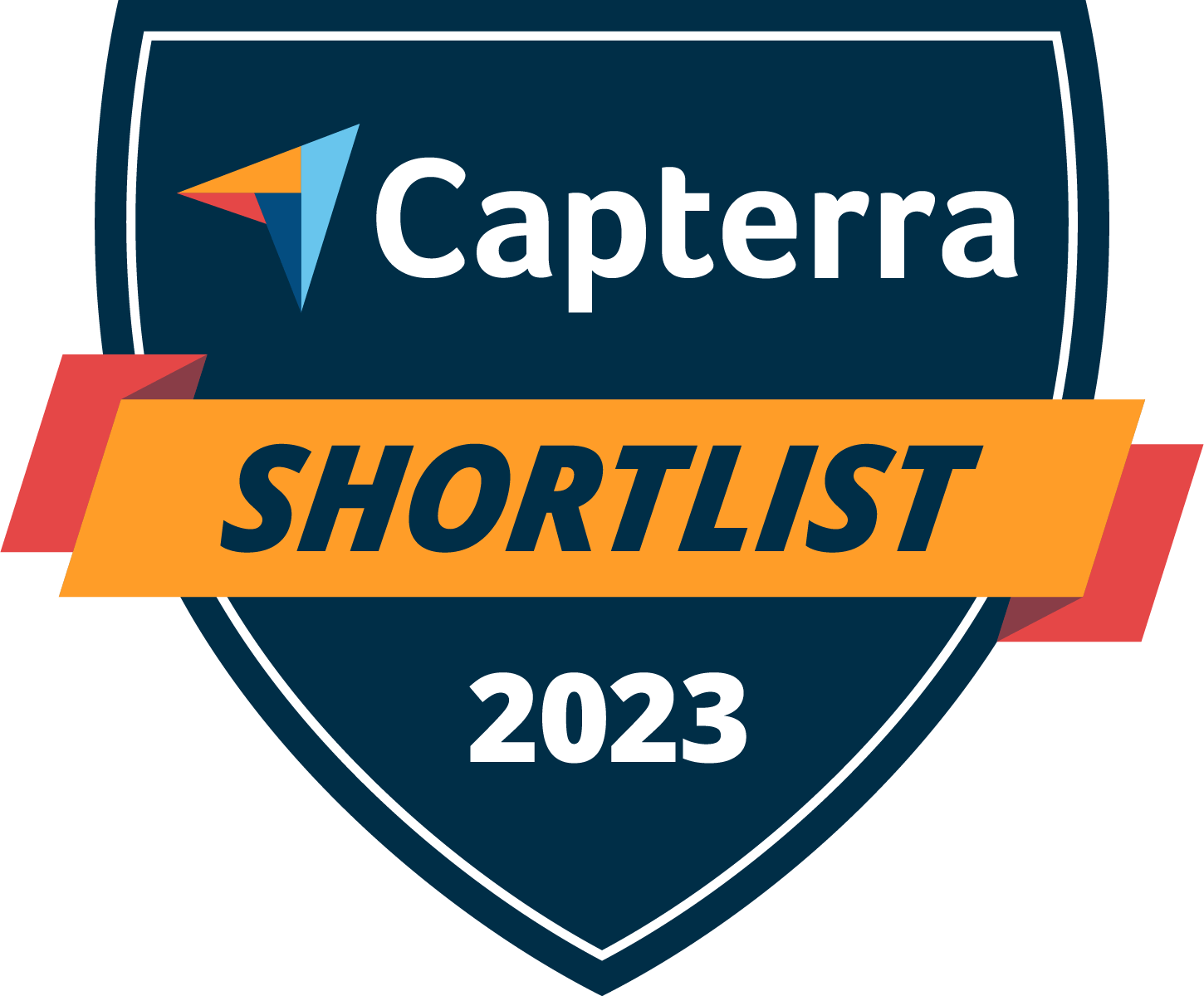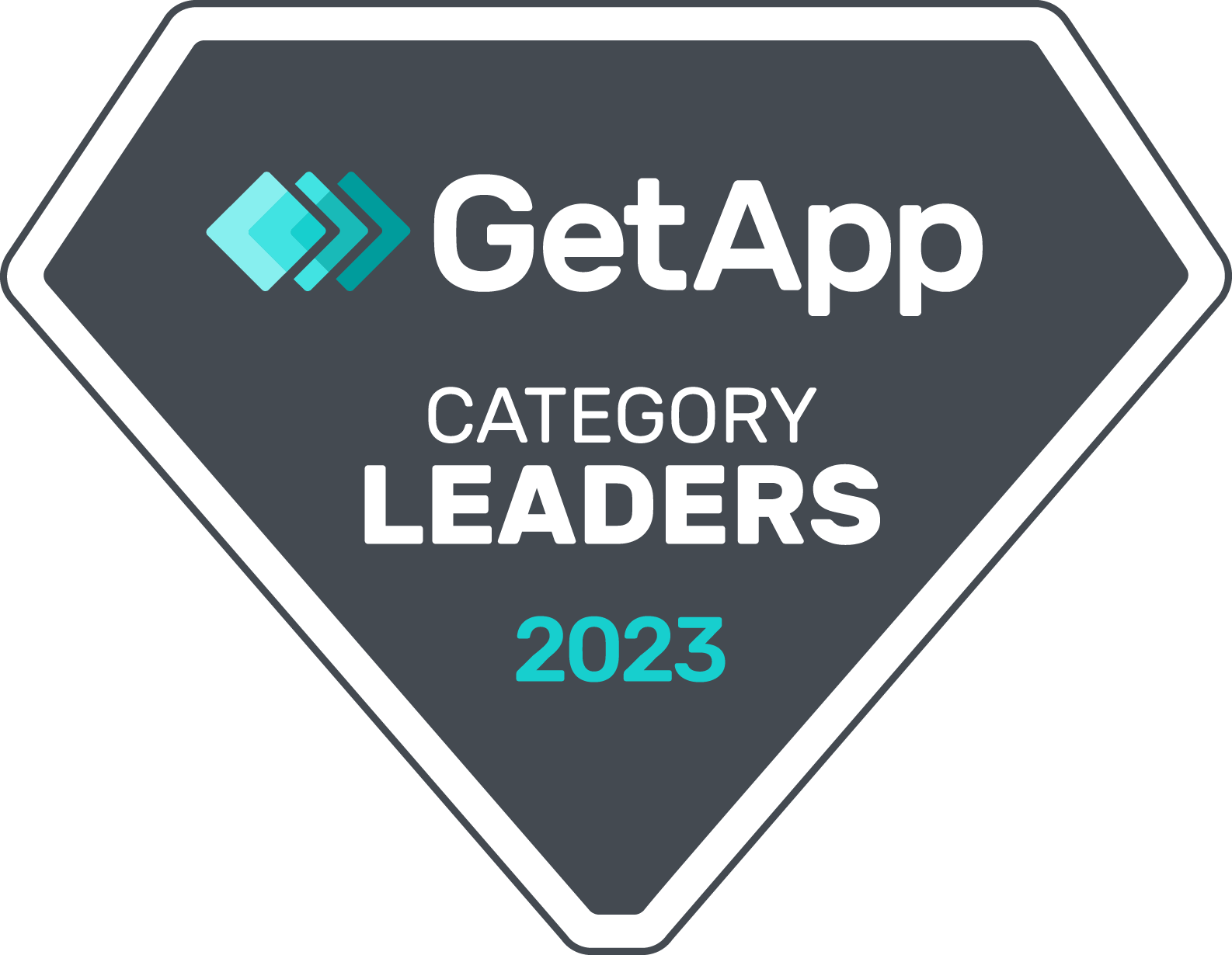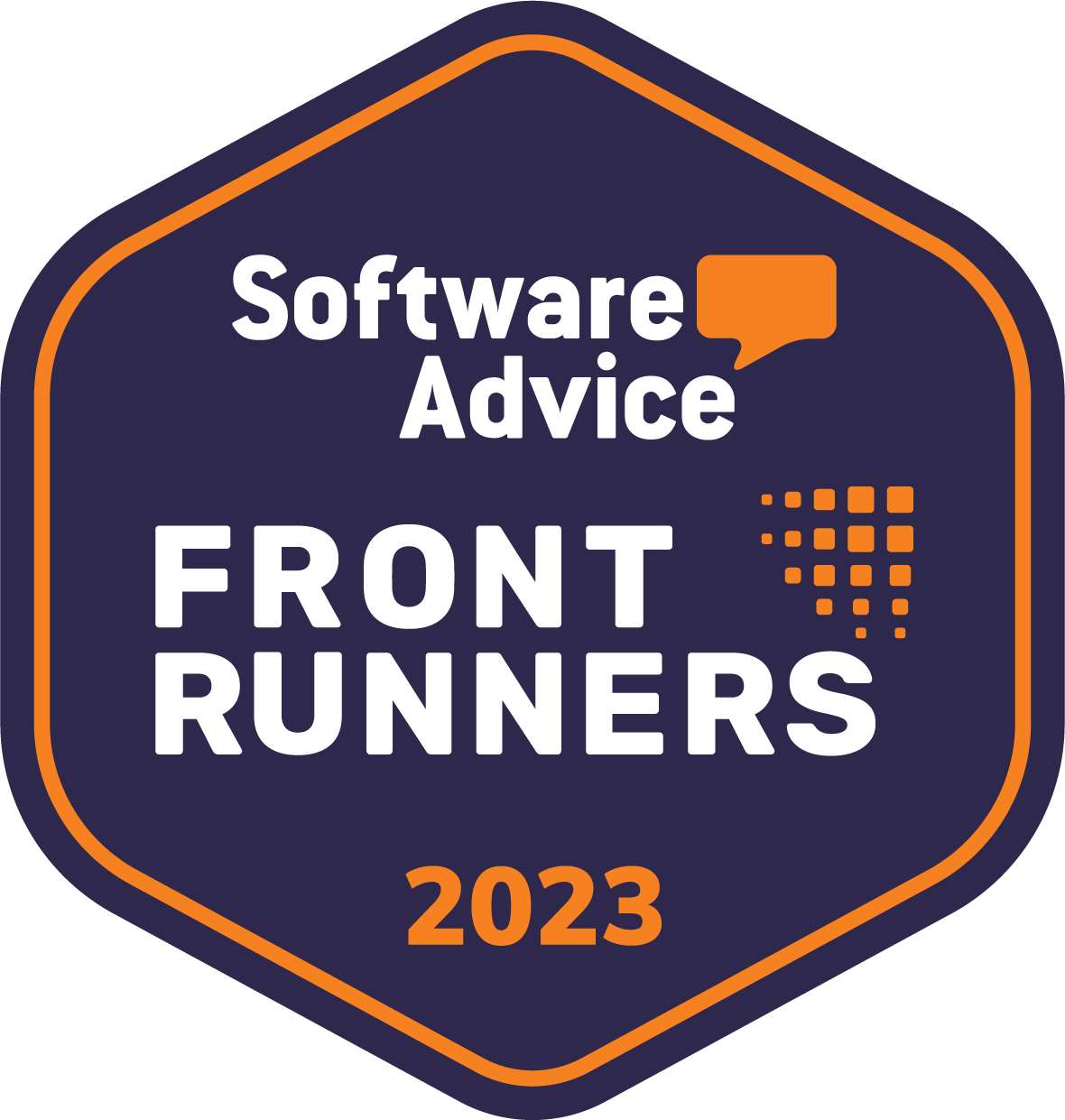 ClockShark is trusted by more than 9,500 companies and over 100,000 field service and construction professionals worldwide.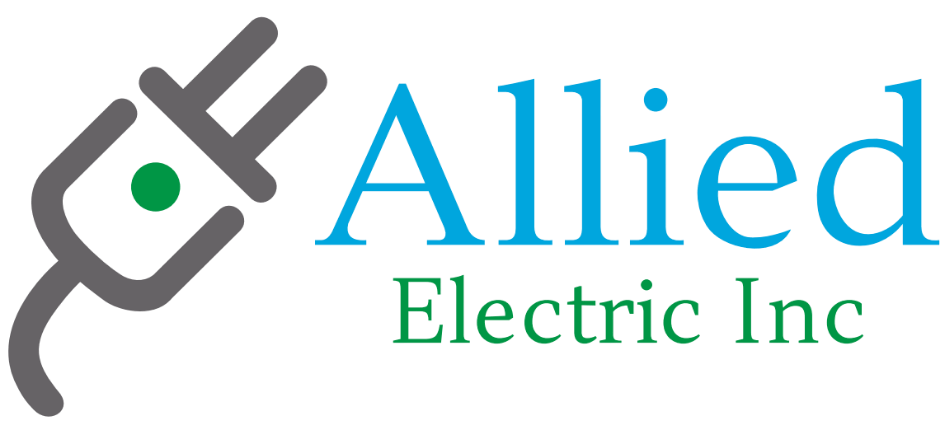 Edited Time Records Are Clearly Marked
When a timesheet is changed, it's clearly marked with the name of the user who edited it and when it was edited. To view the changes that were made simply click the View Changes link. Now, you don't have to worry about someone changing something they shouldn't. There's always a trail on any edit, so you can rest assured that only "honest" edits are taking place.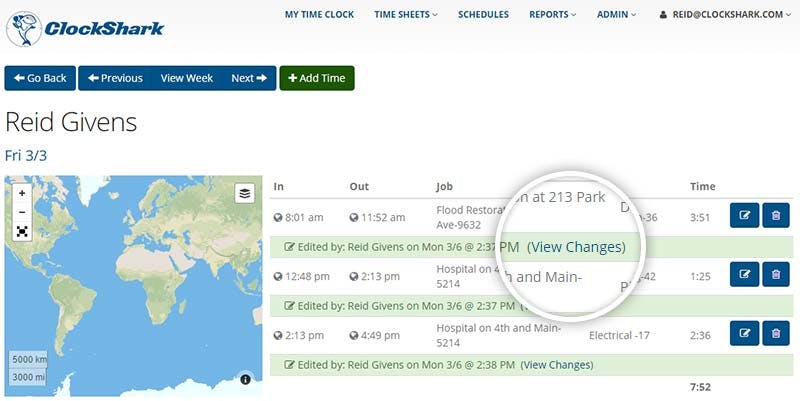 Recorded Login and Logouts Lets You Know Who's Using the System
You don't have to wonder which administrative users are accessing your ClockShark website. The audit log reports the login and logout of each user accessing the system. It's like a security guard at your front door. Secure, just like everything else in ClockShark.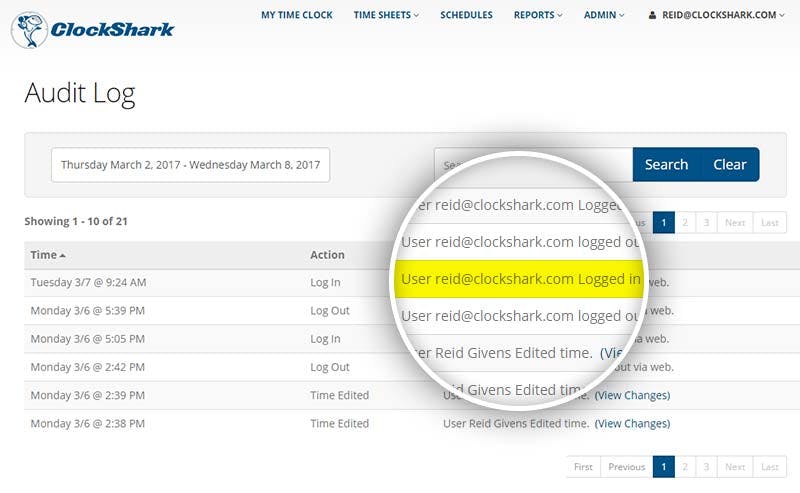 Tracked Changes Let You See The Old and The New
Some days, remembering what was for dinner last night is a challenge. Remembering what happened last week or even 6 months ago? Forget about it! The good news is that with Time Audit Logs, you don't have too. Click on any edited record in the Time Audit Log to see the old information next to the new information. You'll always have a complete history of any edits. That's one less thing you have to remember. We'll remember it for you.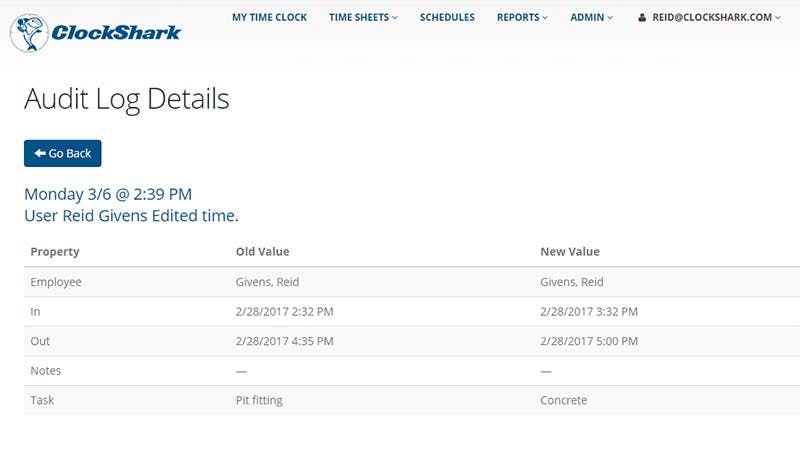 Timestamps On Each Log Lets You See How Things Unfolded
Every entry in the Time Audit Log is marked with the time and date of when that entry occurred. Not only is it handy to see when things happened, but it also becomes really important when you're piecing together many edits or a chain of related items. Timestamps show you what was done when and in what order so you can see everything in context.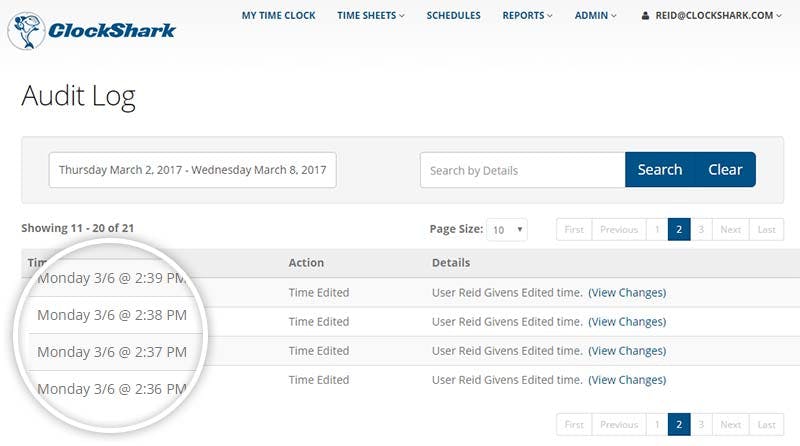 Search Filters Let You Find Exactly What You're Looking For
Your Time Audit Logs contain a lot of information. To help you find what you're looking for, there are search filters. You can narrow things down by seeing items from only the last 7, 14 or 30 days. Or you can look at items from this month, last month or enter any date range you want. There is also a search field so you can look for items with specific words or phrases in them. Search filters are like a super-powered magnet to help you find the needle in your Audit Log haystack.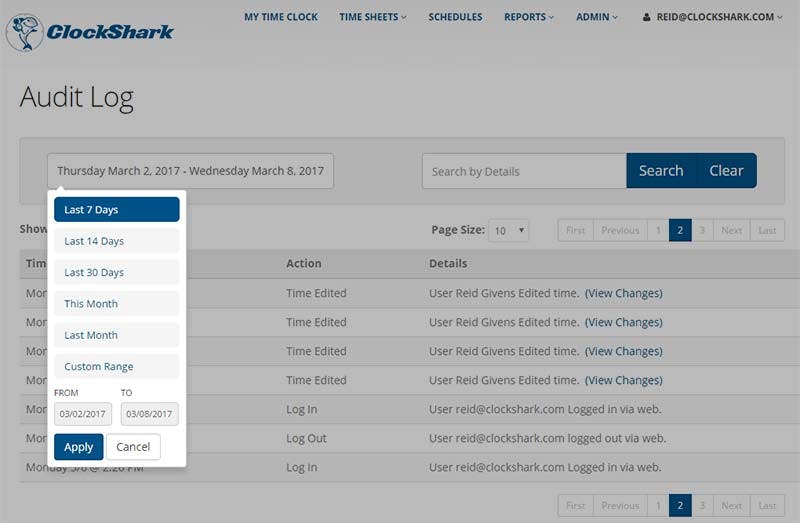 "I love the fact that this application allows my employees at my small business to clock in and out for their shifts hassle free and the GPS time stamp is very helpful when the time comes to run audits on the staff."
9,500+ companies use ClockShark to track employees and save time every month.