Time Tracking for Accountants and Bookkeepers
Paper timesheets and manual scheduling are a thing of the past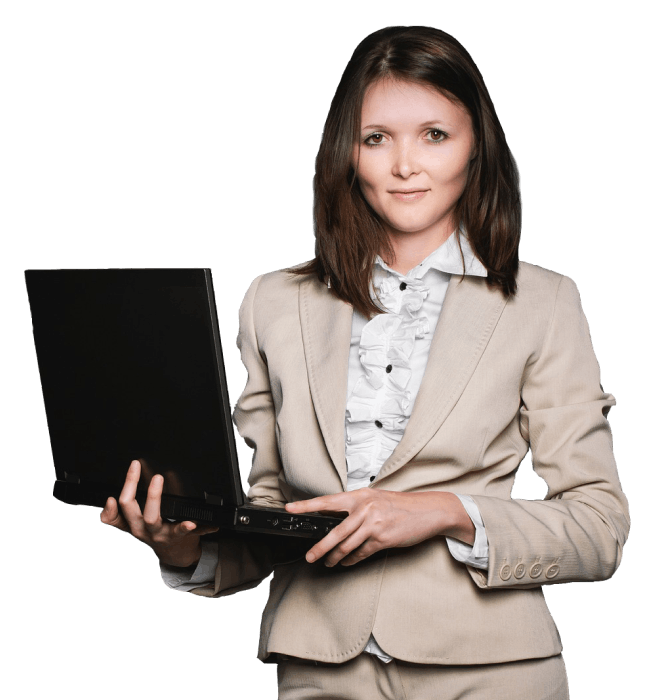 You're looking for the ideal way to track time and send schedules. It should work for your firm and for your clients. It should sync seamlessly with popular accounting and payroll systems. It must be so easy to use that no training is needed. Plus, it has to pack a punch when it comes to features and flexibility. Because not every client is the same. A time tracking for accountants and bookkeepers that's both easy and powerful - that's ClockShark.
Simple mobile time tracking that gets the job done
Time tracking for accountants and bookkeepers should be simple but powerful. It needs to replace messy paper timesheets with a smooth automated workflow. It's got to "just work". Good news, your firm and your clients are going to love ClockShark! Employees track time from the simple GPS time clock app. You and your clients can see the time and run clean, powerful time reports instantly back in the office. It's mobile time tracking that gets the job done for accounting pros and their clients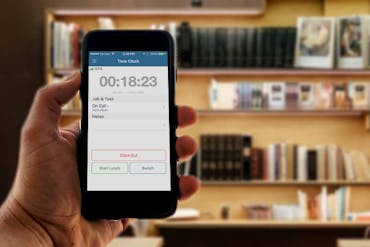 Clients want to stop making phone calls and sending texts
Getting schedules to field employees is likely a big pain for your clients with a mobile workforce. Schedules are always changing in this type of business. Making coordination phone calls and sending text messages takes too much time. It's dragging them down. The good news is, the employee scheduler eliminates most of that work. Just drag a Job or an Employee to the calendar. Employees can see their schedule from the mobile app on their smartphone. Your client can now leave at 5:00 pm instead of 5:45 pm. You're their hero!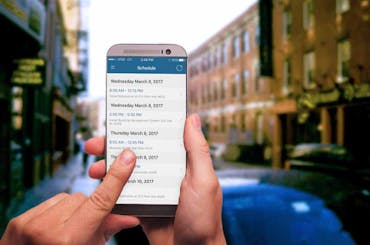 Ready to save hours of your time and 2-8% on labor costs every payroll?
Get started with easy time tracking in under a minute with no credit card
Time tracking and scheduling should be easy
ClockShark was designed to be easy. Super easy. That doesn't mean we skimped on power. Clock in with a few taps (or clicks) by selecting a Job, a Task and the Clock In button. It only takes a few seconds from your computer or smartphone but it gives you everything you need to know - the Customer/Job, the Labor Task and the Time. If you're on the go using the mobile app, you'll get GPS location data so you can see where each clock punch happened. Switching between Jobs and Tasks is just as fast and easy. Just press "Switch". If only clients were this easy!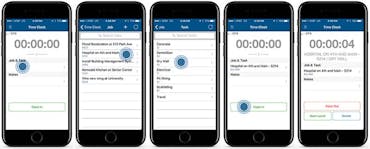 Let's Connect to Your Other Software
You need time tracking data for accounting, job costing and payroll, so let's get your ClockShark data into your other systems. With the ClockShark integrations, you can have two-way sync with both QuickBooks Online and the Desktop QuickBooks. If you use Sage, Xero or ADP we've got you covered, too. You can also export your time records for other systems as well, so you can always get the data you need where you need it. Payroll, invoicing and job costing just got wicked easy! It cuts payroll processing time in half and stops "rounding errors" to reduce hourly labor costs by 2-8% on average. The efficiency with a side of savings, coming right up!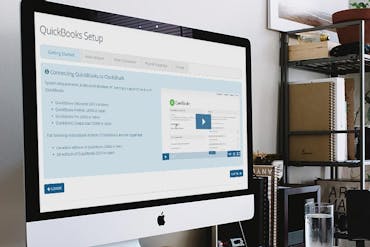 Keep Doing What You're Doing. We'll Adjust.
You and your clients have your own ways of working. You shouldn't have to change how you do things to use an app. ClockShark is easily customized to work like you do. If you schedule time, use the easy drag and drop scheduler. If you don't that's ok, too. You can clock in anytime you want from a mobile or the web punch clock. If you want to track employee whereabouts, you can turn on GPSTrak™ and GPSFence™. You can even set notifications in the system to keep everyone clocking in on schedule. Not using a feature? Just turn it off. Let's keep it flexible!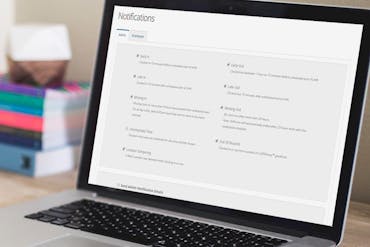 Easy Reports, Job Costing & Data Export
ClockShark makes getting time data easy, but that's just the start. When it's time to use that data you're still on easy street. Our simple, powerful time reporting lets you see summaries or detailed reports by Job (Client), Task (Service Item) or Employee. If you need to run payroll, use the Employee reports. If you need to determine profitability, use the Job Reports. Want to see what Tasks take the most time? Use Task Reports. All reports can be viewed, printed, or exported as a spreadsheet. It takes just a few clicks to run any report. You can even filter by date, department or location. Data in, insight out!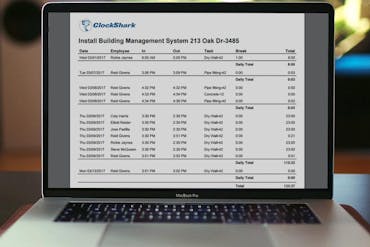 Max‍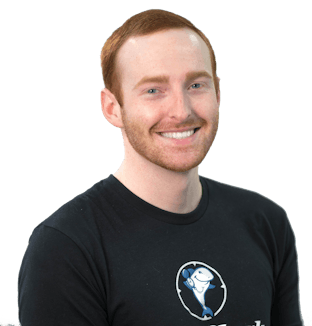 All Plans Include 5 Star Support You'll Love
Not sure which plan is right for you?
Or Call Us at (800) 828-0689
Or Call Us at (800) 828-0689
Ready to save hours of your time and 2-8%
on labor costs every payroll?
Get started with easy time tracking in under a minute with no credit card
Thank you! Your submission has been received!
Oops! Something went wrong while submitting the form.