Employee Scheduling App
Share schedules and job information with your whole team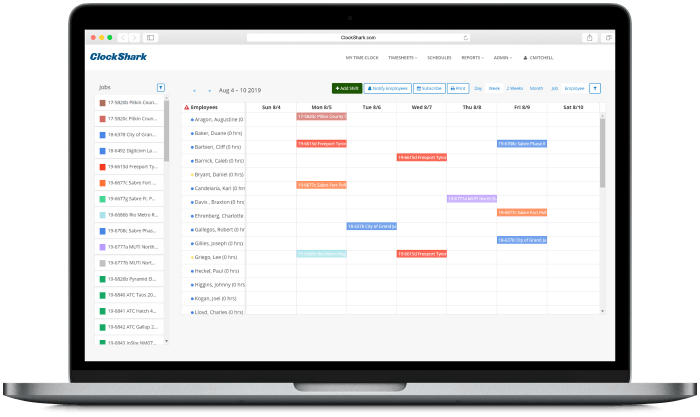 Employee Scheduling is an important part of any business. It's even more critical when your workforce is in the field. That's why ClockShark's easy drag and drop employee scheduling app can help you stay ahead of the game. Employees can see their schedule right from their smartphones, so they always know where to be. If anything on the schedule changes, your workforce gets notified immediately. Even with changing conditions, supplier delays, and last-minute service calls, ClockShark can keep your employees on schedule.
No More Calling and Texting Employee Schedules
Calling and texting schedule changes to employees is time consuming and painful. Having to drop what you are doing, or stay late to communicate with employees every time your schedule changes is a nightmare. But it doesn't have to be that way. ClockShark's employee scheduler relays schedule changes right to each employee's mobile app, instantly! With ClockShark there's no more late night phone calls or frantic last minute text messages for you and your staff.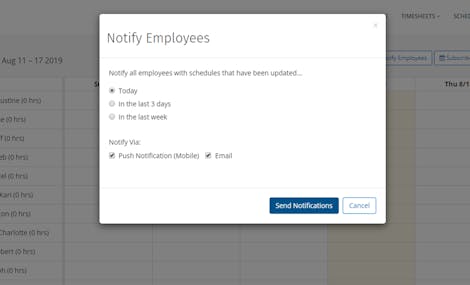 Easy as 1, 2, 3. Drag and Drop
Scheduling should be easy, so that's how we made it. Find a job, drag it to the calendar and you're done. If you'd rather schedule by the employee instead of the job, you can do that, too. Find the employee you want from the list and drag it onto the schedule. You can move the schedule items around, or edit their details if things change. Click. Drag. Done.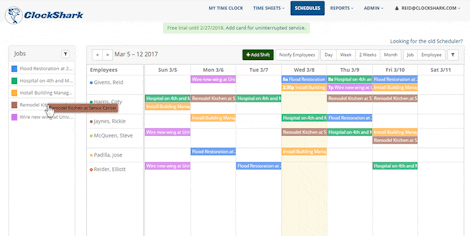 Ready to save hours of your time and 2-8% on labor costs every payroll?
Get started with easy time tracking in under a minute with no credit card
Pick Up Your Phone, Know Your Schedule, Go To Work
It should be that easy. Employees shouldn't have to wonder where they're supposed to be. With ClockShark they can pick up their phone each morning and know where to go with a tap. If you make a change to the schedule, it shows up on the phone app automatically. Scheduling done!
Goodbye Driving Directions. Hello Automatic Navigation
If you're like us, you're sick of sending tedious and confusing driving directions or addresses to employees. With ClockShark employee scheduling app, input the job address once. Employees see an easy map on their schedule. With one tap they get turn by turn navigation from their mobile device. Everyone's job just got easier.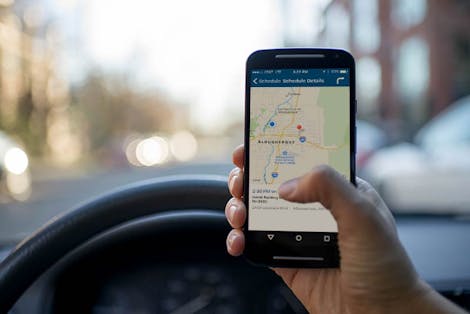 Scheduling Meet Time Tracking. Better Together.
Sometimes two things go really well together. Time tracking and scheduling are a perfect example. Putting them together means the time clock can remind employees to clock in based on their schedule. Because the scheduler knows who's supposed to be where, you'll get notified automatically if someone didn't clock in on time, or doesn't clock in at all. No more stressing over who made it and who didn't. If something doesn't match the schedule, we'll tell you. It's a match made in heaven.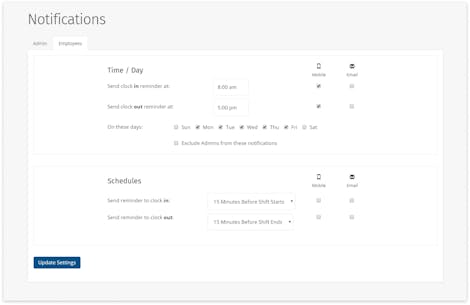 Ten Phone Calls Worth of Work Is Now a Few Clicks
After you've made your schedule changes, you can let affected employees know about changes instantly. By clicking the Notify Employees button. Employees with changes to their schedule will get an email or mobile push notification, letting them know about the change. How's that for easy? Instant notifications - one of the great benefits of smartphone apps.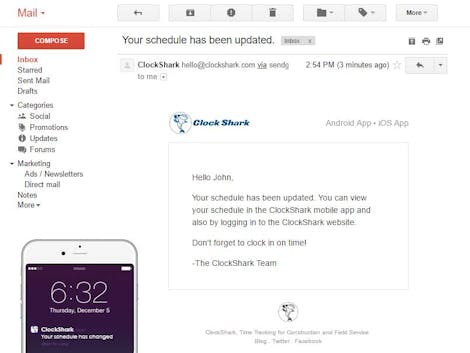 Jasmin‍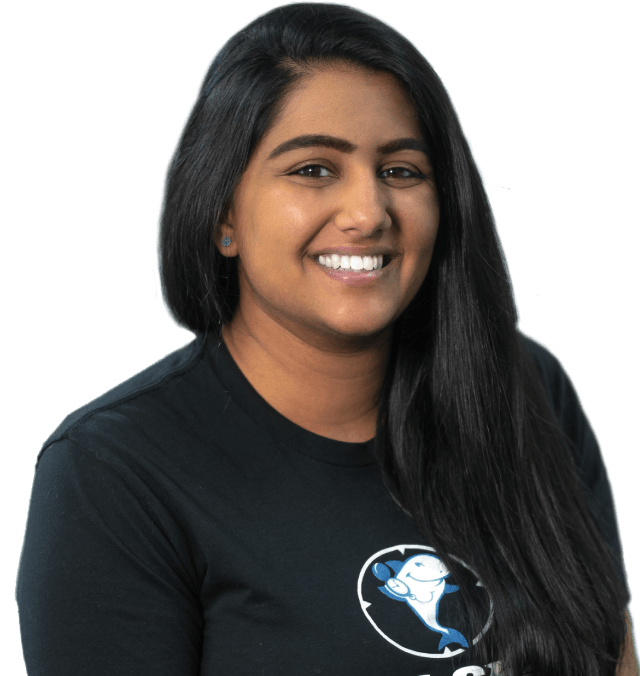 Talk to us
Start your free trial today and get personalized support as you set up ClockShark for your crew. We'll help you every step of the way.
Or Call Us at (800) 828-0689
Or Call Us at (800) 828-0689
"ClockShark has given me so much more control over scheduling and timekeeping. I really like that when I am out in the field I can check in on my employees and if a new job comes in while I'm out, I can schedule it right then and there. My productivity has increased dramatically."

Ready to save hours of your time and 2-8%
on labor costs every payroll?
Get started with easy time tracking in under a minute with no credit card
Thank you! Your submission has been received!
Oops! Something went wrong while submitting the form.
More features, more to love