Timesheet Reporting
Run flexible reports for payroll, invoicing, and calculating job costs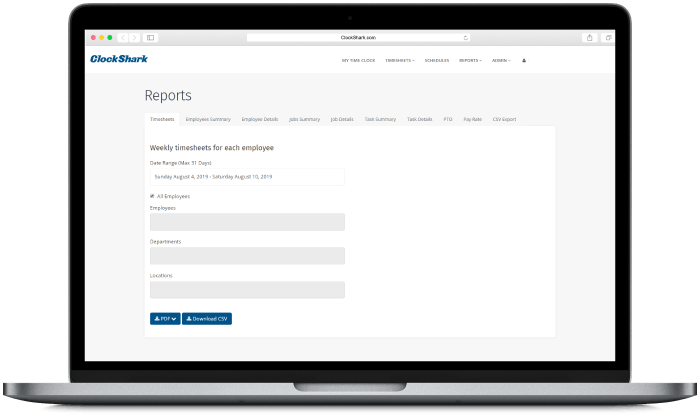 They say that you can't manage what you don't measure. That's true, but it assumes a few things: 1. You have good data; and 2. You can turn that data into meaningful insight. ClockShark helps on both counts. Our mobile apps ensure accurate time tracking data and the website gives you powerful timesheet reporting tools. Whether you use the data for job costing, invoicing or payroll, ClockShark has the time reports you need.
Clean Reports On Everything You Need to Know
Whether you need timesheets to do payroll or a complete task breakdown for job costing, ClockShark time reports have what you need. You can quickly run high-level summary reports on employee timesheets, job sites, or tasks (aka labor cost codes). You can also dig deeper and get detailed reports of time punches by the employee, job, or task. Reports are configurable by date range or pay period so you can view the information in the context you need. Easily include notes that employees enter on their timesheet into many of the reports with a single click. A little or a lot - we have a report for it.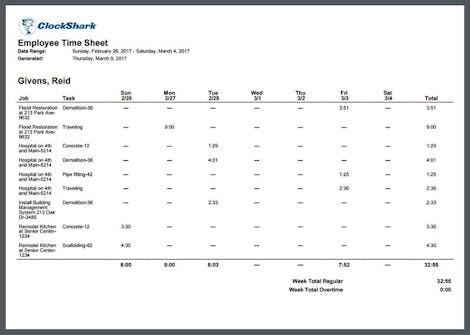 Timesheet Reporting Data You Didn't Use to Have
ClockShark gives you more than just clock in and out times. Each clock in records the job, task, and location along with the time. Without any extra effort by your staff, you get the complete picture of what's going on and how long it took. The same is true when switching tasks. When a worker moves from one task to the next, the job, time, and location data all come with it. You know the data is accurate because it's not a guess or estimate - it was all logged when it happened. For less effort than filling out a paper timesheet, you get more reliable and complete data. You get more for less. Pretty cool, huh?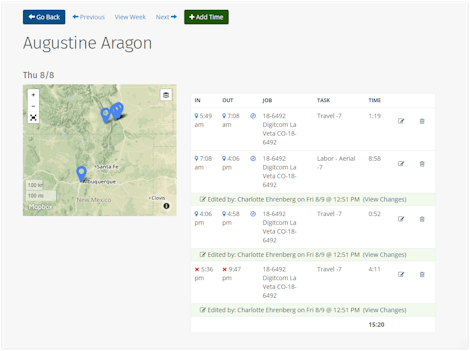 Ready to save hours of your time and 2-8% on labor costs every payroll?
Get started with easy time tracking in under a minute with no credit card
Easy and Accurate Job Costing
Using the job and task data associated with each clock punch, you can get super accurate job costing. With only a few clicks you can get a clean, easy to read report of exactly what time was spent on each task at each job. Run a high-level summary report if that's all you need, or get all the data with the detailed report. No more guesstimating job costs. With ClockShark, you'll know exactly where every second went.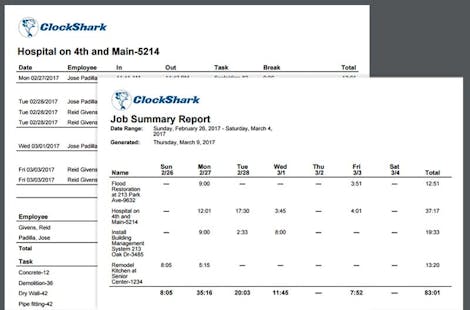 Timesheet Reporting by Department and Location
Reports can be segmented using the Departments and Locations feature. It's particularly helpful for midsize or large businesses to segment their reporting. If you want to see where your maintenance department spends most of their time, you can. If you want to know which of your office locations spends the most time on framing, you can see that, too. Whether you use if for future business planning, manager performance reviews, or just to get a better picture of your entire organization, Department and Location filters can get you the information you need in just a few clicks.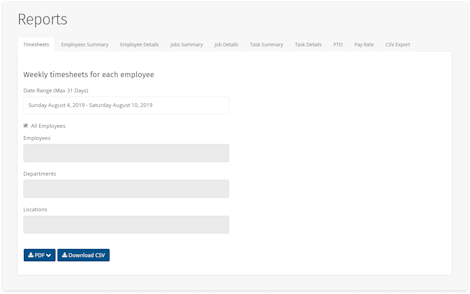 View, Export or Integrate
As the old saying goes, data is only good if it gets used. That's why our reports are set up to give you exactly what you need, fast and easy. If seeing or sharing a report is all you want, you can view, download, or print a PDF (Portable Document Format) version. If you need to import your information into another system or use a spreadsheet to combine it with other data, you can download a CSV (spreadsheet) version of your report. Sharing data with other popular accounting and payroll systems? ClockShark makes it even easier with our direct integrations. We integrate with QuickBooks, Sage, ADP, Xero, and more. Any time punches generated in ClockShark are pulled into your other system, so you don't have to re-key it, or do the "export/import dance."
Max‍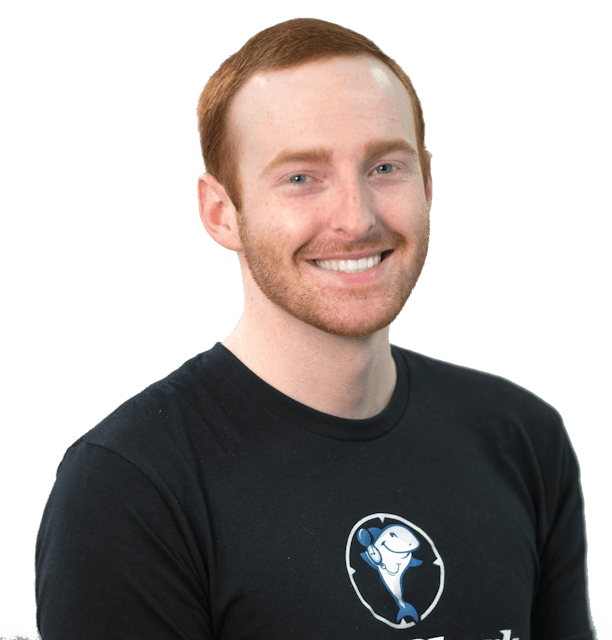 All Plans Include 5 Star Support You'll Love
Not sure which plan is right for you?
Or Call Us at (800) 828-0689
Or Call Us at (800) 828-0689
Ready to save hours of your time and 2-8%
on labor costs every payroll?
Get started with easy time tracking in under a minute with no credit card
Thank you! Your submission has been received!
Oops! Something went wrong while submitting the form.
More features, more to love