Running a small business is not an easy task. From managing employees to monitoring finances, you may find that you're doing dozens of jobs in one. The last thing you want to do is stress over payroll and human resource management. Especially, since payroll is your largest expense.
As a business owner, your focus should be on growing the bottom line.
Alongside of doing those other jobs, you have to then worry about what solutions are available to help your business. Luckily some solutions are built to work together to make managing your workforce as simple as possible.
Learn 9 Reasons Why Payroll Automation Can Save Your Management Team's Time
Combining solutions like Clockshark and RUN Powered by ADP®, you'll be able to make managing your employees and the payroll much easier. But, what is RUN Powered by ADP® and how does combing it with ClockShark solve your current issues?
What Is RUN Powered by ADP®?
RUN Powered by ADP® is a payroll software known for providing customers with payroll processing services. Many people associate ADP® software with large businesses or corporations. But, did you know ADP® works with thousands of smaller businesses as well?
RUN Powered by ADP® is for small businesses and is a "web-based payroll solution design for small businesses.
Run powered by ADP® was built with the concept of keeping things simple. As a business owner, sometimes you just need something that's simple to use and easy to implement, and that's exactly what ADP® did with their Run platform. It has multiple tiers you can select from depending on the service you're looking for. But no matter which tier you choose from, the goal is to keep it simple for you to run your business.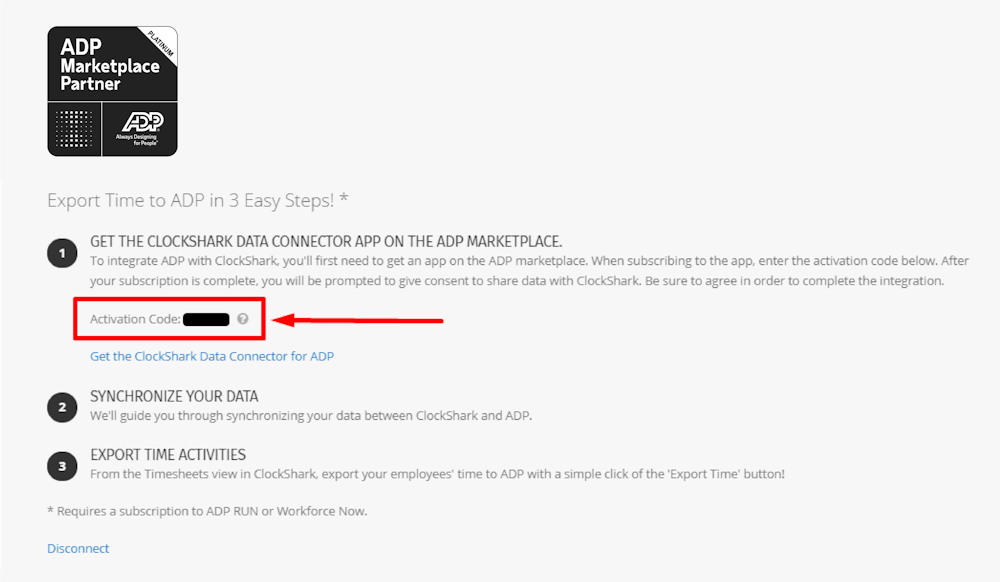 How Does ADP® Payroll Work?
Because RUN Powered by ADP® is cloud-based payroll software, it can operate from anywhere. Managing payroll from your computer, mobile device, or over the phone is always an option with RUN Powered by ADP®. ADP® payroll services automate nearly every aspect of your payroll process. It makes it easy to manage what used to be a difficult process. You won't only be able to manage basic payroll needs with RUN Powered by ADP®, it will also calculate and deduct taxes, create and send W-2s and 1099s, pay your employees, and provide you with customer support 24/7.
RUN Powered by ADP® Features and Benefits
Depending on the tier of service you choose, you will have access to different features. Here is a breakdown of the tiers and features:
Essential
This is an entry-level product that still offers a lot of great services. You can expect features like payroll and tax automation, hiring boards, employee discounts to national brands, and benefits management. This is a great choice for startups or companies that need the basics when it comes to payroll and HR.
Enhanced
If you want a great payroll and HR service and need a little bit more than what Essential offers, then this tier is for you. Along with the benefits of Essential, you'll get access to background checks, compliance with state issues, and the ability to pay with prepaid cards. These additions may seem small but could be extremely useful for a growing business.
Complete
With this tier, you'll get everything from the previous tiers plus a few options to give you a more complete solution. The Complete tier will get you a number of HR tools, the employee handbook wizard, and the document vault. This is a great option for small businesses that find themselves spending hours or days on complicated payroll and HR issues.
HR Pro
This is the top tier and, by default, their ultimate solution. If you're looking to master all things payroll and human resources then this is the solution for you. This tier includes everything from the other tiers, plus employee training, LegalShield®, and work-life assistance. If you want a solution that handles every aspect of payroll and HR while teaching you along the way, this is the perfect solution for you.
Recap
Overall, RUN Powered by ADP® benefits any small to medium size business. If you find yourself feeling lost and not sure how to get things done efficiently, then you will definitely benefit from the ease of use that RUN Powered by ADP® gives you.
Where does ClockShark come in?
If you're looking for a payroll and human resources solution that integrates with tons of apps then ADP® is for you. Whether you need to connect with accounting, productivity, or even point of sale systems, you can easily integrate using ADP®. The even better news is that you can integrate time tracking software with ADP® as well, allowing you to accurately track time and payroll.
Clockshark is the leading GPS time tracking and scheduling app for construction and field related services. That part we know, but it's the connection it has to RUN Powered by ADP®, that makes the time clock for ADP® unique.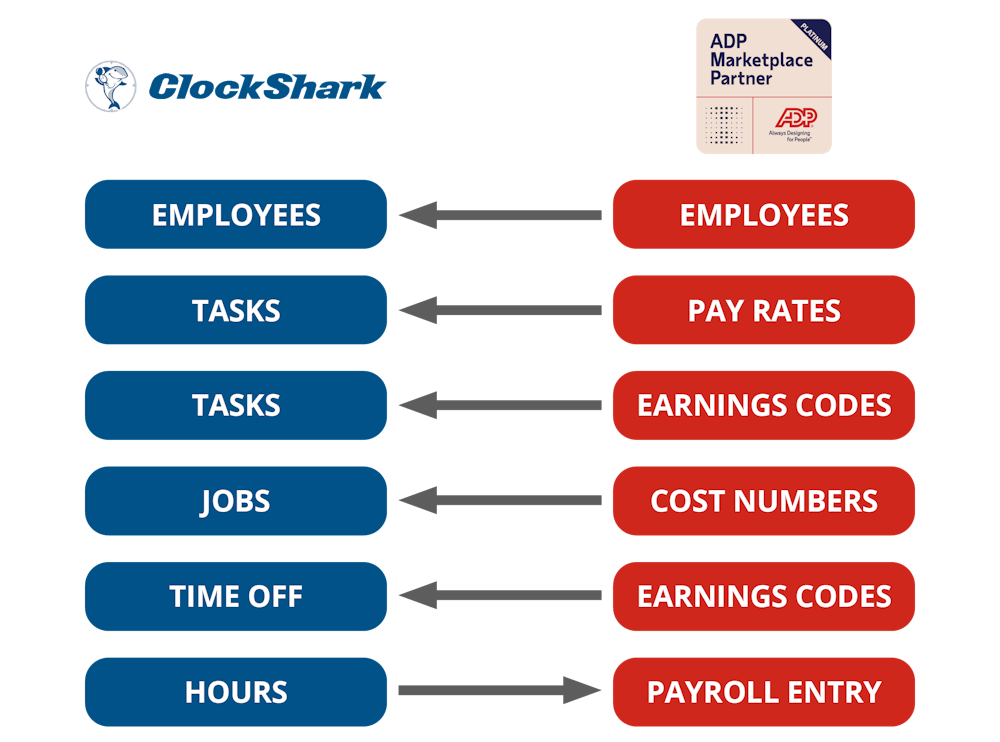 ClockShark has what's called an "API" integration with RUN Powered by ADP®. An API connection is basically a digital handshake between two pieces of software, so there is no need to struggle through the process of downloading a large data file, editing it to match what's required for the other program and then hope the upload goes well.
With the API connection that Clockshark has with RUN Powered by ADP®, transferring the time into payroll is just a click of a button.
How much does it cost to use ADP® payroll?
When you sign up to use RUN Powered by ADP® services you'll automatically get 2 months of service for free. As far as we can see, billing occurs monthly or yearly for RUN Powered by ADP® services. Unfortunately, the specific pricing information for all tiers is available by request only. You will need to contact ADP® to get your specific price.
Save Time and Money with ClockShark
Thank you! Your submission has been received!
Oops! Something went wrong while submitting the form.
Conclusion
Payroll and human resource management are frustrating and time consuming to tackle. But, it can be just as frustrating to try and find a solution that helps keep you stay on track. With the combination of RUN Powered by ADP® and ClockShark, managing your workforce and making sure they get paid on time and accurately, that frustration is a thing of the past.
If you're already a ClockShark customer looking for a great payroll system that complements your time tracking, then you'll want to check out RUN Powered by ADP®. We know this is a winning choice that will make you the master of payroll and HR.
What payroll software do you use? Let us know in the comments below!
Not a ClockShark customer yet? Signup and get a FREE trial now!