According to the Salesforce Connected Service study, 52% of field service businesses still do things manually, depending on paper time cards for their employee time tracking. But with 16% of employees admitting to "buddy punching" and 43% exaggerating their work hours, paper timesheets can be potentially damaging your construction or field service company.
Since most of your employees work on the field, tracking employee hours and location can be a considerable challenge for your business.
An elegant and low-cost solution to your timesheet woes is a mobile-based GPS time tracking technology. A GPS time tracking app makes it easy to track employee hours and locations in real-time.
By the end of the year 2020, 75% of construction and field service companies with over 50 employees will be deploying mobile apps such as GPS time-tracking to help their technicians and businesses succeed. So if you are looking to grow and expand your business, the following are a few benefits, GPS tracking offers for your field service company.
Benefits of GPS Time Tracking
1. Geofencing
A 'geofence' is a virtual boundary determined using GPS points. A great GPS time tracking software typically has Geofencing built into the mobile app. It reminds employees to clock in and clock out as they enter or leave the job site. This helps with accurate time-reporting and avoids confusion over missed app login or incorrect time entries on a paper timesheet.
2. Increased Accountability
Regardless of how much you trust employees, GPS tracking is a great tool to have. By implementing GPS time tracking you can reduce instances of employees punching in for each other or exaggerating their work hours. You can track your employees' locations and their hours throughout the day and thus boost employee accountability.
3. Real-time Coordination
With GPS time tracking you are always aware of the real-time locations of your employees during the working hours. You can easily keep track of various job sites as well as relocate resources and employees based on proximity. GPS tracking also allows for efficient and accurate routing to reduce the travel time for your employees when they are visiting job sites.
4. Accurate Payments
Your employees should be paid accurately based on their working hours. A GPS time tracking app for a field service business does away with automated tracking and considerably reduces timesheet errors. Also since you are aware of when and where every employee clocks in and out there are no chances for employee time theft and payroll fraud. This way you are assured to be not underpaying or overpaying your employees.
Save Time and Money with ClockShark
Thank you! Your submission has been received!
Oops! Something went wrong while submitting the form.
5. Increases Productivity
A time tracking software empowers employees to track their own hours. The clocking in and clocking out process can often serve as a reminder to focus at the job at hand. Additionally, employees are aware that they are paid accurately and fairly. This helps employees feel more engaged at work and boosts their productivity.
6. Better Job Planning
Automatic GPS time tracking helps employers know the exact time and resource requirements for any job. Armed with this information they can better plan for any future jobs as well. It also helps with more accurate budget estimates since it gives employers a fair idea of the cost.
7. Increases Safety
GPS tracking also enhances the safety and security of your company since each of your employees are accounted for. In case any of them require assistance, help can reach them as soon as possible. Also, they can be routed to avoid roads with hazardous conditions or heavy traffic to make their commute to job sites smoother.
8. Reduces Paperwork
GPS tracking does away with the need for filling in manual timesheets since it automatically tracks time. When your company uses a time tracking technology, you are able to reduce incorrectly filled timesheets such as time rounding, lost or damaged timesheets, and illegible hard-to-read timesheets. You are also able to reduce the paperwork and streamline the payroll process for better accuracy and efficiency.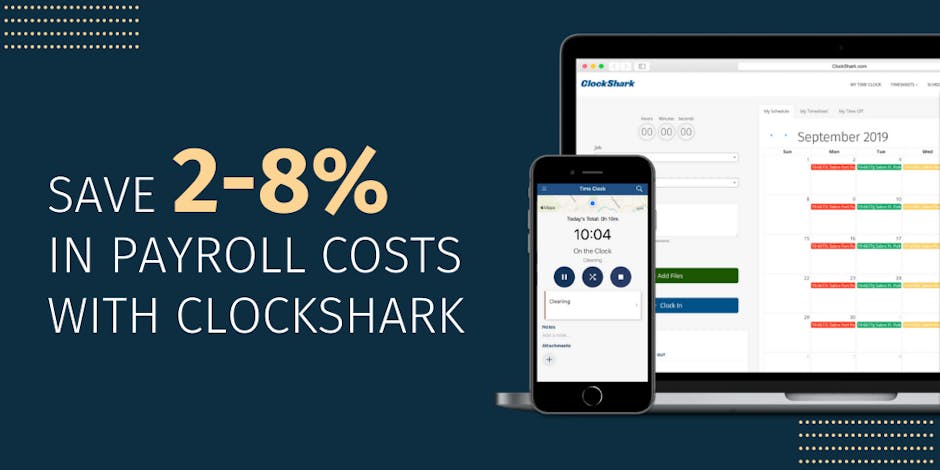 GPS Time Tracking is a vital tool for your field service business to schedule jobs, maintain accurate timesheets, and run smoothly.
At Clockshark, our customers and their specific pain points with employee management are our motivation to build a better and smarter GPS time tracking software for your construction and field service business. Our customers have saved, on average, 2-8% in payroll costs just using ClockShark's GPS Time Tracking.
If you want to reduce payroll costs, boost employee productivity, and streamline your business process, implement GPS tracking for your business today. Sign up for a free trial and experience how Clockshark can transform your employee time tracking systems and ultimately your construction and field service business.