Contractors in the trades industry rely on steady cash flow to continue their projects and keep work flowing. As your construction company grows, your administrative workflow will increase. To stay competitive, adopting technology will become important, and you'll want to find the best invoicing software for contractors.
Best Invoicing Software for Contractors

1. ClockShark

2. FreshBooks

3. Xero

4. Invoice Ninja

5. Invoice Simple

6. Bill.com

7. QuickBooks Online


What Can an Invoicing Software Do for Contractors?
When you have workers and subcontractors you need to pay, it's important for you to collect your payments on time, so you're not floating funds to cover payments to your crew, subs, and suppliers.
An invoicing software not only makes it easier to get paid faster, it will help you keep your books organized and provide professional-looking documentation to your customers.
Ideally, invoicing software allows you to send an electronic invoice straight from your computer or, in some cases, mobile device, as soon as the project is completed. This type of billing method makes it much faster and easier to bill your clients, which financial experts advise is just one way to get clients to pay faster.
There are a lot of considerations when invoicing in construction and sometimes it's hard to track everything accurately. However, invoicing software makes it easier to track each step of each phase of the construction project, so you know your customers are getting an accurate bill for the work you did for them.
Frequently, the software will integrate with payroll software apps, allowing your customers to see exactly how much time was spent doing each task. This establishes transparency and, thus, trust, nurturing your customer relationships.
This is important because many contractors rely on word-of-mouth and referrals for continued business, so the more your customers appreciate your company and your work, the more referrals you're likely to get.
What Makes a Good Invoicing Software for Contractors?
The best invoicing software for contractors makes it easy for you to create invoices quickly - often from estimates - send them electronically, and get paid faster. Construction invoice software should be easy to use and include at least the minimum of these features.
Customization Options
Branding is one of many marketing strategies that helps your customers and prospects recognize you. Branding is an important part of growing your business and involves using the same colors, logo, language, etc. on your business stationery.
That's why your invoicing software should allow you to customize invoices, to match your brand and your voice.
Ease Of Use
As with any tool, it would not be much use if you can't use it and it's counterproductive if you're wasting time trying to figure it out, instead of saving time from it. From extremely complex to super simple, there are a wide range of options available for invoicing. The easier it is to use the software, the easier it is to use, the more cost-effective it is for your company.
Save Time and Money with ClockShark
Thank you! Your submission has been received!
Oops! Something went wrong while submitting the form.
Data Integration
The purpose of software is to streamline workflows and speed up processes as your business grows. That's why many software platforms integrate, so you don't have to enter information and data multiple times. Rather, you can just transfer the data from one application automatically.
Recurring Billing Capabilities
For service professionals with recurring clients, it's important that your invoicing software has recurring billing options. This allows you to save customer and job information rather than having to enter the same thing each month. Just pull up the invoice and send it.
Multi-Type Revenue Support
Most customers like to pay online and certainly, having online payments as an option, helps you get paid faster, but be sure your invoicing software offers multiple payment options, including credit or debit card. In many cases, your managers or crew members can collect payments while on the job, making it easier and faster to keep your cash flow going.
How To Choose The Right Construction Invoice Software
Before diving into the best construction invoicing software, it's important to know how to choose the right one.
Understand Your Needs
Every business is different so, naturally, your invoicing needs will vary, too. Decide which invoicing features are necessary versus nice to have versus not needed. That will help you narrow down your choices.
Determine Your Integration Requirements
Since most companies use multiple types of software, determine which ones your invoicing software will need to integrate with. Often, it will include your accounting software, so you can streamline your accounts payable and receivable, and keep your financials organized.
Keep Your Budget in Mind
Obviously, the cost of the software is an important consideration, but it doesn't need to be the deciding factor. While a less expensive invoicing option might seem ideal, it could end up being less than ideal for your business than a mid-range one. As with any business tool, take time to consider the time and money you'll save from it, when considering your investment in it.
Compare Different Features
Often, you'll find invoicing software solutions that offer free versions or free trials. Take advantage of these to compare different software and get a feel for the options they offer.
Top Invoicing Software for Contractors
1. ClockShark
ClockShark is a time-tracking and scheduling software that includes a suite of business features created for contractors, including quotes, invoices, and payments. With ClockShark, you can create a quote for your projects, track the time on each project, automatically create an invoice from the quote, and accept online payments.
ClockShark also integrates with multiple accounting software platforms, making it easier to keep your finances straight and make bookkeeping easier.
Pricing
Starts at just $8/month per user + $7/month base fee. Free 14-day trial.
2. FreshBooks
FreshBooks is a popular small business accounting solution that offers multiple features tailored for contractors. It includes customizable invoicing options and allows you to collect payments online or ACH payments.
Pricing
FreshBooks offers four pricing plans, based on the number of billable clients you have. Plans start at $1.50 per month, or $121.50 for a year subscription.
3. Xero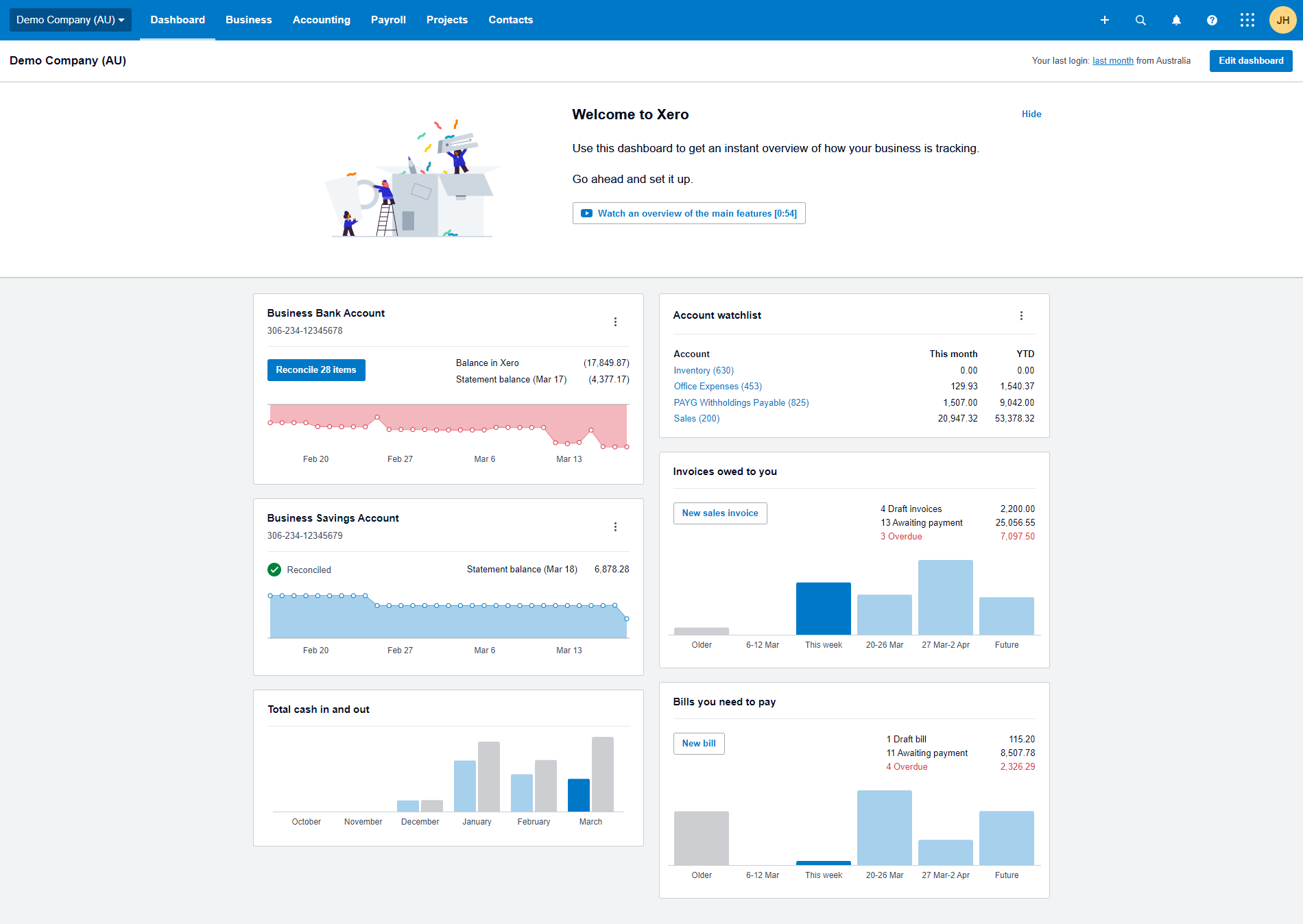 Xero is another small business accounting software that allows you to create invoices from your estimates, and accept payments either by credit card, debit card, online, or ACH. It allows you to set up automated reminders to send to your customers in the event they haven't paid, and you can customize them with your logo.
Pricing
Xero has three pricing plans, beginning at $25 per month, with extra charges for optional add-ons.
4. Invoice Ninja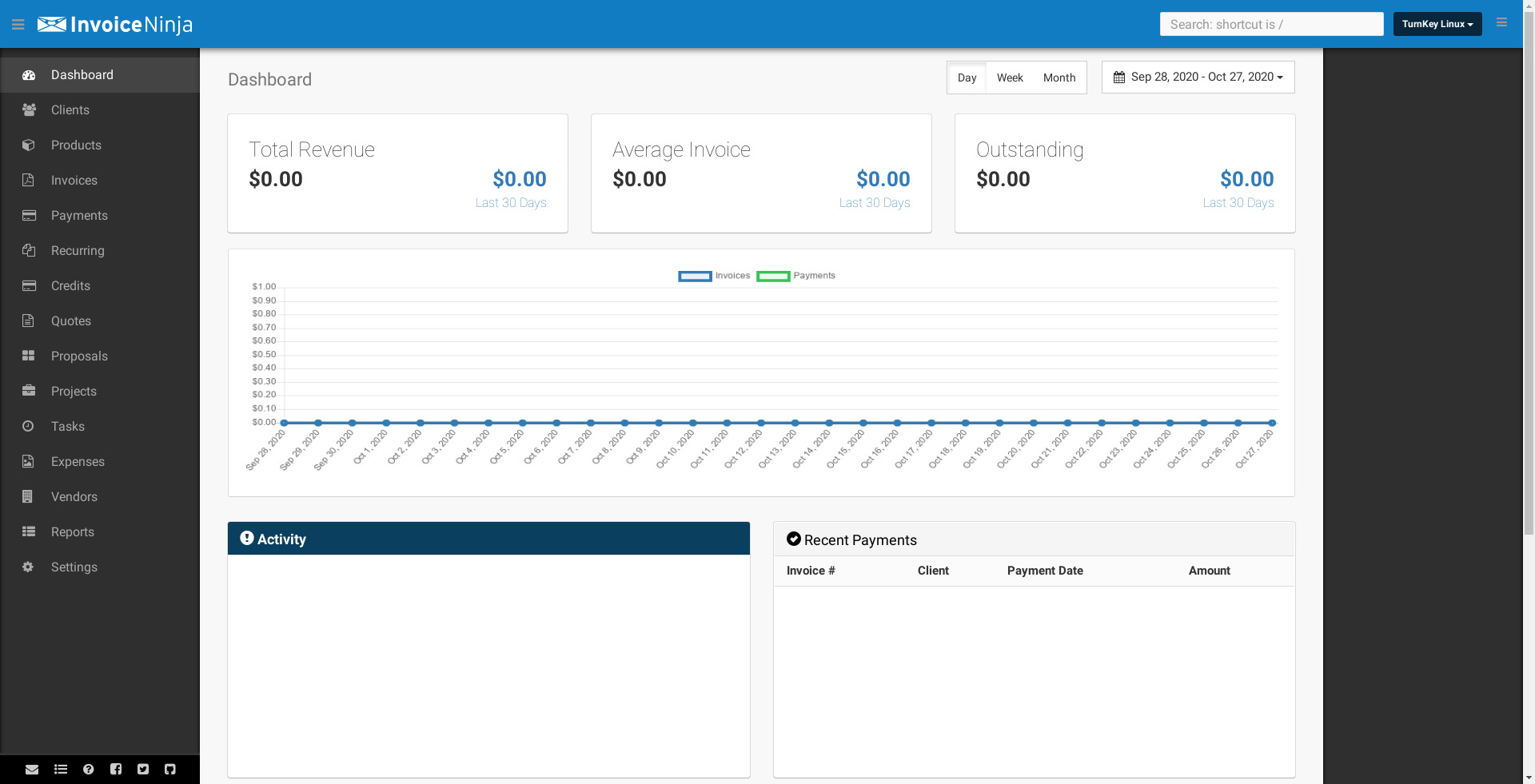 Invoice Ninja is an invoicing software that allows you to manage your business financials and helps you keep your projects organized with kanban boards and time tracking from your desktop. Invoice Ninja makes invoicing easier by allowing you to turn quotes into invoices.
Pricing
Invoice Ninja offers three pricing plans, including a free plan with limited features. Paid plans begin at $100 per year.
5. Invoice Simple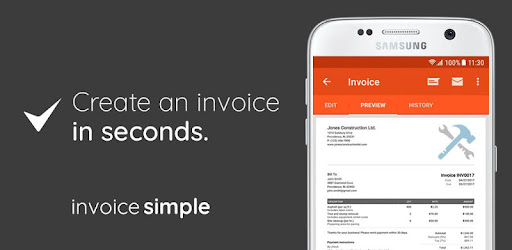 Invoice Simple is an online invoicing and payments platform that allows you to also create estimates and receipts for payment.
Pricing
Invoice Simple offers a free plan and their pricing is based on per-feature usage, although Invoice Simple does not provide exact pricing information
6. Bill.com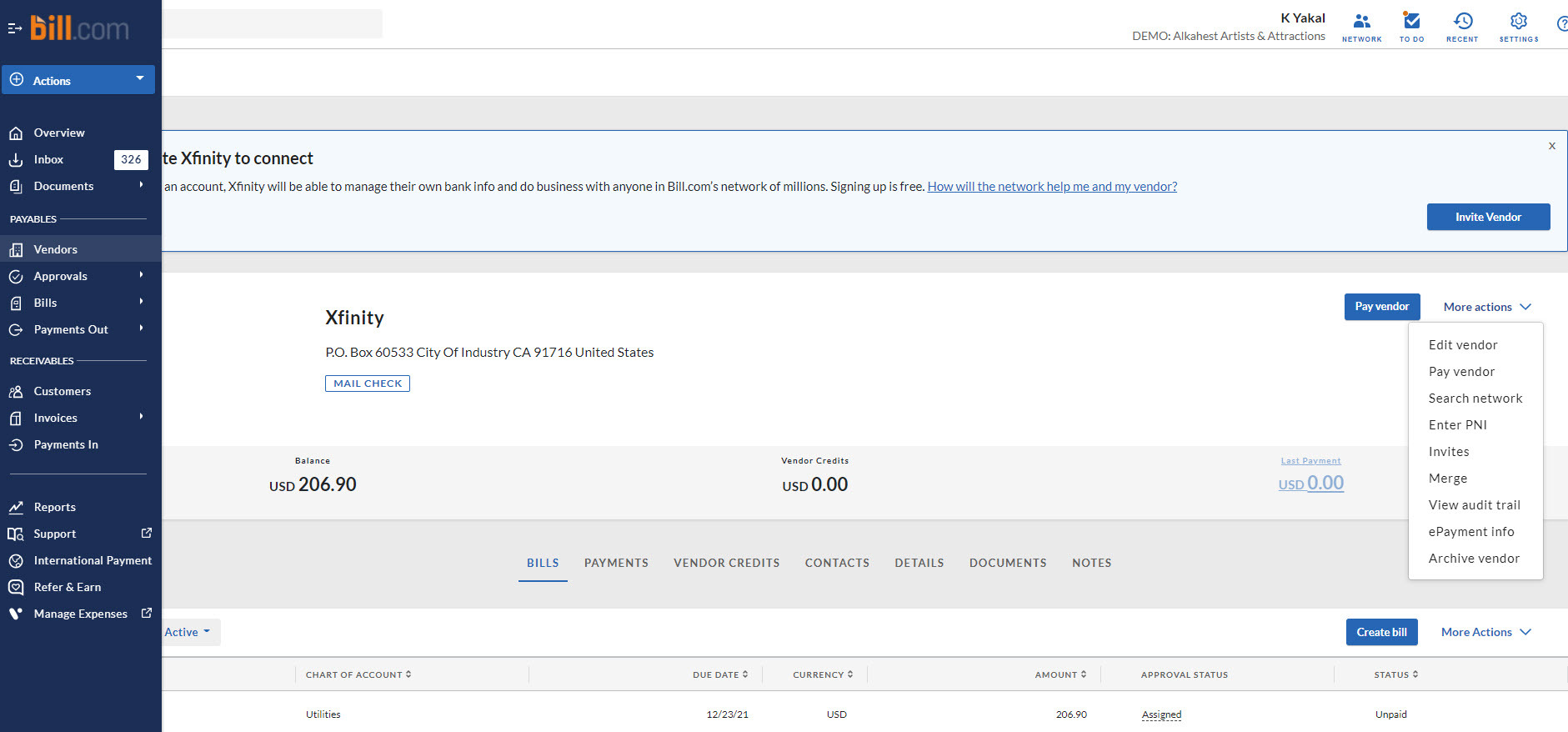 Bill.com is an online accounting platform that helps small and medium sized businesses manage their accounts payable, receivable, and expenses.
Pricing
Bill.com has six payment plans, depending on the features you want (invoicing, payments, or both). These plans start at $45 per month, per user.
7. QuickBooks Online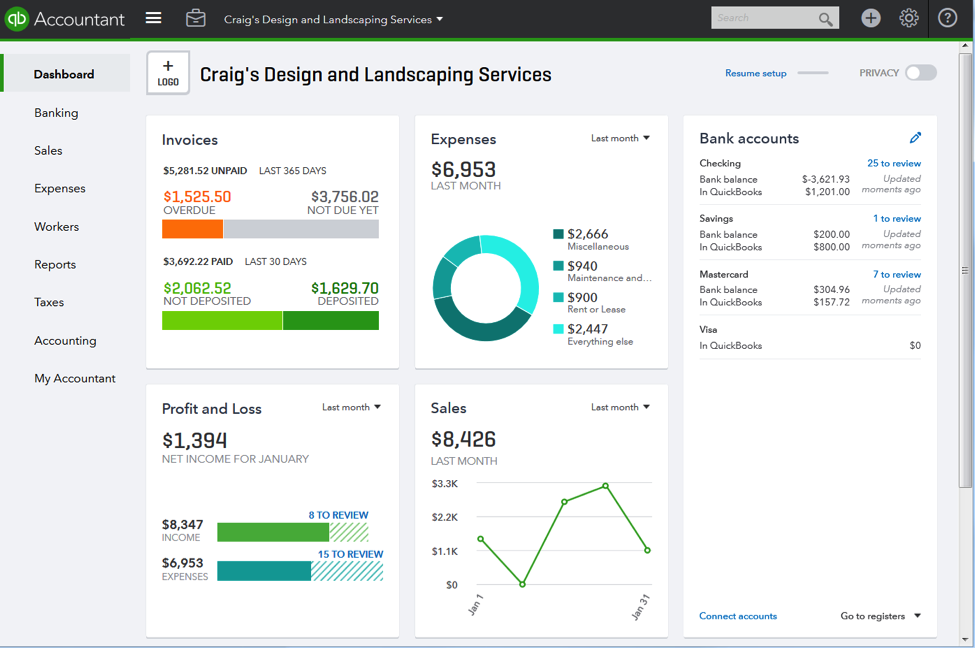 QuickBooks Online (QBO), is a popular accounting solution for businesses of all sizes, that includes invoicing. One helpful feature of QBO's invoicing tool is the ability to split payments which is helpful for contractors who bill for milestones.
Pricing
QuickBooks Online offers four payment plans, starting at $15 per month, however they have additional fees to consider, depending on the features you use.
Learn more about QuickBooks Online
Choose the Best Construction Invoicing Software
Using software and apps to run your construction company, makes it easier, faster, and more accurate than counting on manual processes. The best invoicing software for contractors will depend on your needs, company size, and budget but it's helpful if you can find a solution that solves more than just your invoicing needs. Try ClockShark free to see how easily you can track hours, submit invoices, and receive payments all from one place.
---
Compare the Best Invoicing Software Apps For Contractors
| | | |
| --- | --- | --- |
| | Pricing | Free Trial |
| | Starts at just $8/month per user + $7/month base fee. | |
| | FreshBooks offers four pricing plans, based on the number of billable clients you have. Plans start at $1.50 per month, or $121.50 for a year subscription. | |
| | Xero has three pricing plans, beginning at $25 per month, with extra charges for optional add-ons. | |
| | Invoice Ninja offers three pricing plans, including a free plan with limited features. Paid plans begin at $100 per year. | |
| | Invoice Simple offers a free plan and their pricing is based on per-feature usage, although Invoice Simple does not provide exact pricing information | |
| | Bill.com has six payment plans, depending on the features you want (invoicing, payments, or both). These plans start at $45 per month, per user. | |
| | QuickBooks Online offers four payment plans, starting at $15 per month, however they have additional fees to consider, depending on the features you use. | |