If your subcontractor's work is late, incomplete, or faulty, it doesn't just reflect poorly on them. Their shoddy work tarnishes your reputation, too.
Yet finding subcontractors who are experts at their craft, stay on task, and complete work on time is getting harder. In fact, the Commercial Construction Index shows that 61% of US contractors struggle to find skilled workers.
But that doesn't mean there aren't plenty of competent, trustworthy subs out there. The trick is learning how to identify who they are before you hire them, and then managing them well once they're part of your team.
In this article, we'll give you 12 best practices for hiring subs and getting the best work from them once they're on the job.
1. Don't Be Blinded by the Lowest Bid
Be sure to look at more than price when you hire. The lowest bid isn't always the best value.
Because it will cost you more to hire a subcontractor who shows up late, puts your project behind schedule, and causes rework than to hire a quality sub with a higher upfront bid.
In order to find the best subcontractors, you need to take steps to prequalify them. Keep reading to see how to do that.
2. Evaluate the Sub's Financial Stability
Often, subcontractors default because they take on too much work. And they take on too much work because they underprice. Then they get trapped in a cycle of taking more jobs than they can handle in order to make enough money to stay afloat. This type of sub is a default waiting to happen.
So be sure to ask for financial records before partnering with a subcontractor. Here are a few things you could ask to see:
Their past three years of gross earnings


A list of their current projects and the projects' contracted value



A list of their current employees and recent hires
Not only will this information show you if the sub's business is financially healthy, but it can also give a clear picture of whether taking on your project will over-extend their workload.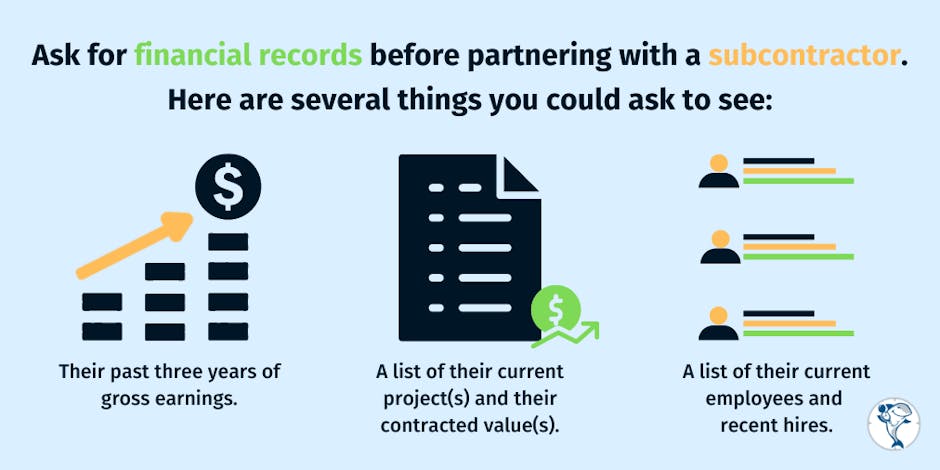 3. Check References
One of the easiest ways to make sure you're partnering with a quality subcontractor is to check references from recent jobs.
Ask the references if the sub completed the job on time and satisfactorily. And ask if they would use the sub again.
It only takes a few minutes and some simple questions to understand what kind of subcontractor you're dealing with. And if you want to be sure they do good work, ask a reference or two if you can see the sub's finished work.
4. Check Safety Records
Ask prospective subcontractors to provide OSHA logs 300 and 300A for the year. These documents will show any safety incidents that might have occurred. You can also check for incidents within the last five years using Osha's online search tool.
Another great way to see how safely a subcontractor operates is to ask for their Experience Modification Rate, or EMR. This number correlates to the number of workers comp claims the sub has filed. The lower the number, the better. Industry average is 1.0, so any EMR higher than 1.0 means safety standards are below average. Subcontractors with a rating below 1.0 have a superior safety record.
5. Evaluate Subs' Quality Control Processes
Ask any potential subcontractors to submit a written quality control plan. The plan should lay out which methods they will use to ensure the quality of their work. It should include a list of personnel and outline who reports to who. It should include which activities their team is responsible for, describe reporting and follow-up procedures, and detail steps for correcting any problems that might arise.
If a sub can't produce a written quality control plan, it's a sign that they don't have the necessary processes to stay on task or produce quality work.
6. Validate Insurance and Bonding
Always ask subcontractors for proof of insurance and bonding. Once you have it, go one step further and call the insurance firm and/or surety company to check that the policies are up-to-date. And double-check that the policies are for a reasonable amount.
7. Always Sign a Contract
Even if you're working with subs you've known and trusted for years, never skip signing a contract.
Contracts give each party guidelines for how work should progress and keep everyone on the same page from the very beginning of a project. And, of course, a signed contract is invaluable if litigation is necessary.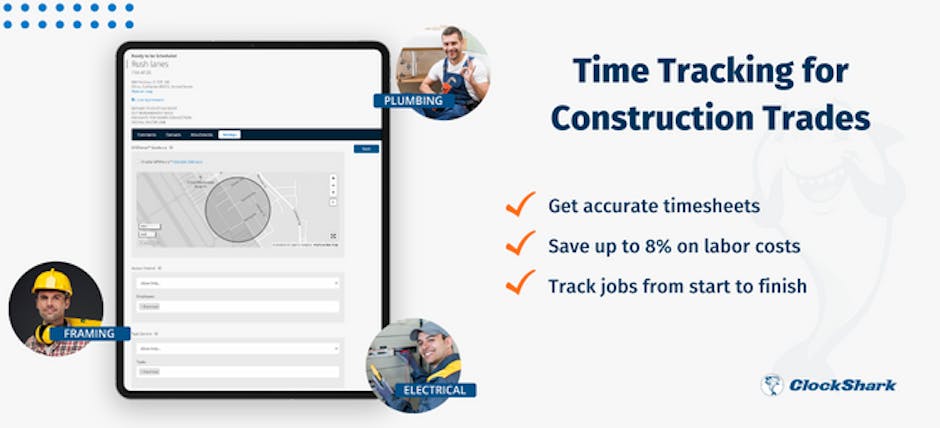 8. Monitor and Evaluate Performance
After you've prequalified and hired the best subs for the job, be sure to let them know that you have high quality expectations.
Start a dialogue about how you are going to evaluate and monitor their performance throughout the job. And be sure to schedule regular quality assurance meetings.
9. Do Your Part, So Your Subs Can Do Theirs
Remember that you aren't just relying on your subs, they're relying on you, too. So be sure to do your part to help them succeed:
Communicate important instructions ahead of time


Make sure jobsites are prepared before subs arrive to work


When sending important documentation, ask for signatures or email confirmations so you know your subs received the documents


Appoint a main point of contact to oversee subcontractors, so subs aren't getting conflicting instructions from multiple sources at your company


If you assume nothing and communicate often, you won't be to blame if a sub performs work poorly.

10. Define How Subs Should (and Shouldn't) Interact with Clients
Depending on who your clients are, they may not understand that the subcontractors on site aren't employees at your firm. And if subs communicate gruffly with clients -- or can't answer their questions -- it can reflect poorly on you.
So take the time to train subs on how to interact with your customers.
11. Use Construction Software and Apps
Make managing subcontractors easier. Automate repeatable tasks and streamline complicated workflows with construction software.
Here are several tasks that are easier with tech:
Tracking time

:

Mobile time tracking

isn't just for employees. Any sub with a cell phone will appreciate real-time clock-ins, so they won't have to manually log hours or keep up with paper time sheets.


Scheduling

: Use an

employee scheduling app to make sharing schedules with your subs in the field easy. And send real-time updates that eliminate the need for calls and texts every time there's a last-minute scheduling change.


Managing Pay Apps:

Manage pay apps and approve invoices with the click of a button. Some construction billing management software will even send you reminders for when it's time to pay your subcontractors.
These are just a few ways technology can help you manage your subcontractors. Do some research to find the solutions you need for your company. Many digital management solutions are out there. And most are easy to use.
Save Time and Money with ClockShark
Thank you! Your submission has been received!
Oops! Something went wrong while submitting the form.
12. Build Relationships
After you work hard to find good subs, you should work just as hard to keep them -- especially now that there's a shortage of skilled laborers.
And the number one way to keep your subs excited about working with you is to treat them with respect.
Here are three easy ways to build rapport with your subs:
Don't wait until the last minute to ask for work


Don't pay late


Do give good subs repeat business


Professional courtesy goes a long way toward building lasting work relationships.
Conclusion
Finding quality contractors is not impossible. If you implement these tips for hiring and managing subcontractors, you should become much better at finding quality subs and bringing out the best in them once they're hired.
If you found this article helpful, you might also want to download our free Construction Organization Checklist.