Just about anything you read about the future of construction and engineering points to an increased use of technology. While there is a small percentage of construction companies using paper timesheets or traditional time clocks, the majority are shifting to adopt technology.
Deloitte's 2020 Engineering and Construction Industry Outlook midyear assessment reports that the construction and engineering industries are "positioned as active participants in building the smart, connected future" and "many connected job sites are using cloud technology to make information about almost every aspect of a project available to all the relevant parties anywhere in the world."
[GUIDE] DCAA Timekeeping Requirements to Stay Compliant
To keep up with digital trends in construction, it's no longer a matter of if, but when. Today's most competitive firms adopt technology to increase their profitability and sustainability. Here are some specific reasons why.
Accurate Construction Time Tracking
Many small- and mid-sized construction companies use outdated time tracking solutions. From spreadsheets to text messages to paper timesheets, these methods are rife with mistakes and frustrations. Factor in timesheet rounding, and you could not only be losing money you didn't know you were, but risk being non-compliant with labor laws.
Common issues with these types of time tracking include:
Human error

Illegible timesheets

Forgotten timesheets

Lost timesheets

Damaged timesheets

Over- or under-paying due to time rounding
How frustrating to sit down to do payroll at the end of the week, only to discover you're missing someone's timesheet and they are unavailable for you to clarify their time information.
With timesheet rounding, you could be losing thousands of dollars a year or, conversely, underpaying your workers, and risk compliance issues.
With a digital solution, you're able to track hours worked, down to the minute. You will not over- or under-pay your workers and they will get their paychecks accurately and on time, every time. Most modern time tracking technology will also allow you to integrate with your accounting software, making payroll a quick, easy, and accurate process.
Better Job Costing
According to salary.com, as of May 28, 2020, the average hourly wage for a general laborer is $16; a plumber is $28; an electrician is $23, and a mason is $25. On a construction site, you have these and many other different workers and keeping track of where your capital is going, can be daunting and inaccurate.
How much is the job costing, really?
With a mobile time tracking app, your construction crews can record exactly how much time was spent on, for example, framing vs. roofing. Even subs.
When you have a pinpoint accurate measurement of how much time went into which tasks in which aspects of a project, you can better assess what the job costs, identify potential weaknesses, and make more profitable estimates in the future. If you are not aware of any issues, you can't adequately remedy them.
Portable time clock helps you do this, and more.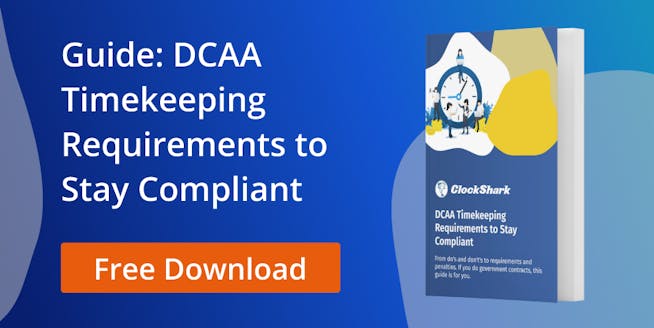 Reliable Time Tracking Convenience
Pew Research found that 81 percent of Americans owned a smartphone in 2019. Rather than having to go into the office or keep handwritten records or try to recall how much time was spent at which job site, today's construction crews can simply clock in or out, or record breaks, with a tap of the finger.
In construction, you may have multiple subs working a project. Time tracking solutions that include job stages can help you manage your crews in a quick, simple, convenient way, no matter where you are. Say goodbye to phone tag and voicemails.
Cloud technology means they don't use a lot of space on their smartphones and administrators can easily keep track of employees' hours and locations with advanced technology like GPS Tracking.
Your crews will appreciate the simplicity without worrying about whether or not they have submitted all of their hours worked. Your administrators will appreciate being able to do payroll in minutes, instead of hours.
GPS Tracking for Crews
Back in the day, you would have machinery or fleets out in the field and have to wait for your team or supervisors to call in to find out where to go or get their work orders. With GPS tracking, this problem is solved.
There are a number of ways GPS tracking can help you grow your business and rein in expenses you may not be aware you're paying.
Faster Response Times
With GPS tracking, you can pull up a map and quickly find out who is where, any time of the day. This makes it easier for you to respond to service calls with the right person because you can tell who is the closest to the job location.
Location Verification
GPS tracking lets you verify each step of a person's day as well as record which job they were at, when they clocked in or out. This way you have solid evidence that the work was done, when it was done, and who did it.
Less Unauthorized Stops
Sometimes workers might take your company vehicle to unauthorized locations during the work day. GPS tracking reduces the risk of unauthorized use and ensures your company vehicles are being used for the right purposes, in the right places.
Better Customer Experience
You already know that happy customers are loyal customers. The same goes for employees: When they're happy, their productivity and engagement improves. This means a better customer experience for your customers.
With mobile time tracking, your crews can spend more time doing their work and less time worrying about writing notes, remembering to call or text their hours, or trying to find the timesheet they have misplaced. Everything is right there on their smartphone.

Save Time and Money with ClockShark
Get started in under a minute with no credit card
Thank you! Your submission has been received!
Oops! Something went wrong while submitting the form.
Conclusion
You already know you have to have the right tools to do the job right. That goes for time tracking, too. Your crews may have all the right tools they need on the construction site, isn't it time for you to have the right tools, to make sure they get paid right while also freeing up your time and improving your bottom line?
With the right mobile time tracking tool, everyone will be happier and that is one step towards growing your business to where you want it to go.
If you want to find out how mobile time tracking can help you grow your business, ClockShark is geared towards construction and field service industries specifically, and we are happy to set you up with a free 14-day trial. If you would like more information, contact our customer support team at any time or sign up today.